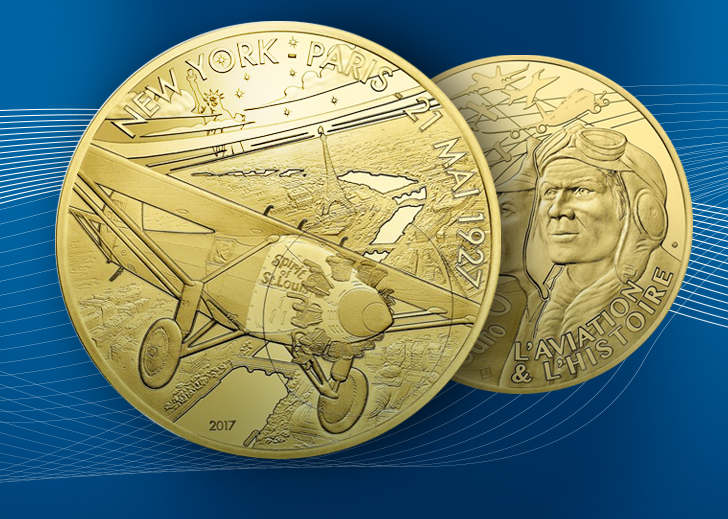 2017 "Spirit Of Saint Louis" french coin
The obverse of this coin presents the plane "Spirit of Saint Louis" flying over top of Paris.  Statue of Liberty is represented as well, as starting point of this great crossing who took place in 1927 on May 20th,  between New York and Paris.
The 5808 kilometers separating the two cities were crossed in a little more than 33 hours. On this side of the coin, the face of LINDBERG appears, through a side port–hole. The size of the plane's engine and the fact that the principal gas tank was in front of the pilot, prohibited any port–hole in front of the plane's cockpit. The pilot could see in front of him only via a periscope system, identical to a submarine's one.
On the reverse of the coin, the engravers of the Monnaie de Paris represented the profile of two pilots, one in military flying gear, the other in civilian one. Planes of various types are represented in the form of silhouettes. You may recognize in particular P38 Lightning , last plane of the writer  Antoine de Saint Exupéry, the F16 hunter or the A380 Airbus. The face value is engraved on the same side, as well as letters "RF", symbol of "French Republic".
Summary of the various issuings of currency concerning the MDP 2017 Airplanes serie:
| | | | | | |
| --- | --- | --- | --- | --- | --- |
| Série Aviation 2017 | | | | | |
| | Face value (€) | material | weight(g) | title | mintage |
| Spirit of Saint Louis | 200 | or | 31,104 | 999/1000 | 500 |
| Spirit of Saint Louis | 50 | or | 7,78 | 999/1000 | 500 |
| Spirit of Saint Louis | 50 | Ag | 163 | 900/1000 | 250 |
| Spirit of Saint Louis | 10 | Ag | 22,2 | 900/1000 | 3000 |
| Airbus | 200 | or | 31,104 | 999/1000 | 500 |
| Airbus | 50 | or | 7,78 | 999/1000 | 500 |
| Airbus | 50 | Ag | 163 | 900/1000 | 250 |
| Airbus | 10 | Ag | 22,2 | 900/1000 | 3000 |