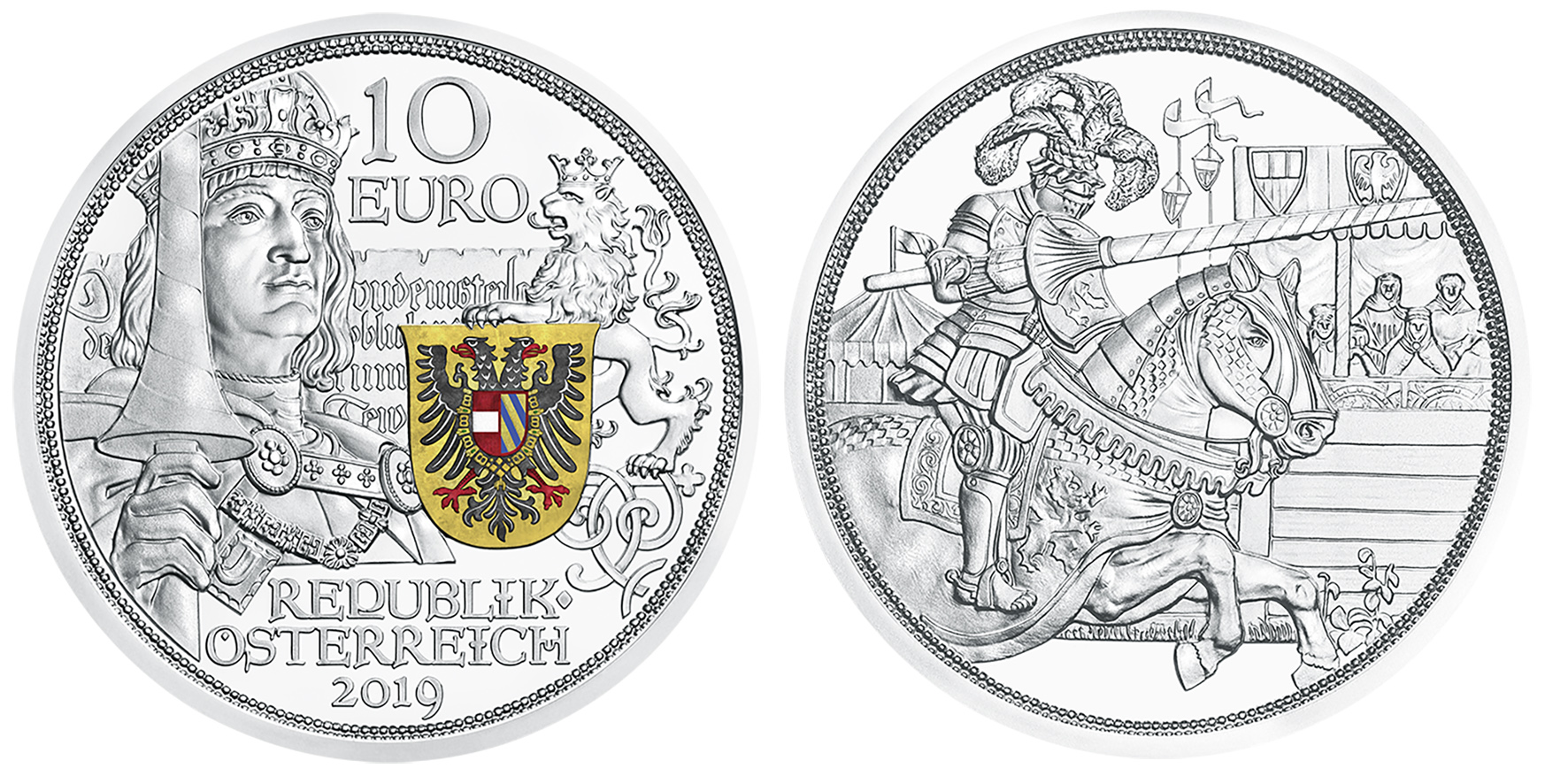 2019 austrian Knights' Tales series – €10 Chivalry coin
Knights' Tales is a five-coin series dedicated to Middle Ages. Through this coin, Austrian Mint intend to honor the code of chivalry. It was a combination of the warrior ethos, piety, nobility and gallantry. To his loyal subjects, Maximilian I, to whom the first coin in the series is dedicated, embodied these values.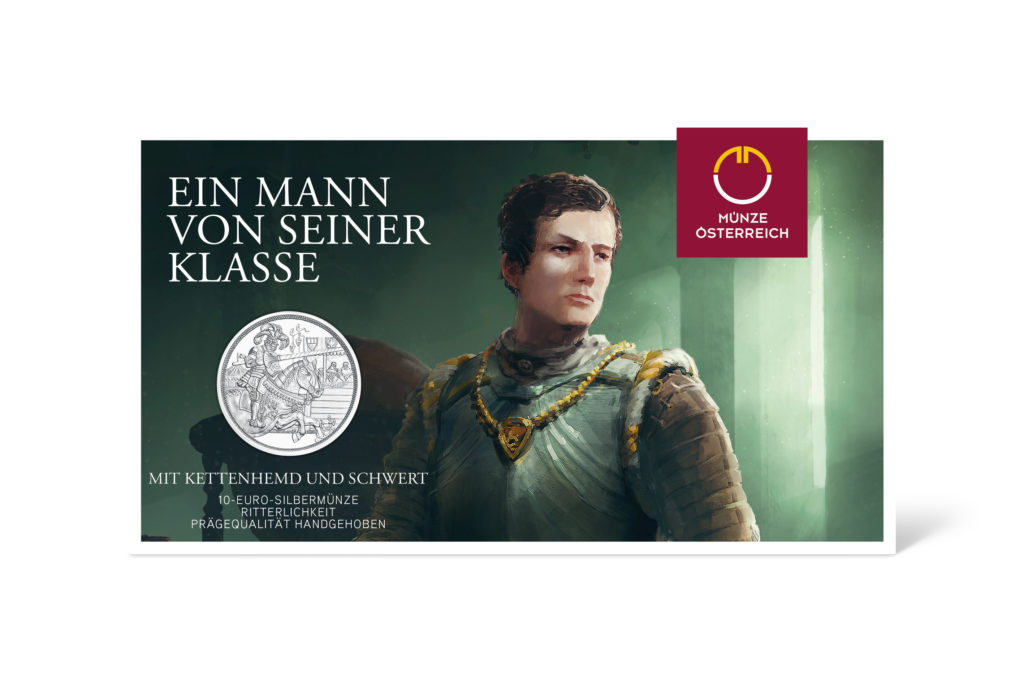 The year 2019 is the 500th anniversary of the death of the Holy Roman Emperor and Archduke of Austria. Maximilian I was born in 1459, at the end of the Middle Ages. In 1477, he married Mary of Burgundy, which made him not only Duke of Burgundy, but also Sovereign of the knightly Order of the Golden Fleece.
With a membership limited to just 30, this exclusive club was effectively the 'crème de la crème' of the noble elite. Not everything that Maximilian was involved with was noble and chivalrous, however. Under pressure from the Estates of the realm, as well as for his own material benefit, he agreed to the expulsion of the Jews from the Austrian provinces of Styria and Carinthia. Yet Maximilian was also something of a 'renaissance man' who could speak seven languages and passionately supported the fine arts.
---
 Coin's obverse
---
It features a portrait of Maximilian I on the left, in which the Holy Roman Emperor is holding a lance. On the right, his coloured-applied coat of arms is held by a heraldic lion.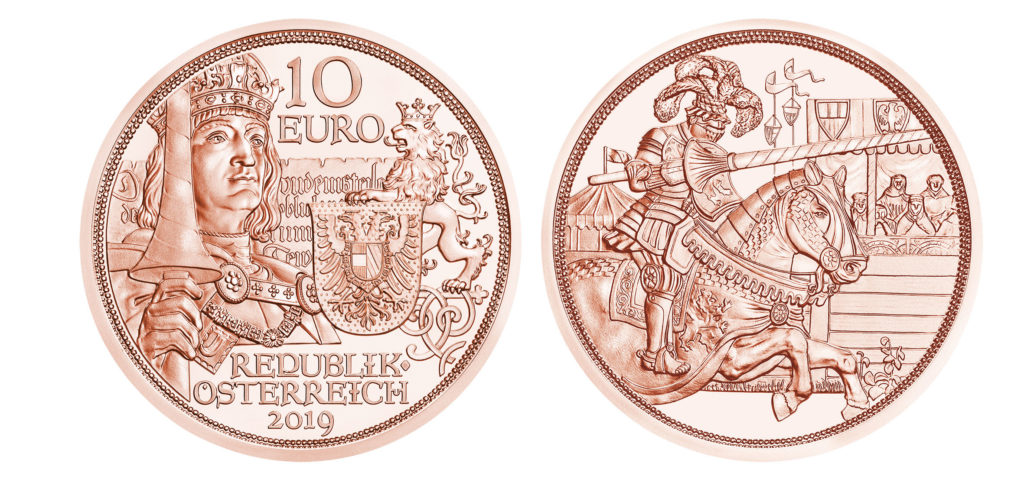 €10 Chivalry coin, copper version for circulation
---
Coin's reverse
---
It shows a scene from a jousting tournament, in which a knight on horseback is in full gallop as seated spectators look on from a stand. Maximilian I was famous for his bravery when jousting.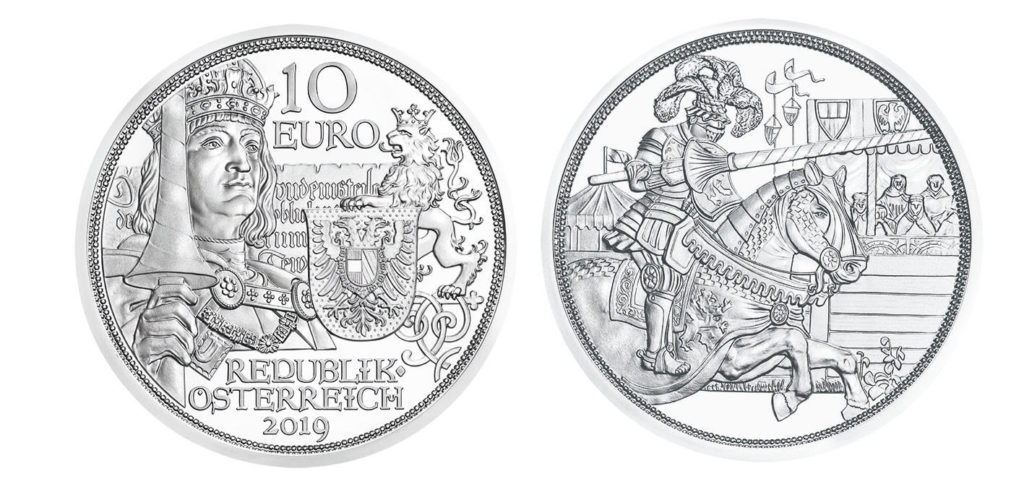 €10 Chivalry coin, silver uncirculated coin
This fantastic 10 Euro coin "Chivalry" is struck  in two special quality formats: Special Uncirculated condition (maximum mintage 30,000 coins) and Proof condition(maximum mintage 30,000 coins).
The Special Uncirculated coins are presented in a blister pack, while the Proof coins come in a presentation case with a numbered certificate of authenticity.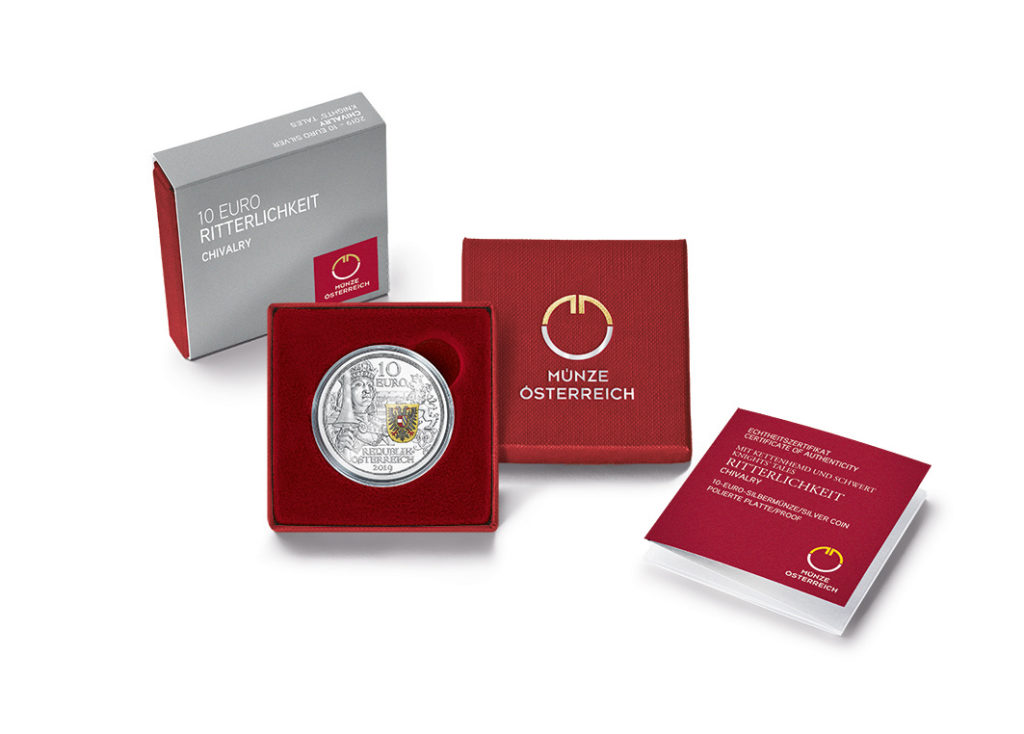 Proof €10 Chivalry coin, packaged in a case
In addition to technical information, the certificate also explains the design concept and the minting quality. 
The 10 Euro coin will also be issued as uncirculated and sold at face value. To differentiate between the two, the copper coins will have a ribbed edge, while the silver coins have a smooth edge.
Silver coin "Chivalry", special uncirculated:
Its recommended retail price is € 29.00 (excl. VAT)
Silver coin "Chivalry", proof quality/proof:
Its recommended retail price is € 37.00 (excl. VAT)
KNIGHTS' TALES COLLECTOR CASE
This superbly designed wooden presentation case provides the perfect environment to store and protect all five of the Knights' Tales coins in Proof quality.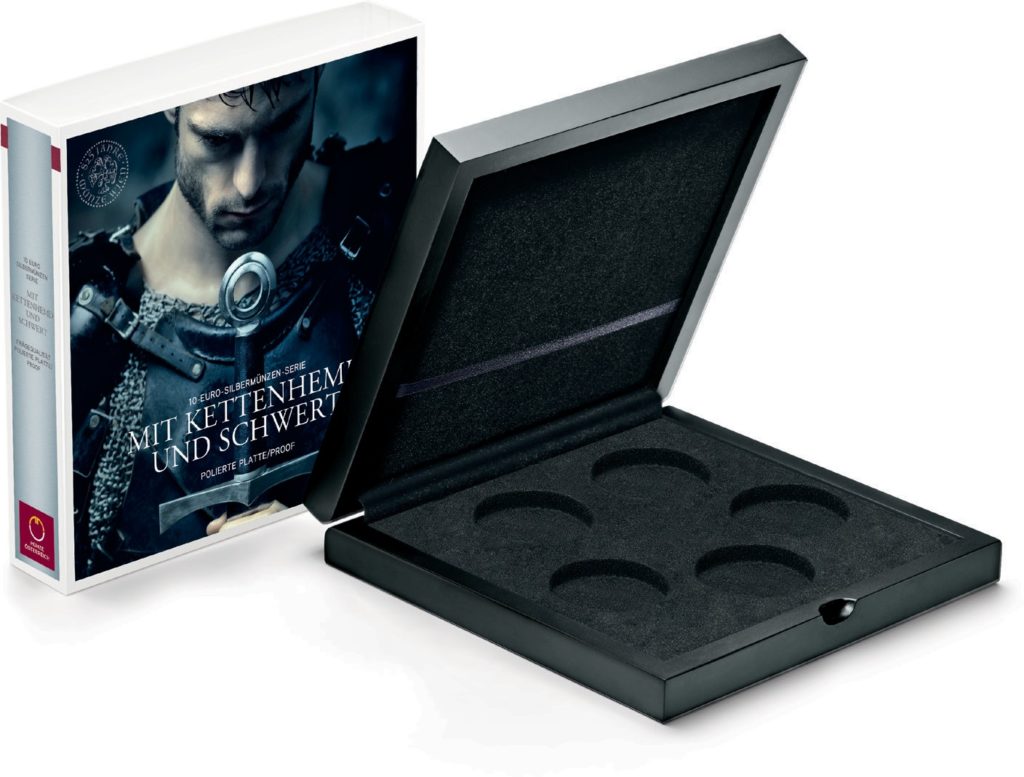 The 10 Euro coins "Chivalry" officially go on sale on Wednesday, April 10th 2019.
Sources: Austrian Mint and NUMISMAG.