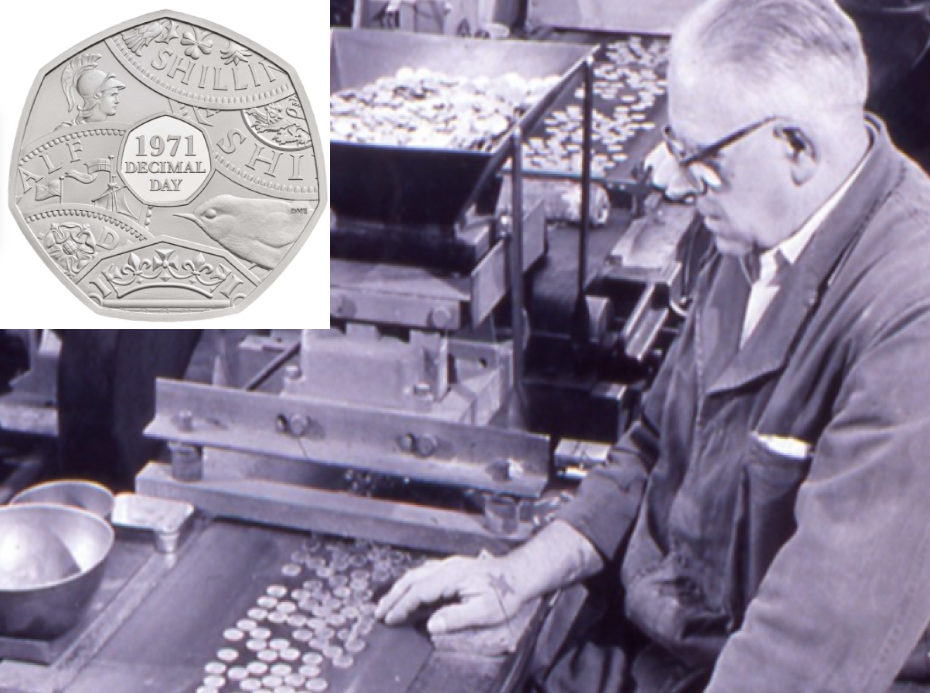 2021 50 pence 50th anniversary of "decimal day", from Royal Mint
In 1971, the United Kingdom's coinage evolved from the centuries-old system of pounds, shillings and pence to a new decimal currency.
Far from being an overnight switch, decimalisation took many years of careful planning and also involved a huge information campaign. In order to achieve the monumental challenge of striking of new coins, a new factory was required along with new machinery, production techniques and processes.
Some 50 years later, The Royal Mint celebrates successful Decimal Day with a new 50p commemorative coin that brings the old to mind, carefully selected pre-decimal coins, and sets that bring a sense of nostalgia to the occasion.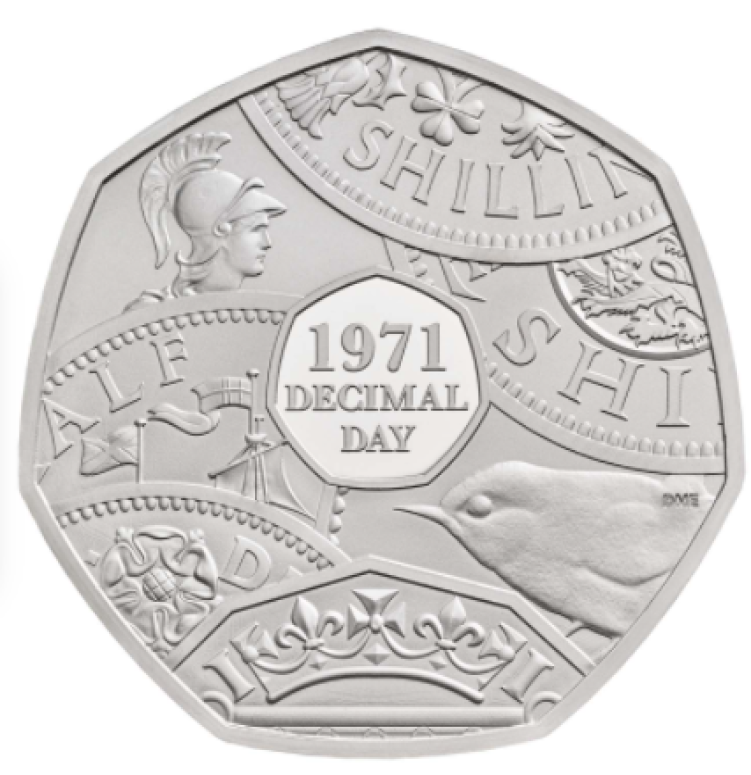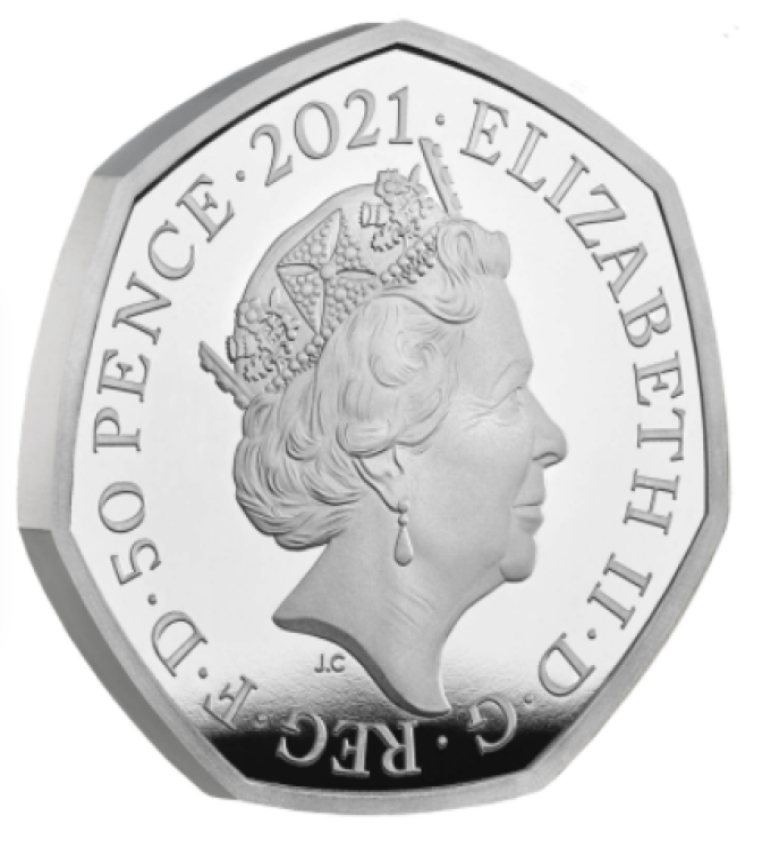 ---
The design by senior coin designer Dominique EVANS
---
The 50p coin struck to celebrate the 50th anniversary of decimalisation features a reverse design by Dominique Evans. Dominique is a senior designer at The Royal Mint and the creator of some of the most well-known and admired coin designs in recent years.
Her portfolio includes coin designs celebrating the 65th anniversary of Her Majesty The Queen's coronation, the life and work of Jane Austen, and a commemorative design for the 75th anniversary of Victory in Europe (VE) Day.
The designer has long had a passion for all things nostalgic, including coins, as she explains:
"I have always had such a fondness for coins, their designs and individuality. At The Royal Mint we have played a role in the key moments that have shaped the world for more than 1,100 years.
Centuries of dedication have led us to create, craft and innovate these small objects that travel with us every day, a part of the fabric of our lives.
From every visit to the local corner shop, and each precious purchase with pocket money, to a bus journey for that all important first date, coins are the very things that have facilitated those experiences that make and connect us.
Creating a design that spoke of the transition from pre-decimal to decimal coins was the challenge. I considered the shape of our much-loved 50p coin, in this case marking 50 years.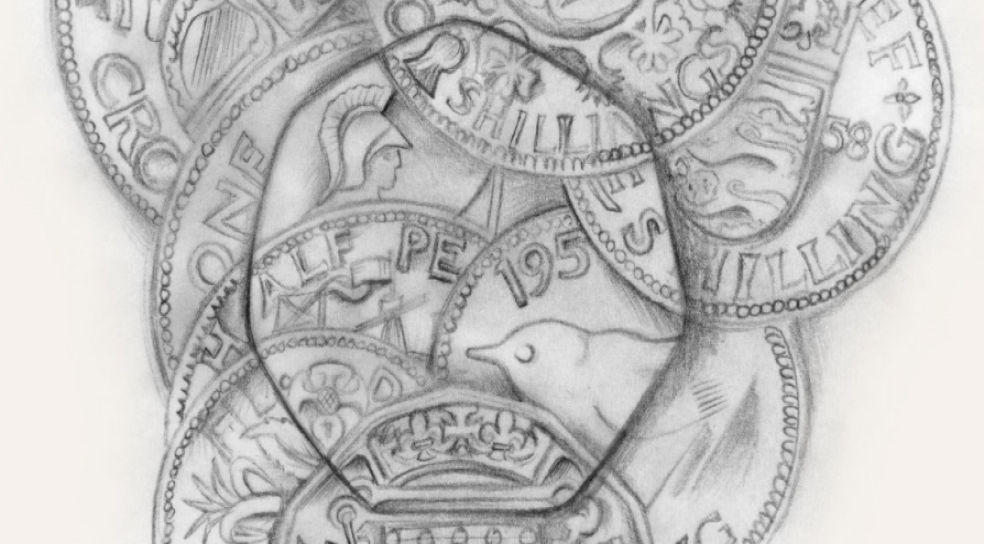 I read stories and heard people say that even though they understood the reason for change, they had and still have a fondness for the pre-decimal coins.
Coins all over the country found themselves loose in random jumbles in boxes and drawers, which led me to place the smaller denominations together, as if you had just found them and were looking at them all from above.
The sweet wren peeks out from the crown of a threepence, sitting alongside the rose of the sixpence, and next to the iconic Britannia. All the coins are depicted in their actual size, for people who used them to remember them fondly, and for a new generation to understand.
I hope that this decimal day design will ignite smiles and memories and that people will not be able to resist getting their old pre-decimal coins out and placing them on top of this coin with a smile.
I can imagine grandchildren with their grandparents, piecing together a jigsaw of their past as they collect each of these much-loved coins of which the design is made, and that memory, one of our most treasured possessions shines brightly at the heart of every moment that is shared."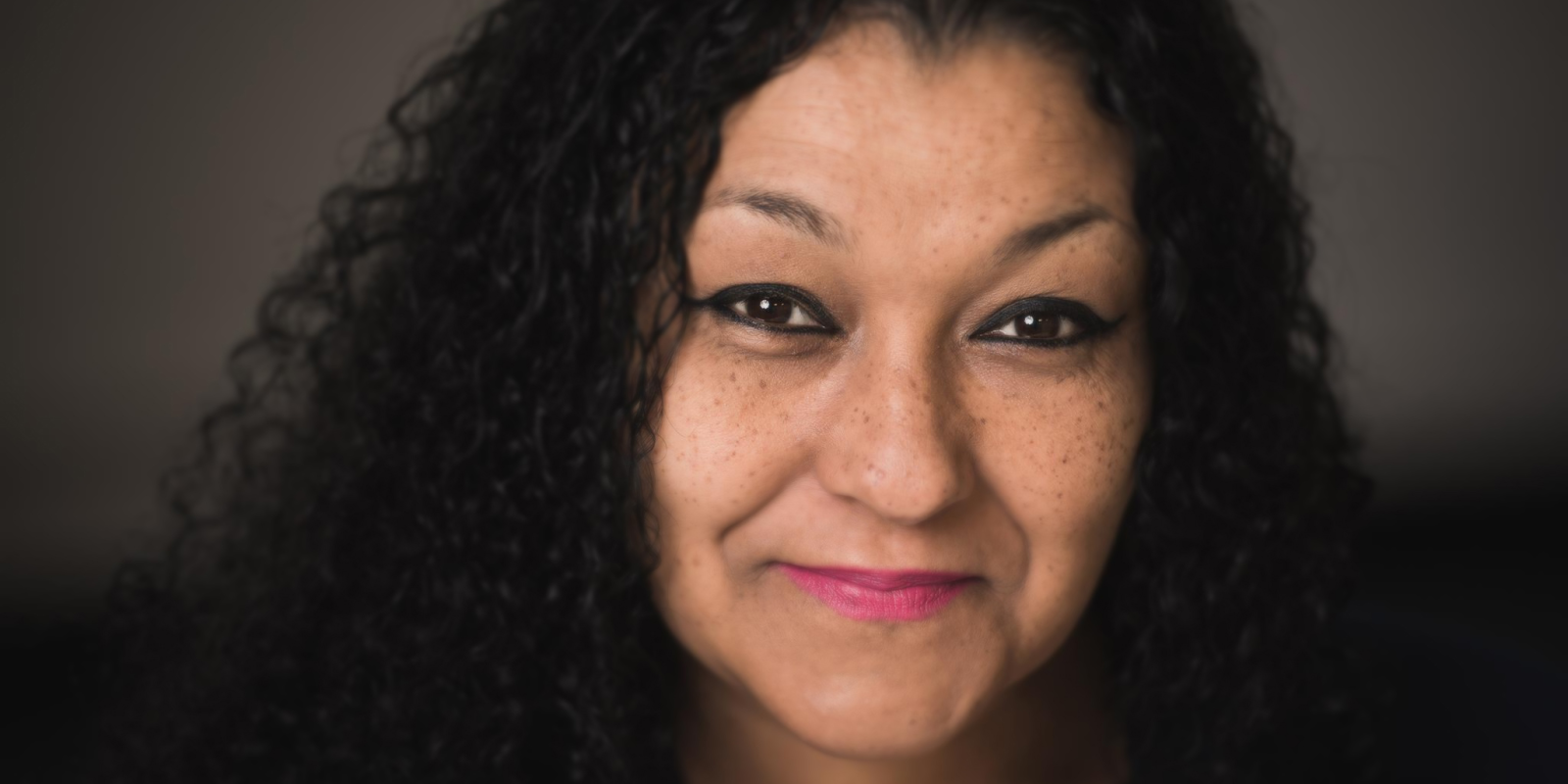 Senior Royal Mint coin designer – Dominique EVANS
---
A large range of coins
---
Gold Piedfort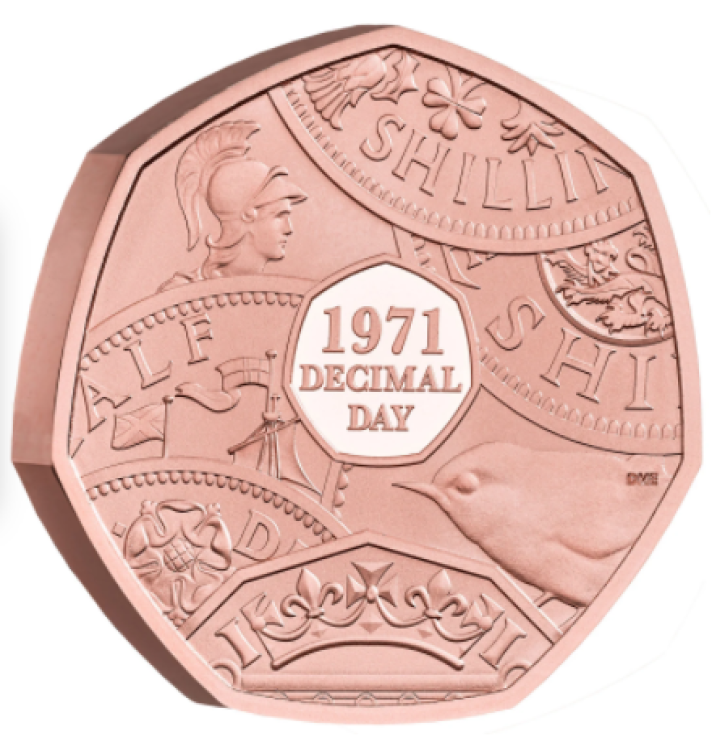 Mintage: 200 coins
Silver Piedfort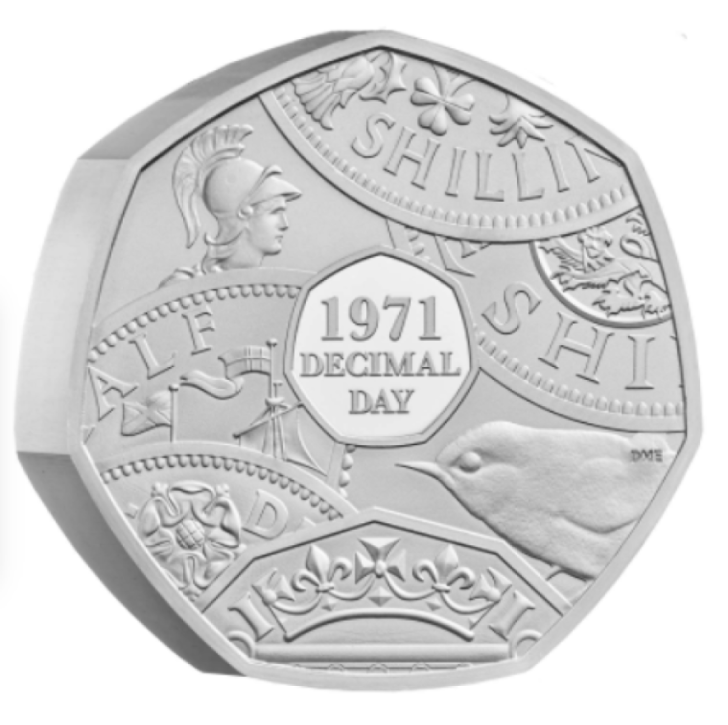 Mintage: 2 500 coins
Gold coin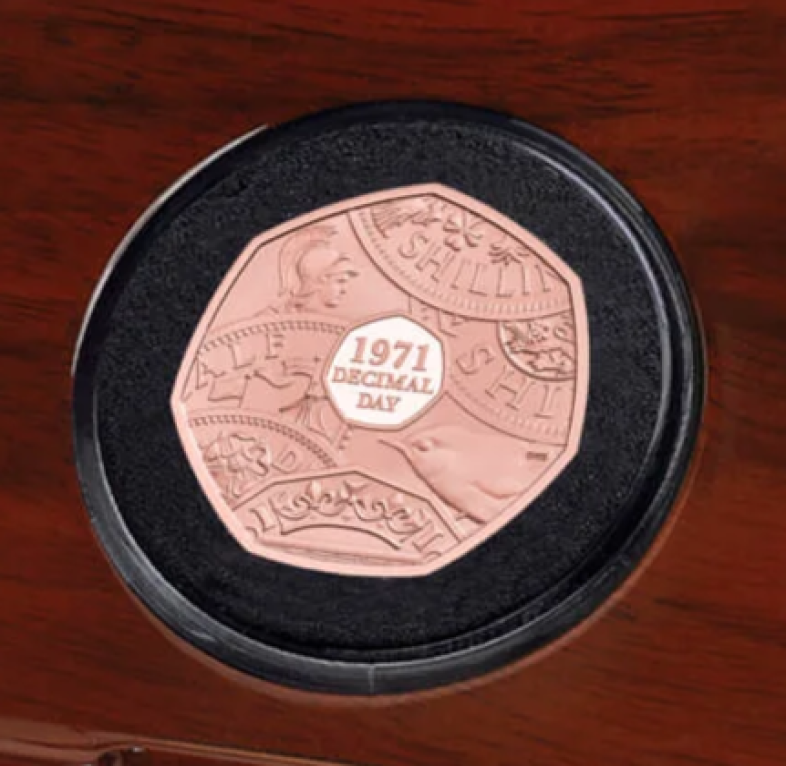 Mintage: 450 coins
NB: 700 coins will struck February the 15th 2021 as "first day" issue of the new coin. A certificate signed by Gavin Elliott, Head of Production, Commemorative Coin, which confirms the date the coin was struck, will be joined to it.
Silver coin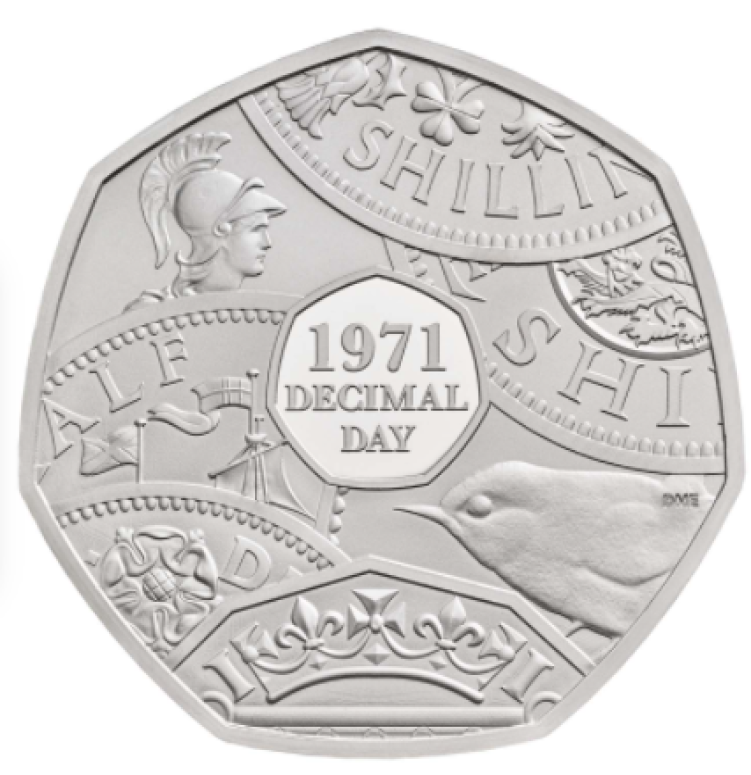 Mintage: 6 000 coins
Special coin set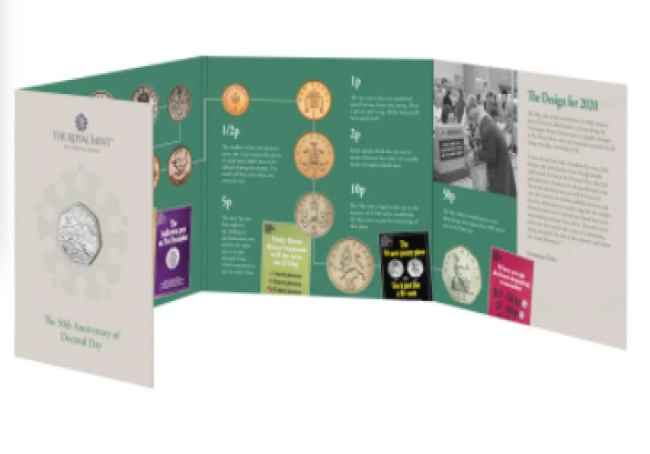 Mintage: NA
Hand-drawn pencil sketch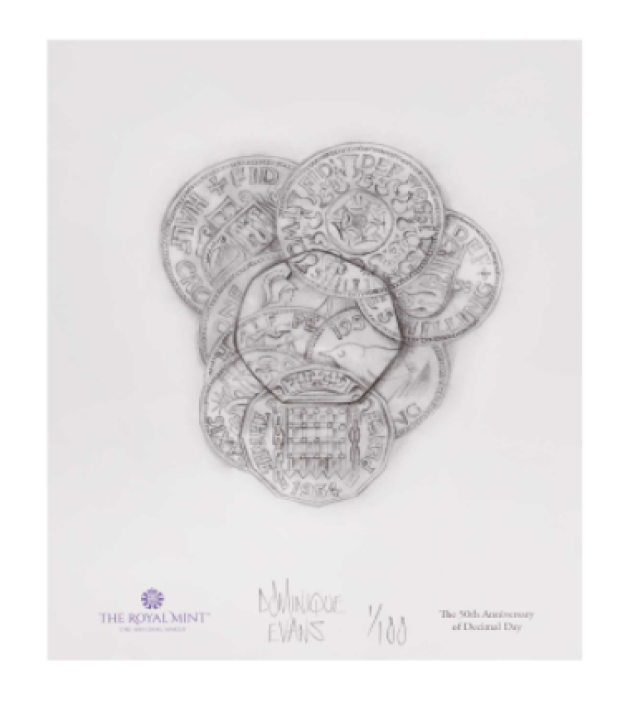 Only 100 prints, personally hand-signed and numbered by the artist
This special print features a copy of the Decimal Day coin design sketch she submitted for approval to The Royal Mint Advisory Committee (RMAC).
The 50th Anniversary of Decimal day 50p coin | The Royal Mint – YouTube
Sources: Royal Mint and NUMISMAG.