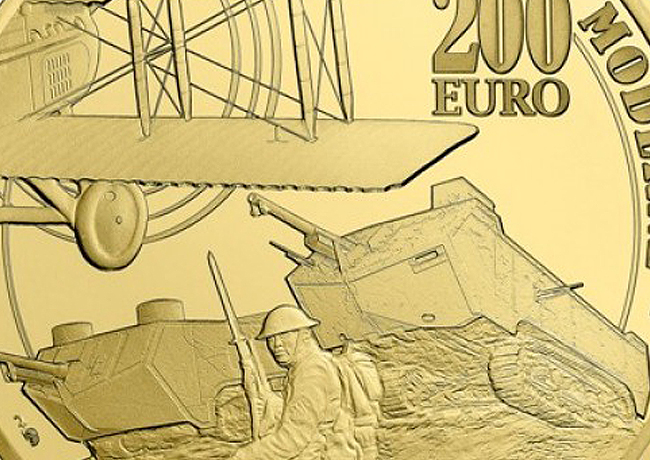 2017 First World War commemorative coins of Monnaie de Paris
Since 2014, Monnaie de Paris developed a series of coins devoted to the Great War (1914-1918). In 2017, the french mint strikes on this occasion three new coins which commemorate in particular French aviator GUYNEMER.
1 – Non-circulating commemorative coins:
Description of the coins:
On the obverse families are represented coming to see military planes taking off. At that time, takeoffs of  planes were a show for the airfields close residents. Another plane is represented in the sky between a poppy and a cornflower whereas the SPAD of GUYNEMER is also taking off. The same GUYNEMER is represented on the reverse, flying over the battlefield where two Saint-Chamond progress tanks, witch were first tanks made in France. With the foreground is represented an american infantryman, symbolizing the entry in war of the United States in 1917, beside of the allies troops.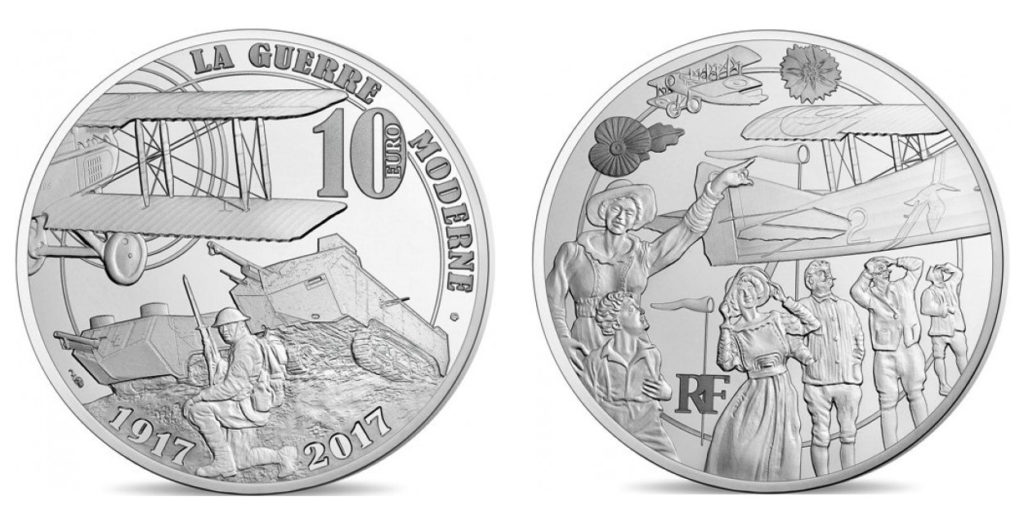 2017 Monnaie De Paris – "First World War" Commémorative Coins
Face Value
Quality
Matérial
Title
weight (g)
Diameter (mm)
Mintage
10 €
BE
Silver
900/1000
22,2
37
5000
50 €
BE
Gold
999/1000
8,45
22
1917
500 €
BE
Gold
999/1000
31,104
37
500

2 – 2017 Miniset (NB: Coins with 2016 yearmark):
The annual miniset "Great War" is illustrated by a scene of VERDUN battle. It is made up by the 8 coins of the annual divisional serie, 2016 yearmark, for a vintage set 2017. Monnaie de Paris remains on its part-price to include in its coinsets only the annual divisional serie, excluding 2€ commemorative coin of these sets.
500 sets will be issue. The french Mint announces in addition that the coins of 20, 50 centimes and one euro were not struck for circulation in 2016.
Source: Monnaie de Paris.