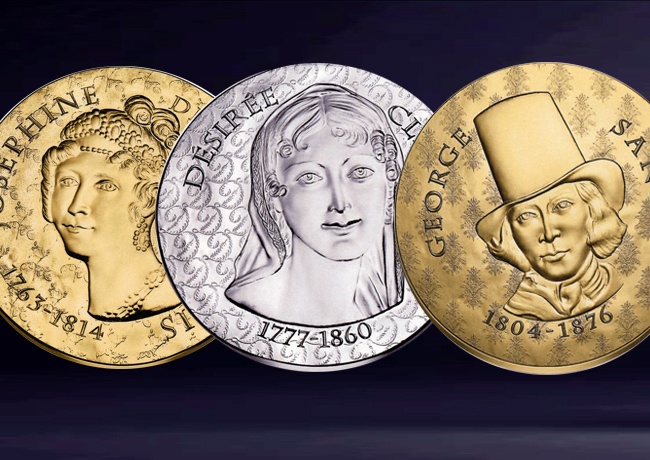 New collection of €10, 50, 200 coins, Joséphine de Beauharnais, Désirée Clary & George Sand
In 2016, Monnaie de Paris launched a new series that pays tribute to French History through the women who have had an influence on various areas : politics, art…
This series uses the same historical strike that was used in the « From Clovis to the Republic » series and goes even further : the hammer effect has been replaced by textile patterns representative of the time depicted. This characteristic that brings an additional technical challenge at the time of the strike allows to enrich the drawing of each coin.
This series started with 3 famous women from the middle ages period : Queen Clotilde, Queen Mathilda and Joan of Arc. In 2017, 3 other historical figures were highlighted : Catherine de Médicis, Marquise de Pompadour and Olympe de Gouges. In 2018, the series will focus on XIXth century by honouring a French Empress, a Queen of Sweden and a woman of letters.
JOSEPHINE DE BEAUHARNAIS, DESIREE CLARY, GEORGE SAND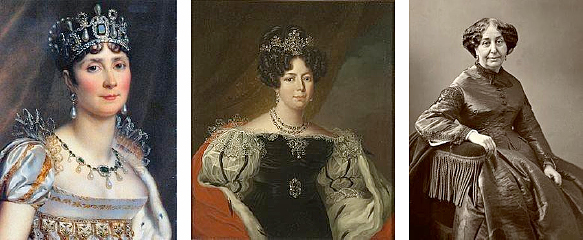 JOSEPHINE DE BEAUHARNAIS
Born as Marie Josèphe Rose Tascher de La Pagerie, Joséphine de Beauharnais (1763-1814) was the first wife of Napoleon Ist. Thanks to this union, she became Empress of French people between 1804 and 1809 and Queen of Italy from 1805 to 1809.
She was passionate by fashion and gained a renown in this field. Then, she created trends. Moreover, she was interested by the botany and she especially practiced this activity in Malmaison Castle, her famous last house.
Relating to her origins, she was nicknamed « the Creole beauty » and went to the French metropolis thanks to her wedding with Alexandre de Beauharnais, who was a symbol of French Revolution. At the beginning, this one should marry the Joséphine's little sister. Unfortunately, this last one died because of tuberculosis when she was 12. Then, Alexandre agreed with the wedding with Joséphine. They got married in 1779 and had two children : Eugène-Rose (1781-1824) who was Viceroy of Italy and Hortense Eugène Cécile (1783-1837) who got married with a brother of Napoleon. Together, they had the future Napoleon III and the Duke of Morny. Nonetheless, the Joséphine and Alexandre couple was unhappy because of his multiple relationships with other women. They then got separated in 1785. Alexandre dies in 1794.
After that, Joséphine met General Napoleon in 1795 thanks to Barras, one of her lovers. The ex-wife Beauharnais agreed with the wedding with Napoleon. More precisely, she engaged to have a financial stability and a suitable position in the society. On the other hand, Napoleon was so in love, jealous and possessive, he decided to change the name from Josèphe to Joséphine; making sure it was not pronounced by other men. They got married in 1796. Joséphine was crowned Empress by Napoleon in 1804, at the same time of his emperor consecration. Nonetheless, they couldn't have children together and it became a Matter of State, they had to divorce in 1809.
Joséphine died in the Malmaison Castle on the 29th of March 1814 because of pneumonia.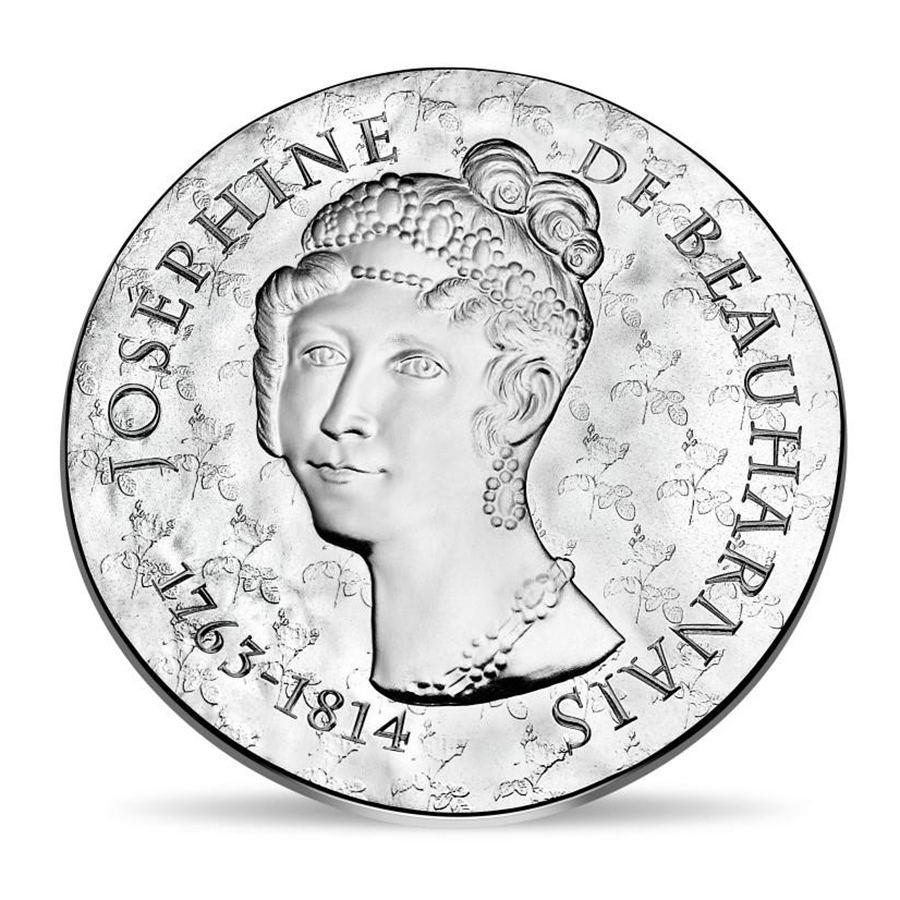 €10 silver Proof- Joséphine de Beauharnais – Monnaie de Paris – 2018
OBVERSE DESCRIPTION
The observe shows Joséphine's portrait surrounded by her dates and name. The background   of the   coin depicts one of the tapestries which can be found in the Malmaison Castle. This XVIIth century castle was bought by Joséphine in 1799. It was the Bonaparte familial house and became one of the French Government's location between 1800 and 1802. Inside the castle, we could find different rooms garnished with marble, gilding, mosaic and also a rich collection of artwork painted at the beginning of Napoleon's reign. When the couple got separated, Joséphine kept the castle and died there in 1814.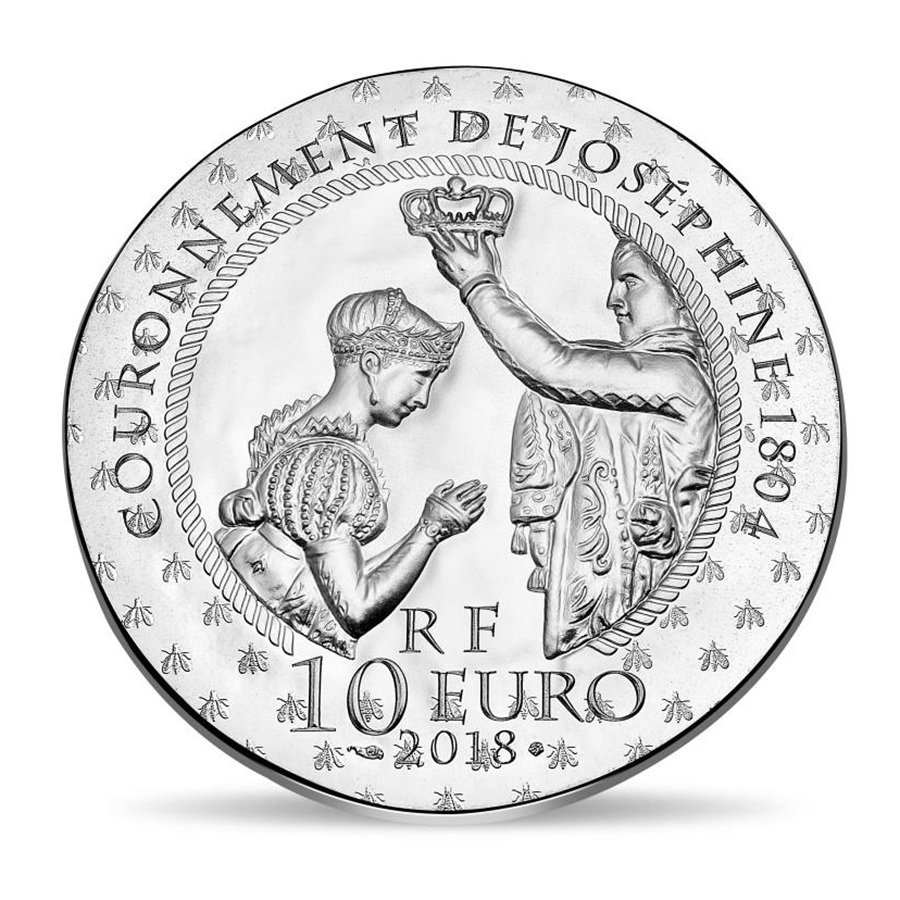 DESCRIPTION REVERS
The reverse shows the scene of Joséphine coronation as Empress by Napoleon Ist in 1804. This famous scene was painted by Jacques-Louis David, « Le Sacre de Napoléon » in 1804. This artwork is exhibited at the Louvre Museum, in Paris. The background beaded by bees reminds First Empire and Napoleon Ist symbols.
10€ Silver Proof
---
Mintage: 5 000
---
Diameter: 37 mm
---
Weight: 22.2 g
---
Fineness: Ag 900
---

50€ ¼ oz Gold Proof
---
Mintage: 1 000
---
Diameter: 22 mm
---
Weight: 7,78 g
---
Fineness: Au 999
---
DÉSIRÉE CLARY
Daughter of François Clary, the wealthy maker and merchant of silk, Désirée Clary (1777-1860) was born in Marseilles and had a great education.
Désirée Clary met the Bonaparte's family during her brother's lawsuit, who was suspected of illegally acquiring a title of nobility. At first, the young woman met Joseph Bonaparte who promised her a wedding when she would become an adult but things changed when she met Napoleon. This last one did the same promise as the one his brother did. The two brothers made an agreement : Joseph got married with Julie, Désirée's big sister. Thus, Désirée and Napoléon got engaged the 21st of April in 1795. Nonetheless, Napoleon broke the engagement when he got acquainted with Joséphine de Beauharnais. Even if Désirée forgave the infidel, she got a huge grudge towards Joséphine, her rival.
Three years later, Désirée Clary met and fell in love with Jean-Baptiste Bernadotte, the General. Moreover, this one was the military and political rival of Napoleon. Both of the lovers saw in this engagement a personal interest : for her, a way to revenge the humiliation imposed by her previous suitor and for him, a manner to resist to Napoleon. Désirée Clary and Bernadotte got married on the 17th of August 1798 and had an only child in 1799 : Oscar.
Bernadotte was elected crown prince of Sweden on the 21st of August 1810 and his wife joined him in January 1811 with their son. Nonetheless, she stayed only five months in Stockholm and came back in Paris because of harsh climatic conditions. Once in France, she could know the intentions of Napoleon Bonaparte in order to forward the conversations to her husband. At the same time, the Emperor used Désirée to send messages to Bernadotte.
When Bernadotte succeeded to the throne on the 5th of February 1818 as Charles XIV Jean, Désirée was crowned Queen of Sweden and Norway. This last one then came back to live in Sweden in 1823. Following that, her husband built to her the Rosendal Palace where she lived until her death, on the 17th of December 1860.
The current reigning dynasty of Sweden still is from Bernadotte and Désirée Clary's lineage. The heirs of Sweden still have Désirée among their official first names.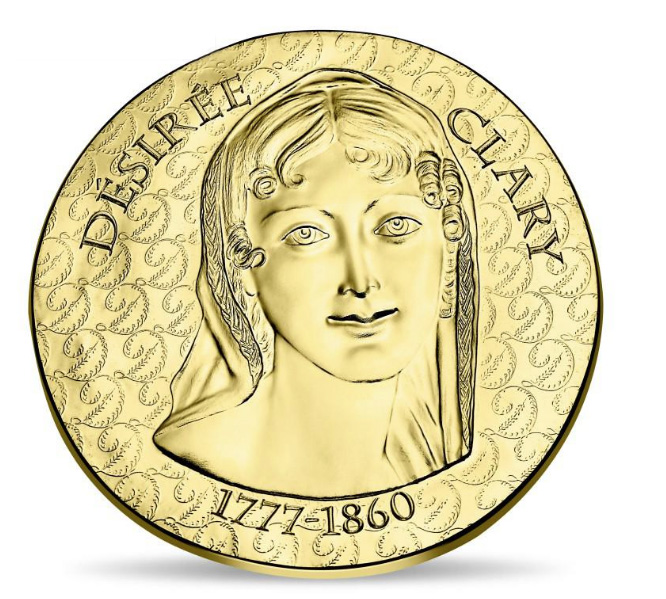 OBSERVE DESCRIPTION
The observe of the coin shows Désirée Clary's portrait surrounded by her dates and name. This artwork referers to Robert Lefevre's painting, « Portrait of Désirée Clary » (1807). In the background, we can find a tapestry made of D monogram relating to Désirée Clary.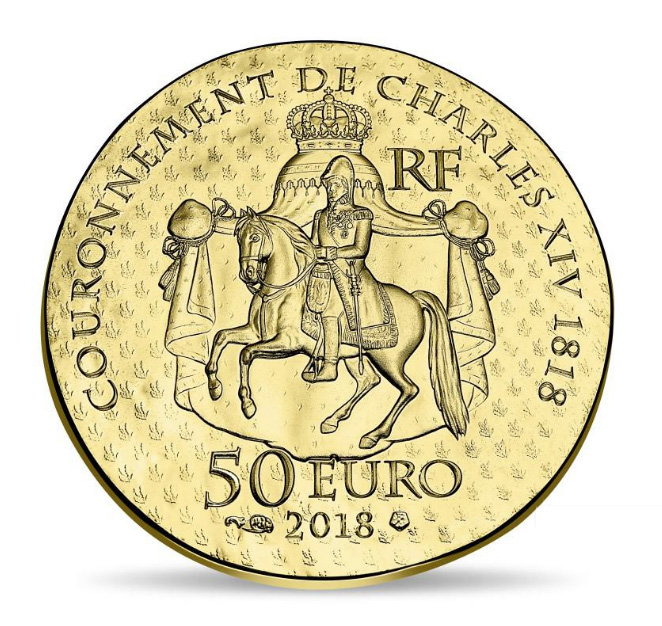 REVERSE DESCRIPTION
The reverse of the coin shows Désirée Clary's husband, the King Charles XIV Jean on horseback in front of the Sweden coat of arms. These are the symbol of the monarch. Its composition, inspired by Charles VIII of Sweden, was created during the fifth decade of XVth century.
50€ ¼ oz Gold Proof
---
Mintage: 1 000
---
Diameter: 22 mm
---
Weight: 7,78 g
---
Fineness: Au 999
---
10€ Silver Proof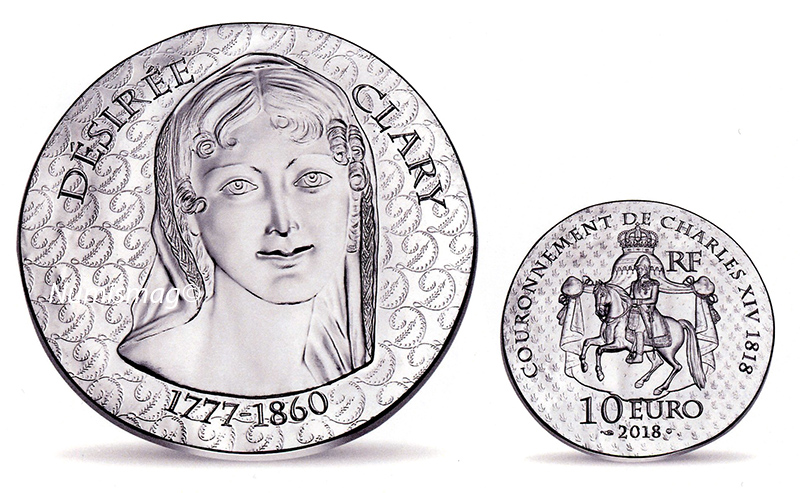 ---
Mintage: 5 000
---
Diameter: 37 mm
---
Weight: 22.2 g
---
Fineness: Ag 900
---
GEORGE SAND
Born Aurore Dupin, Georges Sand (1804-1876) was born in Paris. Thanks to both popular and aristocratic ancestry, she became a person with strong political convictions.
Even if it was impossible for a woman to work during the 1830's, Aurore Dupin began her working life as a journalist for the Figaro newspaper thanks to Jules Sandeau, her lover at this time.
George Sand counts among the most influential writers of her time. Strong advocate for women rights, she was committed to the revolution of 1848. Moreover, George Sand scandalizes due to her hectic love life, her masculine dress code and her masculine pseudonym. She was an active contributor to intellectual life of the society at this time. She was very close to influential artists such as, Honoré de Balzac, Gustave Flaubert, Eugène Delacroix, Victor Hugo and particularly Frederic Chopin with whom she had a seven years relationship.
The strong woman died in Nohant Castle when she was 72 years old.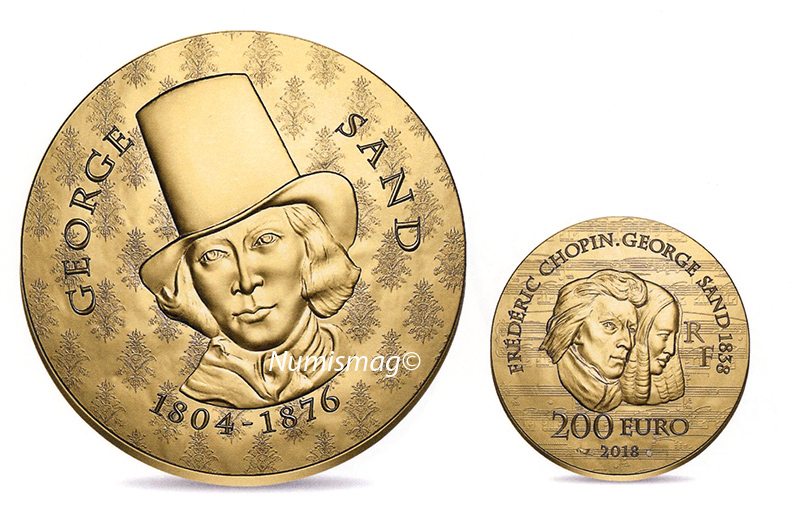 200€ 1 oz Gold Proof
---
Mintage: 500
---
Diameter: 37 mm
---
Weight: 31.104 g
---
Fineness: Au 999
---
Public price : 2100 €
---
50€ ¼ oz Gold Proof
---
Mintage: 1 000
---
Diameter: 22 mm
---
Weight: 7,78 g
---
Fineness: Au 999
---
Public price : 485 €
---
10€ Silver Proof
---
Mintage: 5 000
---
Diameter: 37 mm
---
Weight: 22.2 g
---
Fineness: Ag 900
---
Public price : 53€
---
Sources: Monnaie de Paris – NUMISMAG©