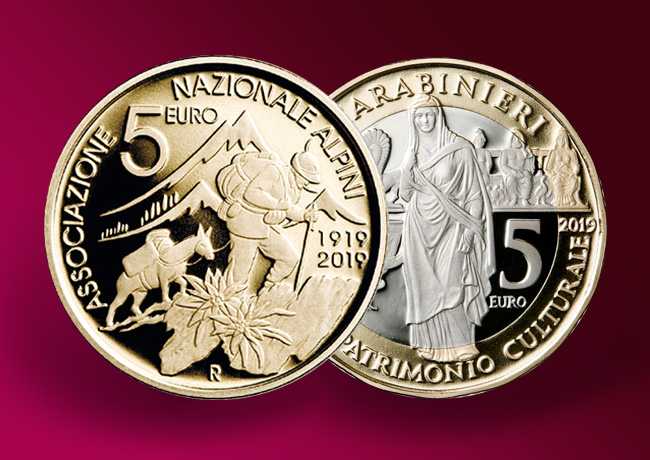 With two New 5 Euro Commemoratives coins Italian Mint Commemorates Carabinieri and Alpine Corps
The Mint of Italy is issuing two coins to celebrate the Carabinieri and the Alpini. The first coin commemorates the 50th anniversary of the foundation of the Cultural Heritage Protection Command, and the second celebrates the centenary of the National Alpine Association. Both coins, in bronzital, were made by the engraving artists of the State Mint Luciana De Simoni and Silvia Petrassi, and produced by the Mint of Rome.
5 euros – 50 years corps des carabiniers office central office protection artistic and cultural heritage
On the obverse is the official logo of the Carabinieri Directorate for the Protection of Cultural Heritage. In the background is the historic headquarters of the Command of Piazza Sant'Ignazio in Rome. On the high field, a free interpretation of the "grenade" symbol of the Italian gendarmerie (Carabinieri). The author of this play is "L. DE SIMONI" and the words "REPUBBLICA ITALIANA".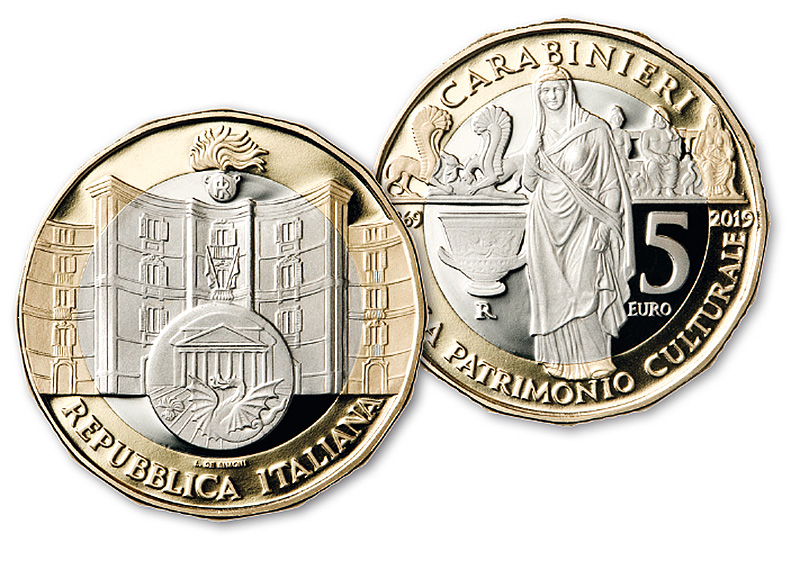 On the reverse, some important archaeological discoveries are represented such as the statue of Vibia Sabina, the Phoros Trapeze of Ascoli Satriano with its griffins, the Euphronios crater and the Capitoline Triad. The date 1969 indicates the year of creation of this specialized corps of Carabinieri.
Caracteristics
---
Nominal value: 5 euros
Metal: bronze and cupronickel
Diameter: 27.5 mm
Weight: 9.5 g
Slice: polygon inscription with sixteen sides
Quality: BE
Author: Luciana De Simoni
Mintage: 5 000 ex
---
5 euros Silver – Alpine hunters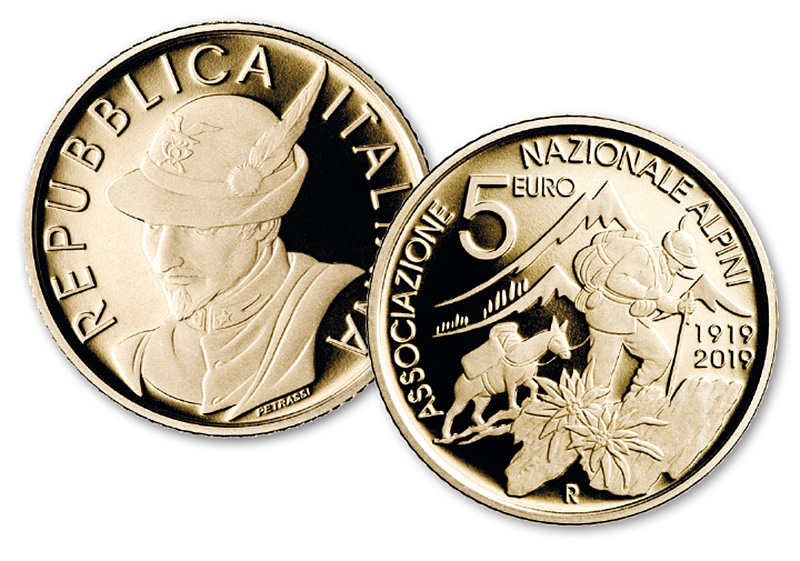 On the obverse is a portrait of an alpine soldier with the famous felt hat with characteristic feather, slightly tilted backwards. On the outside the words "ITALIAN REPUBLIC".
On the reverse side is an Alpine patrol with a mule, an irreplaceable companion of the Alpine Corps since its origins. In the foreground, the flower
edelweiss, symbol of courage and tenacity.
At the top of the circle, the inscription "NATIONAL ALPINI ASSOCIATION"; in the left field, at the top, the value "5 EURO"; in the right field,
the dates "1919" and "2019", respectively the year of foundation and the year of issue; below, "R", letter of identity for the Rome Mint.
Caracteristics
---
Diameter: 26.95 mm
Weight: 9.30 g
Edge: continuous knurling
Finish: Incirculated Gloss
Author: Silvia Petrassi
Mintage: 10 000 ex
---
Sources: ZECCA, NUMISMAG©.