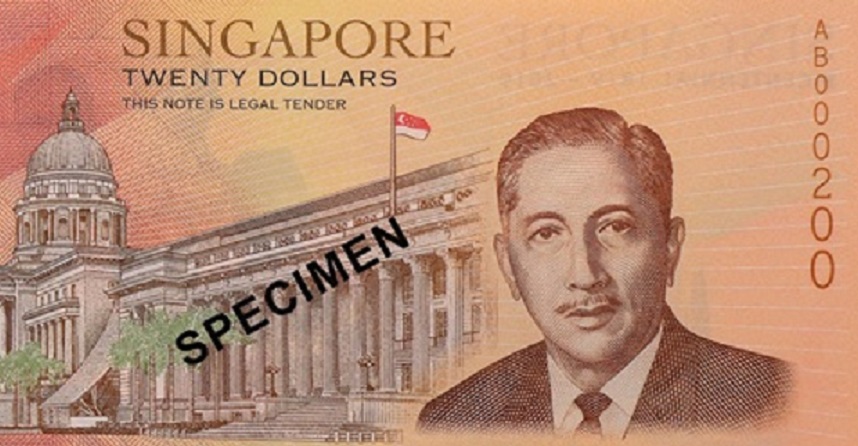 2019 Singapore 20 dollars commemorative banknote – Singapore Bicentennial
On 5 June 2019, President Halimah Yacob launched a $20 banknote to commemorate Singapore's Bicentennial. The commemorative note depicts Singapore's journey to nationhood and pays tribute to our forebears who laid the foundations for modern Singapore.
---
Banknote Design
---
The front of the commemorative note features a portrait of Mr Yusof Ishak, Singapore's first President, alongside the former Supreme Court and City Hall, which are now the National Gallery Singapore. These two national monuments witnessed many key events in Singapore's passage to nationhood, including the swearing-in of the state government in 1963 and Singapore's first national day parade in 1966.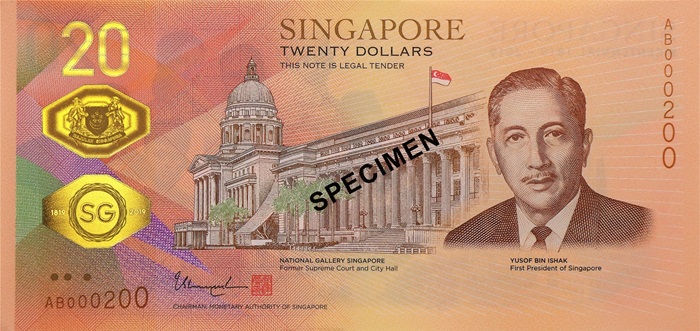 The back of the note showcases eight pioneering individuals who were part of a broad cast who arrived from different lands and made significant contributions to nation building in diverse areas ranging from education, culture and community service to sports and defending Singapore.
Abdullah bin Abdul Kadir, also known as Munshi Abdullah, arrived in Singapore from Melaka in 1819. He was an influential teacher and writer who was widely recognised as the "Father of Modern Malay Literature".
Henry Nicholas Ridley arrived in Singapore from England in 1888. He was the first Director of Singapore Botanic Gardens from 1888 to 1911, and laid the foundation for the rubber industry in Malaya.
Tan Kah Kee came to Singapore from China in 1890 and rose to prominence as an outstanding community leader and philanthropist who set up schools and donated generously to education.
P. Govindasamy Pillai, popularly known as PGP, came to Singapore from India in 1905. He was a devoted volunteer and philanthropist who contributed significantly to temple-building and community welfare.
Teresa Hsu Chih came to Singapore in 1963. She was an inspiring social worker and humanitarian who devoted her life to caring for the destitute and aged sick, and is remembered not only for her contributions to society but also for her positive attitude towards life.
Alice Edith Wilhelmina Pennefather, better known as Alice Pennefather, was a pioneering sportswoman who won numerous honours in badminton, tennis and hockey. She participated in the Singapore National Badminton Championships and emerged as the women's singles champion in 1931, 1932, 1934 and 1937, women's doubles champion in 1931 and mixed doubles champion in 1947 and 1951.
Adnan Saidi, a lieutenant of the Malay Regiment's 1st Battalion, is best remembered as a war hero who fought with utmost valour in the Battle of Pasir Panjang in World War II.
Ruth Wong Hie King was widely regarded as a leading educationist who transformed teacher training and raised the professionalism of teachers.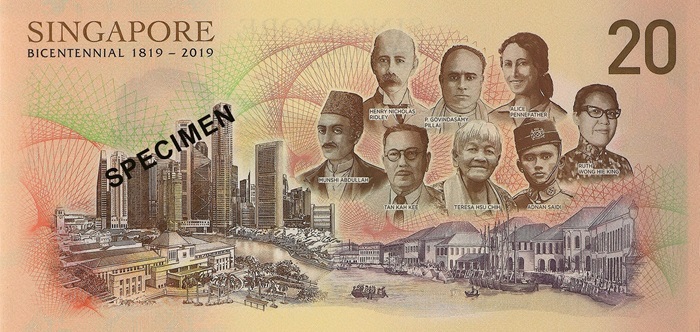 The eight individuals are portrayed against a backdrop of the old Singapore River, flowing into present-day Singapore. The river was at the heart of Singapore's development as a trading port, and later our transformation into a business and financial hub.
The note also features a multi-coloured lattice-work that reflects Singapore's rich and diverse cultural tapestry. The '20' denomination, Singapore Coat of Arms, Singapore Bicentennial logo, and the years '1819' and '2019' are depicted in gold with dynamic optical effects in a security stripe.
This $20 commemorative note was designed by local artists Mr Eng Siak Loy and Mr Weng Ziyan.
---
Availability
---
Members of the public can exchange the $20 commemorative note at face value at branches of nine major retail banks in Singapore from 10 June 2019 onwards. Each note comes with a specially designed folder. To allow everyone to have an opportunity to exchange for the commemorative note, each individual is allowed to exchange up to 20 pieces of the note per transaction.
The nine banks are:
DBS Bank Limited/ POSB
OCBC Bank
United Overseas Bank Limited
Bank of China Limited
Citibank Singapore Limited
Industrial and Commercial Bank of China Limited Singapore Branch
Maybank Singapore Limited
Standard Chartered Bank (Singapore) Limited
HSBC Bank (Singapore) Limited
---
Numismatic Sets
---

5,000 limited edition numismatic sets, each comprising one uncut sheet of three $20 commemorative notes, are available for purchase at $280 per set. Pre-orders can be placed with The Singapore Mint from 5 June to 13 June 2019.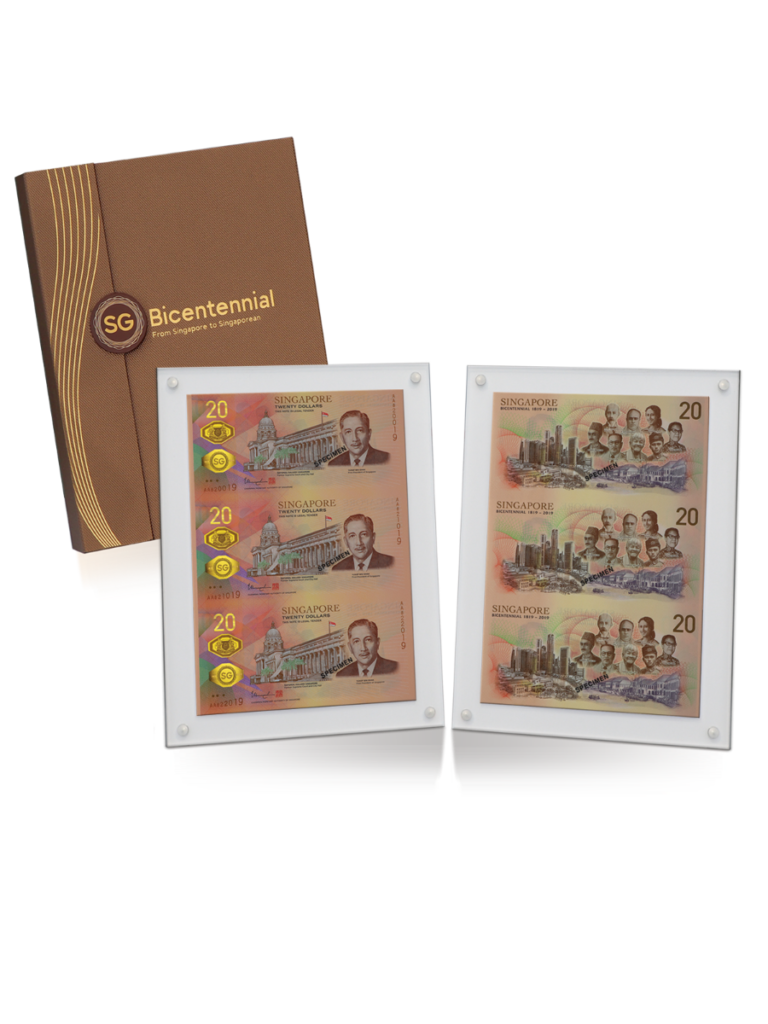 The numismatic currency sets will be allocated by balloting if they are oversubscribed. The sets were available for collection from 20 June 2019. They are actually sold out on Singapore Mint's online shop.
Sources: Singapore Monetary Authority and NUMISMAG.