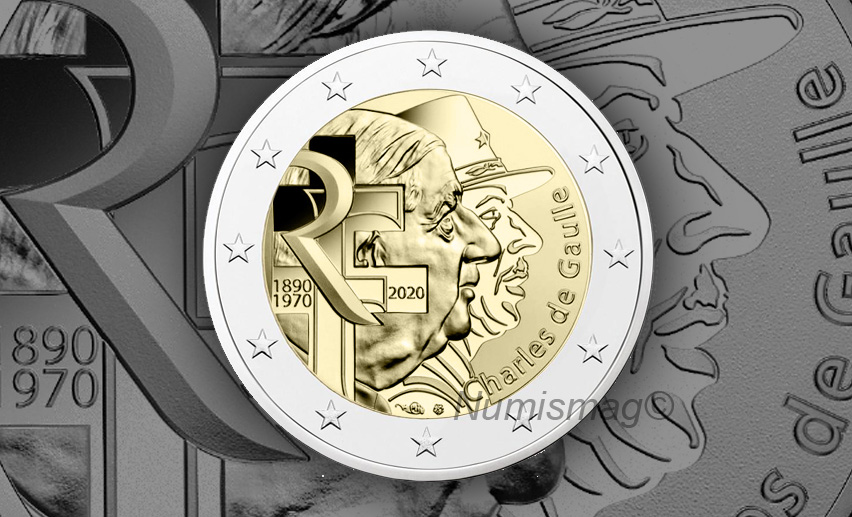 2020 french €2 commemorative coin celebrating General DE GAULLE
The National Commemorations of the 50th anniversary of the death of General De Gaulle will be celebrated in 2020. The Monnaie de Paris (French Mint) will issue a series of €10 and  €100 coins for this occasion, as well as a €2 coin, bearing the effigy of french Fifth Republic's father, General De Gaulle
The €2 General De Gaulle coin exists in 3 different versions (UNC, BU and PROOF).
He is an iconic figure of Free France during the Second World War. He was first appointed Colonel in 1936 and then General four years later. Called as Secretary of State for War Department, he learned on June 16th 1940 that Marshal Pétain wanted to ask for the armistice. He then flew to London and launched an appeal for national resistance on June 18th 1940 on the air of the BBC. Supported and assisted by Admiral Georges Thierry d'Argenlieu and Vice-Admiral Emile Muselier, he adopted the cross of Lorraine as the symbol of Free France in 1940, in opposition to the swastika of the Nazis. He then created a French National Committee to poursue the fight alongside the Allies.
2020 €2 General De Gaulle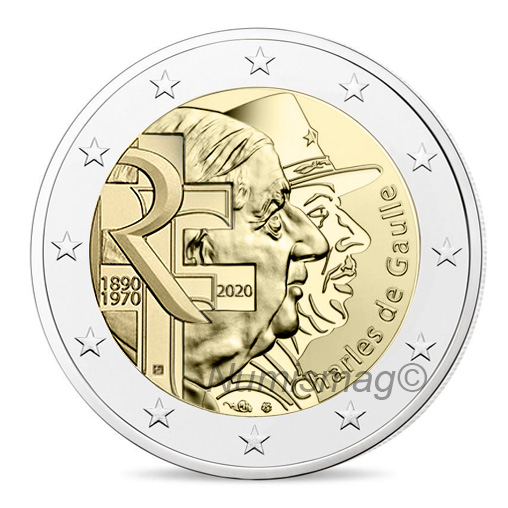 The drawing represents in the foreground a profile of Charles De Gaulle (as Fifth Republic President) and in the background another drawing represents General De Gaulle's profile in uniform (as  Free French leader). In the foreground, on the left, is the mention RF superimposed on the cross of Lorraine, symbol of free France.
---
Weight : 8,5 g
Diameter : 25,75 mm
Numismatic condition: BU (Brillant Universel) and Proof
UNC coins Mintage: 18 061 940 coins related to "june 18th 1940 appeal"
BU coins Mintage : 10 000 coins
Proof coins Mintage: 10 000 coins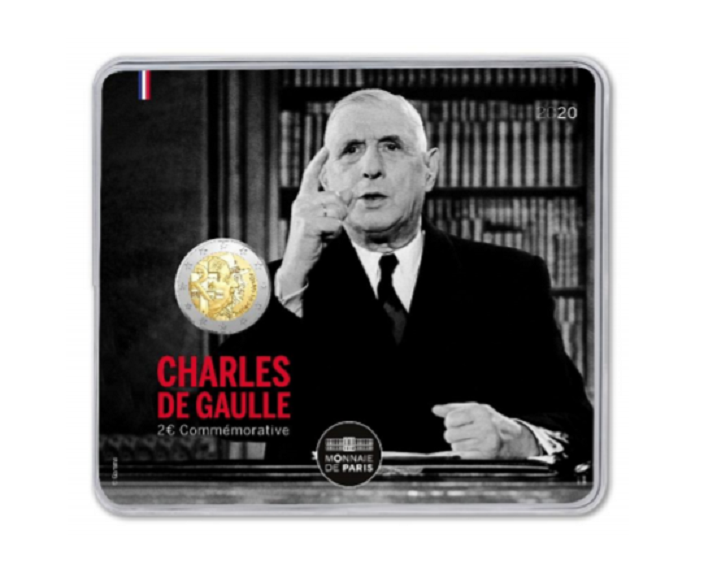 2020 French €2 BU Charles De Gaulle 
2020 Annual mini sets Charles De Gaulle (mintages: 500 sets for each of them)
Issuing day: February 2020
---
Prices on numismatic market
---
UNC coin(from rolls): €4 (MS63)
colorized BU coin (coincard): €14
Colorized proof coin (box with MDP silk-screened sleeve): €28
BU coin set – WMF Berlin: €65
BU coin set – Charles de Gaulle: €80
Sources : Monnaie de Paris (french Mint) and  Numismag©