Belgian mint honors Antwerp olympic games city as well as luke and lucy comic
Mint of Belgium announced two new numismatic issues.
The first coin célébrâtes Olympic Games taking place in Antwerp, just  after the First World Ward, filled with hopes and first times.
The other coin is dedicated to Luke and Lucy comic.
---
€2,5 coin celebrating the 1920 olympic games in Antwerp
---
On 20 April 1920 the opening ceremony of the seventh Olympic Summer Games was held in a brand new stadium in the Antwerp district Kiel. Belgium was assigned the organization because of all the misery the First World War had brought upon them. The Olympic Summer Games of 1920 had 2,626 contestants from 29 countries who practiced 24 different sports.
Colored and normal versions of the coin
Many events happened for the first time during the seventh edition of the Games. The first Olympic Oath was made by Belgian fender Victor Boin and the first Olympic Flag was hoist, on which each ring symbolized a different continent. It was also the first time doves were released as a symbol of peace.
---
Coin Specifications
---
Metal: Brass
Weight: 10.50 grams
Diameter: 25.65 mm
Quality: Brilliant Uncirculated (BU) / FDC
Designer: Luc Luycx
Max. mintage: 50,000 (2 x 25,000 including max 15,000 pieces for the FDC set 2020 Antwerp)
---
5 euro commemorative coin Belgium 2020
"75 years of Luke and Lucy"
---
The BU coin is sold in coincard in two different editions.
Luke and Lucy were created by Willy Vandersteen. They first met "Op het Eiland Amoras", a comic that was first published in a newspaper in 1945 and was shortly thereafter published as a comic book. Ever since that first comic Luke and Lucy, Aunt Sidonia, Lambik (also known as Orville or Ambrose) and Jerom (Wilbur, Jerome, or Jethro in English translations) have embarked on over 350 adventures.
On the obverse their bilingual names and jubilee denotations adorn a well-known drawing of a young Luke and Lucy carried along by the ghost of William Lager.
The coin is issued in two varieties, each covering half of the mintage: a classic coin in relief and a coin that shows the image in the original colors of the first comic.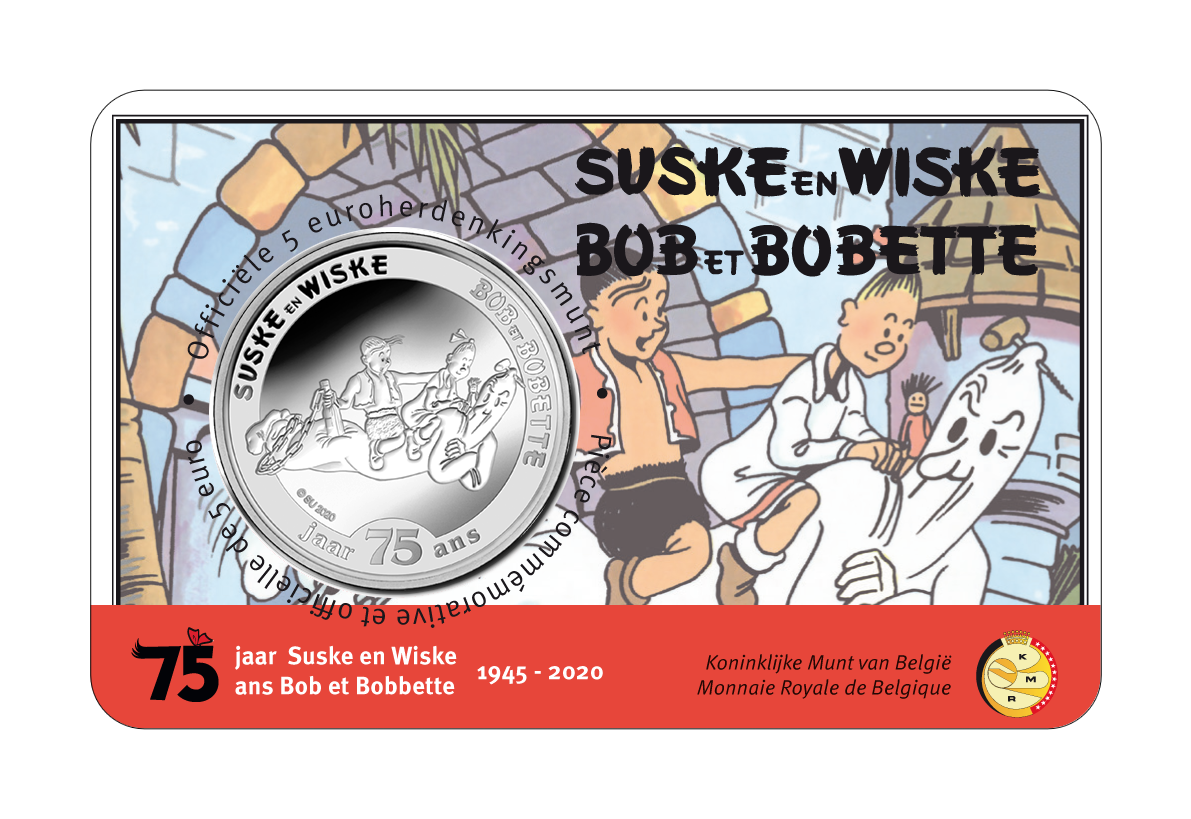 Relief version of the coin
Colored version of the coin
---
Coin specifications
---
Available in two editions: in RELIEF and in COLOUR
Legal tender, not for circulation
Metal: CuNi (Cupro Nickel)
Weight: 12.67 grams
Diameter: 30 mm
Quality: Brilliant Uncirculated (BU)
Design: Luc Luycx
Max. mintage: 12,500 copies; 50% in relief and 50% in colour
Sources: Monnaie Royale de Belgique and NUMISMAG.