New £50 TURING banknote, sold for £13 000 at SPINK LONDON
This was the seventh charity auction of low numbered banknotes held by Spink and Son Ltd in partnership with the Bank of England. This auction follows the issue of the £50 polymer note on 23 June 2021 featuring Alan Turing.
"The issue of the polymer £50 is an important milestone as it completes our most secure set of Bank of England banknotes yet", said Sarah JOHN, chief cashier and director of the notes at the Bank of England.
This note contains advanced security features, including two see-through windows and a two colour foil which make it very difficult to counterfeit. The Turing £50 joins the Turner £20, the Austen £10 and the Churchill £5 in the Bank of England's first series of polymer notes.
The polymer £5, £10 and £20 auctions, in 2016, 2017 and 2020, collectively raised over £590,000 for our chosen charities.
NUMISMAG presented you the new banknote and all details related to it (clic here to read the article).
---
Auction results
---
SPINK presented, with the help of the Bank of England, a set of 50 pound TURING banknotes, all with a small number (less than 1000).
The smallest number offered in this sale was the note no. 5 (AA01-000005).
It was priced between £4,000 and £6,000. It finally realized £13,000.
Bill No. 13 sold for £5,500, above the valuation by realizing more than double the ceiling valuation. However, it sold for half the price of ticket no. 5. The banknote with the smallest number available on the market therefore enjoys a very high premium.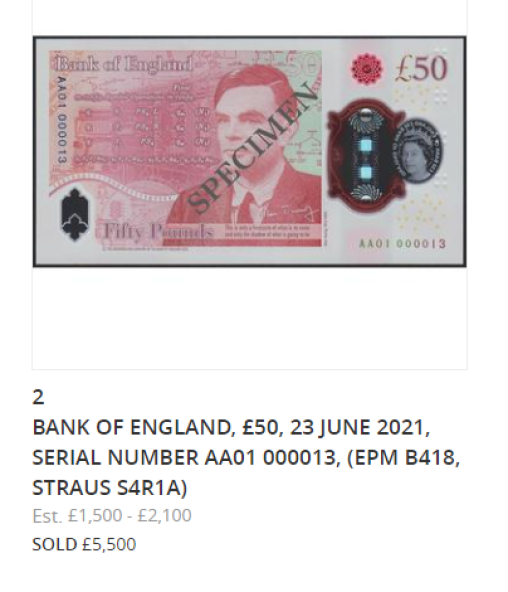 The smallest numbered banknote, with the lowest bid, was still sold for £580.
SPINK also offered pairs of tickets with consecutive numbers for sale.
The pair consisting of tickets #999 and 1000 sold for £2500.
Finally SPINK sold a whole sheet of TURING tickets. It was sold for £10,000, below the ceiling valuation of £12,000. It is surprising to see that the ticket with the smallest number sold for more than a whole sheet…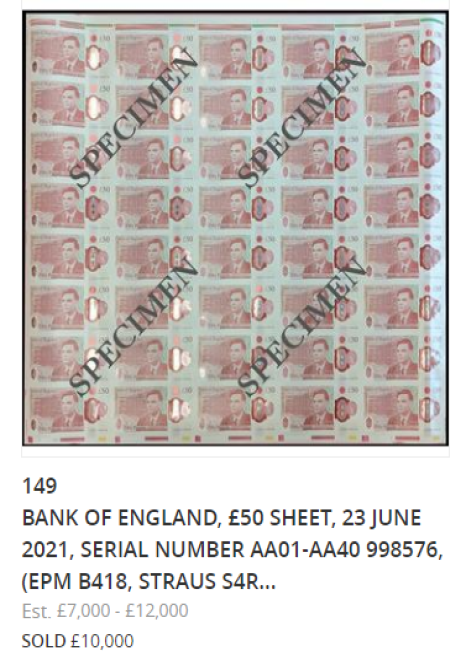 Sources: SPINK and NUMISMAG©.