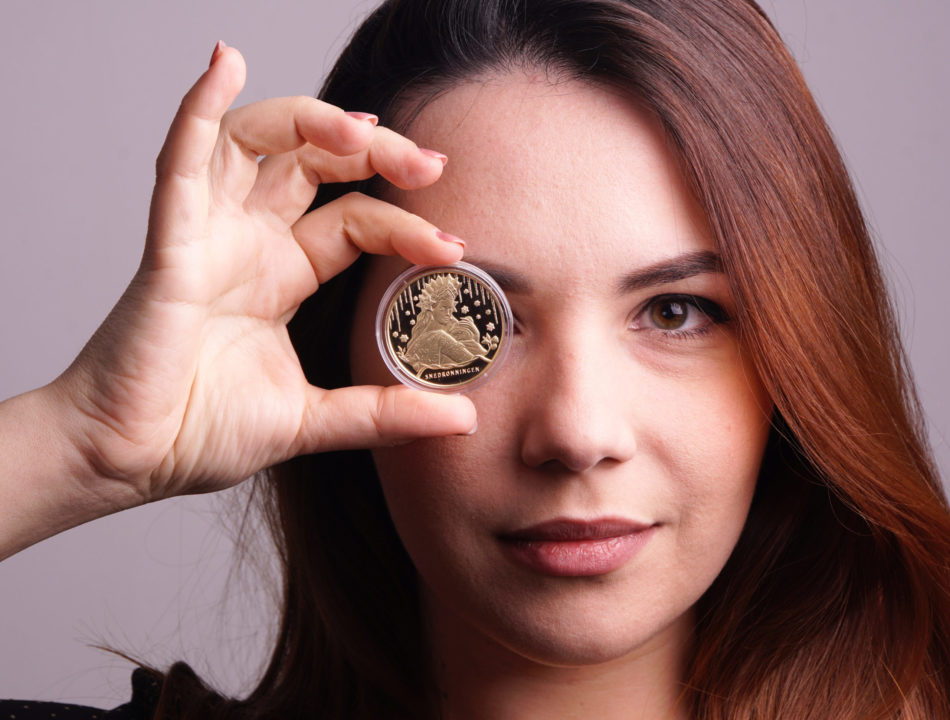 Sandra DEIANA, 2.0 master engraver
The recent Irish numismatic issue, the 10 euro silver coin "Christ Church Cathedral", featured a young artist, Sandra DEIANA. As an engraver, she has already designed several coins for the Irish Central Bank and the ZECCA of SAN MARIN. SANDRA also likes to share her passion for her work with as many people as possible through social networks and through a Youtube channel she created. NUMISMAG invites you to discover this passionate artist and her work.
NUMISMAG: Sandra, what is your initial artistic training?
SANDRA DEIANA: I love to draw as long as I can remember. My parents have always supported me in this passion of mine. In fact, very often they took me to painting competitions with my older sister. After primary school I attended the Art High School and after graduating, in 2009 I decided to move to Rome where I studied at the Academy of Fine Arts, which unfortunately I left after almost three years. One day by chance I saw online the announcement of the Medal Art School in the Italian Mint, and I was immediately intrigued by this new challenge, especially since every year only twelve students were chosen to enter it. A new chapter in my life has opened and I finally felt that this was my path, where I could learn completely new things, but still linked to my passion.
I felt almost like I was in a Renaissance art studio. It was an environment for a few and I had the opportunity to be closely followed by the teachers. In total, I spent six years in the school, three as a student and three as a trainee.
The last ones taught me the usefulness of comparing with colleagues and the importance of teamwork.
On July 31, 2018, that second chapter ended, but already on August 17 I was traveling to the United States. I had learned the traditional techniques, but I was determined to discover those of other countries as well. So I went to South Carolina to attend Heidi Wastweet's medal workshop – which I attended for two consecutive years – and took the opportunity to visit the United States Mint in Philadelphia. I met all the designers in the engraving studio, who were very kind to me. It was a wonderful experience that really inspired me a lot and that made me think about where I could go with this job.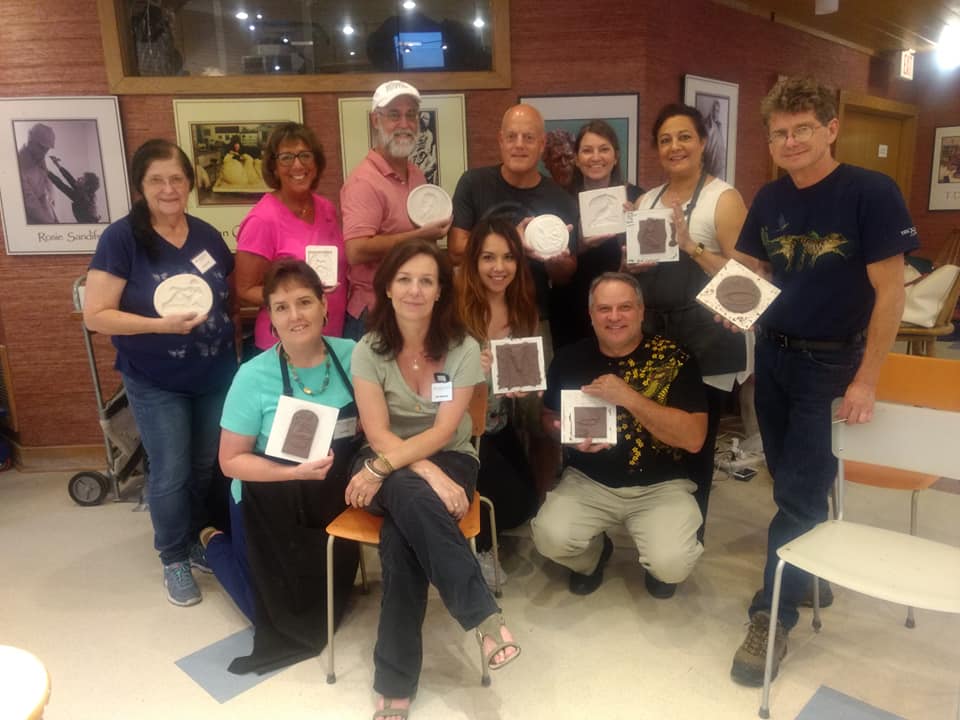 Heidi Wastweet's Medal Workshop
---
WHO IS HEIDI WASTWEET 
She is a leading American Medallist and sculptor who specializes in bas-relief, from cast and struck medals to public monuments. In conjunction with a wide variety of private mints she has produced over 1000 coins, medals, and tokens since 1987.
She was chief engraver for Sunshine Mint for 11 years and lead designer/sculptor for Global Mint for 5 years. In 2001 she opened her own studio and relocated from Idaho to Seattle Washington in 2003, then to San Francisco Bay area in 2013.
She currently serves as President for AMSA, the American Medallic Sculpture Association; member of FIDEM, the international organization of Medalists; and elected member of NSS, National Sculpture Society. Her work has been shown in magazines, newspaper and digital media, and she exhibits her non-commission work regularly, including Medialia Gallery in New York and Bellevue Art Museum in Washington.
She served on the Citizen's Coinage Advisory Committee for the US Mint from 2010 to 2018 and teaches an annual medal workshop at Brookgreen Gardens in South Carolina.
---
In 2019 I attended two sculpture courses in San Francisco held by Alicia Ponzio, because I believe that a deep knowledge of all-round sculpture is fundamental for the realization of the illusion given by a good low relief.
In general, I can say that I am really satisfied with these courses, because they have allowed me to speed up and refine my work. Furthermore, for the first time I was able to compare myself with other artists in my sector.
The most recent – but certainly not the last – stage of my training course is a 3D sculpture course that I decided to do to improve myself on the most recent modeling techniques.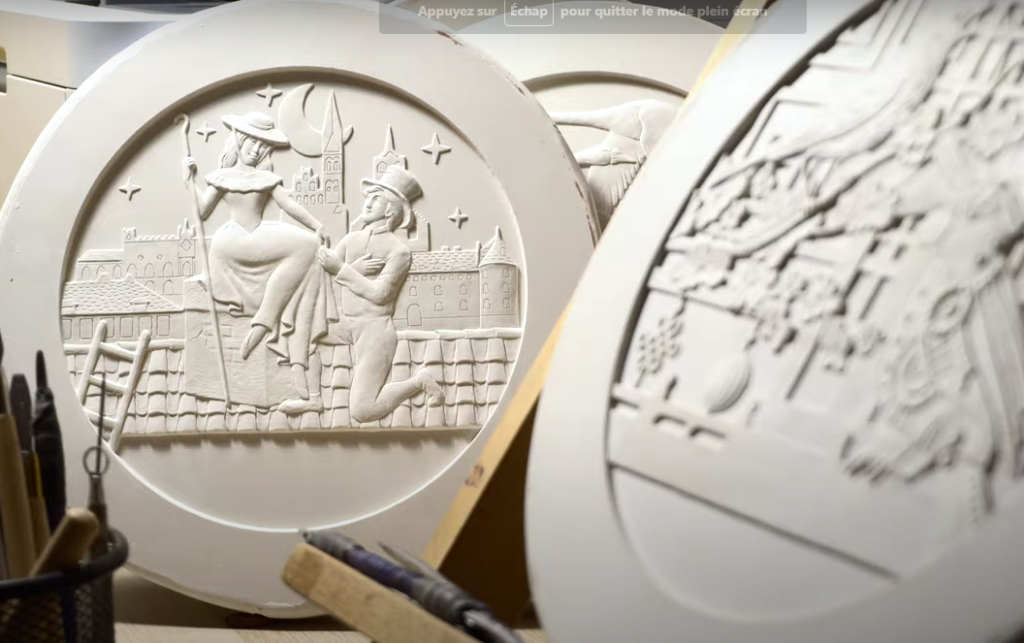 NUMISMAG: Do you have a mentor in the study of engraving? If so, who is it?
SANDRA DEIANA: For the engraving I actually had two reference figures. In first place is my Engraving and modeling teacher at the Medal Art School, Uliana Pernazza. I owe her all the basics: she taught me the foundations for a good composition of a medal and above all she passed on her passion for this job, because in addition to being a very good engraver she was an excellent teacher for me. My second teacher, who I like to define as "my American teacher", was Heidi Wastweet. She made me appreciate a new working technique and in the meantime we have become very good friends, who support each other despite the distance.
NUMISMAG: What were you interested in engraving coins and medals?
SANDRA DEIANA: I cannot always represent what I would like, I almost always have to respect the concepts chosen by my clients. However, there are some subjects that I prefer over others and I really like to make use of symbolism, especially of the woman as an allegory. In the history of art, in fact , the woman has become an icon, in painting as well as in sculpture, because it is synonymous with grace and beauty. The coin and the medal for me must convey both things in the observer. This is why I used two women as allegories to represent Art and Italy in the 2021 calendar medal I made for an Italian private mint. I had a lot of fun making this project because it is very rare that a client gives me complete freedom on the subject. I recently started working on a series of coins that represent female allegories on an American theme, but for now I can't tell you more.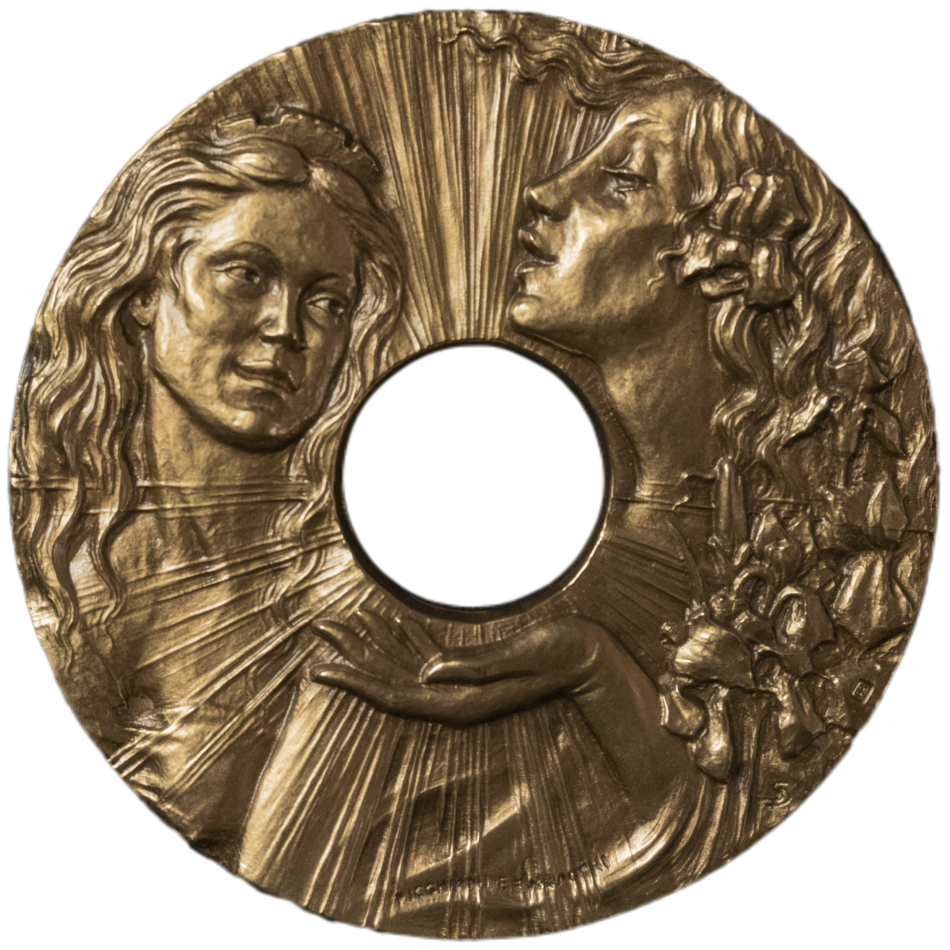 2021 Calendar Medal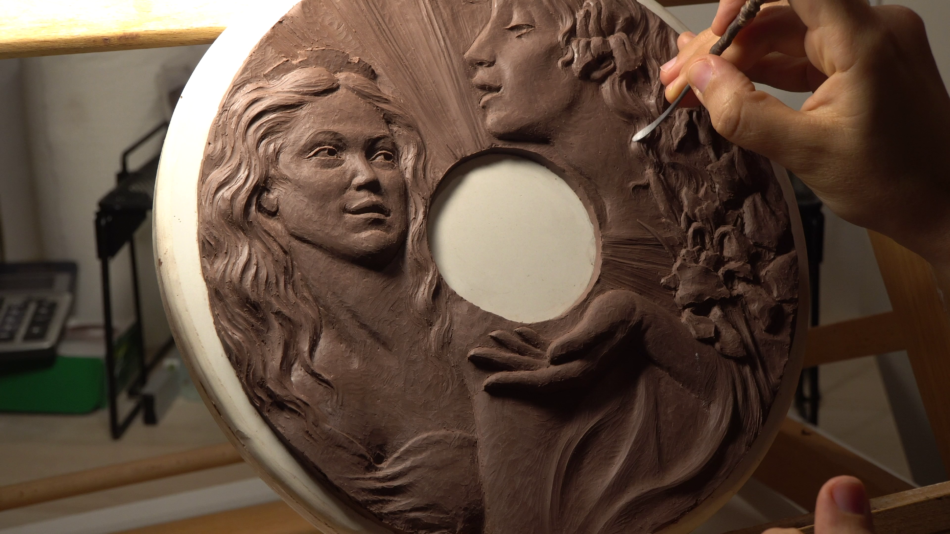 Plastiline model of SANDRA's calendar medal
NUMISMAG: What are your main sources of inspiration?
SANDRA DEIANA:I don't have any specific sources of inspiration. When I receive assignments I am assigned a theme and the first thing I do is a theoretical study of the required concepts. I believe that for many artists the inspiration comes from something they happen to see, for me the exact opposite happens. When I think about the theme I almost immediately have an image in mind and then, slowly, I develop it better and create the details. When, on the other hand, I have the possibility to choose the theme myself, I give priority to topics I have read or heard about that have caught my attention and intrigued me.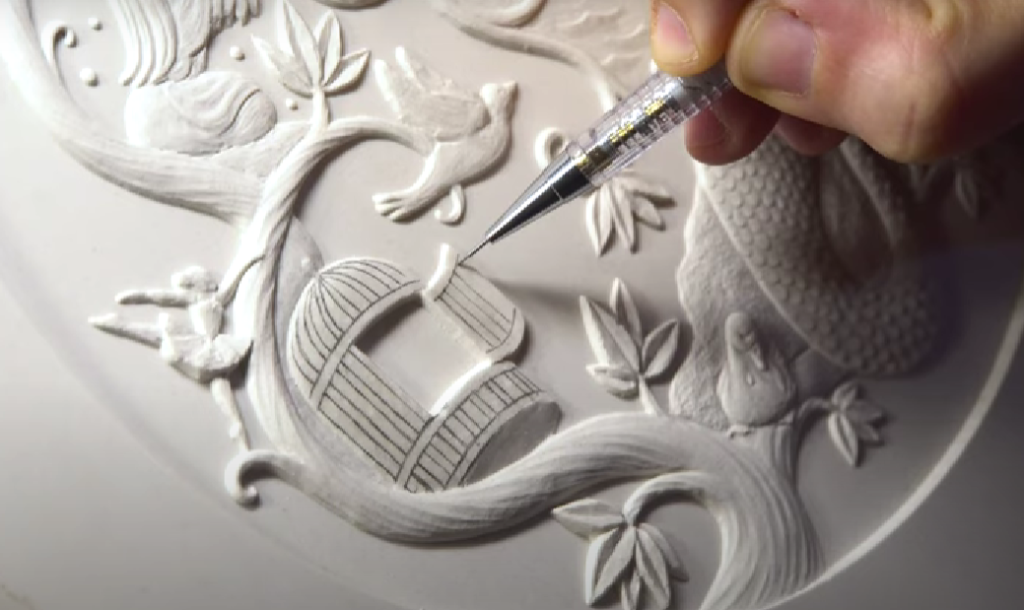 Detail of the medal dedicated to the tales of ANDERSEN
NUMISMAG: Do you prefer to engrave a medal or a coin?
SANDRA DEIANA: From a conceptual point of view, I prefer money: it is an ancient medium that has its own face value and I like the idea that it remains immortal over time, unchanging over the centuries. It belongs to the various nations and helps to define their identity, while the medal is an effigy, it is intended to commemorate someone or something. Regarding the practical aspect, I like both. Iif the coin, with its technical virtuosity and its complexities, offers me a more difficult challenge and therefore gives me the opportunity to test myself more and more, the medal on the other hand,  leaves me more freedom with his more generous reliefs.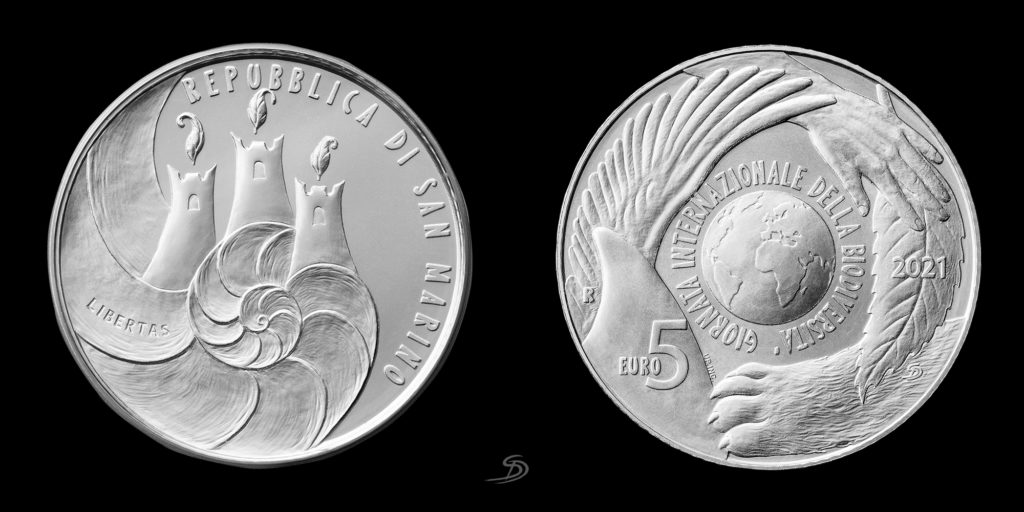 2021 €5 Biodiversity – SAN MARINO, by SANDRA DEIANA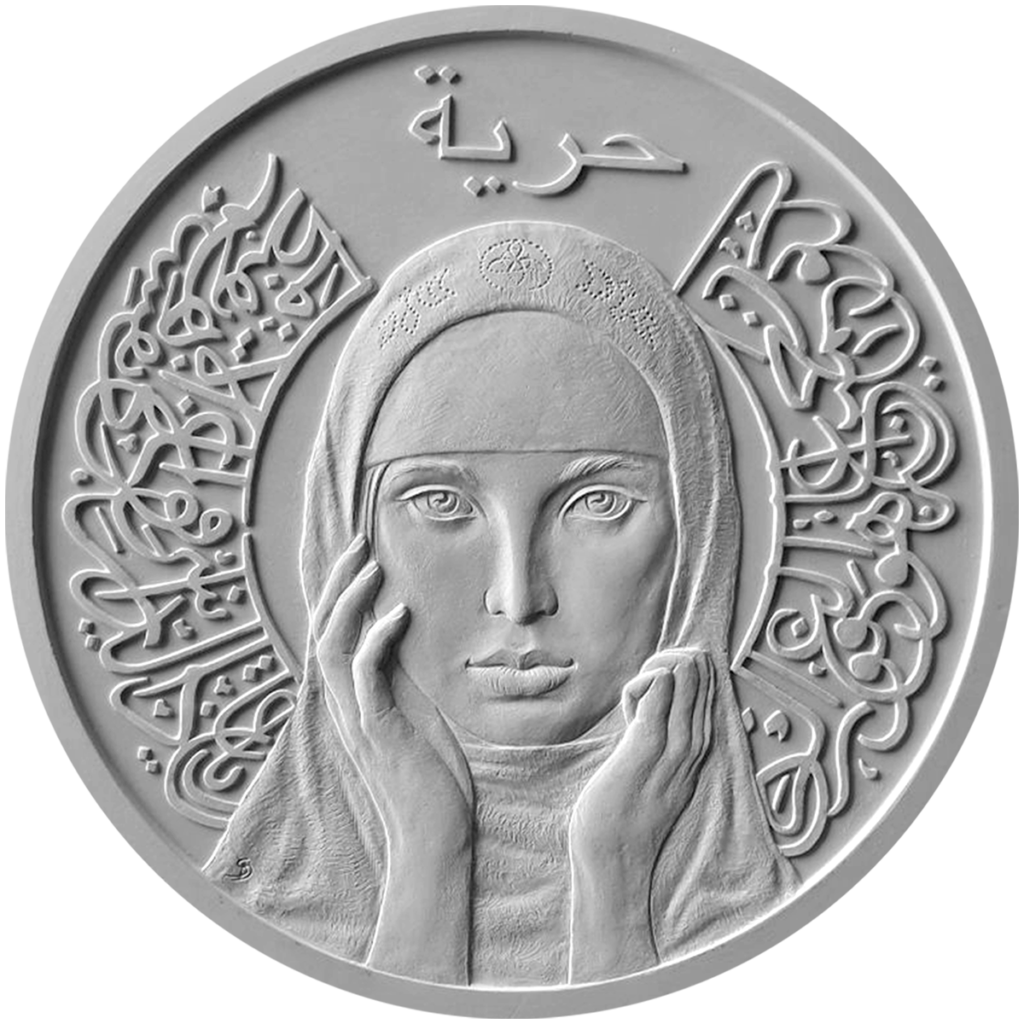 Arabic Freedom Medal of SANDRA DEIANA
NUMISMAG: What are the technical constraints you face when entering coins and medals?
SANDRA DEIANA: From a technical point of view, the coin has much lower and more binding reliefs than the medal. For example, I happened to make models in just 2 millimeters in height. Today the numismatic market is expanding to different types of collector coins, even with very high reliefs, colored parts, non-circular shapes, precious stones or small objects embedded. I made some coins for Art Mint which are an example. Carpe Diem has a real miniature hourglass on top of it, Beethoven's coin a small diamond inserted on the reverse. The most different coin I've ever drawn is the one on Antonio Vivaldi, which is actually a real playable CD-coin, with a silver finish! This coin was nominated the Coin of The Year 2020 as the "Most Innovative Coin".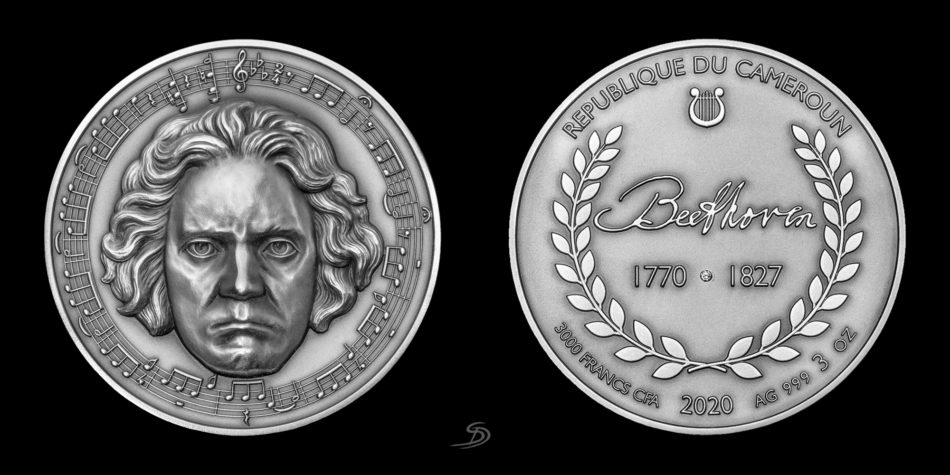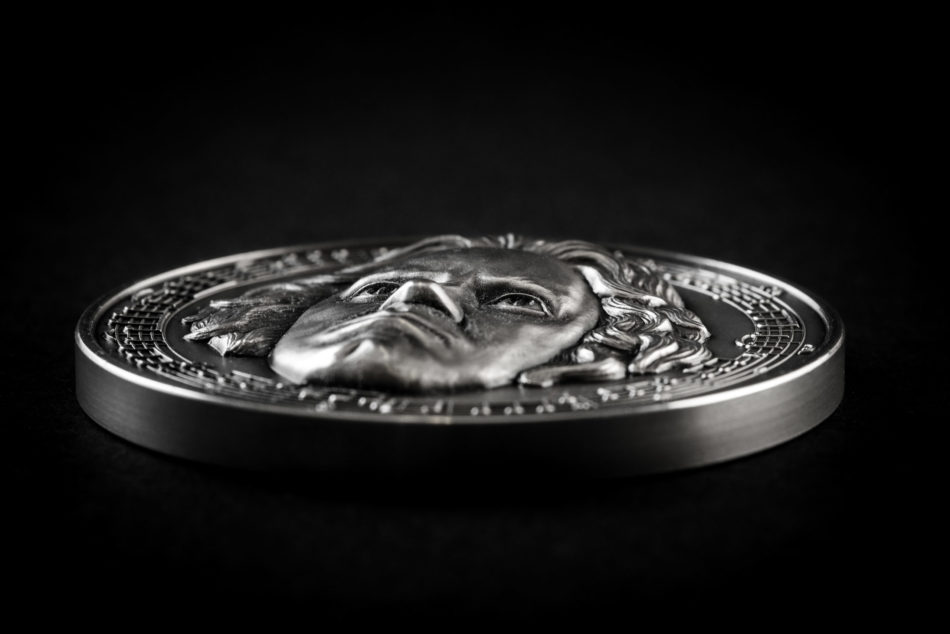 Coin dedicated to Beethoven (2020), struck by ART MINT, by SANDRA DEIANA
The medal is usually much more flexible, you are more free to be able to work on higher reliefs.
NUMISMAG: You have won an award at the Japan Mint Competition in 2017. Could you explain and describe your project for the competition?
SANDRA DEIANA: In 2017 I had read that Japan announces a competition every year, the International Coin Design Competition (ICDC), perhaps one of the longest-running public competitions, and I tried to participate. I presented a drawing on the Nuragic Age of Sardinia, my country, with which I won a special jury prize.
I am very attached to my origins and I wanted to represent something very ancient. So I chose the Nuragic Age that belongs only to Sardinia. In this way I have allowed a country as far away as Japan to know something different.
The drawing shows the architectural plan of a nuraghe, one of the oldest stone constructions in the Mediterranean – as circular as the coin – and the bronze statue of a warrior, a typical Sardinian sculpture.
NUMISMAG: One of your first works of art is a calendar medal for Italian mint. How did you get involved in this project?
SANDRA DEIANA: Each year the Italian Mint creates a calendar medal through an internal competition at the School and then puts it up for sale. All students must submit their own project, which will be selected by a jury. The winning student has the task of carrying out his project. The theme that year was the fortress in the history of art and I created a composition inspired by a fresco by Domenichino, representing the physical and earthly strength on the reverse and the spiritual one on the obverse, through the allegory of the woman. This was my first medal and, in addition to being an excellent technical training (I engraved all the numbers of the calendar by hand!). It inspired me a lot for the future.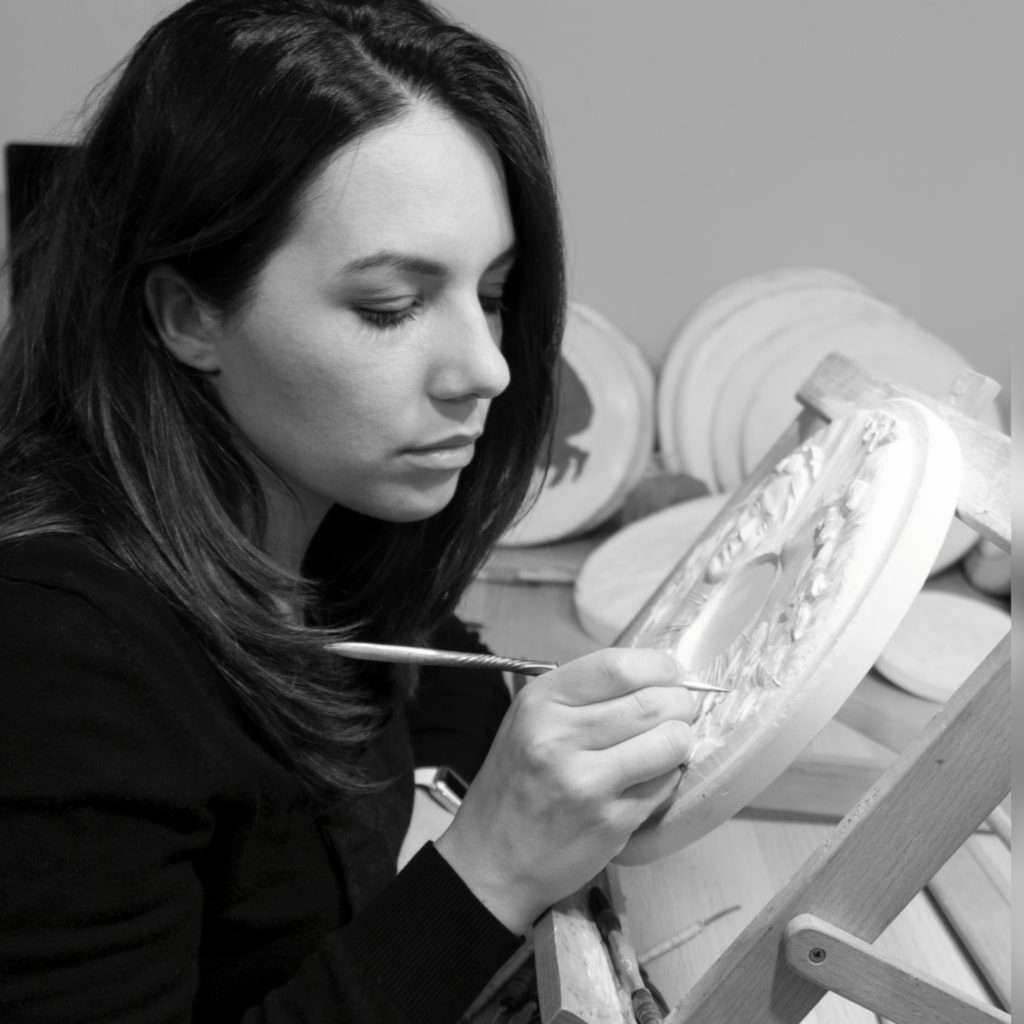 SANDRA DEIANA, at her workbench
NUMISMAG: How did you manage to work and design coins for the Irish Central Bank (€ 10 Eileen Gray, € 15 Phil Lynott and € 10 Christ Church Cathedral )?
SANDRA DEIANA: Ireland is a very important client for me. Thanks to it, I made my first coin ever on Eileen Gray in 2016. The Central Bank of Ireland, in fact, had published the announcement of a public competition with which it asked to send proposals for a commemorative coin with a face value of 10 euros. This would be the first in the Europe Star Program series and its theme was the modern 20th Century. Subsequently the Bank called me several times to participate in their competitions and so far I have made two more coins for them: one on the Irish musician Phil Lynott 15 euros and one on the Irish Gothic Architecture 10 euros.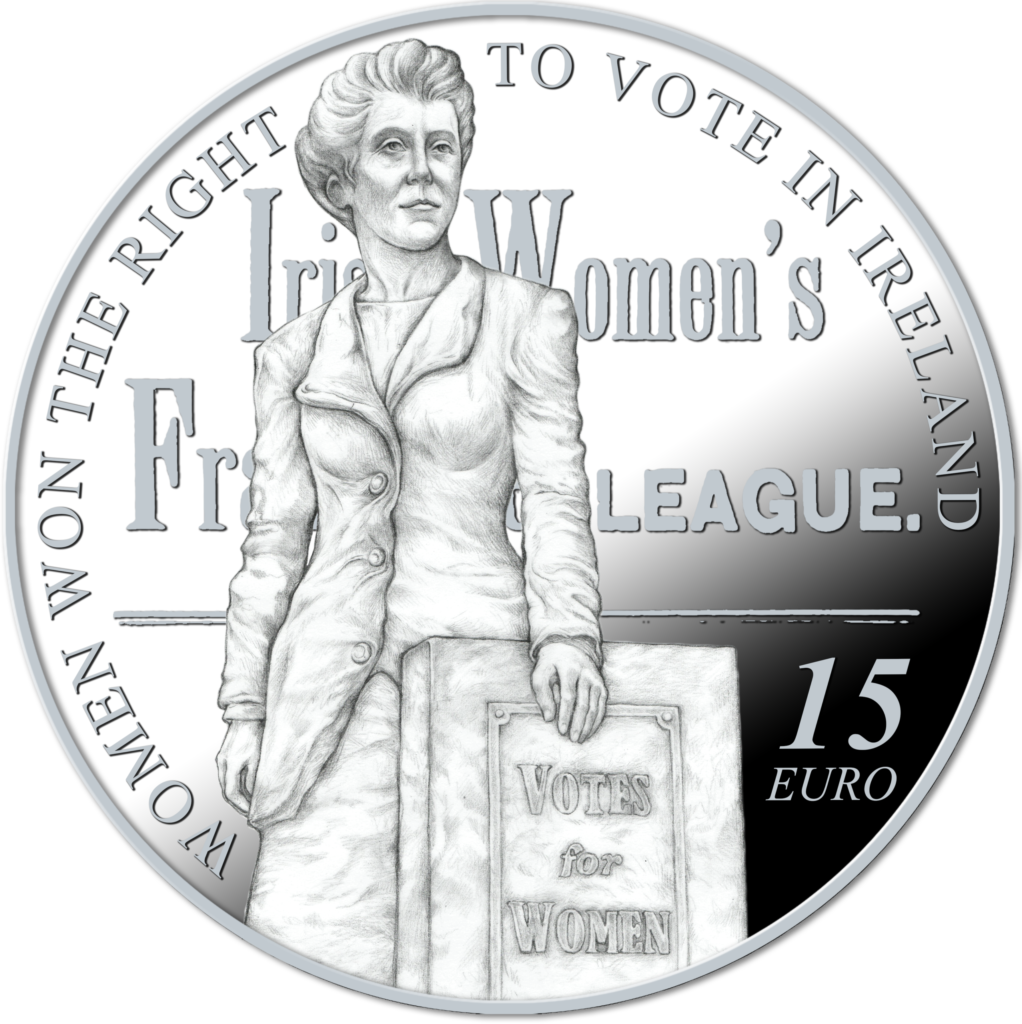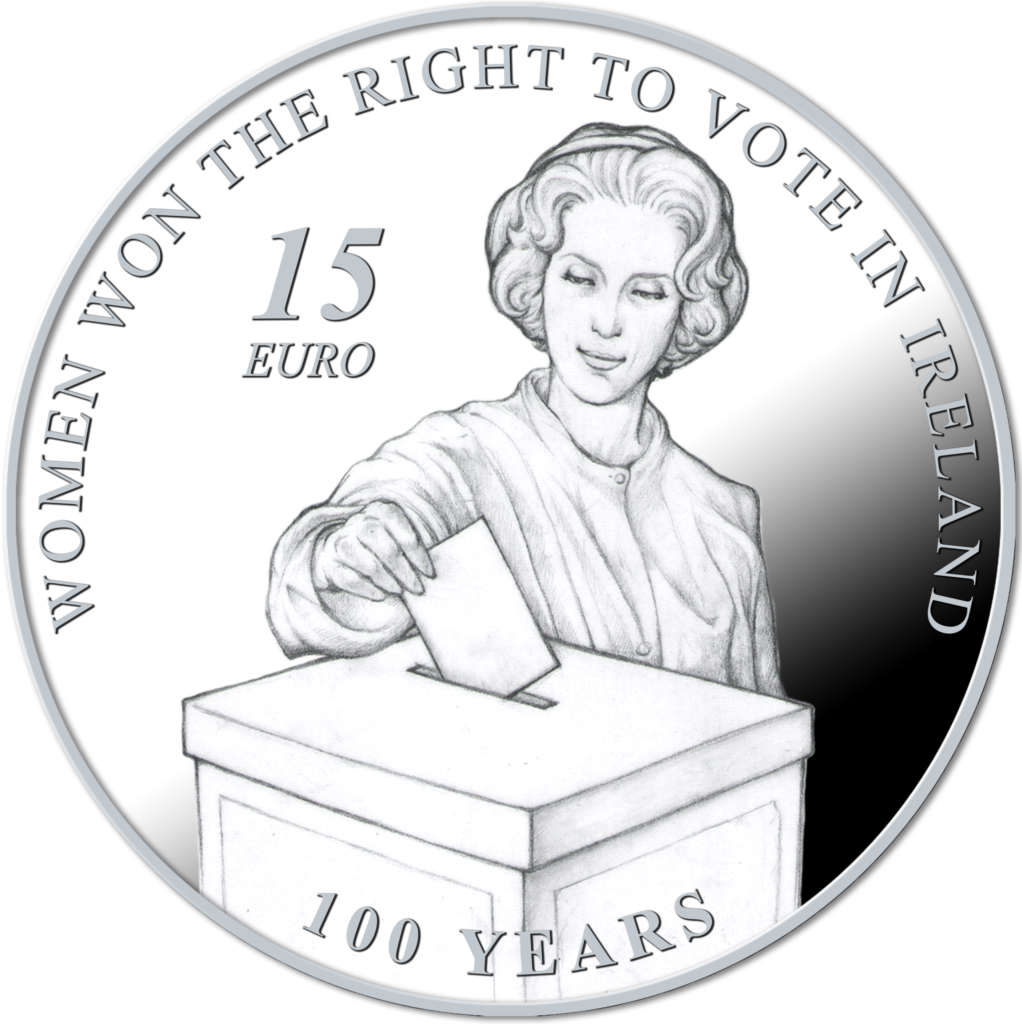 Irish 15 Euro Silver Coin – Women's Vote in Ireland (design proposals – not issued)
Irish €15 silver coin – Jonathan SWIFT (design proposals – not issued)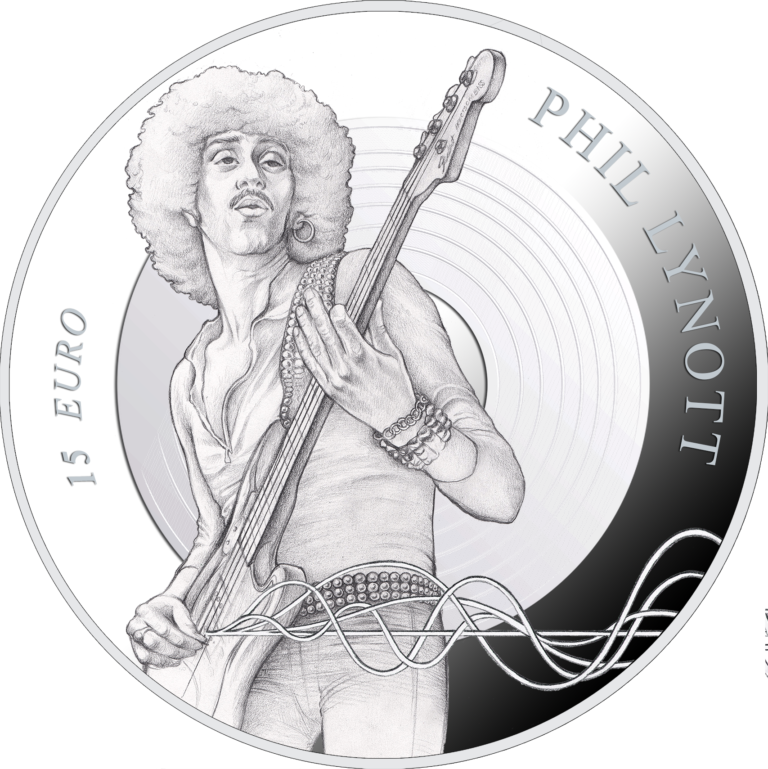 Irish €15 silver coin dedicated to Phil LYNOTT (drawing)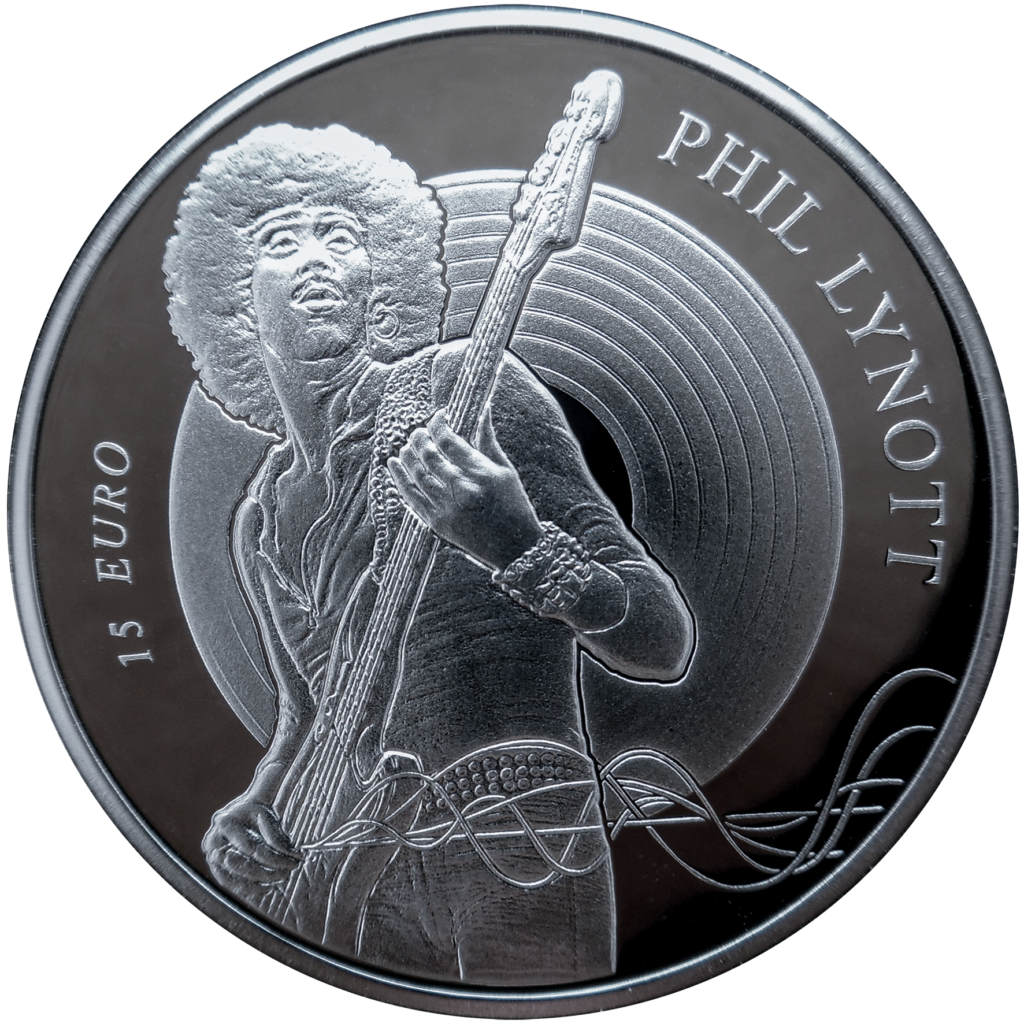 Irish €15 silver coin dedicated to Phil LYNOTT (coin)
NUMISMAG: What anecdotes do you have about these three coins?
SANDRA DEIANA: Regarding Eileen Gray, I chose her as the subject because she was a very important Irish architect in the 1940s, but who was then forgotten for a long time. I am happy that the project was chosen, because it is the first coin in Irish history to represent a woman. Gray had learned the lacquer technique from a Japanese craftsman and used it in many of her works, including the dividing panel that I inserted into the coin. It is for this reason that I initially proposed to color the panels black, but the Bank chose the version without color as the final coin design.
In the Phil Lynott coin, if you tilt your head to the left and look closely at the sound waves produced by his guitar, you can find a reference to my signature. You may wonder if it was a voluntary choice …? I prefer to leave you in doubt.
Both the Eileen Gray coin and the coin dedicated to Gothic architecture in Ireland are part of the "Europa Star " Programme.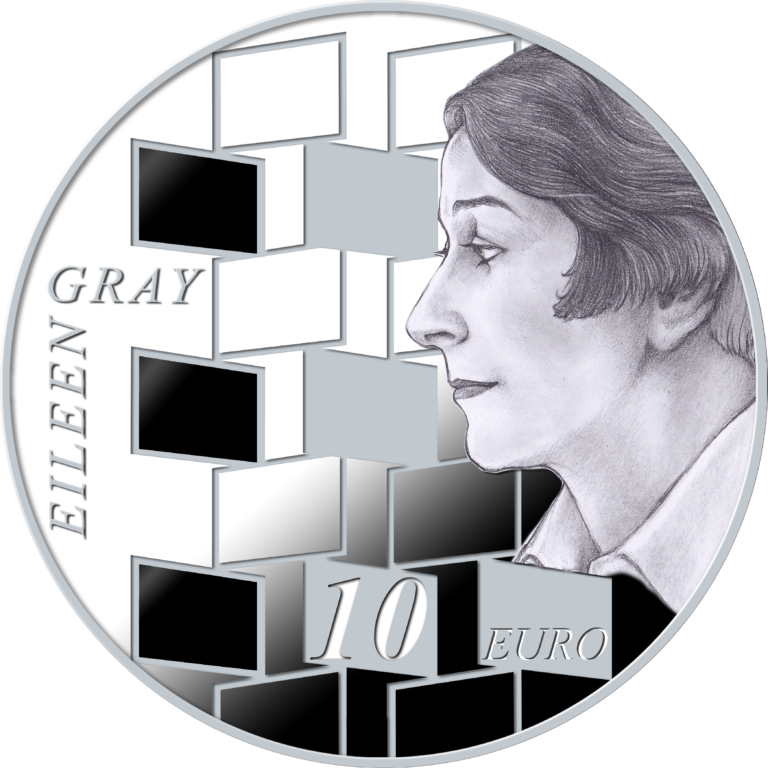 Irish €10 silver coin – Eileen GRAY (design)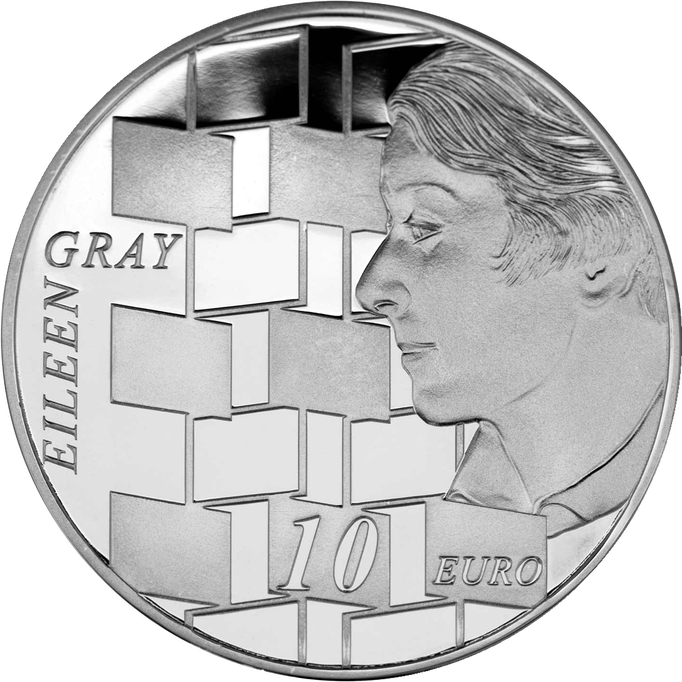 Irish €10 silver coin – Eileen GRAY (coin)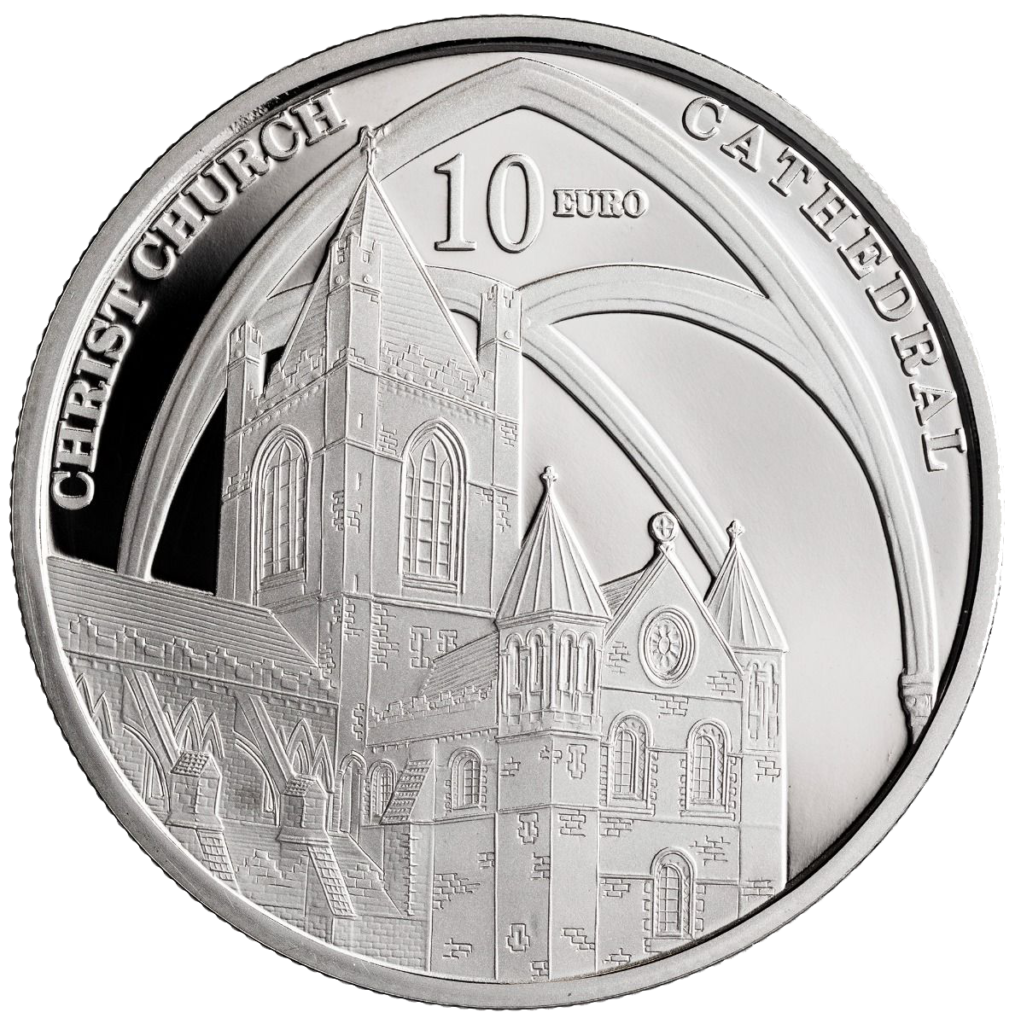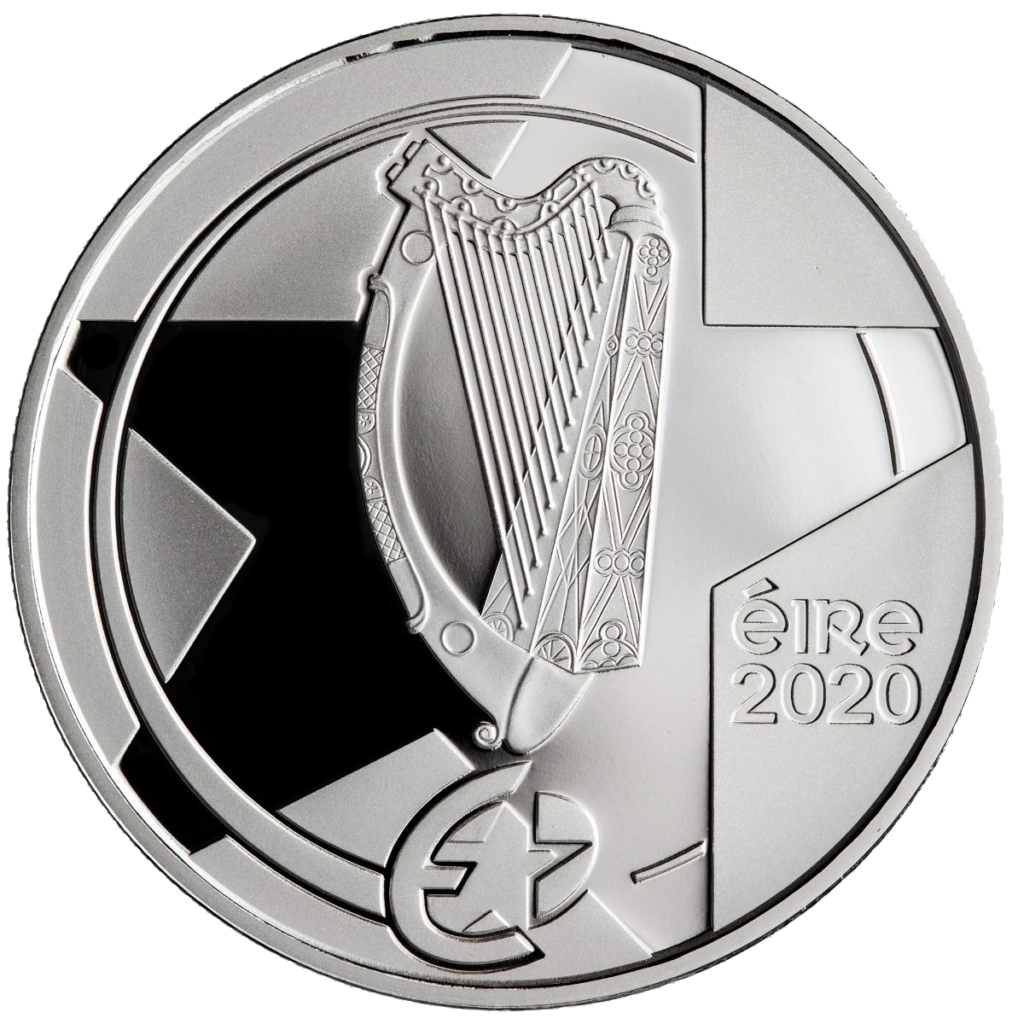 Irish €10 silver coin – CHRIST CHURCH Cathedral (coin, obverse and reverse)
NUMISMAG: Have you sent other projects (not selected) for these coins?
SANDRA DEIANA: Sure. I never present just one project, I always try to provide the client with at least two or three options to understand what he wants to work on. A theme can be interpreted in many different ways and I have to be able to orient myself on the same point of view as the client. The final design that everyone can see is therefore the result of many tests and ideas, sometimes very different from the final one. In the case of Christ Church Cathedral, whose theme was Gothic architecture, I had initially thought about some details of the interior of St. Patrick's Cathedral. In the case of Phil Lynott I had proposed other poses for the musician, for example just his face with the guitar in front of him.
NUMISMAG: How did you manage to work for San Marino Mint ?
SANDRA DEIANA: I was contacted by San Marino at the end of 2018. The first coin I made for them is on World Forest Day and has a face value of 5 euros. Over the years a great collaboration has been born and for them I have produced six coins in total.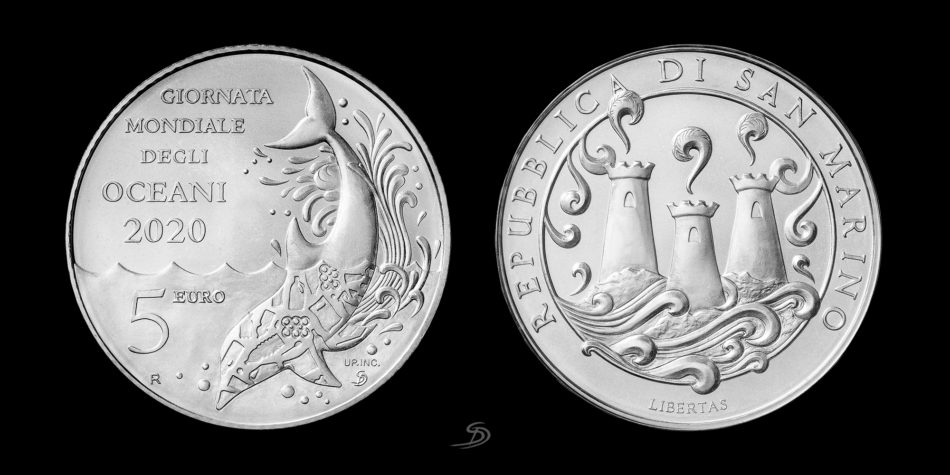 €5 World Oceans Day (2020) – SAN MARINO, by SANDRA DEIANA
NUMISMAG: What was the project you were most passionate about (medal or coin)?
SANDRA DEIANA: Of all my works, the project that fascinated me the most was certainly the set of medals to celebrate the writer Hans Christian Andersen that I made for Monthuset Denmark last year. It is a collection of seven medals plus a special one in gold, each representing some of his fairy tales. The world of animation has always fascinated me, I have been a huge Disney fan since I was a child, and therefore I had a lot of fun designing this set.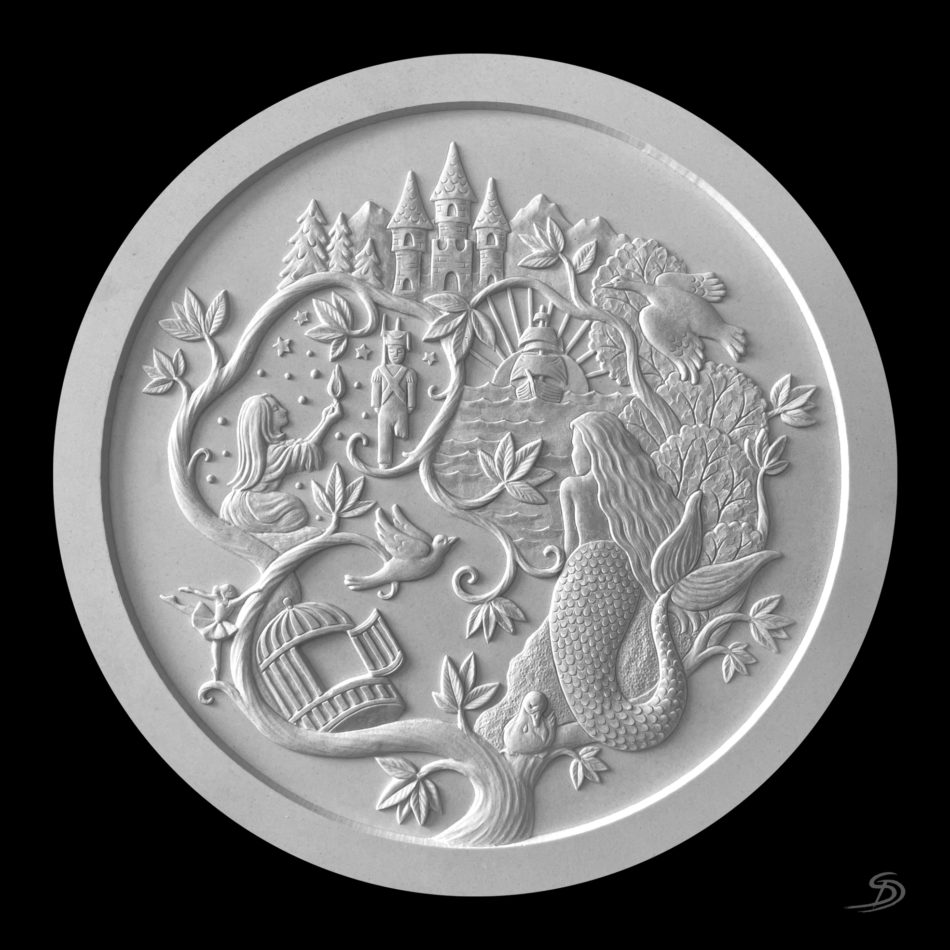 Plaster of the Medal dedicated to ANDERSEN by SANDRA DEIANA
Series of medals dedicated to ANDERSEN (2021) – struck by Monthuset Denmark
NUMISMAG: What was the most technically difficult project to carry out (medal or coin)?
SANDRA DEIANA: I recently made a project that was really difficult for me on a technical level, but I can't say more at the moment, because it hasn't been issued yet. I can only say that it is not long before its release and I am very excited about it. Aside from that, however, I think the Beethoven coin I designed for Art Mint was the most technically difficult. I was asked not to interpret the musician's face as it had been done in other coins in the past, but to make Beethoven's true face as closely as possible to the original. This was only possible because the musician when he was still alive had wanted to make a cast of his face, so we have a Beethoven face mask on which I based. It was another great challenge for me.
NUMISMAG: In what other artistic fields have you produced works?
SANDRA DEIANA: I have always painted using different techniques, among my favorites are oil on canvas and pencils and pastels on paper. One of my paintings had won a selection for an exhibition in Sweden in an art gallery, where it had been on display for two weeks.
In 2017 I designed a stamp for the Italian mint.
In the third year of the Medal Art School I made a cameo on a shell that represents a detail of Bernini's sculpture "Apollo and Daphne".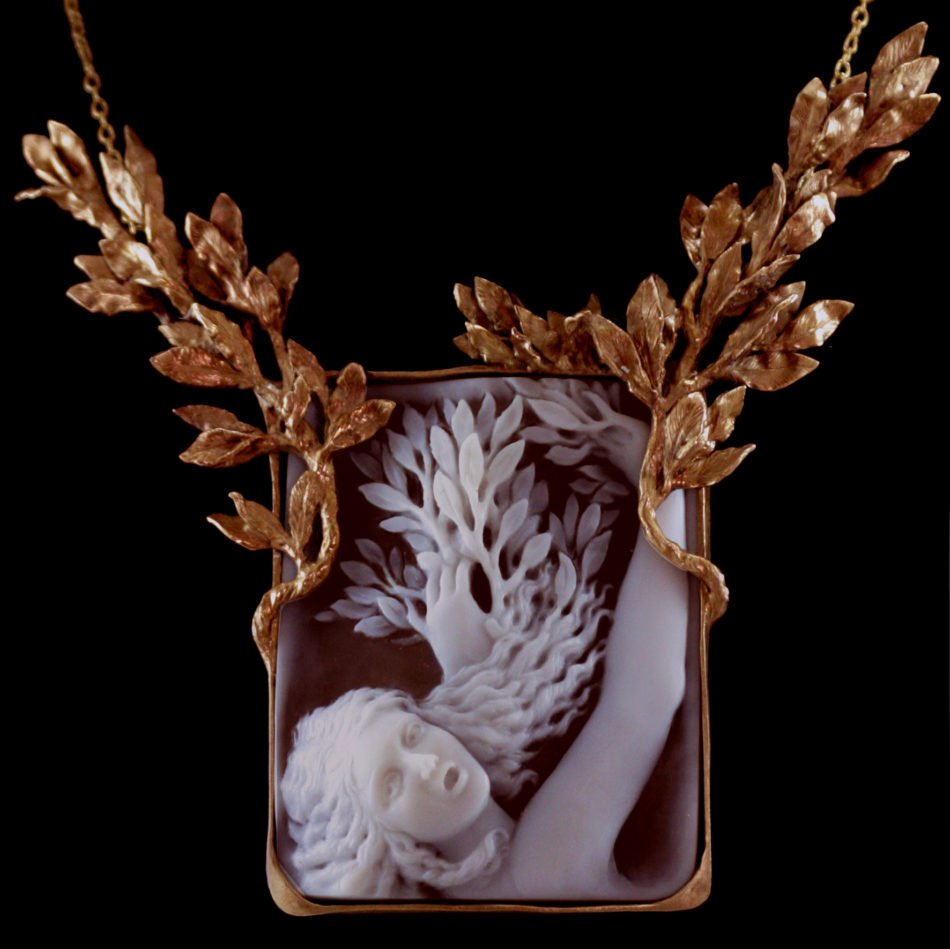 Gian Lorenzo BERNINI's "Apollo and Daphne", by SANDRA DEIANA
I also happened to work with wax, with a technique that is used to create the watermarked paper. A backlit wax plate is engraved and a very suggestive effect is obtained, given by the chiaroscuro that is created according to the level of engraving.
In recent years I have created the cover illustrations for the catalogs of the numismatic auctions of Kagin's (US).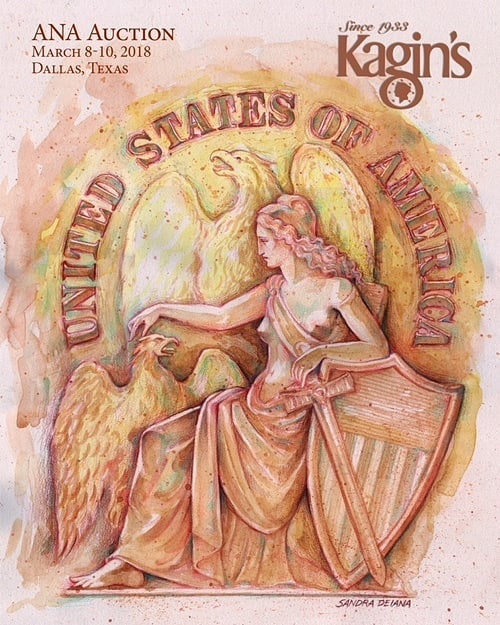 Illustration of the KAGIN's catalog cover, by SANDRA DEIANA
In addition to painting, wax and sculpture, I also attended ceramics courses and made personal works in terracotta.
NUMISMAG: Are you a numismatist ? If so, what do you collect?
SANDRA DEIANA: Except for the coins that I design myself, I also have some coins from other artists that have been given to me by them or that I have collected over time. I've been collecting quarters lately, because I've always loved American art and culture.
NUMISMAG: What is the goal of your YouTube channel and what is / will the content be?
SANDRA DEIANA: Some time ago I opened a YouTube channel where I publish videos that talk about my work, even if I use Instagram, Facebook and Linkedin a lot more . I really like to show the public the working process of what I do, even if unfortunately I have to wait for the coin to be issued before I can publish the details.
After approval, it is nice to create videos or illustrative photos, because by doing so I can make collectors participate in the work hidden behind the product they buy. I think it's a fundamental aspect and lately I've been working a lot on it.
NUMISMAG: Last question, SANDRA, how do you see the future of numismatic creation?
SANDRA DEIANA: Lately, the working process for coin creations is increasingly turning towards new technologies that allow them to be made much faster. However, this could be a danger with respect to the artistic quality, because the clients ask for ever shorter times of realization. Like most sectors, numismatics is also evolving and tending more and more towards digital and for this reason I think it is essential not to lose the manual tradition. Digital must be a support of the manual process and must coexist with it and not totally take its place. I want to keep the tradition and I'm studying so that my work can go hand in hand with new technologies.
In recent years, I have had the opportunity to be present at various numismatic events, trade fairs and international conferences, most recently the New York International Coin Convention this January. This gave me the opportunity to improve myself and have a direct comparison with other artists in my sector. An exchange between artists is essential for me. It always teaches me something new and is always a source of inspiration for future projects.
I would like that in the numismatic future we can give more space to coin artists, creating events dedicated to designers would be a really interesting discovery for collectors, who could admire not only the coin as an object in itself, but discover all the creative process and the behind the scenes that exists to create a coin.
Portrait of SANDRA DEIANA, by SIMONE TIBOLLO
Sources: SANDRA DEIANA and NUMISMAG