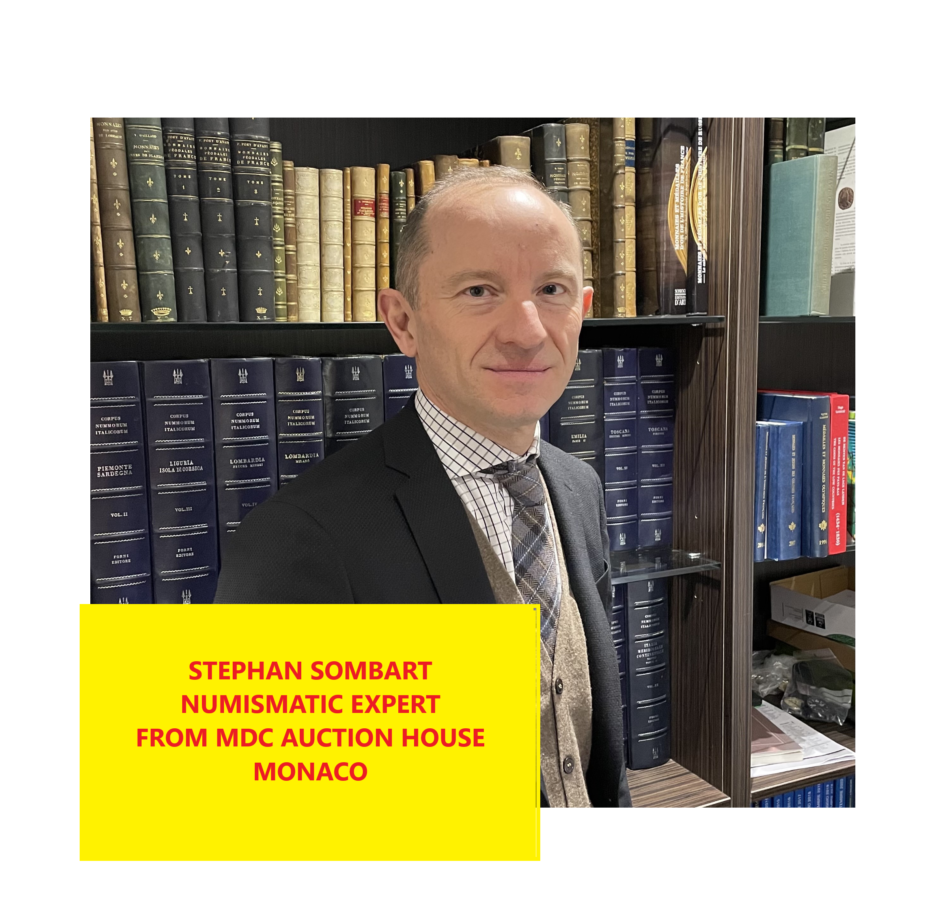 NUMISMAT OF THE MONTH – STEPHAN SOMBART FROM MDC MONACO
At the beginning of this year, NUMISMAG resumes its series of articles dedicated to professional numismatists. NUMISMAG interviewed STEPHAN SOMBART, numismatic expert member of the auction house MDC MONACO. He is also the author of books and numerous articles dedicated to numismatics. We asked him about his favorite fields in numismatics as well as his point of view on the numismatic market.
NUMISMAG: Stephan, what event triggered your interest in numismatics?
STEPHAN SOMBART: I have been a collector since childhood, starting with philately but coins quickly followed stamps! As a child living in the countryside, we used to go through the fields looking for "treasure", often a well-worn Nuremberg token, which we improved at the Mirror. But it was the beginning of a collection!
NUMISMAG: What is your academic background?
STEPHAN SOMBART: After a scientific baccalaureate, I turned to the faculty of History and the modern period. During my master's degree (current Master 1), I quickly chose to study the monetary workshop of Reims in the 17th and 18th centuries. I was already collecting royal coins from this workshop, which helped me. My DEA (Master 2) was on the birth of modern money in Europe in the 16th century. Then, I had to live and I became a certified professor of History.
NUMISMAG: What was your professional background until you joined the MDC team?
STEPHAN SOMBART: During my 10 years in the National Education, numismatics became more and more important and in 1997 I published my book on coins from 1540 to 1610 (FRANCIAE IV). In 2001, I joined the team of CGB-CGF where I started to write catalogs of sales on offers, but also catalogs of tokens and modern coins. Then, in 2005, I was given the opportunity to head a new company, iNumis, of which I was the director until the end of 2020. In 15 years at iNumis, I was able to produce 51 auction catalogs and about 25 auction catalogs. In total, I have offered and sold to my clients about 100.000 coins, medals and tokens!
NUMISMAG: Why did you join MDC auctioneer?
STEPHAN SOMBART: In 2019-2020, I wanted to change my life plans, especially by leaving the capital and moving to the French Riviera. The very dynamic numismatic market in the Principality of Monaco of course attracted me. The meeting with Nicolas Gimbert, director of the rapidly expanding MDC company, quickly led to an offer of Senior Numismatist, in charge of the MDC auction catalogs. I joined a young and dynamic team, with important ambitions of development. I also left behind the important administrative duties and obligations of store manager to devote myself entirely to numismatics.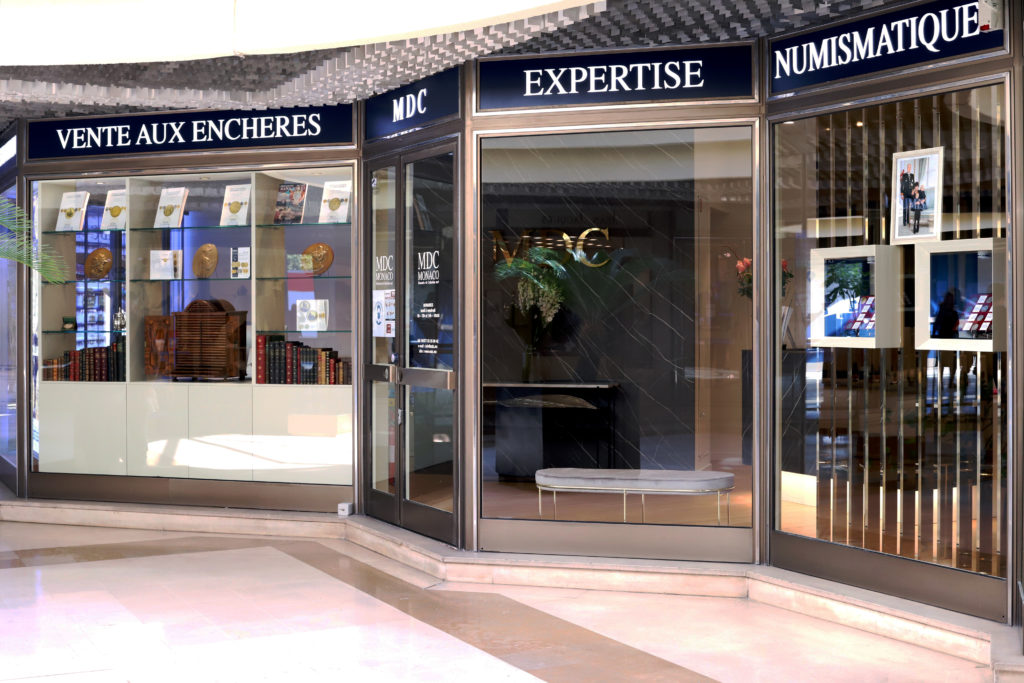 MDC headquarters in  MONACO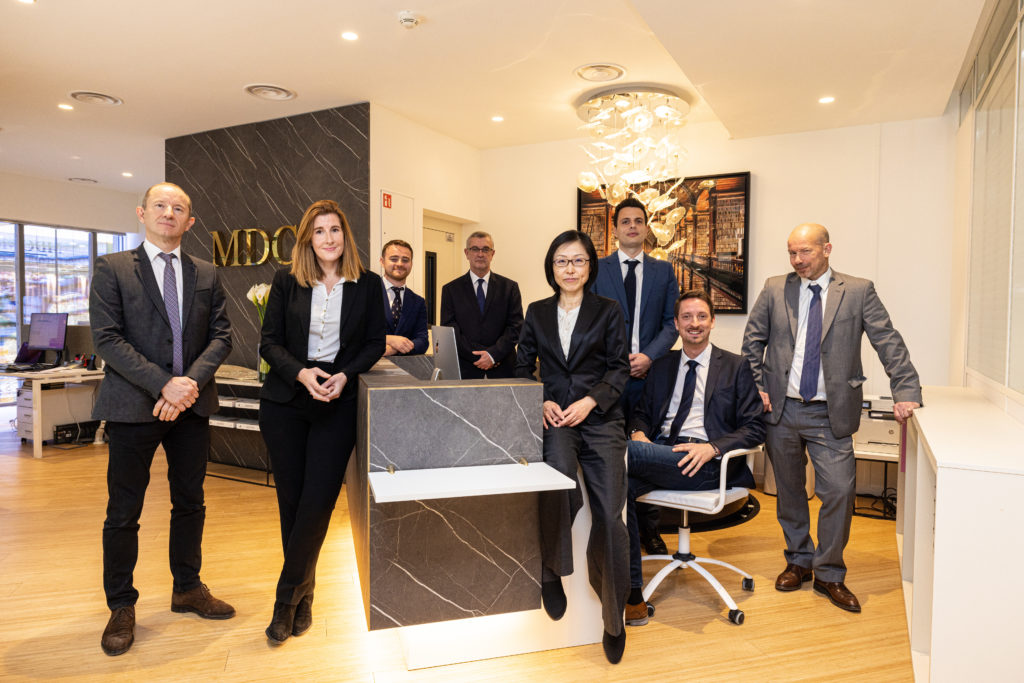 Team of  MDC auctioneer, in MONACO
NUMISMAG: What are your favorite fields in numismatics and why?
STEPHAN SOMBART: I started with the royal coins which have always been my favorite. The multiplicity of kings, types and workshops form an incredible universe. I quickly realized that a lot of knowledge is missing in this field and that only work allowed me to acquire a lot of knowledge in this field, as G. Sobin had understood with his statistics on the French royal shields. The acquisition of documentation, ancient or modern works, bulletins and scholarly journals constitutes a necessary basis that should be known. But much information is still unknown. I am also very interested in other fields such as medals, which have a very varied field of knowledge and artistic talent. I also like tokens very much. But on the other hand, for my job, I have to deal with world numismatics, from Antiquity to nowadays and I have to try to master everything, at least.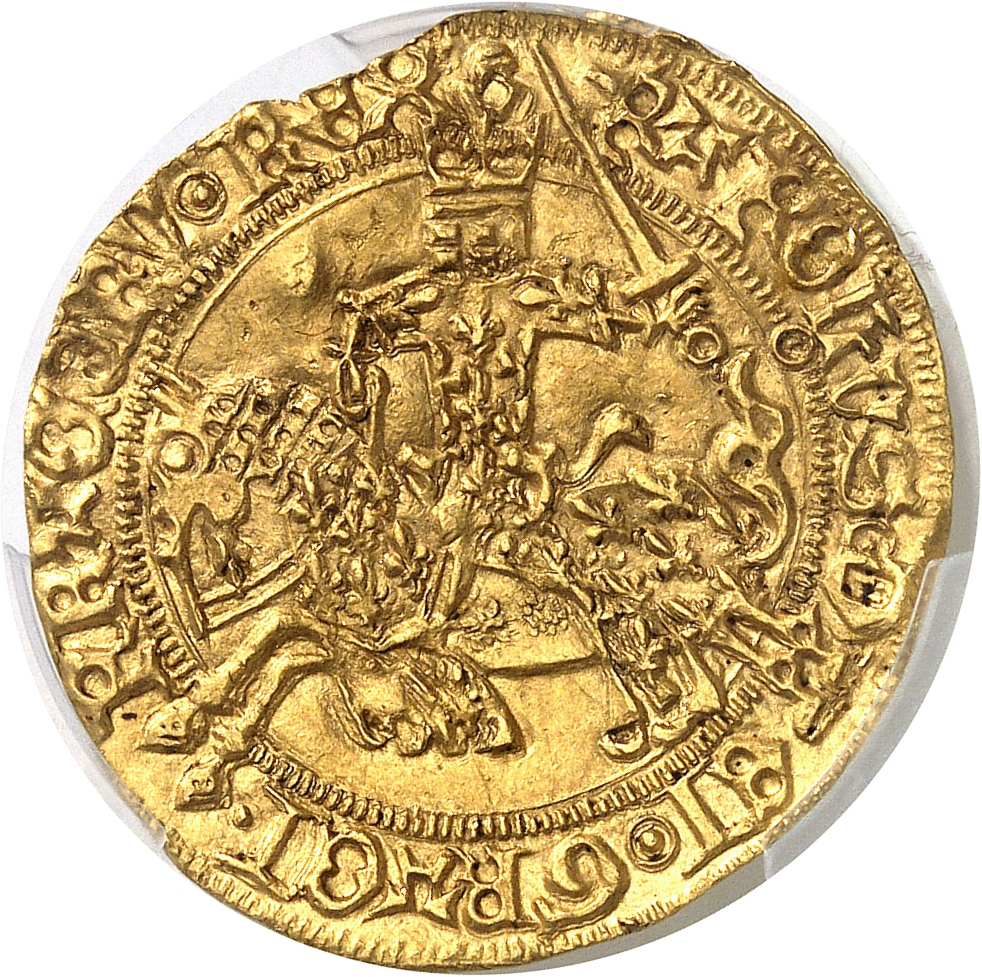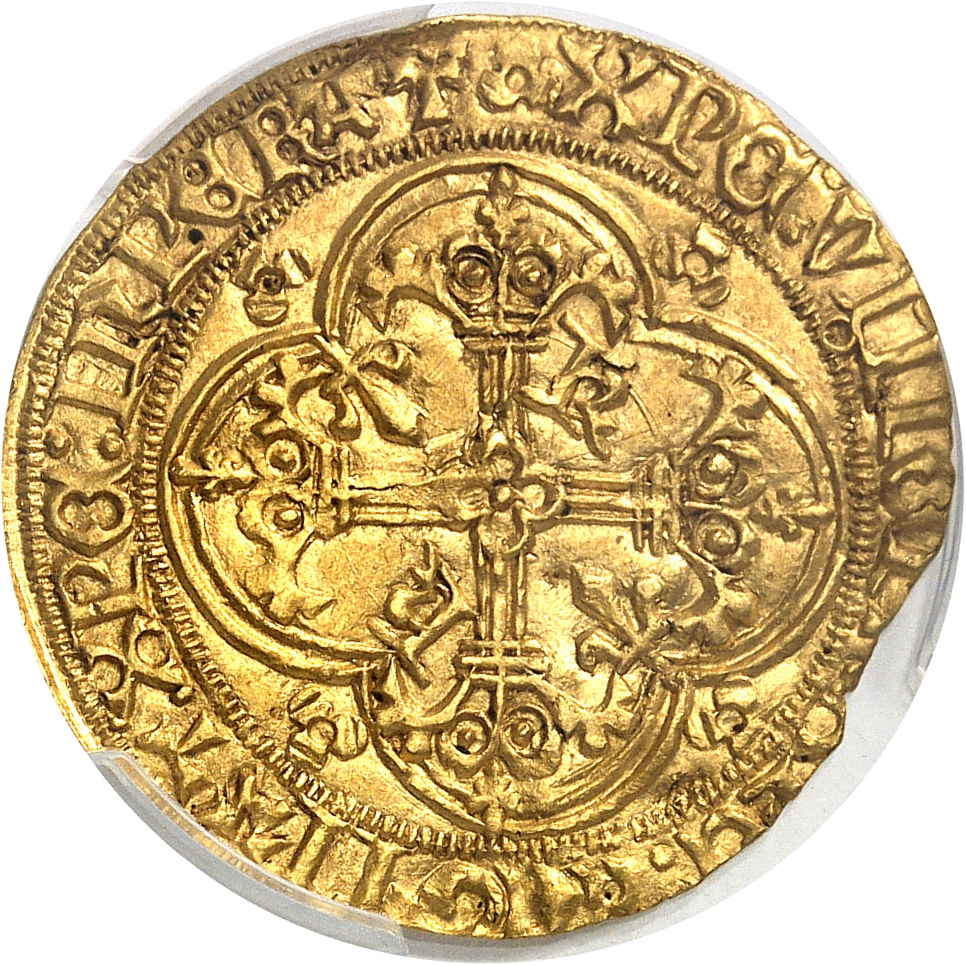 Charles VII (1422-1461). Frank on horseback ND (September 12, 1422), Toulouse.
Av. KAROLVS° D – EI° GRACI. – FRACORV° REX. King on horseback, galloping left, sword raised, crowned with helmet, wearing over his haubert a fleurdelisé coat of arms; horse's caparison is fleurdelisé. Rv. (trefoil) XPC: VINCIT: XPC: REGNAT: XPC: INPERAT. Cross floriated and leaved with quatrefoil in heart, cantoned by a K in 2 and 3, within a quatrefoil decorated with two lilies and cantoned by shamrocks.
Dy.451 – L.455 – Fr.302; Gold – 2,98 g – 26,5 mm – 9 h
Top Pop: it is the only one graded.
PCGS MS64. This is the last royal franc struck! A coin of the greatest rarity, which deserves a place of honor in an exceptional collection. Slightly irregular blank, of a very great freshness of striking, Superb to Fleur de coin.
It is the second known copy with the one preserved in the Cabinet des Médailles of the Bibliothèque nationale de France.
This manufacture of Toulouse is attested by the Archives, while those of Montpellier are missing. It was made between July 8 and August 21, 1424, with a fineness of 24 carats (1000 thousandths) and a weight of 80 pieces per marc, that is to say 3.059 g. Were used 56 marcs 2 ounces of fine gold (13,76 kg) to manufacture 4500 specimens, as the register of the National Archives Z1b 992 indicates: "This is the account of a boueste de la Monnoye de Tholose of deniers of fine gold called frans à cheval which have course for XX sols tournois the piece, to XXIIII caraz and to half-carat of cure, of IIIIxx de poys to the marc of Paris, made in purchase by Jehan de Veyrières for which Jobert Vidal held the account of the VIIIth day of July included mil IIIIcXXIIII that the first delivery fu faicte until the XXIIth day of aoust excluded following ord. year, in which had XV deniers of gold which make IIIImVc deniers of gold, poisent LVI March II ounces of gold". According to Jean Duplessy, 200 copies were also struck in Romans on July 1, 1424.

Final sale price: €225 000 (+ auction fee)
NUMISMAG: How would you describe the current state of the numismatic market? Do you notice a growing fragmentation of the market into a plurality of niche markets (e.g. Napoleonic coins)?
STEPHAN SOMBART: With the transformation of the profession of professional numismatist, I have also witnessed in recent years the modification of numismatics. The criteria of quality has strongly evolved with the massive arrival of coins under certified shells. For some niche markets, without a shell, it is almost impossible to collect now (China). Coins without certification (often of medium to low quality) remain a market but one that has evolved little. The prices of high grade coins under shell have exploded and this is certainly not over. However, these prices should not panic collectors because there are so many fields in numismatics that many objects remain affordable: take the example of ancient coins which remain very affordable, or tokens as well.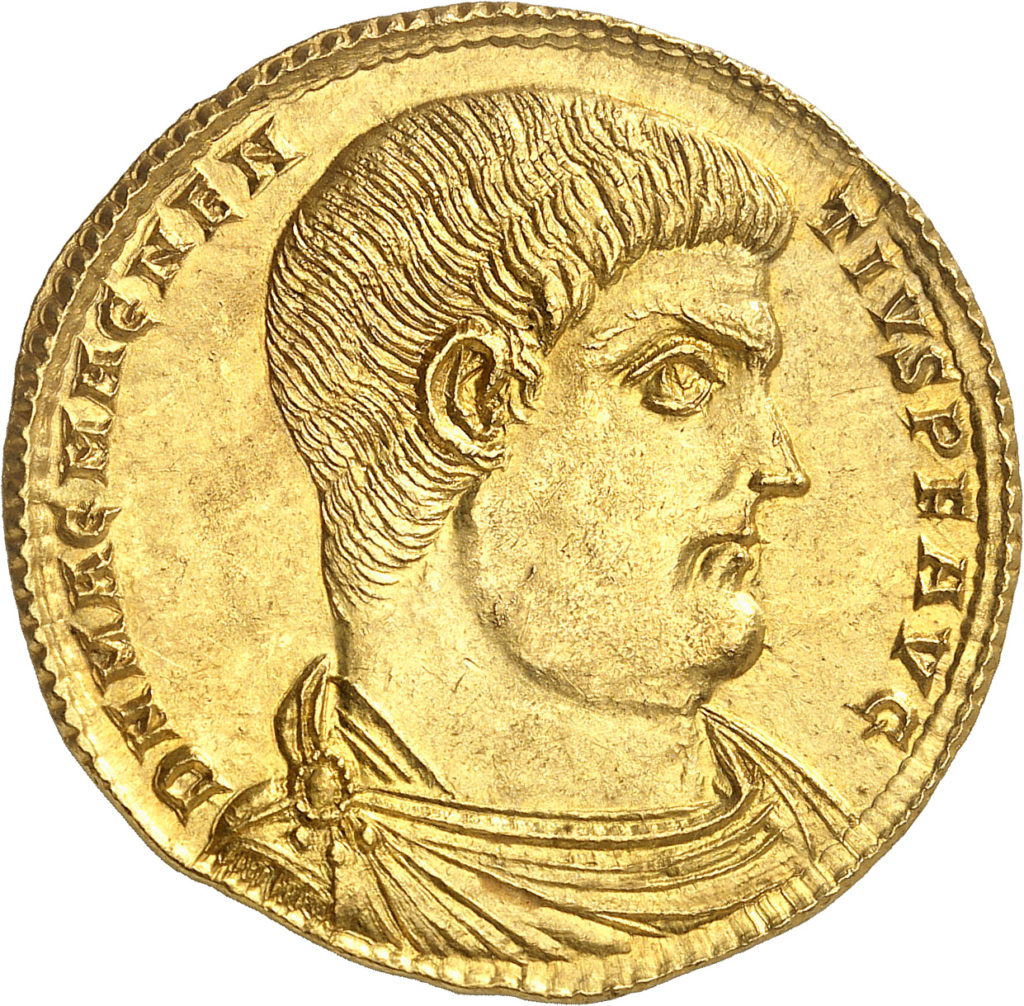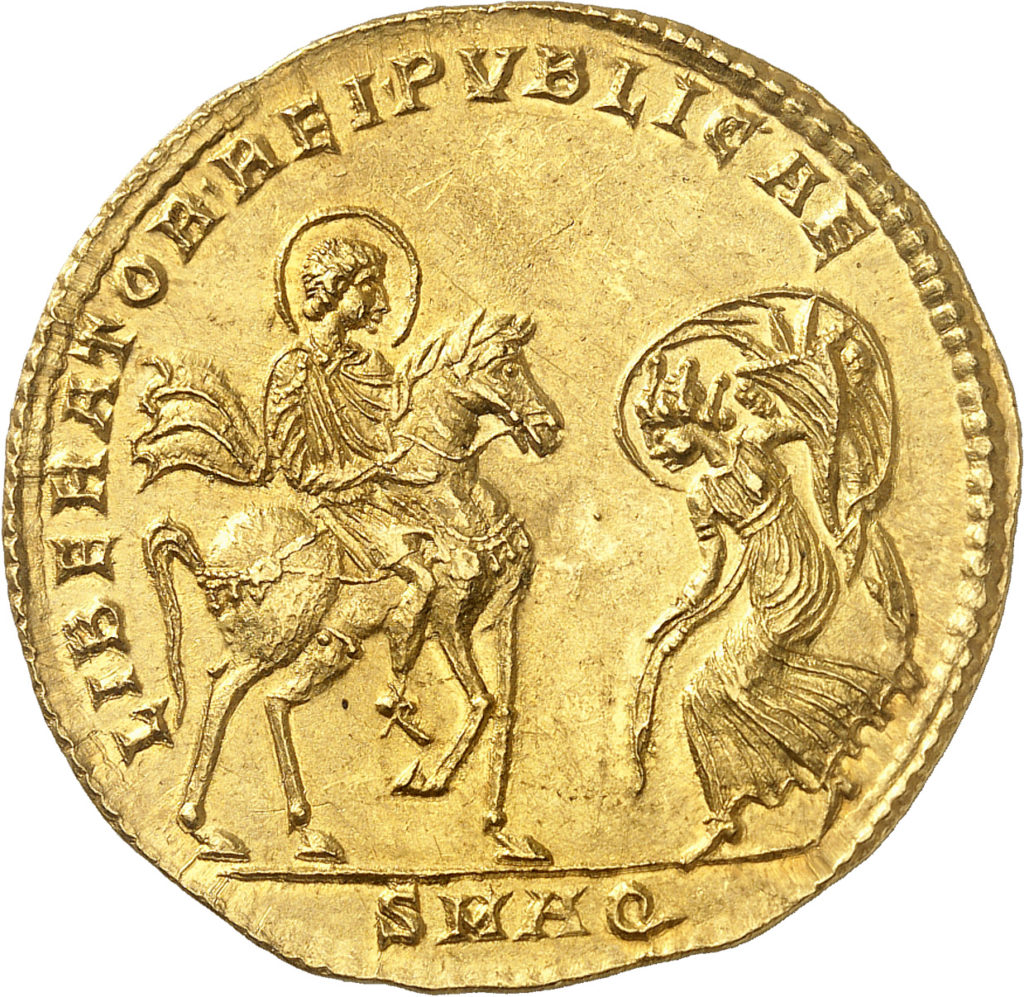 Magnentius (350-353). Medallion of 3 solidi, commemorating the liberation of Aquileia ND (c.351), Aquileia.
Av. D N MAGNEN – TIVS P F AVG. Draped and cuirassed bust right, seen from three-quarters face.
Rv. LIBERATOR REI PVBLICAE / SMAQ. Nimbed Emperor in military clothes on horseback right offering his right hand to draped and toureled Republic pretending to kneel left, holding cornucopia.
RIC.VIII 128 – Gnecchi – – P. Bastien, Le monnayage de Magnence (350-353) (2nd ed. 1983), 196, 339 – A. Jelocnik, Le trésor d'Emona, RN 1967, 12 and pl.36, 5; Gold – 13,46 g – 34 mm – 11 h
From "Monaco Collection" and the Paramount Collection n°30066 (Ex. NGC MS* 5/5 3/5 Fine style) and earlier Münzen & Medaillen 92, 22 November 2002, n° 329 – Münzen & Medaillen 79, 28 February 1994, n° 617 – and Trésor d'Emona, 1956.
Perfectly centered strike on a regular flan, which retains its original brilliance. Exceptional bust and representation. Superb at Fleur de coin.
The representation of our copy shows the popular politics of Magnentius, depicted bareheaded, without attributes, on the right and on the reverse as the liberator of the state from the tyranny of the sons of Constantine I. This commemorative coinage shows his entry into Aquileia in late 350 or early 351. Magnentius, Flavius Magnus Magnentius is of barbarian stock, born around 303. He rises in the Roman army quickly and becomes in 340, commander of the personal guard of Constans. In 350, he was powerful enough to plot and, wearing the purple cloak of the emperors, was acclaimed by his soldiers. Constans was executed, as well as Nepotian in Rome while his brother Decence was appointed Caesar to fight the Germans on the Rhine. In 351, Constantius II, Emperor of the East, tried to take revenge but was beaten and Magnence seized Siscia. In September 351, the very deadly battle of Mursa saw Magnence flee to Lyon where he committed suicide in 353.
Final sale price: €250 000 (+ auction fee)
NUMISMAG: Are French numismatics and in particular the royal coins of the 16th century of interest to foreign collectors? If yes, from which countries in particular and for which reasons ?
STEPHAN SOMBART: French numismatics interest many international collectors! France and its history interest many people. I have had frequent contacts, in my career, with very erudite foreign collectors: North Americans collecting feudal or royal coins, Italians or Russians collecting Napoleon, English collectors of Celtic coins, others of Louis XIV, etc.. For 16th century royal coins, the international market is still limited to prestigious coins, such as the double gold henris of Henri II, but the release of the latest Gadoury will necessarily see new collectors invest in this sector.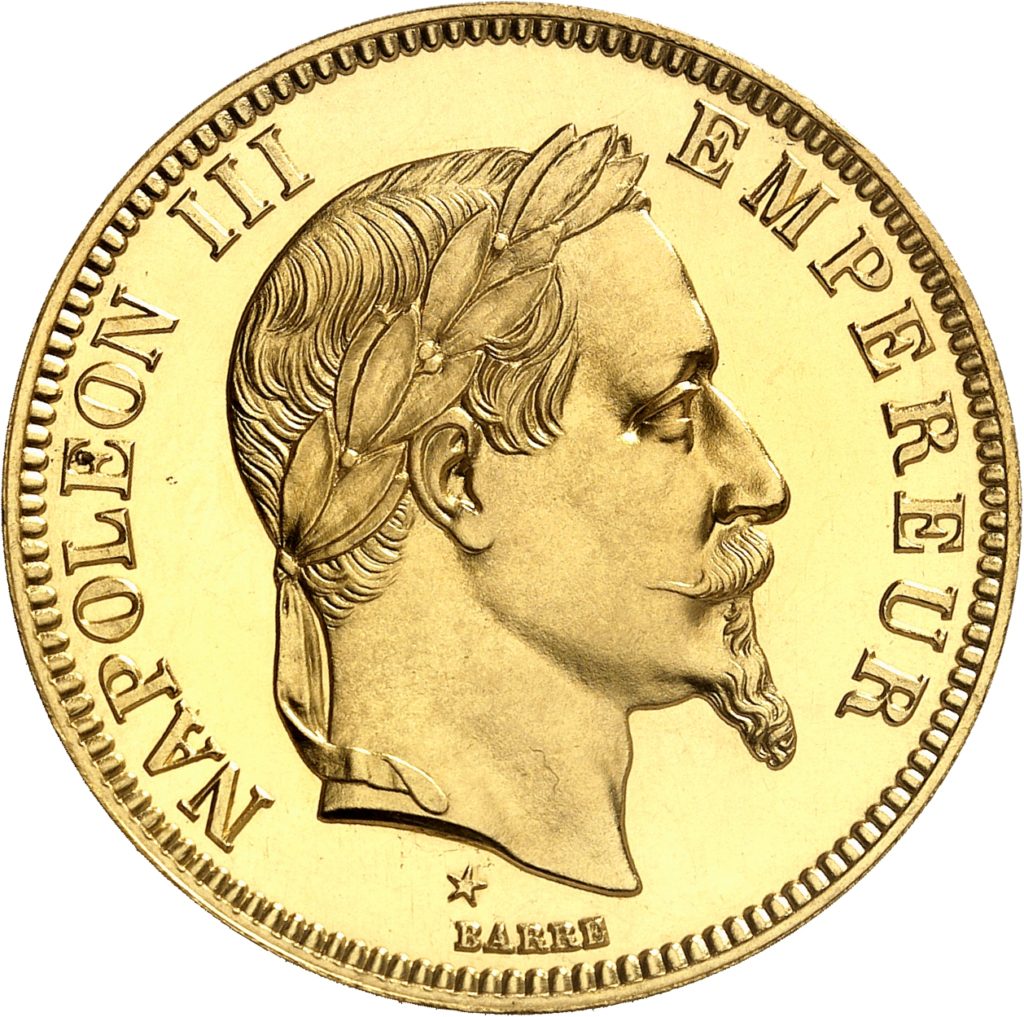 FRANCE:
Second Empire / Napoleon III (1852-1870). Essay of 100 francs head laurel, Flan bruni (PROOF) 1868, E, Paris.
PCGS SP66 (45859664).
Av. NAPOLEON III EMPEROR. Laureate head right, below (star) and signature BARRE.
Rv. FRENCH EMPIRE. Imperial arms on crowned mantle and sceptre and hand of justice, accosted by 100 – FRs; below (workshop) (date) (different).
G.cf.1136 – Maz.1604 – VG.3716; Gold – 32,15 g – 34,7 mm – 6 h
Top Pop : it is the only graded copy !
PCGS SP66 (45859664). Special strike on burnished flan (PROOF): mirror fields and matte reliefs, with a strong contrast between them giving a cameo effect (CAMEO). Smooth edge and star on the right. In its mint condition. Perfect coinage. Corner flower.
Final sale price: €400 000 (+ auction fee)
NUMISMAG: How do you see the future of the numismatic market in France over the next decade?
STEPHAN SOMBART: For me, the future market is promising. Numismatics has evolved a lot in the last 25 years that I have seen from the inside. Today's professionals must be at the cutting edge of technology and be constituted in concentrated companies with expert(s), logisticians, a photographer, a computer scientist, a community manager, etc.. This requires to organize important sales, by catalog or internet, and to have a well thought business model. These companies have clearly appeared in the last 20 years in France, Europe and worldwide.
Of course, there will always be a numismatic market with stores, fairs or exchanges, and solo professionals, but more and more customers are turning to the big players and the large catalogued sales which occupy a predominant place. The Covid will undoubtedly have been the revelation of this change, with shows cancelled for two years.
For the collector, these evolutions lead of course to turn to the purchase during catalogued sales, on Internet sites, etc. It is no longer the collector who goes to the mint (in a numismatic show) but it is now him who stays in his living room, and his couch, to acquire online and then receive the coveted coins. The market has become worldwide and French customers have adapted to modern tools: after Ebay which had its hour of glory, the place is now occupied by sites like BIDDR or Sixbid which broadcast sales worldwide. No professional or serious collector can now ignore these numismatic sales platforms.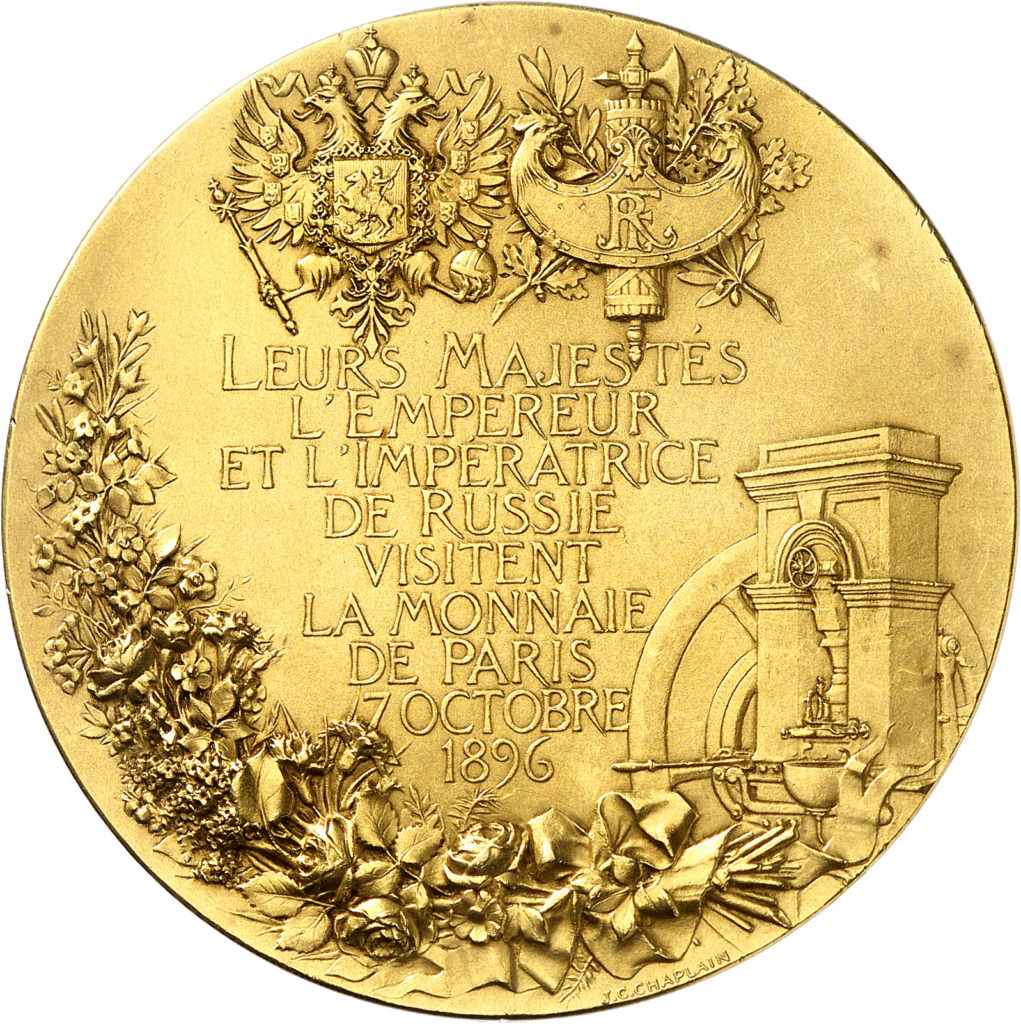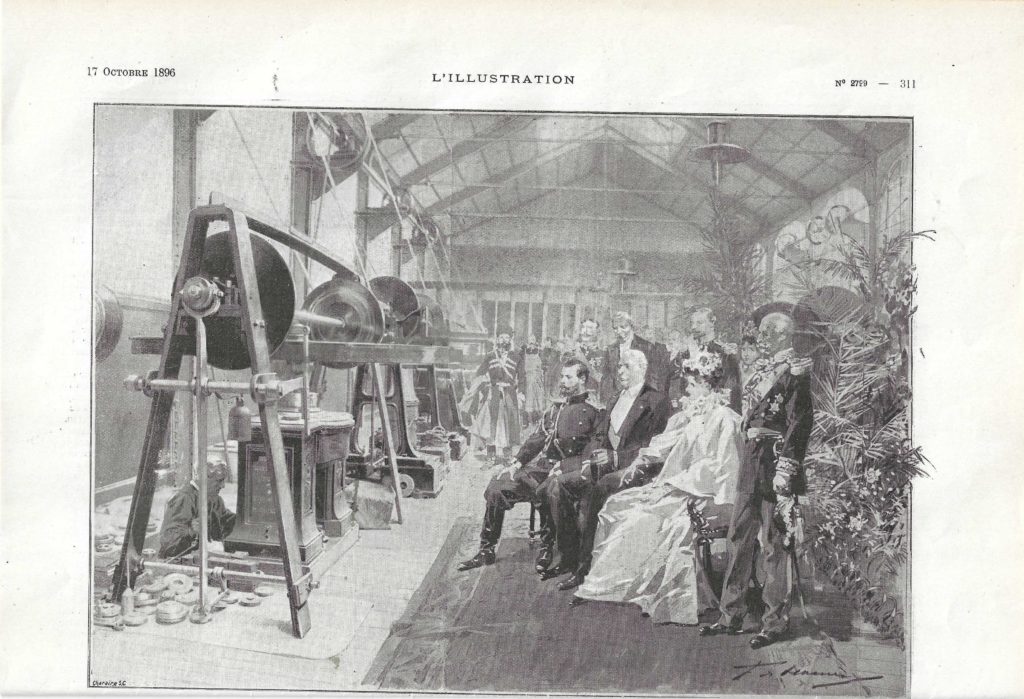 Visite impériale à la Monnaie de Paris ( source: Journal l'Illustration)
RUSSIA:
Nicholas II (1894-1917). Gold medal 1896, struck on the occasion of the visit of the tsar and the tsarina to the Paris mint, by Chaplain.
Av. Bust of two persons on the right. Rv. Russian and French arms side by side, inscriptions on six lines.
Diakov 1212.1. 70 mm. 300 g.
Provenance : Estate of Felix Faure. We enclose the extract of the newspaper "L'illustration" of October 17, 1896 reporting the visit of the tsar and the tsarina.
Exceptional gold medal struck in front of the imperial couple. One of the two copies struck, matt blank, almost corner flower
Final sale price: €140 000 (+ auction fee)
NUMISMAG: Is this an alternative investment that you would advise, for example, to someone in their thirties today?
STEPHAN SOMBART: The clientele is very active in numismatics and I have also been able to meet lately a new generation of enthusiasts, collectors, and young professionals. Numismatics is anything but sleepy! It is an active and dynamic market. It is an "investment" that we can advise, provided that we invest in it! As in any art market, it is necessary at least to document oneself, to acquire knowledge, to develop one's social network. Then, yes, you can find a fascinating universe that can give you a "return on investment".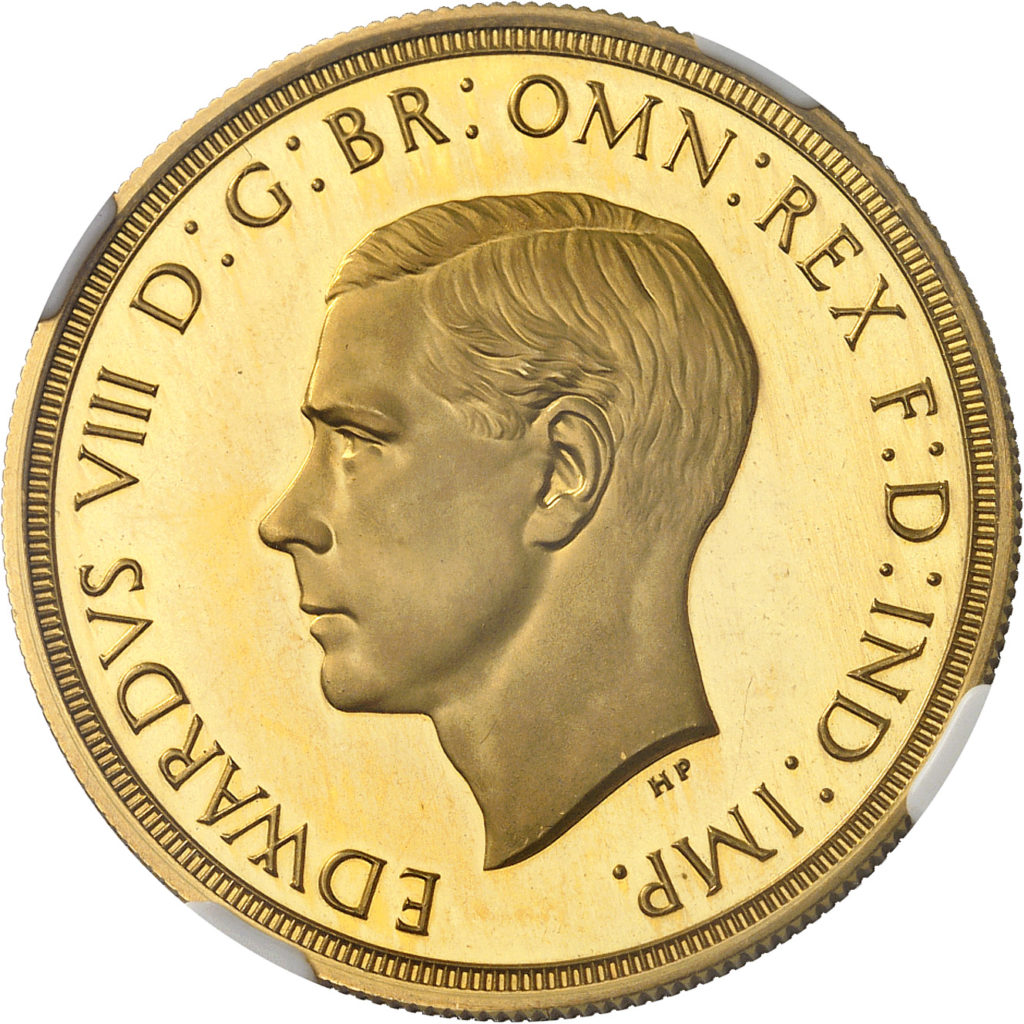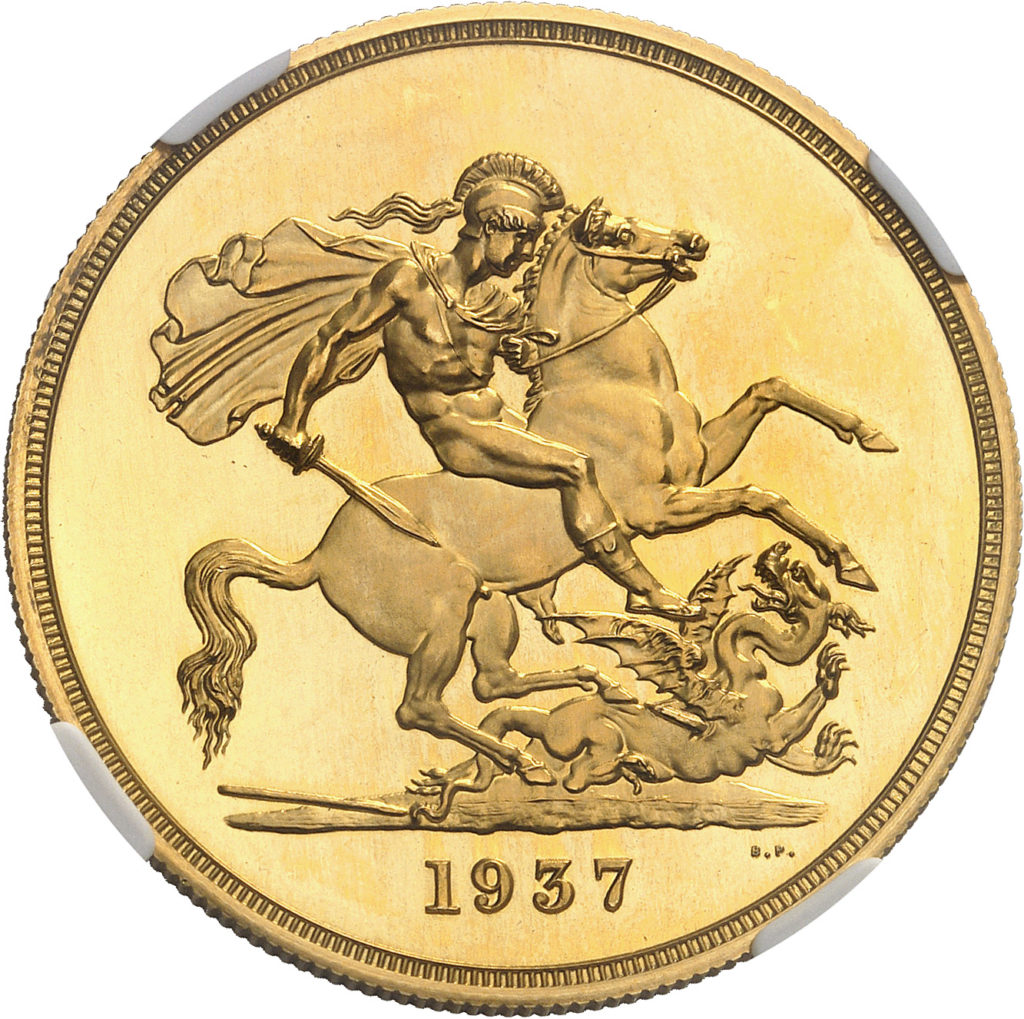 Edward VIII (January 20 to December 11, 1936). 5 Pound Trial, Burnished Flan (PROOF) 1937, London.
NGC PF 67 ULTRA CAMEO (6066350-037).
EDWARDVS VIII D: G: BR: OMN: REX F: D: IND: IMP. Naked head left, HP signature.
Rv. Saint George slaying the dragon; in exergue (date) and signature B.P.
KM.- – Fr.406 (Very Rare) – S.4063 – Schneider.- – L&S.- – W&R.432 (R6) ; Gold – 38 mm – 12 h
From "Monaco Collection" and The Paramount Collection #30339.
NGC PF 67 ULTRA CAMEO (6066350-037). Fluted edge. By T. Humphrey Paget and reverse after Benedetto Pistrucci. Burnished blank (PROOF). Without doubt the most exceptional coin in the Paramount collection and in British numismatics! Perfect coin, without any defect. The fields are mirror-like and reflect a beautiful light. The reliefs are sharp and completely matte, giving a cameo appearance of exceptional intensity (ULTRA CAMEO). Corner flower.
Edward VIII, son of George V, participated in the First World War in the British armed forces. Remaining a bachelor, he became king as Edward VIII on January 20, 1936, quickly showing a free spirit with a refusal of court protocols and a disregard for convention. He proposed to the American socialite Wallis Simpson, who was in the process of her second divorce, causing a constitutional crisis and a conflict with the Church, of which the king was the supreme leader. He chose to abdicate on December 11 of the same year, after 10 and a half months of reign, and married Wallis Simpson in June 1937 in France where he spent the rest of his life with the title of Duke of Windsor. His brother Albert succeeded him on the throne as George VI. The coinage of Edward VIII is rare, and the 200 or so dies prepared during 1936 were destroyed after his abdication. Only a few tests of the sovereign (1 pound), 2 pounds and 5 pounds survived. For the latter, after the Royal Mint copy, only two copies are known in the Tyrant collection and our copy. It is also known that Edward VIII himself did not have a series of essays in his effigy or name.
Final sale price: €1 760 000 (+ auction fee)
NUMISMAG: Can you tell us about the latest edition of Gadoury on Royal Coins? What are the additions in this latest edition?
STEPHAN SOMBART: The idea of updating my 1997 book (FRANCIAE IV) is already old. The covid and its confinement allowed me to free up, finally, time for this work. I had already accumulated a lot of documentation that I had to clean up. I also had a lot of documentation on a work that would have been placed before FRANCIAE IV and this documentation allowed me to create an additional part with the coins from Louis XI to François I. With my work in Monaco, the work naturally found its way to Gadoury Editions which are leaders in numismatic editions and world renowned. It was necessary to check the coins and I am proud to say that all the coins in this book have been seen! Many of them do not have a quotation, which I have been told, but often only one copy is known to be in the Cabinet des Médailles of the BnF! I am still listening to the collectors who have one or more unpublished items to improve the next edition.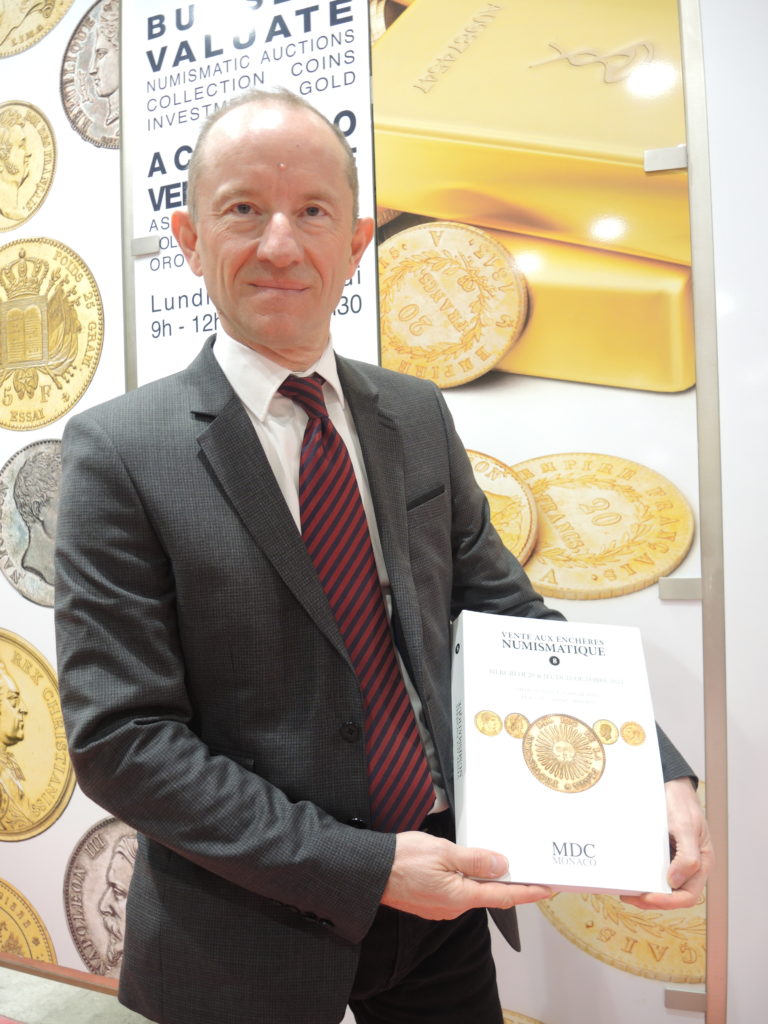 STEPHAN SOMBART, posing with an MDC auction catalog
NUMISMAG: Do you have a book project in progress?
STEPHAN SOMBART: With time, I would of course like to write a "Gadoury" Hugues Capet to Charles VII, which would complete the set of Capetian coins. Unfortunately, the writing of the sale catalogs in Monaco leaves me little time to work and nothing is planned in the short term. However, I also collaborate on other works where I can bring my help, and several projects are in progress.
NUMISMAG: Do you believe in a cashless society?
STEPHAN SOMBART: It's the trendy talk, driven by the evolution of new payment methods. We must admit that many people, the young generation (but not only) is digital and now pays with their phone (even the credit card seems to have been forgotten). The ease of these transactions is obvious. However, we note that many transactions cannot be made this way and that, in some cases, cash is required. So, I don't believe in a cashless society, but with cash payments becoming more and more marginal. Furthermore, we must also realize that we are not alone and that our neighbors, whether German or others (Italy has just raised its cash payment limits) still use cash. As soon as one of our European neighbors still uses cash, a cashless society will not be possible!
Sources: Stephan SOMBART, MDC auctioneer and NUMISMAG