The Lollar, new Lebanese satirical banknotes
The economic situation in Lebanon and the Lebanese banks has been very critical for years. The Lebanese have seen their bank assets frozen with limited authorization to withdraw money. For many, the situation is a result of the corruption that plagues the country. In order to draw the attention of the international public to the situation in the country and shortly before the parliamentary elections, the Lebanese Transparency Association (LTA) launched its "Lollar – Currency of Corruption" campaign in Beirut at Karantina on Thursday, May 5, 2022. The presentation was attended by several representatives of local, regional and international NGOs, as well as journalists, bloggers and media influencers. This campaign is based on the association's issuance of a complete series of satirical posts related to different aspects of the Lebanese crisis faced by the country's population.
Giant satirical "Lollar" banknotes, suspended in the air, as a reminder to the Lebanese people that this is our new deceptive normal, an emerging way of life that keeps abolishing and destroying an entire country.
The president of the LTA, Dr. Mosbah Majzoub, explained the reason for these banknotes which have a face value of 1, 5, 10, 20, 50 and 100 lollars. They represent each in turn one of the aspects of the crisis namely the suppression of public transport, the perpetual fuel crisis, the end of garbage collection, the atrocity of the recurrent fires that break out and inflame the Lebanese forests and finally the explosion of the port of Beirut. This disaster, which no one in the world has forgotten, killed more than 200 people, injured more than 6,500 and caused the collapse of more than 300,000 houses.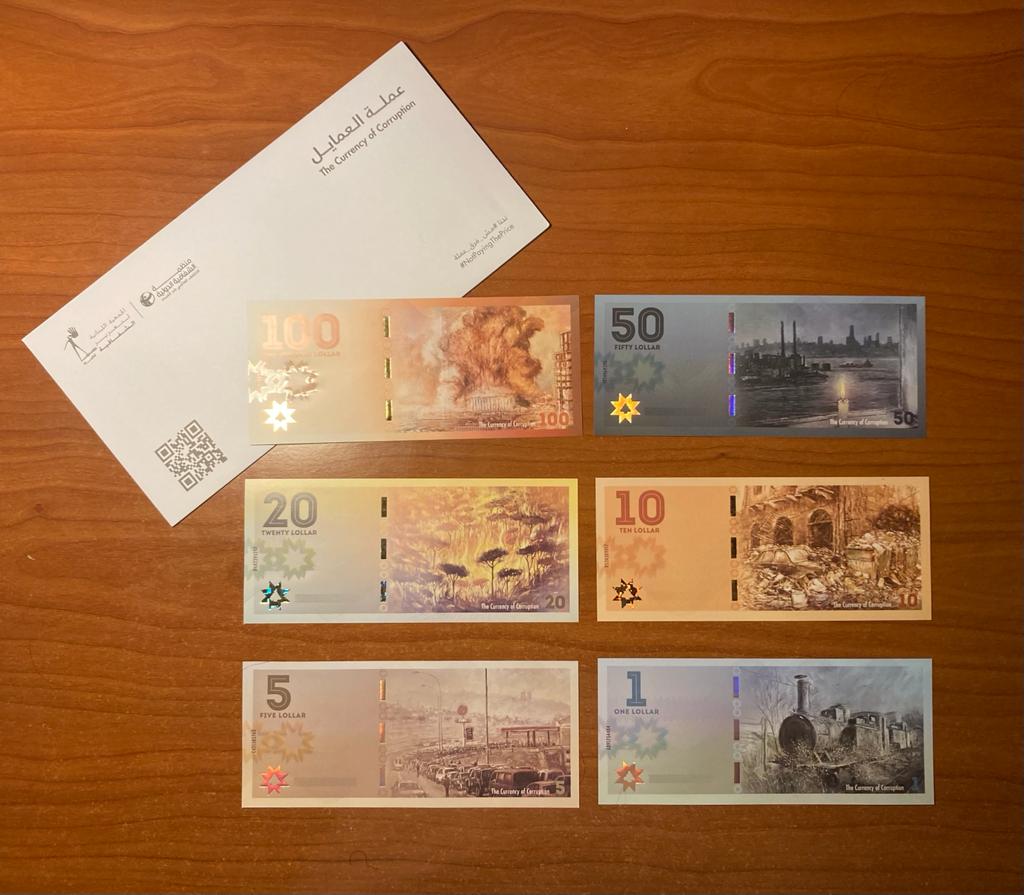 Complete series of satirical Lollar banknotes
These banknotes were The Lollar, new Lebanese satirical banknotes.
The LTA invites the public to join this campaign, first by paying with the Lollar currency, which are available to the public since May 13, 2022.
Beyond this campaign, the LTA wants a new currency that will not be a symbol of corruption.
#لبنان الأخضر كان مقصد لكل عشاق مناظره الخلابة وطبيعته الاستثنائية بس للأسف، هالصورة ما دامت وشوّهتها ألسنة النار والإهمال والفساد وعدم الجهوزية لهيك مواقف مع إنو سنة ال٢٠٠٩ اندفع ١٤مليون $ ثمن طوافات للحالات الطارئة… وينُن؟! عم بيحلقوا بسما فسادُن. pic.twitter.com/J0HbO7QEZL

— LTA (@LTANoCorruption) May 10, 2022
Presentation of lollar banknotes
Sources: Libanese Transparency Association (LTA) and NUMISMAG