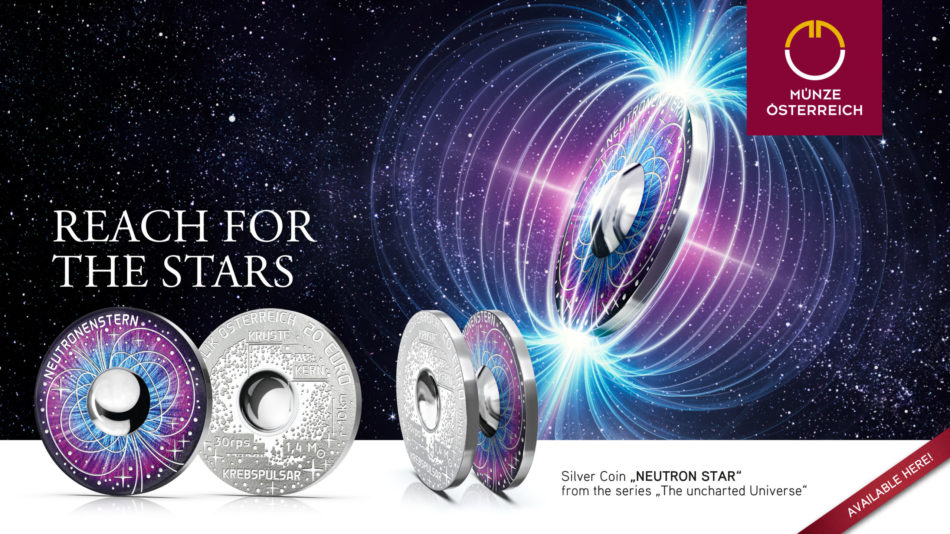 2023 silver austrian coin Neutron Star
The "Unchartered Universe" series includes three pieces that have never existed before. This series allows the collector to travel into the depths of the universe and observe three breathtaking astronomical phenomena up close, the first of which is the Milky Way (2021). The second piece, The Black Hole, takes you beyond the "event horizon" of this unique phenomenon (2022). The Neutron Star, the third and final piece in the series, shows how a massive star, combined with gravitational collapse, becomes one of the densest stellar objects in the universe (2023).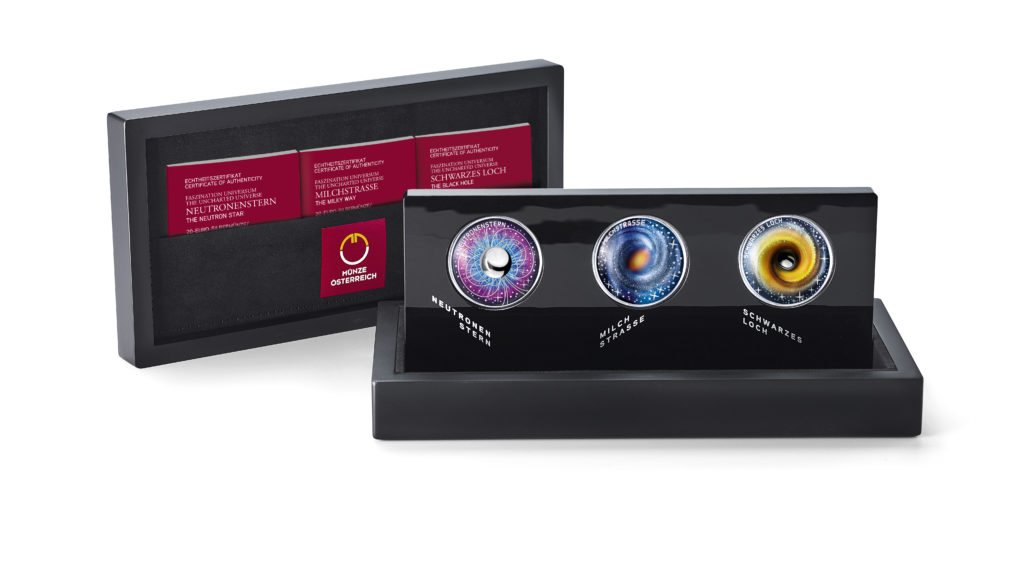 In addition, a new series of five 20 euro silver coins of this type will be issued at a rate of one coin per year, until 2028. These coins will be interpretations of five other astronomical phenomena.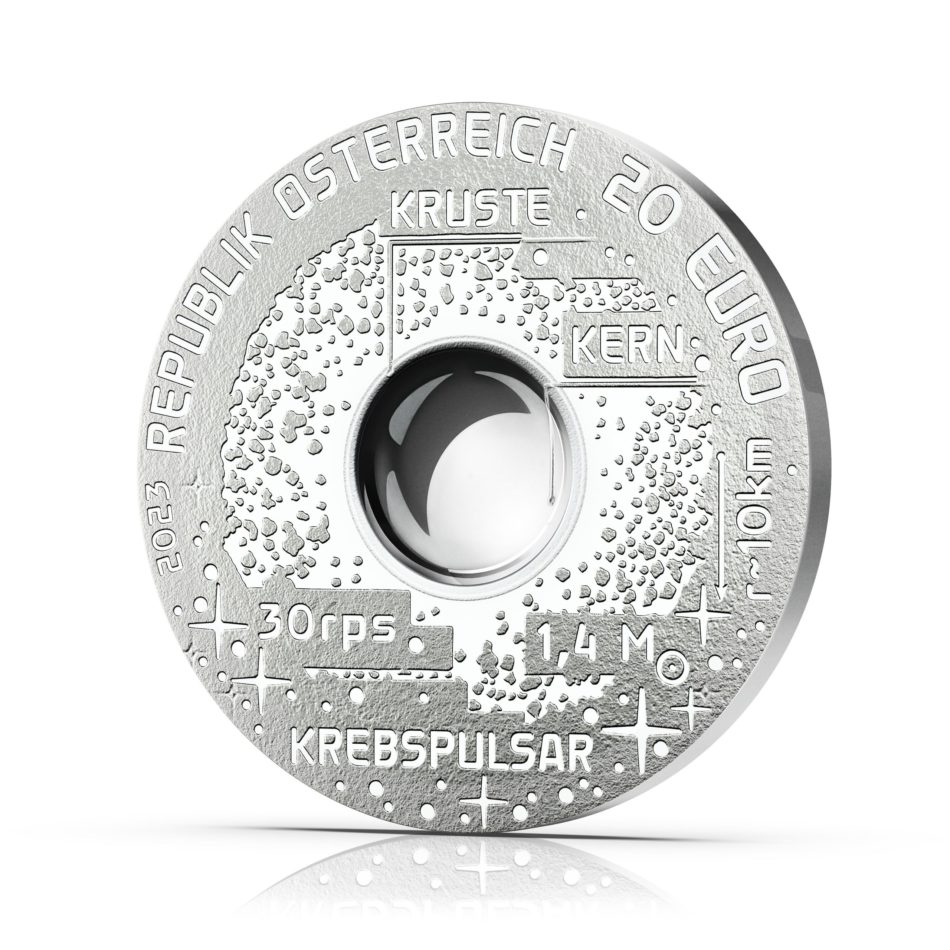 The "Neutron Star" piece features a half-sphere curved inward on one side and outward on the other. The coin is designed as a simplified representation of the unique galactic phenomenon that is the neutron star. The Milky Way would count up to one billion neutron stars. This number is obtained by estimating the number of stars that have undergone a supernova explosion, that is to say the spectacular explosion of a massive star. Combined with gravitational collapse, this explosion creates a compact and super-dense object called a neutron star. After black holes, neutron stars are the densest stellar objects in the universe.
The words "crust" and "core" are inscribed in German on the obverse of the coin. The "Crab Pulsar" is the name of a neutron star born from a supernova in the year 1054, while "1.4 M" refers to the solar mass of the neutron star, "30rps" to its rotation speed per second and "r~10km" to its radius.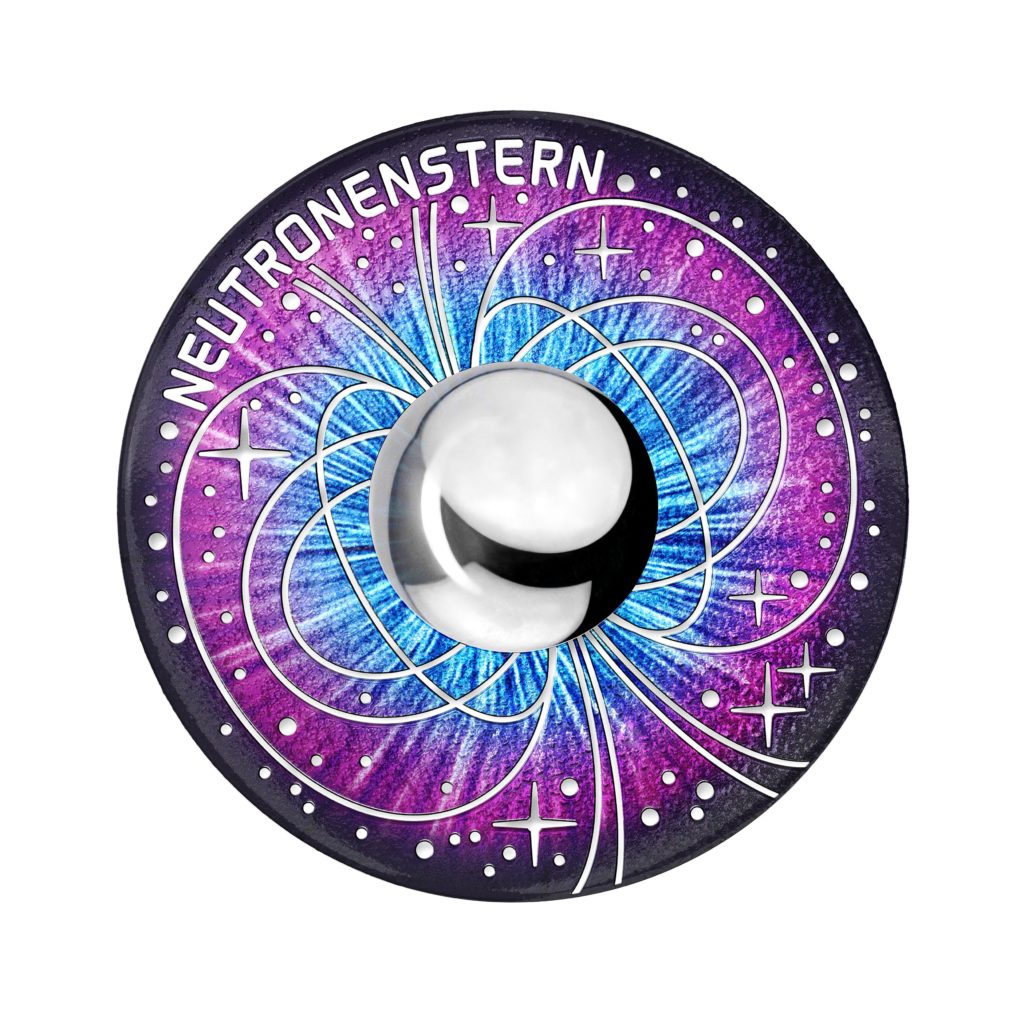 On the reverse side of the coin, the neutron star appears through a colored imprint and a stylized representation of its magnetic field.
---
Coin specifications
---
Face value: €20
Designer: Helmut Andexlinger
Diameter: 34mm
Condition: Proof
Mintage: 30 000 coinss
Material: Silver Ag 925/1000
Fine silver weight: 2/3 oz (20,74 g)
Total weight: 22.42 g
Edge: plain
The first day of issue is Wednesday, May 10, 2023.
Sources: Austrian Mint and NUMISMAG.