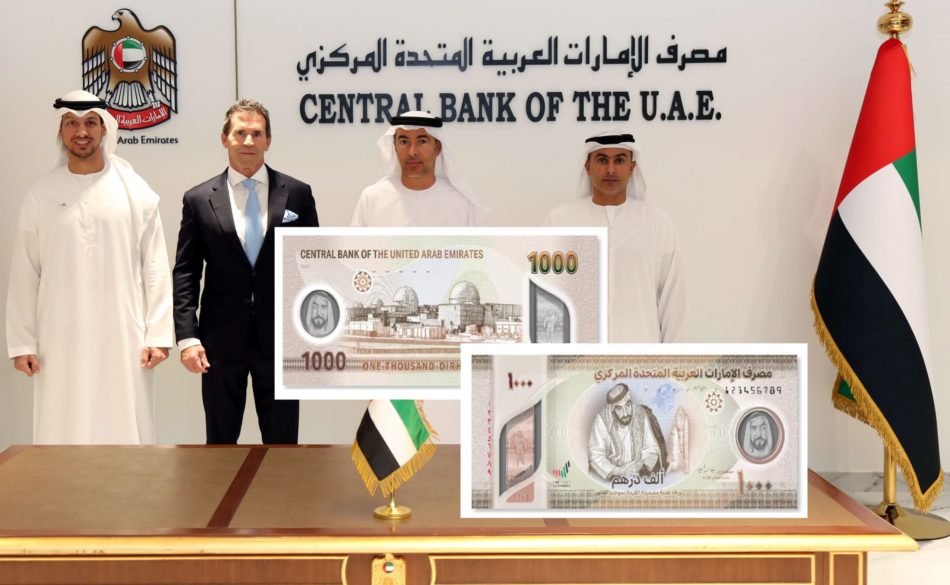 New 1000 dirhams polymer banknote from the United Arab Emirates
The Central Bank of the United Arab Emirates is issuing a new polymer banknote with a face value of 1000 dirhams for circulation. The new banknote will be available in banks and exchange offices from April 10, 2023.
In designing the new banknote, the Central Bank of the United Arab Emirates (CBUAE) was keen to highlight the success of the UAE, using images as well as cultural and developmental symbols that reflect the pioneering global achievements of the UAE, which has strengthened its position among developed countries in record time. The design of the new banknote embodies the vision and forward-looking ambitions that have become a reality for the UAE as a leader in space exploration.
The distinctive aesthetic feature of this banknote is the different shades of brown used that preserve the color characteristics of the same denomination banknote currently in circulation for easy identification by the public, in addition to the blue fluorescent markings of the UAE nation mark in the center, and the designs and inscriptions created using advanced intaglio printing techniques.
Front face of banknote
The front of the new banknote features the image of the late Sheikh Zayed bin Sultan Al Nahyan, next to a model space shuttle, inspired by his meeting with the pioneers of the US space agency NASA in 1974.
The UAE's space ambition was realized during the Emirates Mars Mission "Hope Probe" voyage in 2021, and it has been embodied in the new banknote by placing an image of the Emirates mission to explore Mars – "The Hope Probe". The image of an Emirati astronaut has been added as a security feature. It appears on the front of the banknote.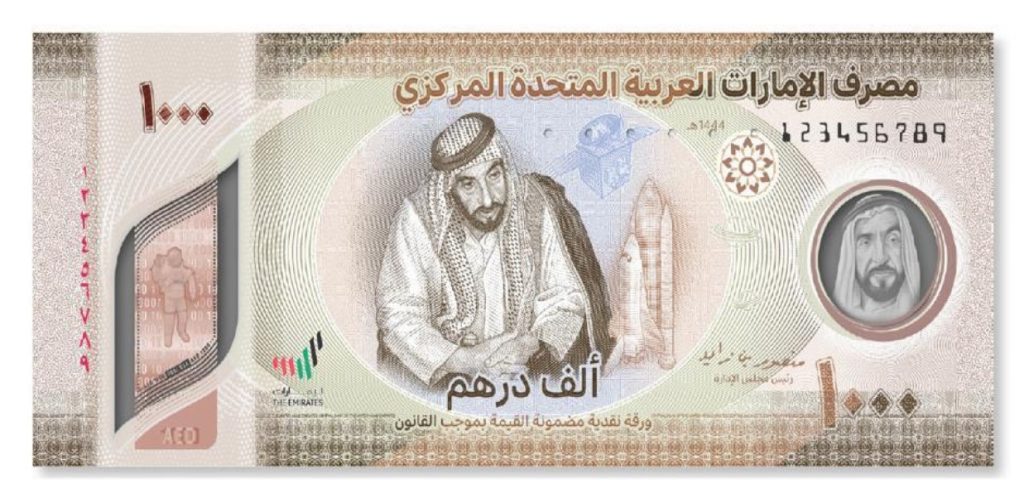 Back of the banknote
The back of the new bill features an image of the Barakah nuclear power plant in Abu Dhabi, which will play a key role in diversifying the country's energy sources and reducing carbon emissions.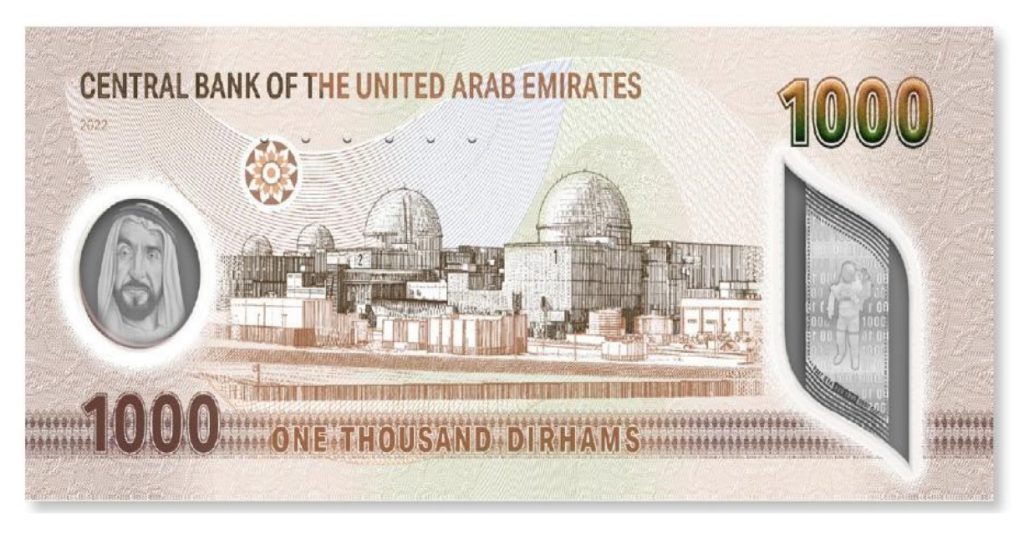 In order to enhance consumer confidence and combat counterfeiting of the national currency, the new bill features advanced security features that include modern technologies such as SPARK Flow® DIMENSIONS, a technology developed by the Swiss company Koenig and Bauer (formerly GIORI).
This company has developed a series of specimens in 2021 that incorporate the SPARK Flow technology.
This technology is being used for the first time in the world. In addition, the UAE is the first in the MENA region to issue the largest surface-applied multi-color KINEGRAM aluminum stripe for this new banknote issue.
In addition to the distinct visual effects in terms of security and design, the CBUAE has added important symbols in Braille to help blind and visually impaired users identify the value of the bill.
The new bill will be in circulation alongside the current 1,000 dirham bill, whose legal value remains guaranteed by UAE law.
Sources: UAE and NUMISMAG