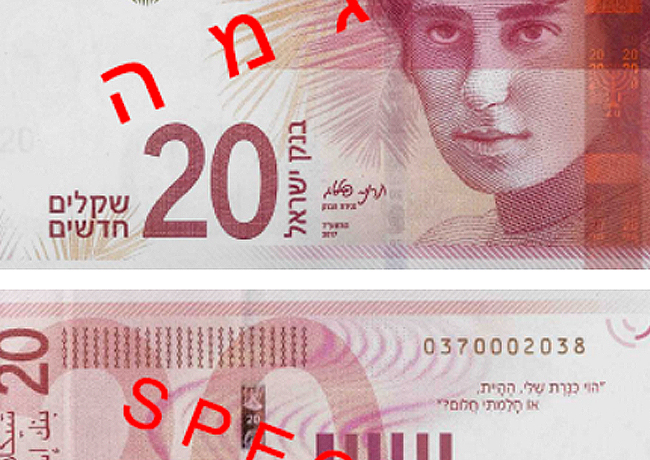 New 20 and 100 Shekels banknotes
The central bank of Israel indicated last week that the new banknotes of 20 and 100 shekels will be illustrated by the portrait of female poets of Hebraic language.
These kanknotes are at the stage of the final design. The banknote of 20 shekels will be illustrated with a partrait of Rachel Bluwstein Sela, generally known like Rachel "the poetess".
The banknote of 100 shekels is orange and will be illustrated with the portrait of Leah Goldberg, one of the most loved poets of Israel.
At the origin, these cuts were to be put into circulation in 2016. The new banknotes will supplement the redrawn banknotes of 50 and 200 shekels, printed in 2014 and 2015. These ones were illustrated with the portraits of poets Shaul Tchernichovsky and Nathan Alterman. Like the 50 and the 200 shekels banknotes, the new banknotes will incorporate a state–of–the–art technology. The images printed on all the newn banknotes were ratified in 2012 by the former governor of  Bank of Israel, Stanley Fischer. 
Each banknote is of a particular color and dimension, in order to avoid any confusion between cuts of various face values. Until now, only the Prime Minister Golda Meir has illstrated a banknote. This banknote of 10 shekels circulated between 1985 and the middle of the years 1990. Extra information concerning the launch date of the two remaining denominations, the safety devices included in those currencues and the calendar for the replacement of existing banknotes by these new ones will be provided by the central bank of Israel, in a near future. The printing of the new denominations will cost at the israelian state about 716 millions of shekels (approximately 198USD millions).
Source: Israel NCB (National Central Bank).