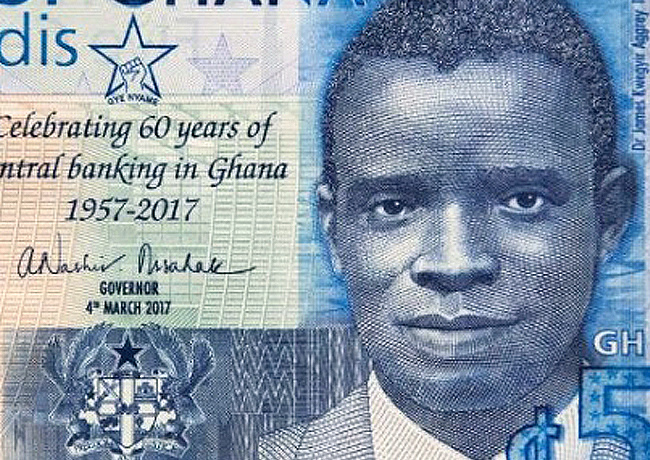 2017 GHANA 5 Cedis commemorative currency
Mrs. Catherine ASHILEY, ex-director of the currency management department of the Bank of Ghana, described  commemorative banknote of five ghanean Cedis like safest banknote in the world. This banknote is issued to celebrate the 60th birthday of the central bank of teh country. It has new safety devices, fully compatible with the international standards. The person in charge of the Ghanean central bank specified that the issuance of commemorative banknotes was an international practice and that its country conformed to this international currency use.
Dr. James Kwegyir Aggrey is represented on the obverse of the banknote. He was an intellectual and a teacher who made his career mainly in the United States. He deceased in 1927 in a hospital of New York City. On the reverse, the central bank of GHANA wished to represent the main sources of wealths of the country. A boat of oil drilling, a cocoa broad bean and gold ingots symbolize the three principal natural resources of this country counting 27 millions of inhabitants. Oil business is recent in this country. It started in 2010. The banknote is put in circulation starting from March 3rd, 2017.
Mrs ASHILEY specified that the banknotes had been printed in only one pulling. The commemorative ticket will not be reprinted. What makes of it according to it "an article of numismatic collection" that the banking users could preserve and sell in the future for a certain value, on the numismatic market. The new currency is in particular provided with a QR code and tactile signs making possible, to the partially–sighted persons, to identify the banknote. According to Mr.Dominic OWUSU, printing chief engineer of the NCB(National Central Bank) of GHANA, the banknotes are calling cards for the issuing country and he advised with the whole of population to employ these banknotes in the currency circulation.
Source: GHANA BUSINESS NEWS.
You may also Like