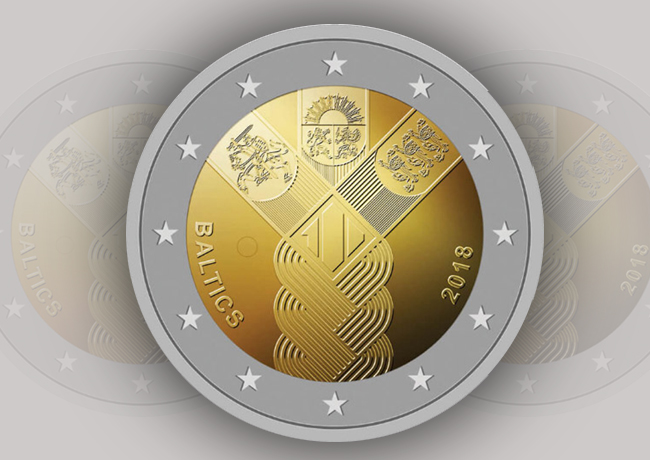 2018 joined 2€ commemorative coin of baltic states
It is the project of 2€ common to the three Baltic States of Justas PETRULIS which received most votes of the public survey initiated by the central banks of the three baltic countries.
Six projects of coins were proposed to the vote(two projects per state). More than 14,000people of the whole world took part in the vote, but the majority of votes (93%) is resulting from the Baltic states. On the whole, 4,277 voters chose the work of the young lithuanian artist Justas PETRULIS. To celebrate the 100eme birthday of the Latvian and Estonian states and the 100eme birthday of the re–establishment of the independence of Lithuania, the central banks of the three Baltic states forecast the emission of this commemorative 2€ coin to the beginning of the year 2018.
According to a representative of the Estonian Central Bank, "This coin will recall the will of the Baltic populations to defend their independence. The coin is also a testimony of the unity of Latvia, Lithuania and Estonia and their promptitude to cooperate in the interest of their independence and their freedom".
This currency issuing is common to several european states, as told above. It is not the first, even by not taking in count of the emissions common to the whole euro zone like 2007, 2009.2012 and 2015 2€ commemorative coins issuing. Thus, France and Germany minted a common 2€ commemorative coin in 2013, in order to jointly commemorate the 50th birthday of the Elyseum treaty, signed by France and Germany in 1963.
But it is on the other hand the first common minted coin to the three Baltic states, since the euro changeover of these three countries. Only the name of the minting country as well as the various mintmarks will differentiate the coins struck on this occasion by each one of these three states.
Source: EESTI PANK.