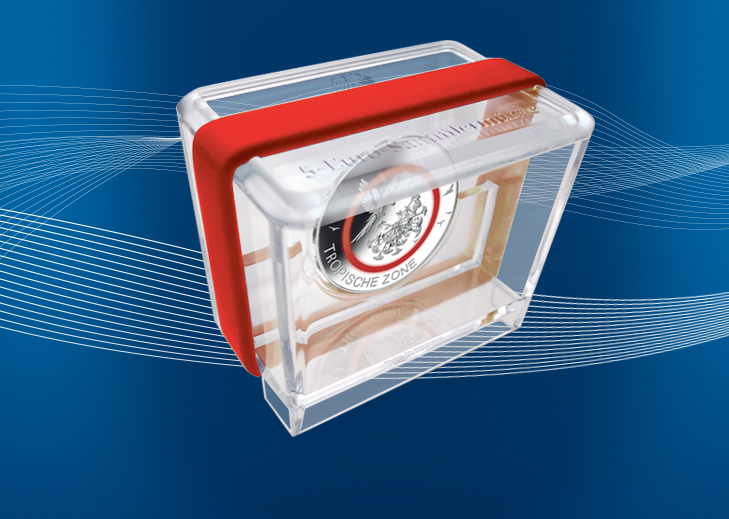 2017 german "tropical zone" €5 coin
This new serie of 5 coins, of a €5 euros face value, is devoted to earth climatic zones. It follows the minting of the 2016 coin "planet earth".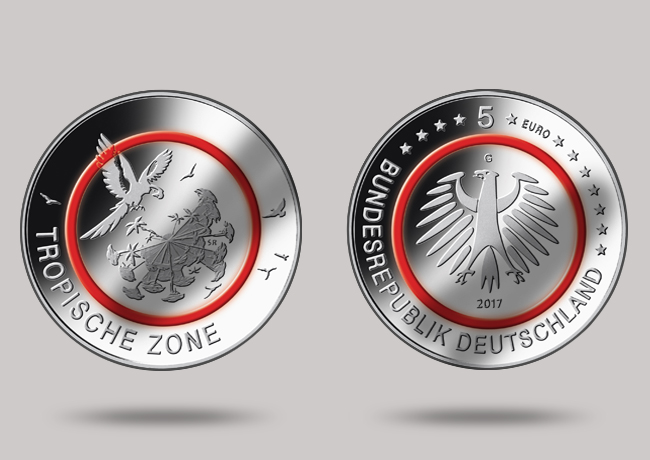 This coin comprised a blue polymer ring, symbolizing "blue planet". The program "climatic zones" is declined on next several years the following way:
2018 – subtropical zone –orange color.
2019 – temperate zone – greencolor.
2020 – zone south pole – turquoise color.
2021 – zone north pole – color violet.
The weight of the coin is about 9g, it is made of cupronickel and has a red polymer ring. It has a diameter of 27,25mm. It was struck in both qualities BU and proof. The five German workshops struck this coin (minted with workshop letters A – D – F – G – J).  2,300,000 coins, maximum,  will be struck, 300 000 proof coins for collectors included.  The artist Stéphanie RADTKE chose to represent a parrot, to symbolize the biological diversity of the tropical zones and the tropical forest which marks by its perpetual moisture.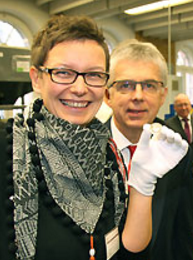 Stephanie RADTKE (picture: Munzenmagazin)
The coin is available since April 27th 2017, but Vfs indicates that the proof version is already out of stock.
Source: VfS.- photo: H.J. Fuchs – copyright© BADV – creation : Stefanie Radtke, Leipzig – Box & photo: Koziol