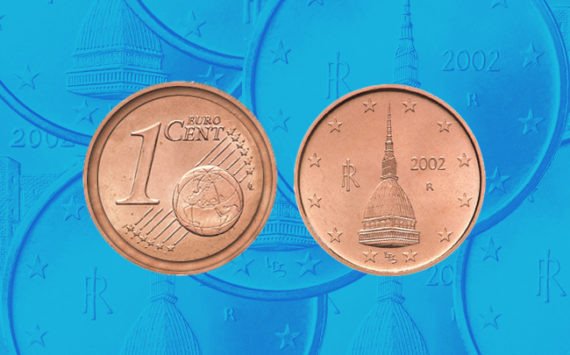 Italy: how much worth today the 2002 one cent Mole Antonelliana error coin?
In 2002, the Bolaffi auction house had announced the acquisition of six 2002 one cent error coins struck on 2 eurocents blanks. These coins were supposed to be found in mini-kits, distributed by Italian banks and Italian post offices during preparatory period, before official euro changeover. 7,000 of these coins were struck on 2 euro-cents blanks, with the Antonelliana Mole appearing on the reverse, instead of the Manor house of Parliament, usual reverse of  Italian 2 eurocents coins. The castle of Manor house is located in Apulia and dates from the 13th century. In the error coins specialist language, this kind of specimen is registered in the category of "blank error". This new had created a media frenzy and had aroused the interest of the collectors.
Immediately after, the coins had been confiscated by the Italian financial police, for investigation. A litigation had been then engaged by the Italian mint which claimed for the property of these error coins. Finally, after 11 years of law procedure, a judgement had agreed with Bollafi auction house  which legitimately could return in possession of the coins, among rarest euro faulty coins.
On May 23rd  2013, an Italian collector had bought for €6,600 (all auction fees included) a 2002 one cent Italian error coin. Starting price was set at €2,500 € and generated a battle which immediately saw  climbing offers. "It is a result which exceeds our waitings", had declared at the time Giulio Filippo Bolaffi, chairman of the Italian auction house. He also added "It is a recent coinage, and this first auction represents an important precedent to establish its coin collection value".
The experts estimated at the time with a hundred specimens the number of coins in circulation, and it was probable that after the legal decision, other examples would appear more especially as the verdict covers all the existing 2002 one cent error coins. It would seem that to date, only a dozen of these coins were found, especially in the north of Italy. That number seems to be very low regarding to 7000 identified specimens by Italian mint. What did happen to these coins? How many error coins were recovered by the Mint?
The purchase with €6,600 of the Bolaffi auction house sale remains an exception and did not establish the definitive market worth of this error coin. Since its price was hammered about €2,500 in different auction sales, in 2015. Lately in a sale on ebay in August 2017, this coin in "about UNC"condition, according to the salesman, was proposed at the price of €1 950.00.  The sale was enclosed on August 24th 2017.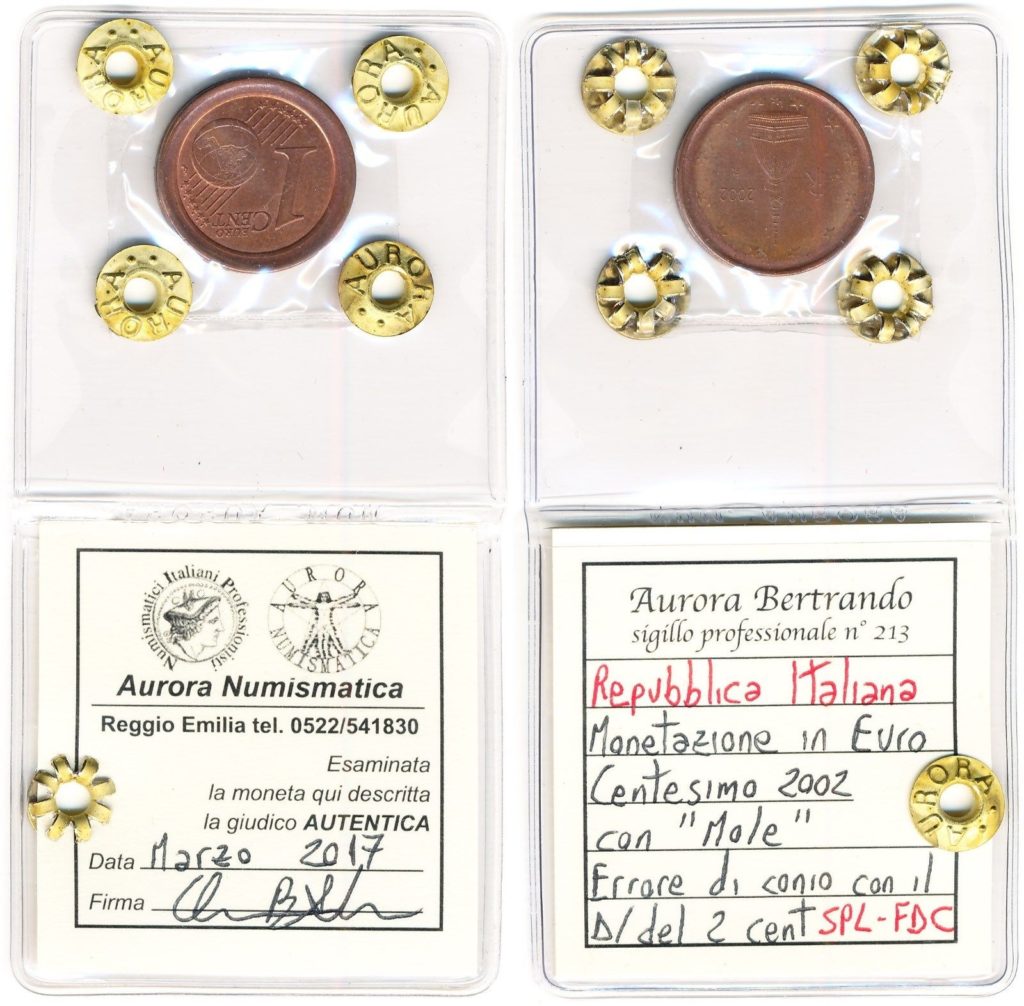 the 2002 one cent Mole Antonelliana Italia
Source: Bolaffi Auction House and Numismag.