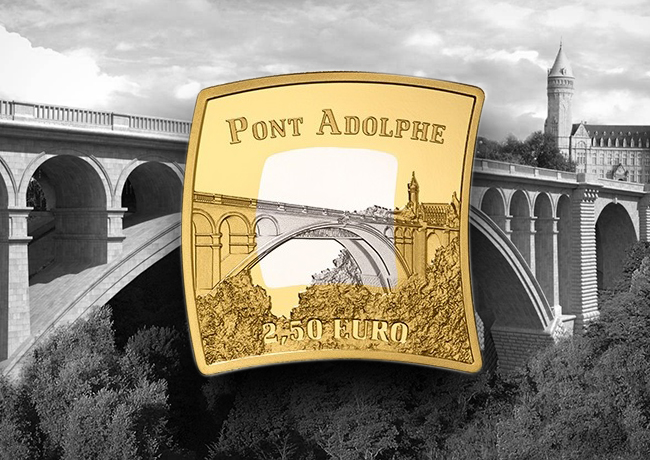 Proof coinset, €2.5 Adolph Bridge commemorative coin and €2 euro William III rolls: the last 2017 Luxembourg numismatic issues
Central bank of Luxembourg sell since Thursday, December 14th  2017  the following numismatic products:

The silver and Nordic gold coin dedicated to "Adolph Bridge".
This coin is minted at 2,500 specimens, by Mint of Poland, in proof condition. Each coin case is individually numbered.
The Adolph Bridge is a concrete bridge which gives access from the railroad station area to the district of the Luxembourg ancient military fortress, dismantled in 1868. It replaces a first wood runway and then a stone viaduct which had quickly appeared too narrow. Work started in 1900 and was completed in 1903. Many consolidation works were undertaken in the course of time, in the 1960's and in the 1990's, in particular following the appearance of cracks and a sealing defect of the bridge. In 2016, a suspended footbridge passing between the arches of the main bridge is built in order to allow the passage of the bicycles by the bridge, without reducing the width of the lanes passing on the bridge.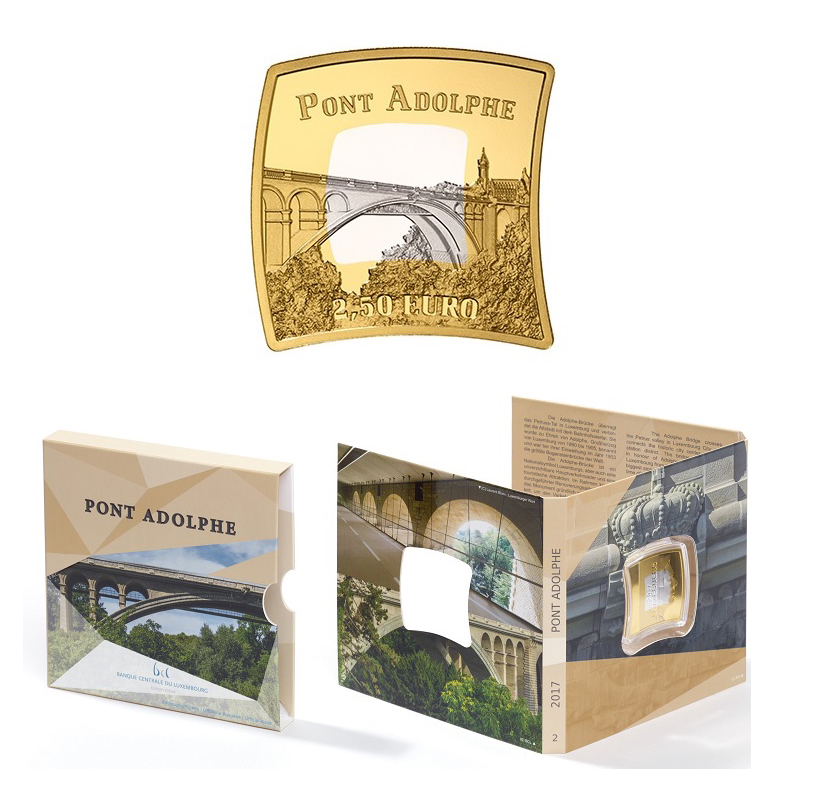 ---
Retail price is €55.
The rolls of 25 commemorative of €2 coins  "200e birthday of the Grand Duke WILLIAM III  birth" is also on sale at the cost of €58 a roll. The BCL reserves the right to limit the sale to a roll by collector, regarding collectors high demand at its numismatic sale space. The Grand Duke WILLIAM III was the king of the Netherlands and also the Duke of Luxembourg (1849-1890). He was a conservative sovereign, at the opposite of his father and one of his notable decisions was to suspend the liberal constitution granted by his father for the country He replaced  it with a  … inspired constitution. In 1867, he was approached by Napoleon III who wished to purchase Luxembourg for 5 million Guilders. Bismarck used this project in order to present France like an attacker of Prussia. Indeed, since the congress of Vienna (1815), a  garrison was stationed in the Luxembourg citadel. The war between France and Prussia was avoided only with a late english mediation. France renounce to Luxembourg against  Luxembourg neutrality and the withdrawal of the prussian troops serving in the Luxembourg citadel, itself dismantled thereafter. But three years later war couldn't be avoided any more between Prussia and France…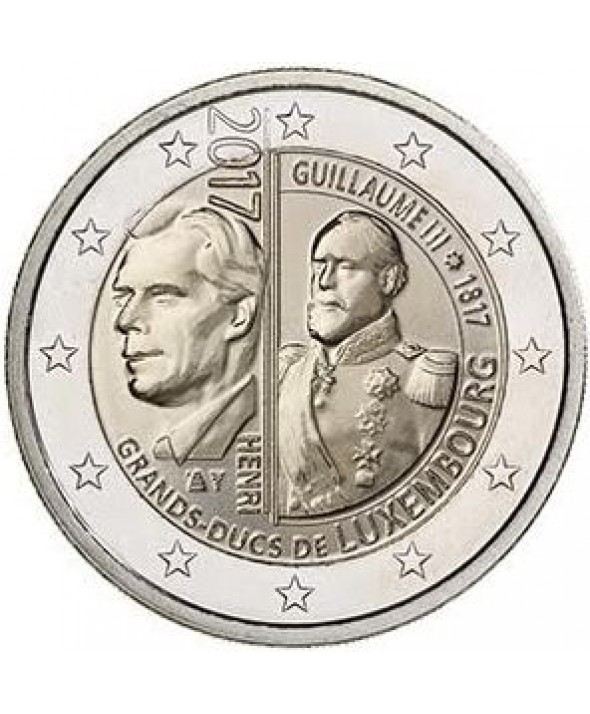 – BCL sell its 2017 annual proof coinset containing two €2 commemorative coins. This product has a low mintage of 1 000 sets.
Nouvelle 2€ commémorative Grand-Duc Guillaume III – Luxembourg – en avant première
Sources: BCL and NUMISMAG®.