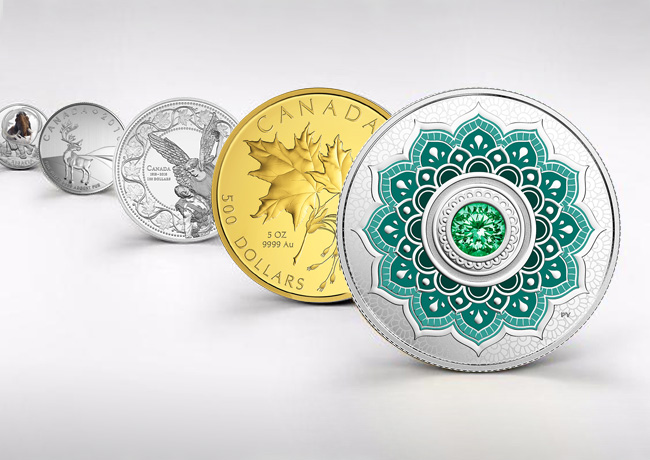 The last coin issues of the Royal Canadian Mint – April 2018
The Royal Canadian Mint presents its last coin issues of April 2018. Still more shapes and innovations are present on the pages of the Canadian Royal Mint's new catalogue.
New pieces of the month
ooooo
 The 2018 $10 Fine Silver Coins – Black and White Yin and Yang
Tiger and Dragon are crafted in the well-known curved teardrop contour that illustrates the Chinese concept of opposite forces achieving balance. In vividly coloured designs by artist Simon Ng, an intricate dragon is contrasted against a traditionally white Yang background, while an equally stunning tiger leaps from the blackness of the Yin coin. Both nestle together to form a perfect circle.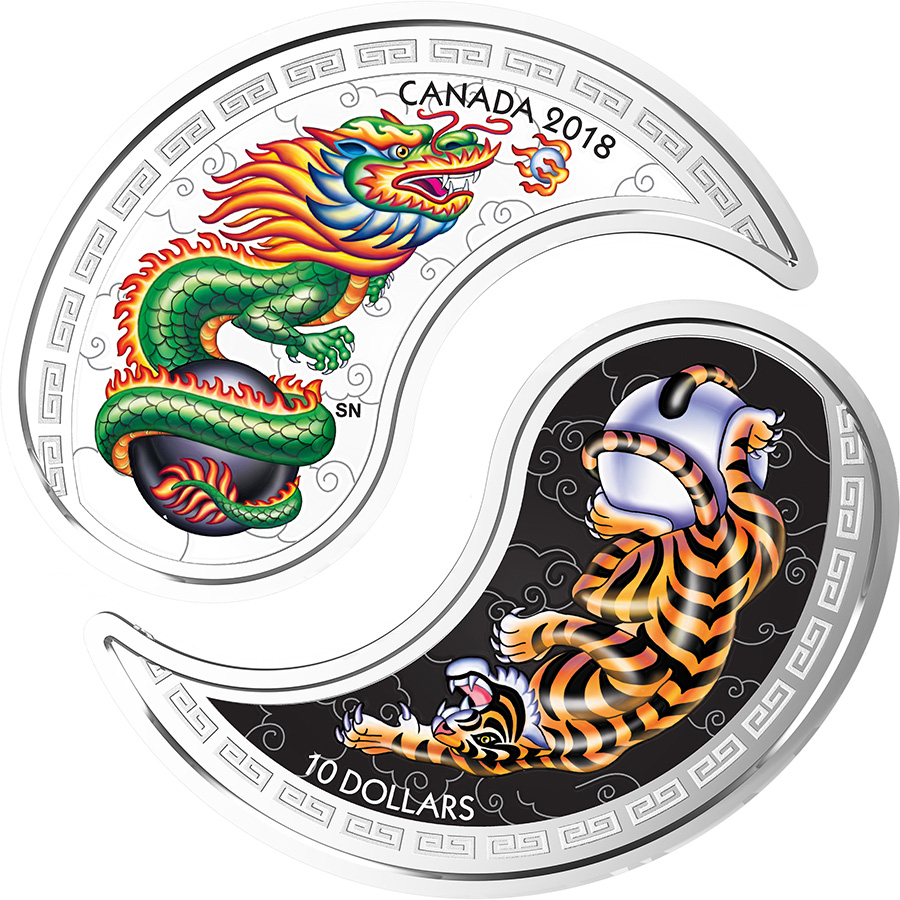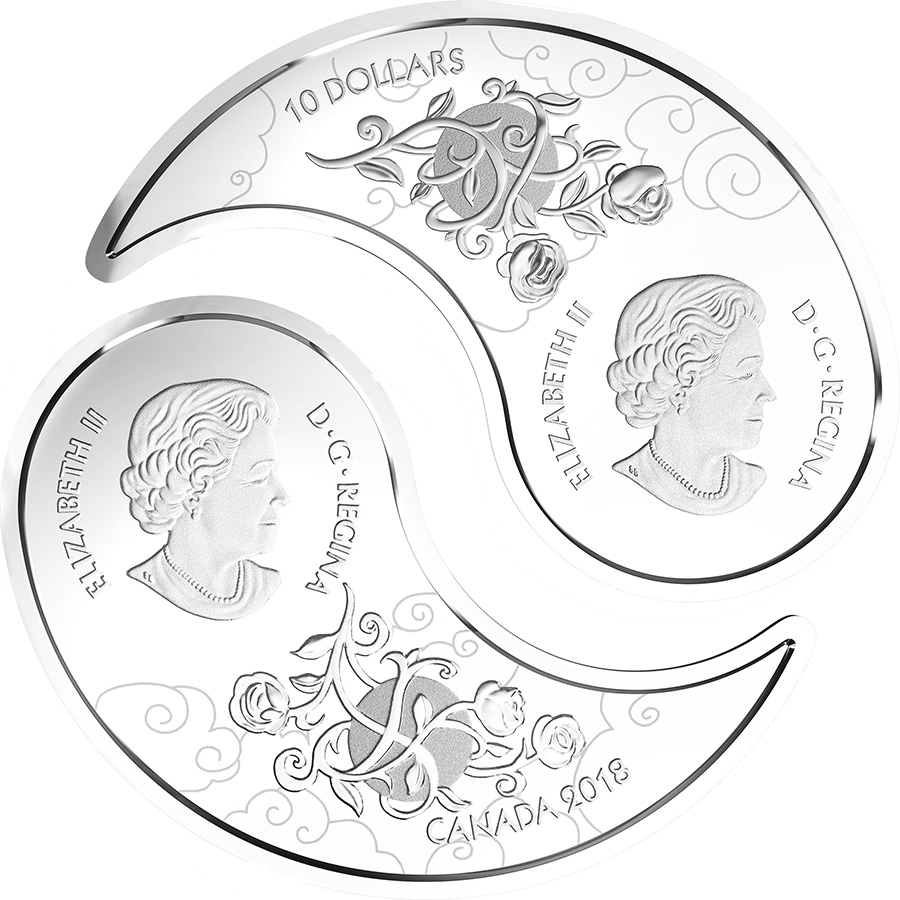 OOOO
The 2018 $20 Fine Silver Coin: Her Majesty Queen Elizabeth II's Maple Leaves Brooch
 Finished in red-hued enamel and enhanced by sparkling finishes, this 116 year-old brooch, symbolic of Canada's affection for its Monarch, is accompanied by Her Majesty's Royal Cypher and the engraving of a flowing rose garland. Artist Maurade Baynton has designed an elegant addition to a long line of royal-themed coins, featuring the addition of a Swarovski® pearl crystal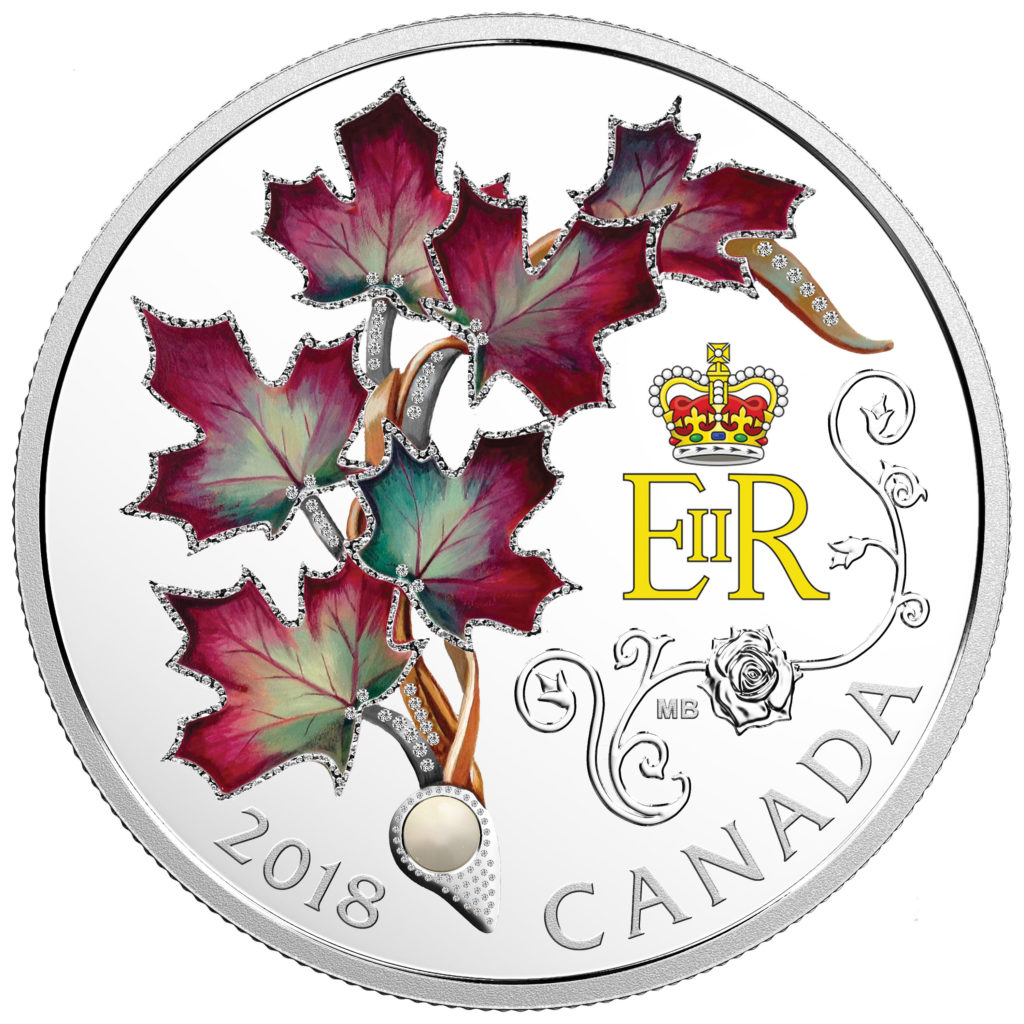 OOOOO
 the 2018 $20 Fine Silver Coin Frozen in Ice – Woolly Mammoths
featuring a frosted ice-like dome covering the coloured portion of Glen Loates' design of majestic creatures from Canada's last Ice Age. This coin is the first in a new series that will celebrate other amazing specimens of our prehistoric wildlife.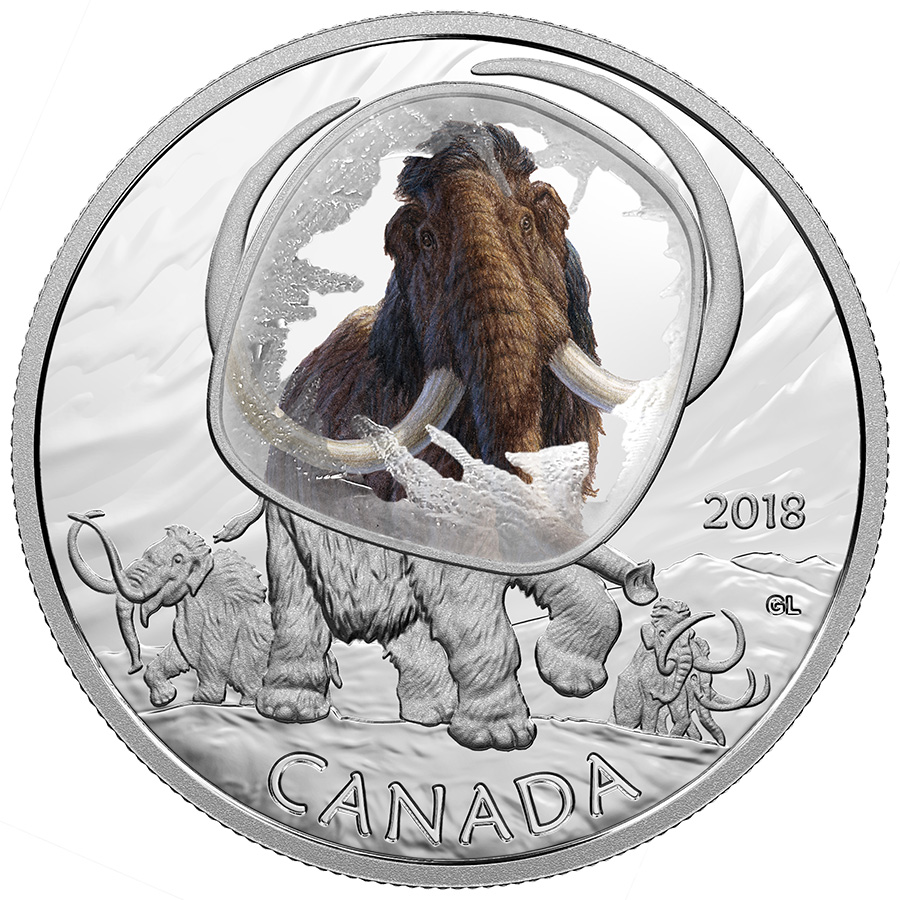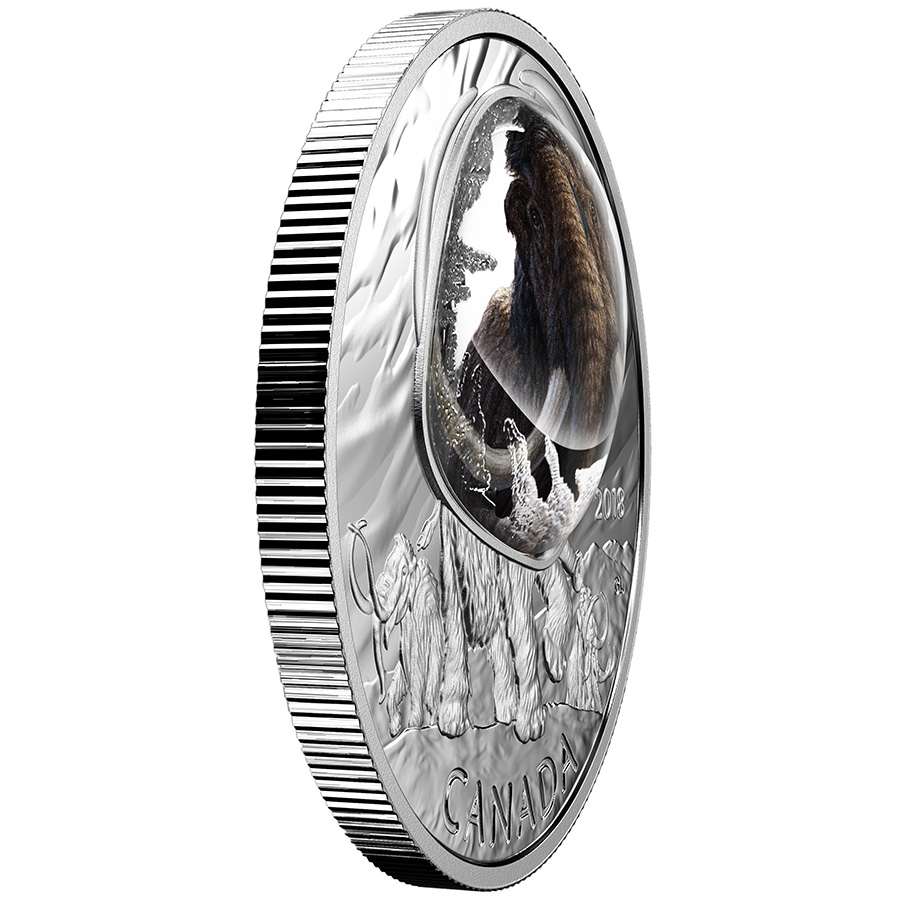 OOOO
OOOO
La pièce de 100 $ en argent fin 2018 – L'Ange de la Victoire
100e anniversaire de l'Armistice de la Première Guerre mondiale, dont le motif, oeuvre de Pandora Young, est méticuleusement gravé sur une pièce de 10 oz en argent fin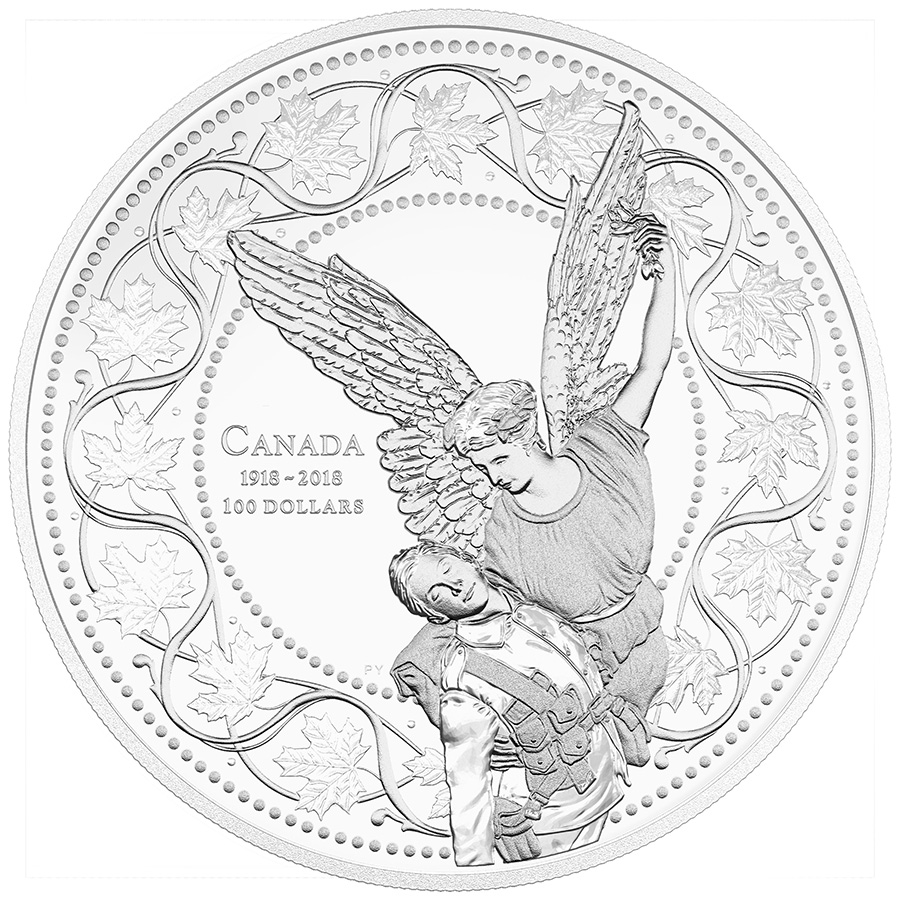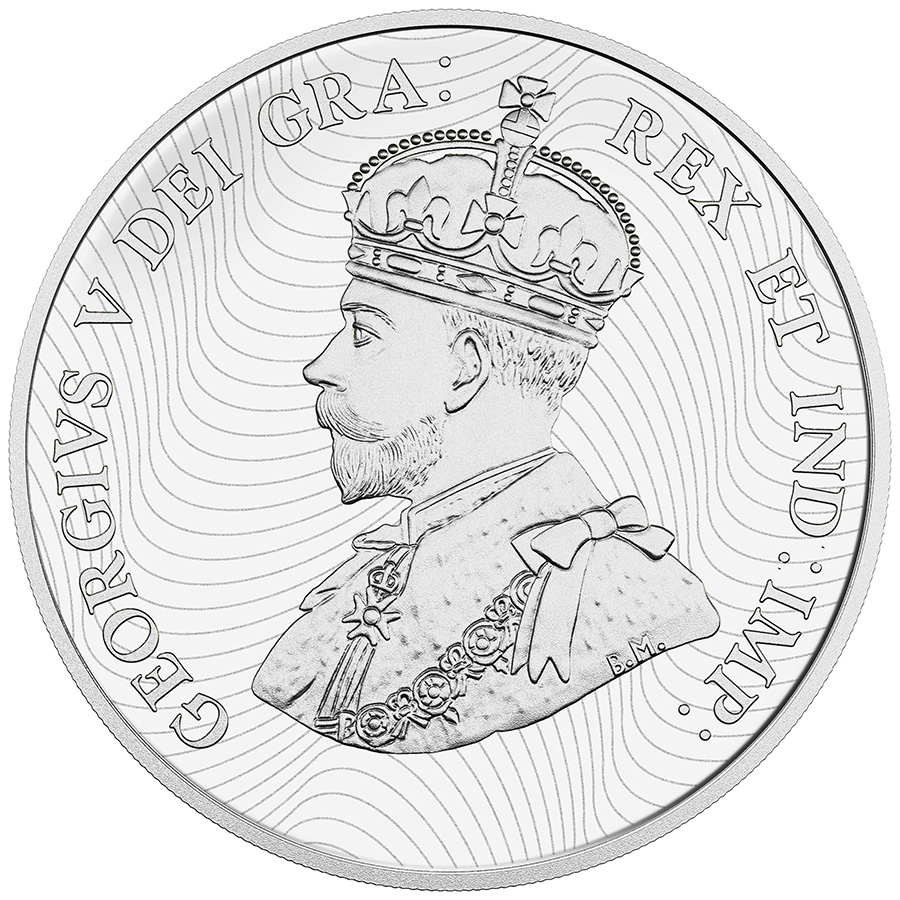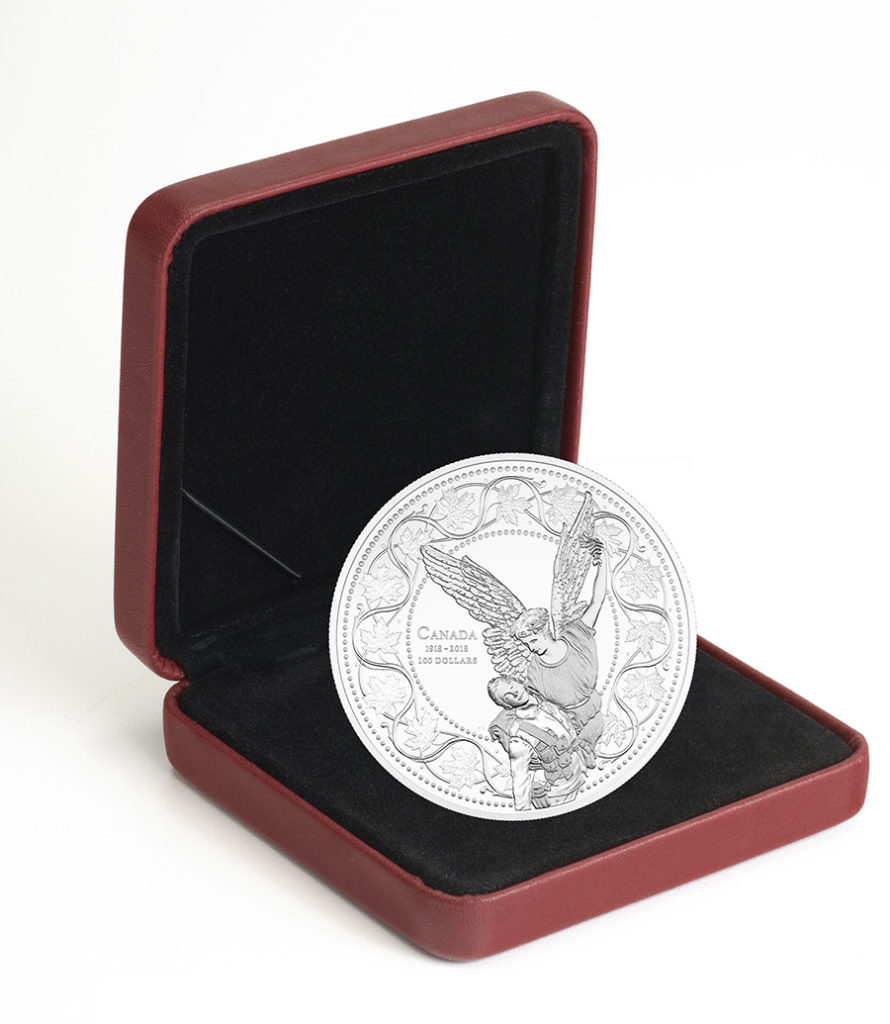 OOOO
The 2018 $25 Fine Silver Coin – Thunderbird, an engraved and coloured 
tribute to Northwest Coast First Nations culture by artist Andy Everson, while another of his new designs appears on the selectively coloured 2018 $100 14-Karat Gold Coin – Frog Reveals A Gift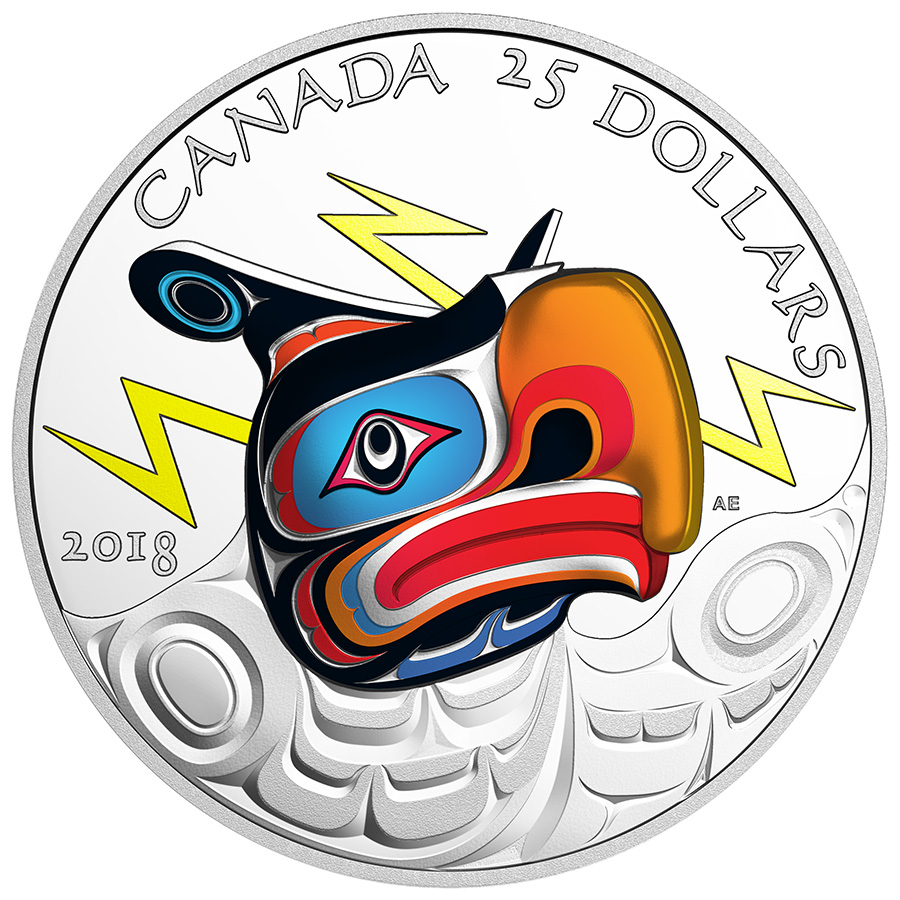 The 2018 Circulation Coin Roll – 50 Cents, as well as a new 2018 Special Wrap Collection 
First Strikes in 2018, featuring limited-edition rolls of all five currently circulating denominations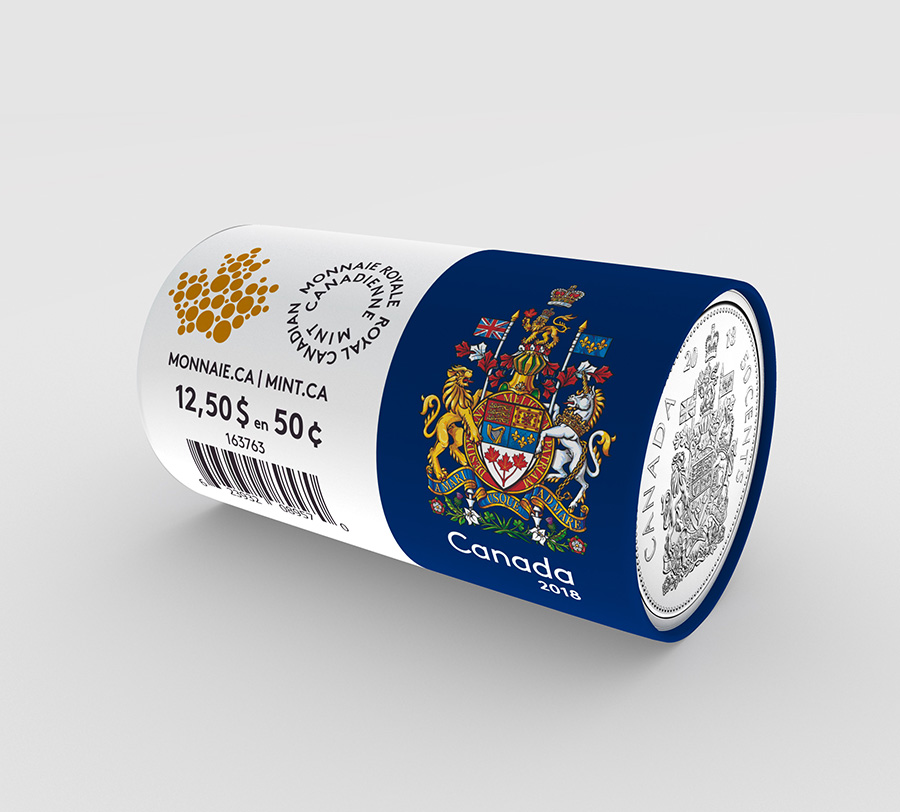 OOOO
The glow-in-the-dark 2018 $30 Fine Silver Coin – Arctic Animals and Northern Lights
Snowy Owl, designed by artist Trevor Tennant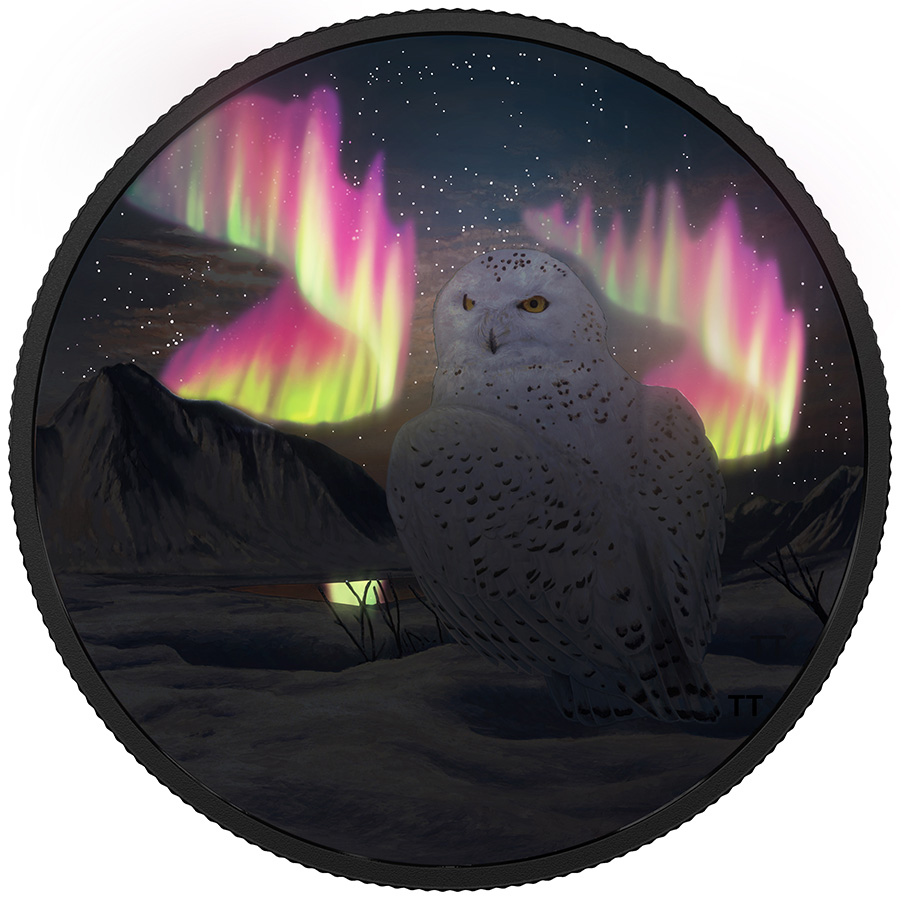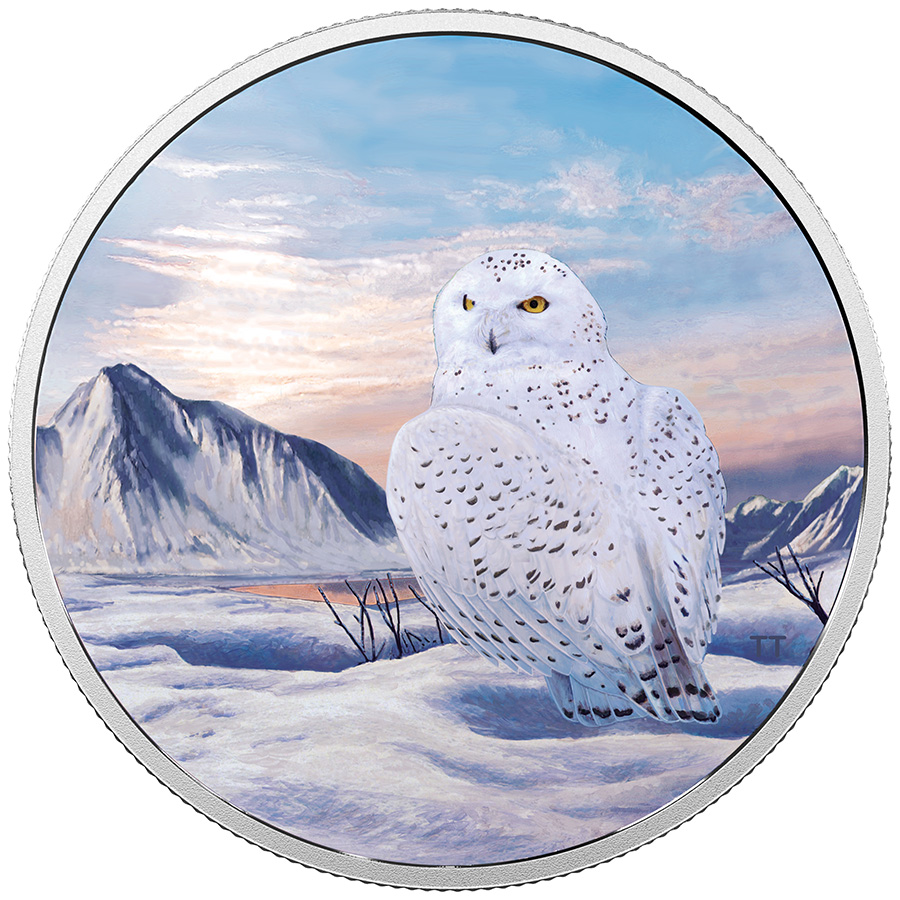 OOOO
The 2018 $20 Fine Silver Coin – Majestic Wildlife
Mettlesome Mountain Goat, featuring a coloured design by artist Pierre Leduc
OOOO 
The 2018 $15 Fine Silver Coin – Magnificent Bald Eagle
featuring the three of these legendary birds of prey in a profile illustration by artist Tony Bianco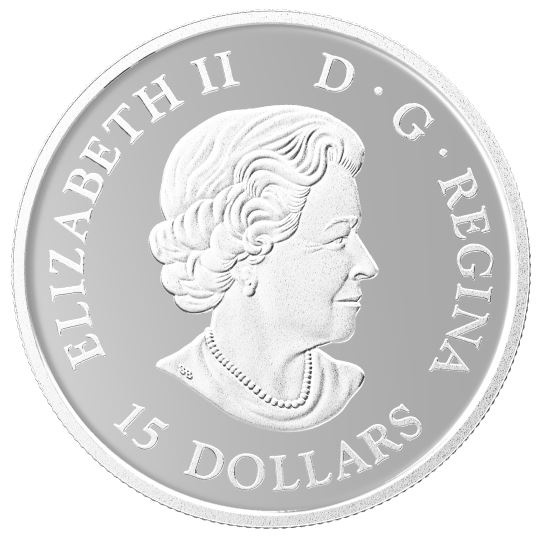 OOOO
The 2018 $20 Fine Silver Coin – Geometric Fauna Series
Snowy Owls, blending low poly art and realist illustrations by Claude Thivierge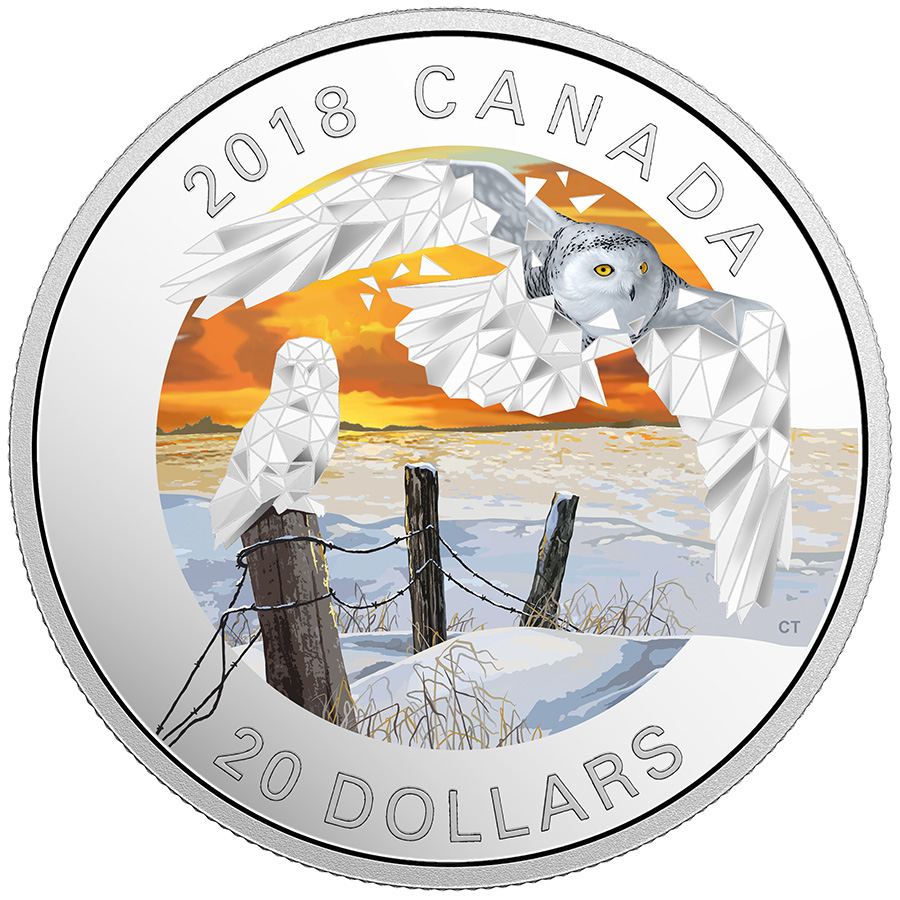 OOOO
A new trio of maple leaf-inspired collectibles: the 2018 $200 Pure Gold 2-Coin Set 
Enchanting Maple Leaves, designed by Nathalie Lagacé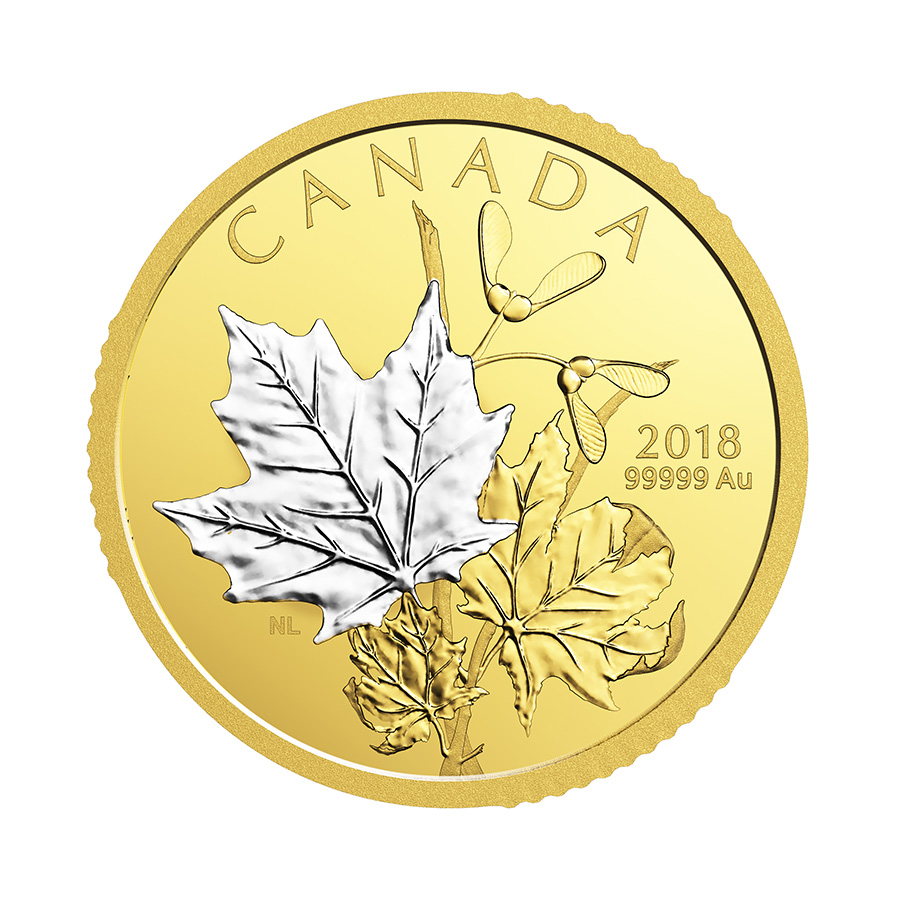 OOOO
The 2018 $300 Pure Platinum Coin
Maple Leaf Forever, by Pierre Leduc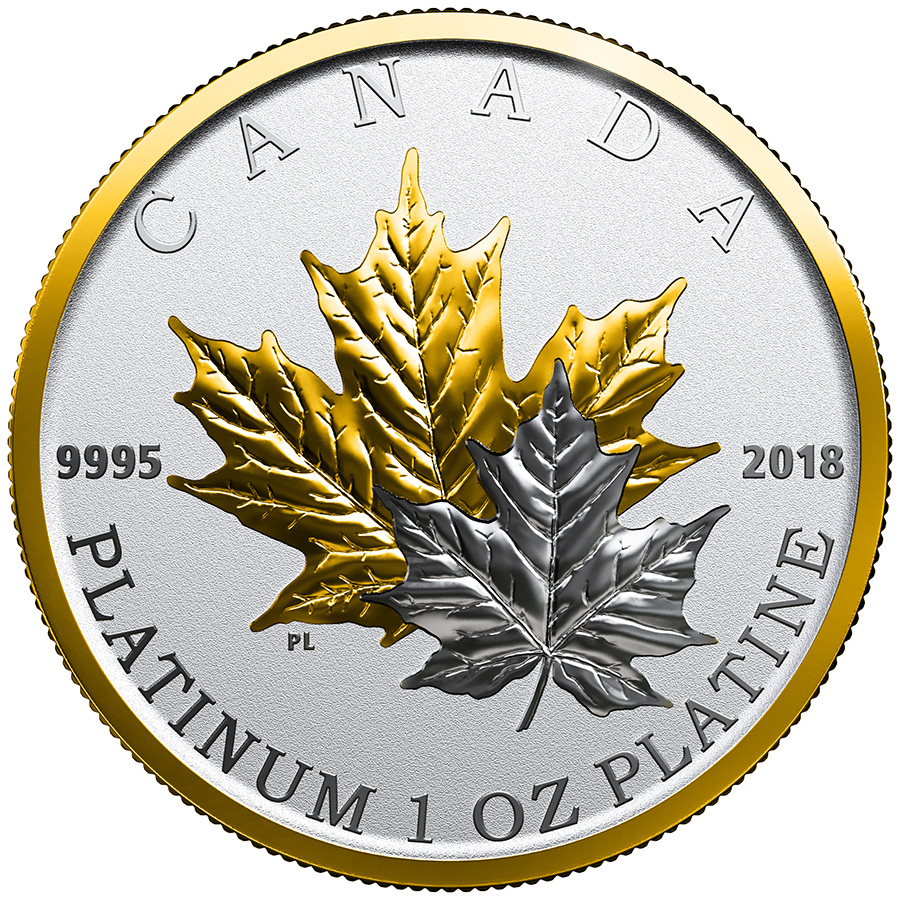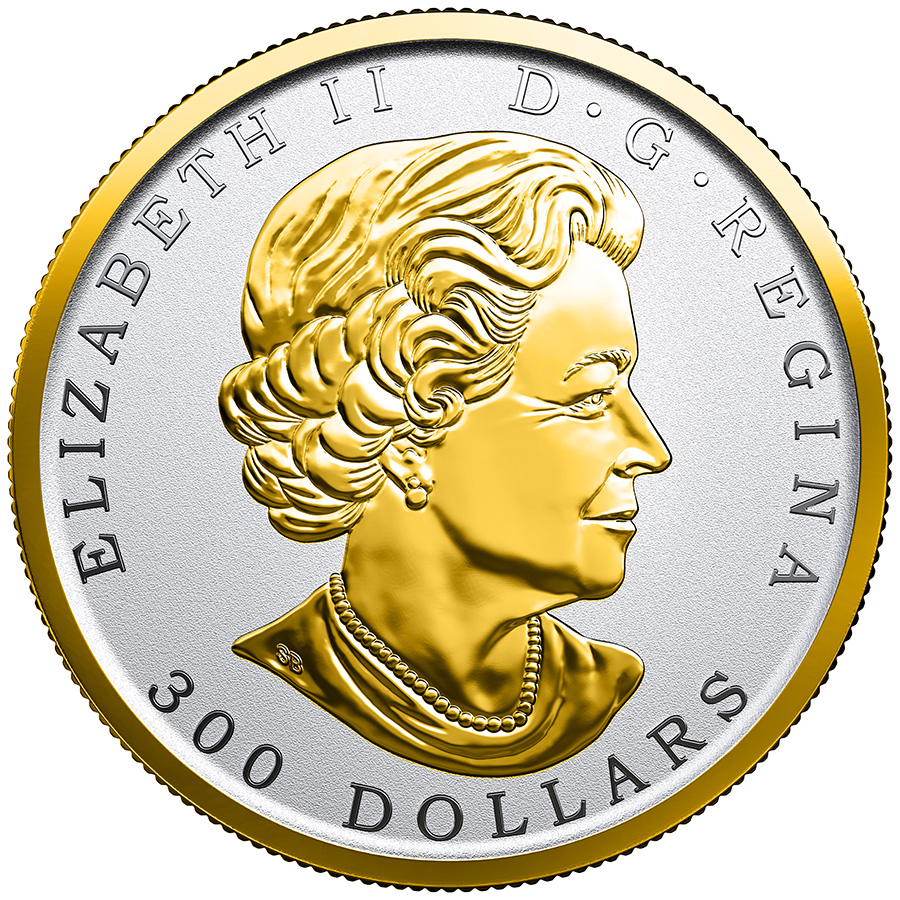 OOOO
$500 Pure Gold Coin – Maple Leaves 2018

The Stanley Witten-designed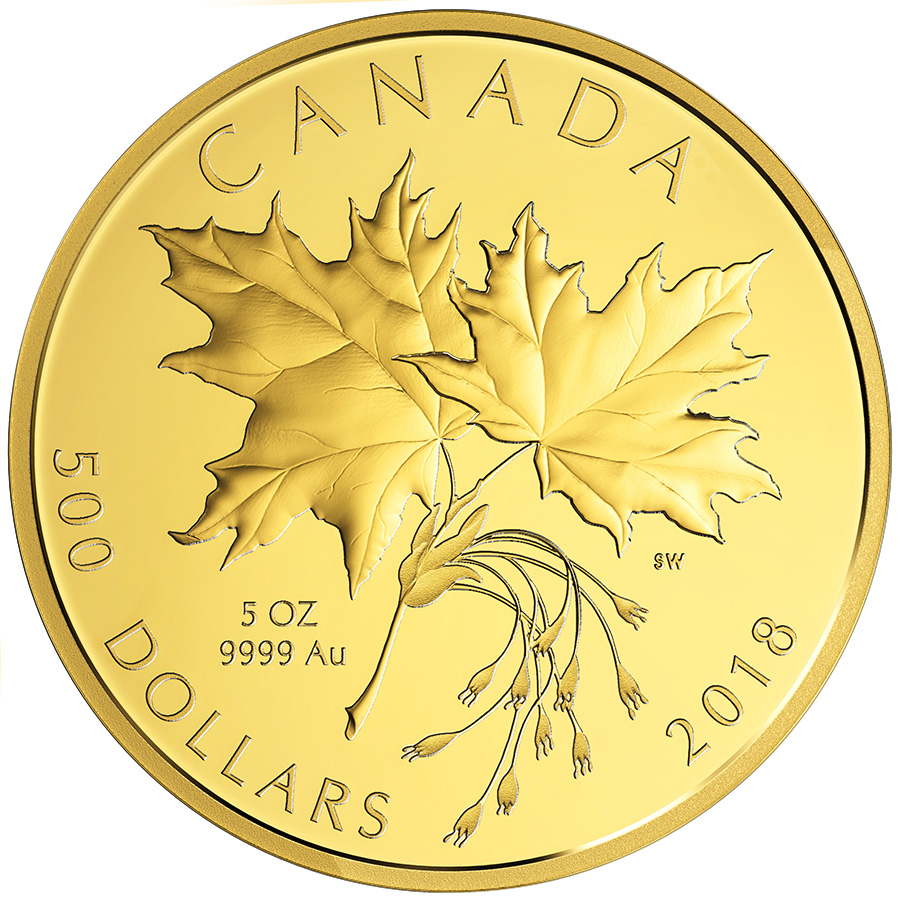 OOOOO
OOOOO
The 2018 $3 Fine Silver Coin – Caribou
featuring artist Steve McPhee's modern take on an icon of Canadian wildlife
OOOOO
The 2018 $3 Fine Silver Coin – The Thirteen Teachings from Grandmother Moon
Sucker Moon, designed by Frank Polson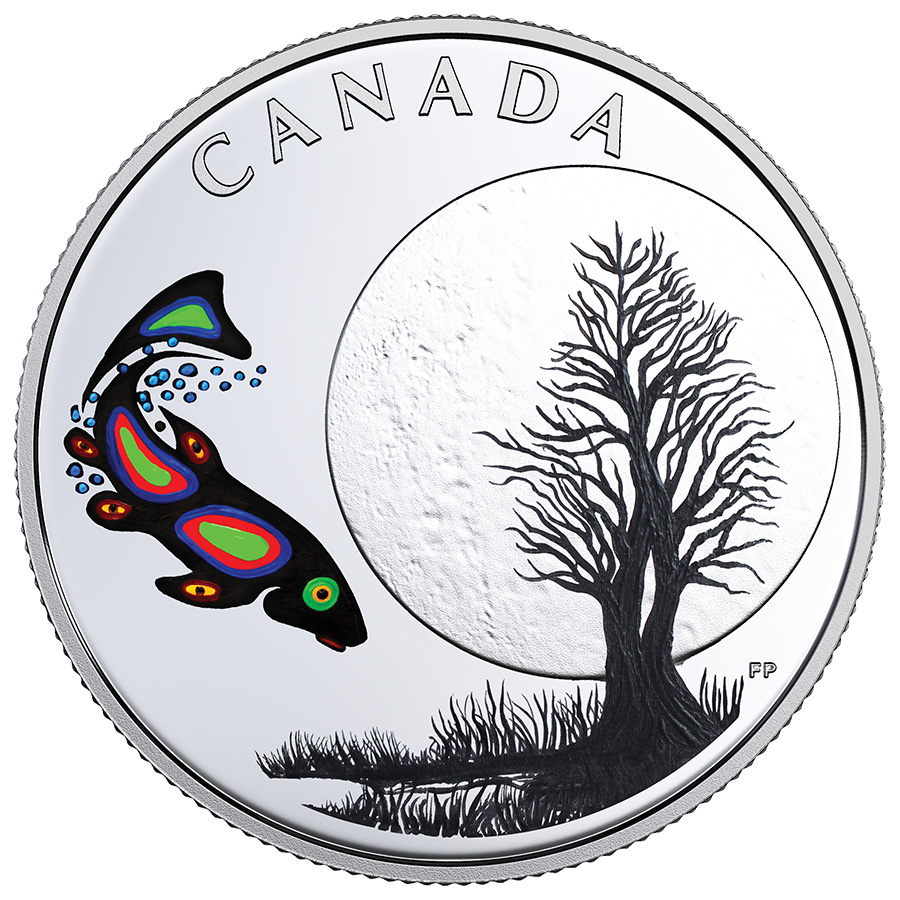 OOOO
The crystal-enhanced 2018 $5 Fine Silver Coin 
Birthstones: May, featuring a mandala-inspired diamond design by artist Pandora Young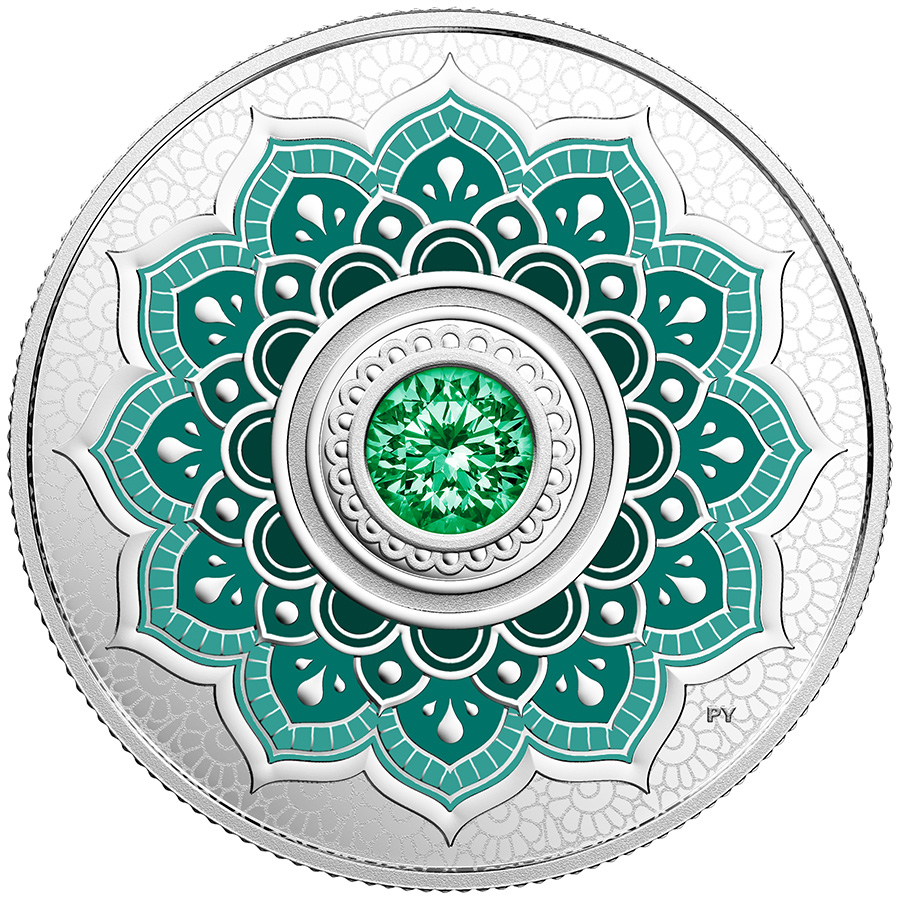 OOOO
 The 2018 $20 Fine Silver Coin – Canada's Unexplained Phenomena
 The Falcon Lake Incident, the Mint's first shaped coin featuring a glow-in-the-dark effect
 The incredible account of amateur prospector Stefan Michalak, who said he witnessed a flying saucer while walking Manitoba woods on May 20, 1967 and was mysteriously burned by a suspected engine blast, is retold in an action-packed, full-colour illustration by artist Joel Kimmel. To complete its dramatic effect, photoluminescent outlines of the UFO, its beam-like blast and the silhouette of an injured Michalak, glow in the dark under black light. This phenomenal keepsake, and many other new arrivals, are now available for purchase.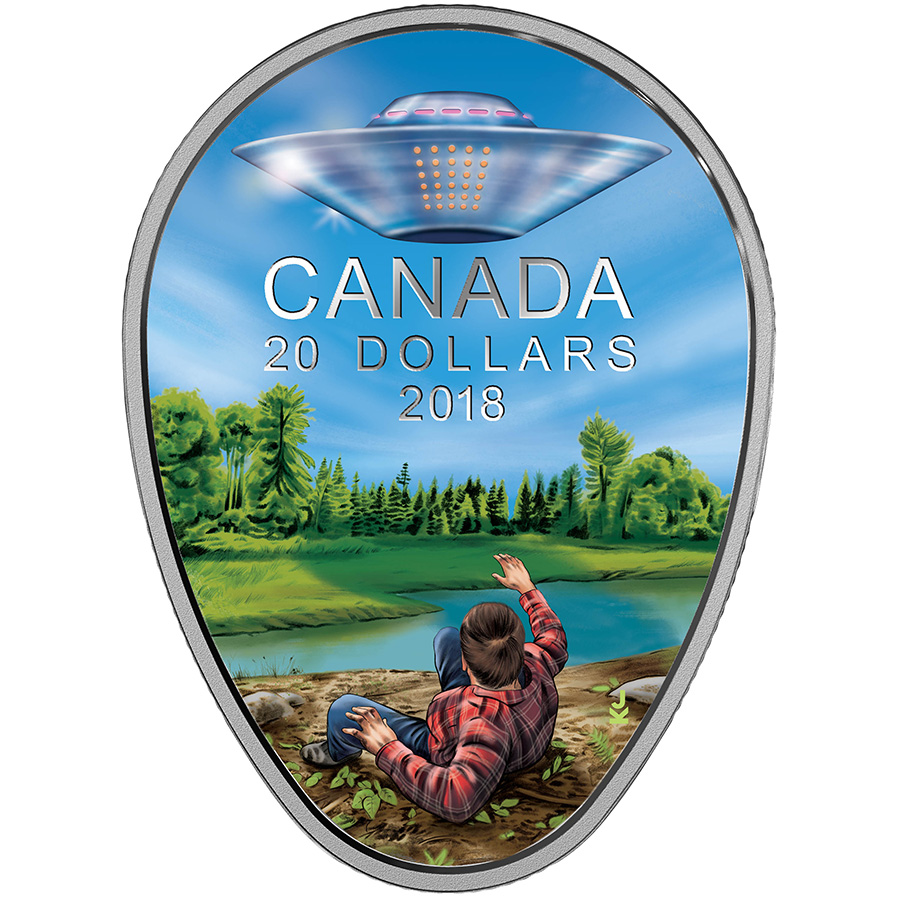 Vision en photoluminescence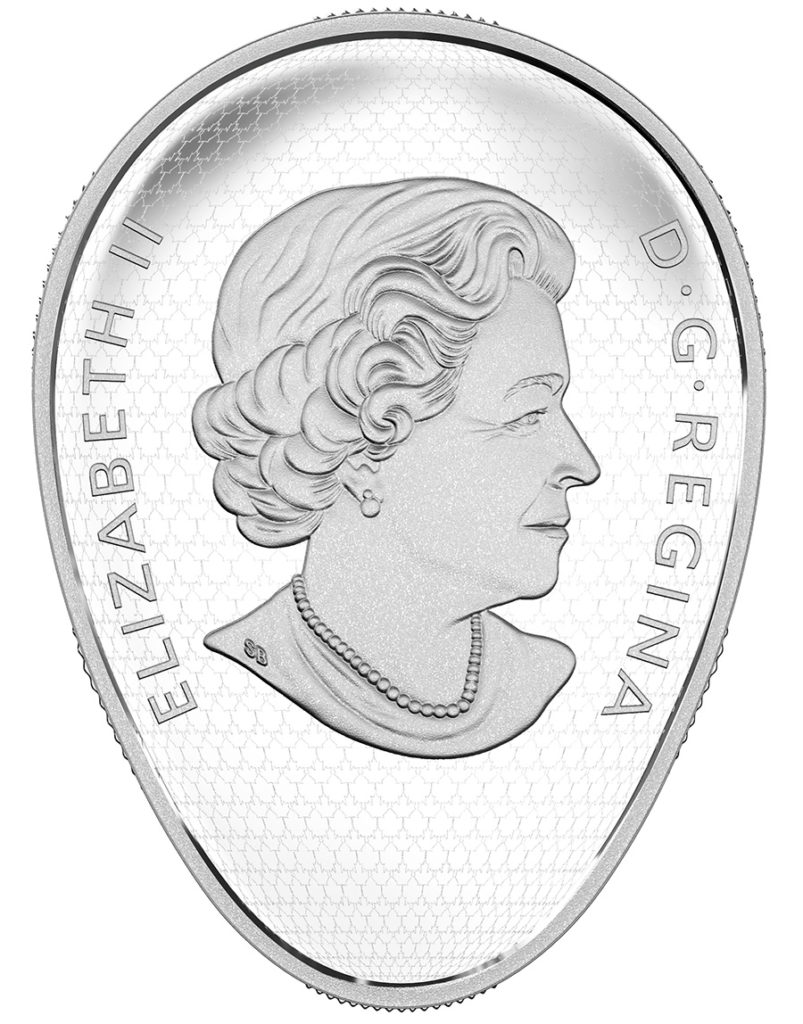 Sources: the Royal Canadian Mint, NUMISMAG©