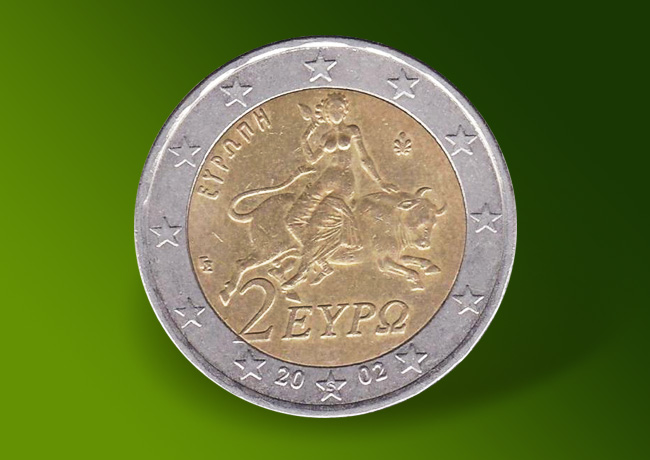 A Greek 2 euro coin from 2002 for 80,000 euros!
A Greek two euro coin from 2002 is available on Ebay Germany for an amount of 80,000 euros!!!!!! What's supposed to make it so precious? According to the seller, it is the letter S, struck in one of the twelve stars. It is a typing error, claims the seller, who according to him, makes it a collector's item… (sic)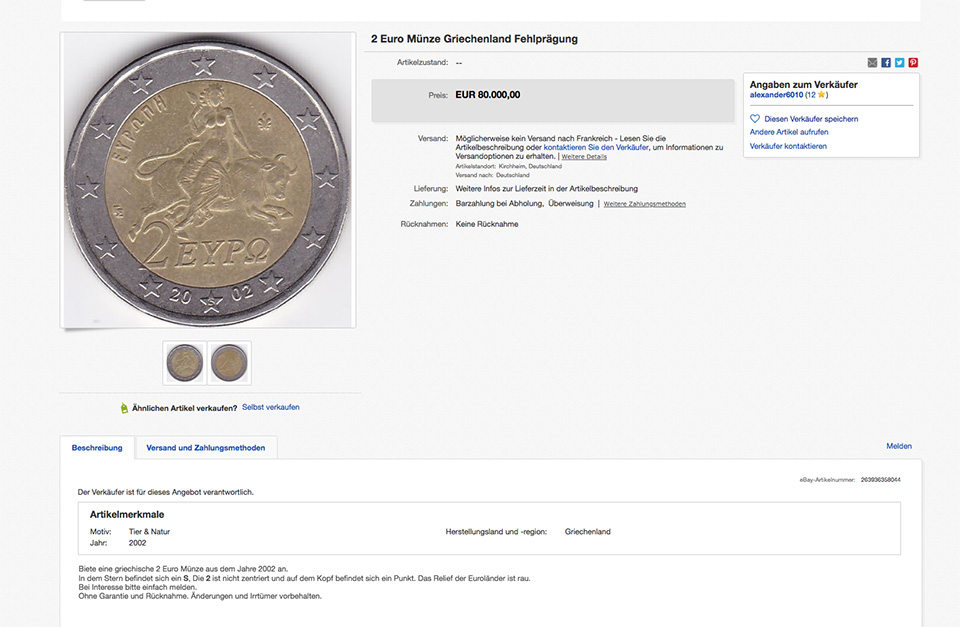 Here is the text of the announcement translated:
---
Offer yourself a Greek 2 euro coin from the year 2002.
In the star there is an S, the 2 is not centered and on the head there is a point.
If you are interested, please contact us.
No guarantee of return. We reserve the right to make changes and errors.
---
Curiously, this 2 euro coin with the same particularity is also offered by other sellers for 54,000 euro, 4,500 euro…. 22 euro and even 16 euro for the most reasonable!!!
A nice scam!
This 2002 piece is well-known. The letter S corresponds to the Finnish issuing institution that struck it on behalf of Greece, (Suomi in Finnish means Finland, hence the S). So it's not a typing error at all. There are also other Greek coins ( 1, 2, 5, 10 and 50 cents), of the same vintage, minted with the letter F by the Monnaie de Paris. Spain hit the 20-cent coin with the letter E.
Indeed, the Greek national currency feared that it would not be able to mint enough coins when the euro was introduced in 2002. It therefore called on the services of the Finnish and French institutes. It is the part struck with the letter S that is the rarest. However, it is relatively easy to find it.
Price and mintage of the Greek 2 euro coin 2002
---
Letter S – 70 000 000 ex – New 8 to 14 € (price in the catalogues)
Average price seen on ebay, about 20 € "before sales at high prices"
---
In the advertisement, the seller even specifies: "Without any guarantee of return". Fortunately, the NUMISMAG Team is sure that no one will commit to this transaction given the amount. For €80,000,  you can buy a nice little flat in french medium city. Also, it's a scam!
A numismag reader alerted us to 2 other sales:
One at 100,000 euros!   See the sale>
and a second 90,000 euros!   See the sale>
The 2€ Grace Kelly from Monaco remains a real rare piece, popular for American collectors. Although 20,001 units were produced, its price is around 2,000 euros.
It cannot be said enough to pay attention to "good deals" on online sales platforms. Another identical coin, at a more reasonable price and in better condition, was sold for €16.50
---
Read also
2019 Greek Numismatic Program>>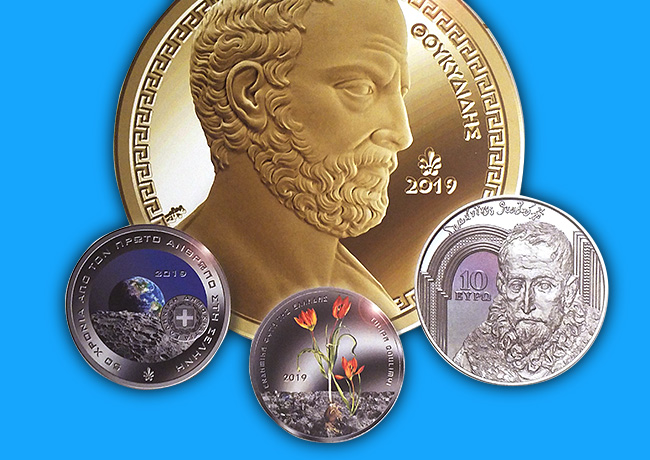 ---
greece 2 euro coin 2002 price  –  greek 2 euro coin 2002  –  2 euro greece 2002  –  2€ coin Greek 2002 letter S  –  2 euros 2002  –  2 euros coin Greek
Sources: NUMISMAG©