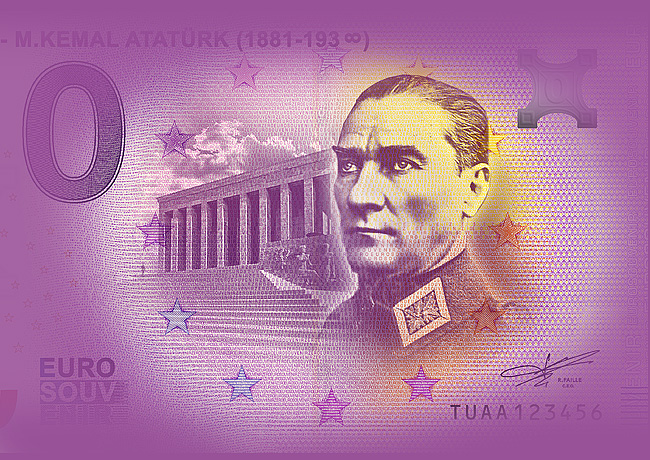 Zero euro ATATÜRK 2019 – Euro Souvenir Banknote
The very first Zero Euro Souvenir Banknote designed for Turkey is available now. It is a limited edition of only 5000 banknotes printed by Oberthur printingworks, in France. the banknote bears some unique details such as the turned '8' seen on the banknote's yearmark, 1938, year of KEMAL death. It stands for infinity (clic here to read new article dedicated to 2019 Mustafa KEMAL zero euro banknotes new series and its first SAMSUN issue).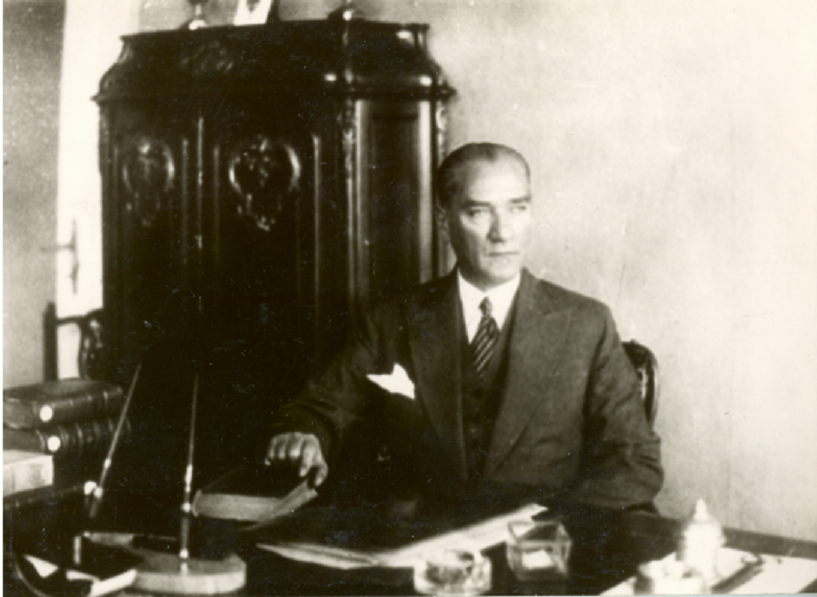 M. KEMAL in his office, in the 30's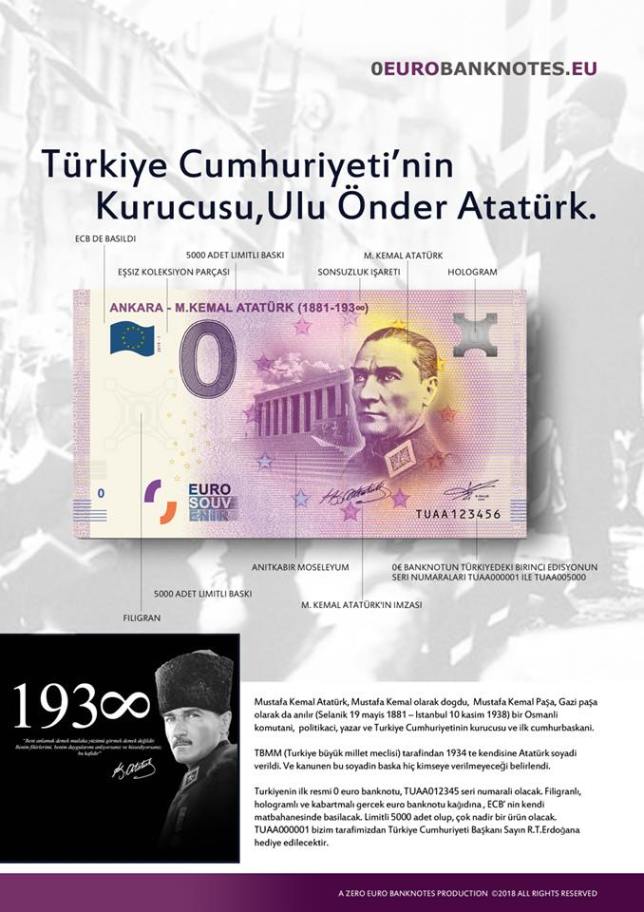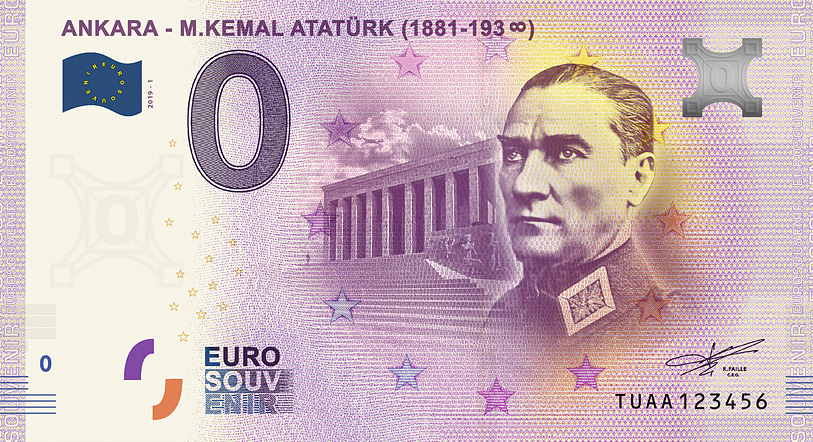 Zero euro Souvenir Banknote Turkey Ankara 
Mustafa Kemal Atatürk (May 19 1881 -November 10 1938)
---
Caracteristics
Identification: TUAA-2019-1
Number: 5.000 ex.
Release date: January 2019
---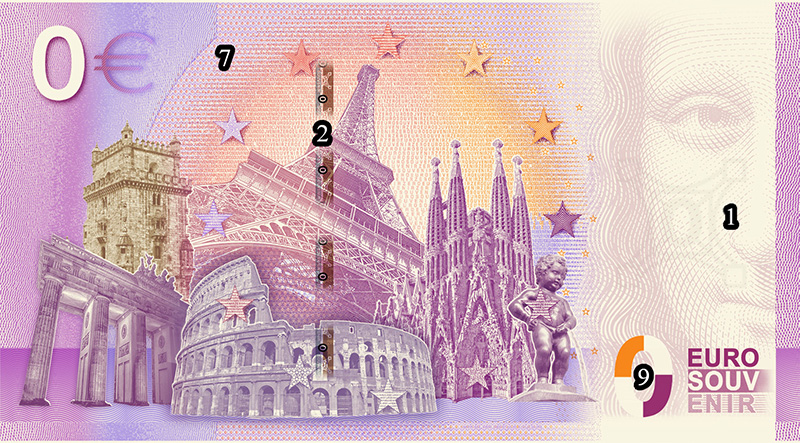 OOO
This banknote is the idea of a turkish private collector, Mr Ozgur HONAS. He created this banknote in cooperation with the EBM (Euro Banknote Memory, a french corporation that created the zero euro banknote concept) turkish licencee. Mr HONDAS intend to develop a series of banknotes dedicated to other Presidents of turkish Republic. This project is under valuation of President ERDOGAN's services.
About 95% of printed banknotes will be sold on Turkey soil.
In May 2019, editor of the banknote intend to sale a new Mustafa KEMAL series dec=dicated to five turkish cities where he let his footprint during Independance war (clic here to read dedicated article).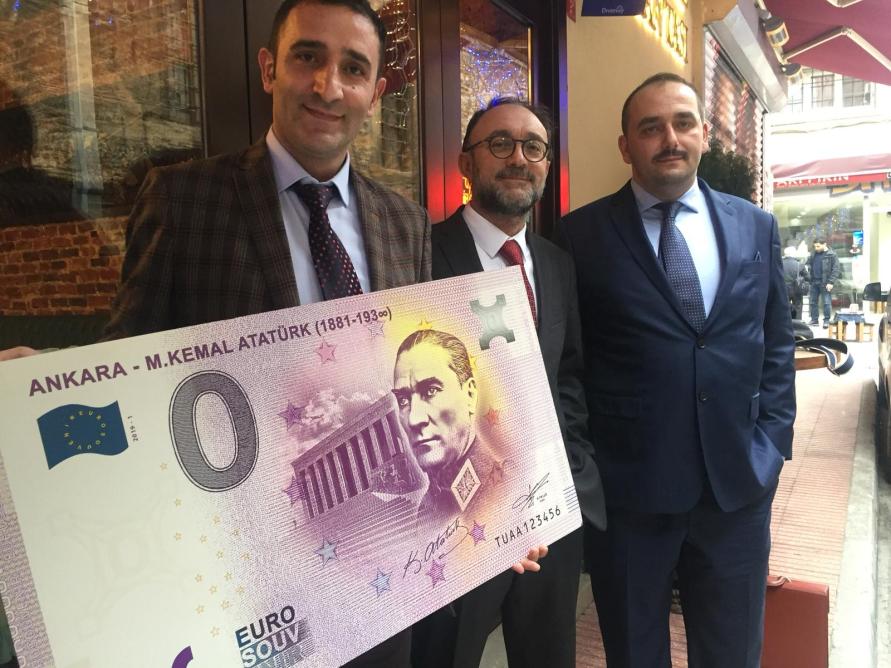 Mr Ozgur HONAS, turkish private collector and promotor of first turkish zero euro banknote (photos Euro Souvenir Banknote/EBM )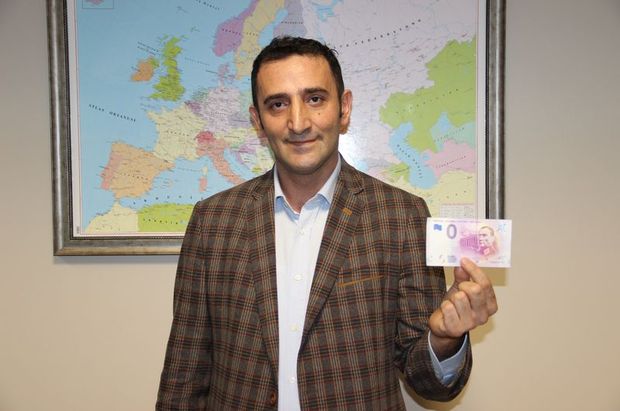 Several other famous people have recently been subject of a zero euro banknote. In the past months, a banknote was dedicated to MAO TSE TUNG and another one to KARL MARX.
These banknotes are sold on ebay.de website (ebay Germany) between €5 and €15 per unit. A small number banknote of Karl Marx was even sold for €31.5.

Sale of Zero euro banknote Karl Marx, with small number premium
This gives an idea of price for new ATATURK zero euro banknote.
The turkish EBM licencee told the actual market price of the banknote was about 60 turkish lira, that is to say about €10.
But price may rise to higher level, considering distribution scheme, the fact it is a limited edition (Mintage of 5 000 banknotes is the smallest one for a zero euro banknote) and interest of a large audience for ATATURK's commemorative item. Moreover, the EBM licencee declared the banknote was sold out today, at its level.
Some numismatic dealers did anticipate this price evolution, selling already the banknote about €20.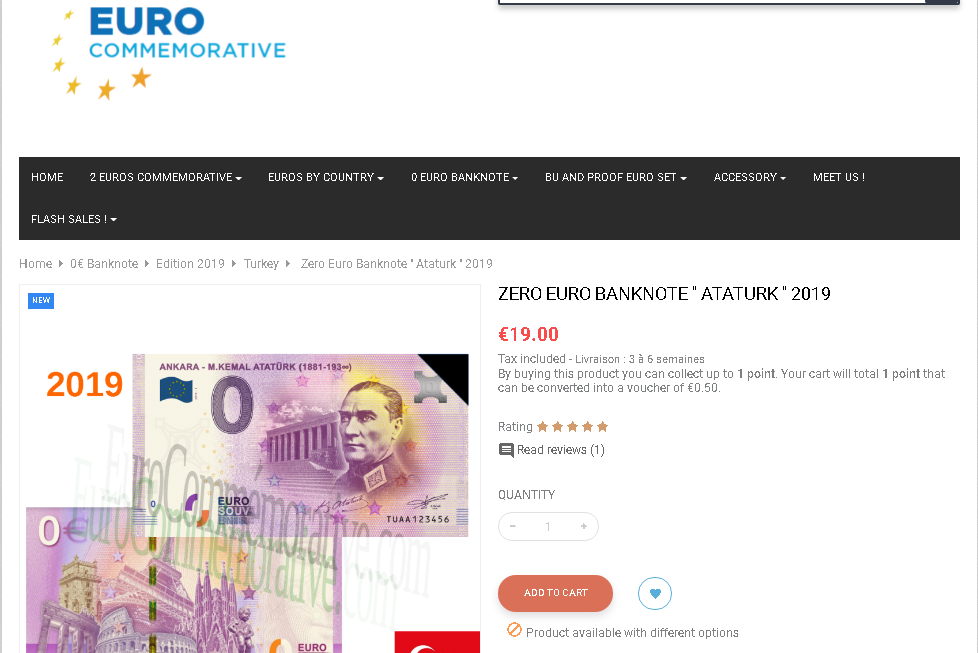 ATATURK in 1922, wearing turkish army general uniform
---
The first 2019 ATATURK banknote, a very valuable collector!
---
In May 2019 this banknote arise huge retail prices. On ebay.de (Germany is the most activ numismatic market in Europe) this banknote is sold on auction between €35 to €55.

Banknote auctioned on ebay.de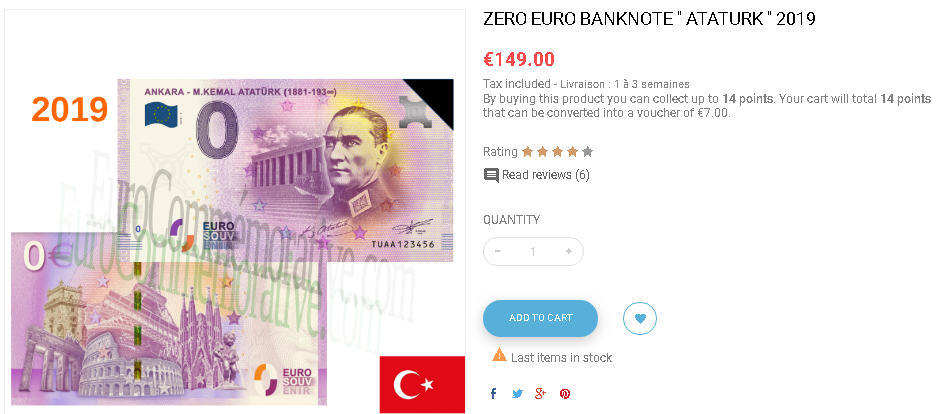 Banknote on sale in a specialized webshop (eurocommemorative)
On direct sales, in a dealer webshop, the price may reach €150, not withstanding banknotes with very low serial numbers…
Many observers look at the zero euro banknotes market, especially for  countries that are newcomers in the collection, like Turkey!
News
---
New 2019 zero euro banknotes series ATATURK – Mustafa KEMAL
---
Sources: Euro Souvenir Banknote/EBM – NUMISMAG©