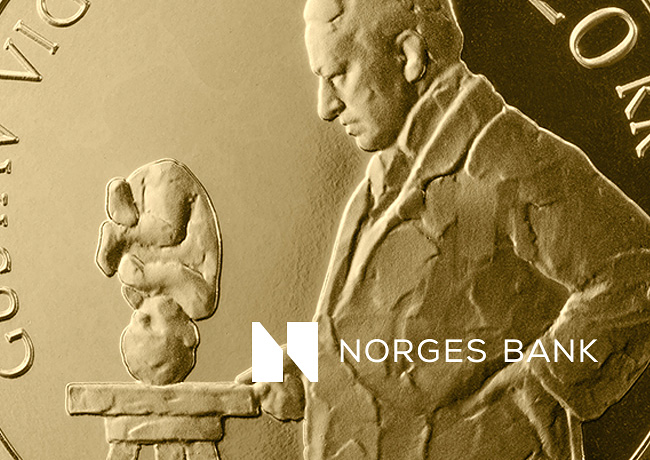 Norway 20 krone 2019 – Gustav Vigeland
To commemorate the 150th anniversary of Vigeland's birth, Norges Bank issued a special edition 20-krone circulation coin on 10 April 2019. The coin is legal tender and is issued at face value. Gustav Vigeland was born on 11 April 1869.
Norges Bank invited five artists to participate in a competition to design the anniversary motif on the reverse of the coin. Håkon Anton Fagerås won the competition with the motif "At Work". The motif is an imagined scene depicting the sculptor's modelling process. Norges Bank collaborated with the Vigeland Museum on the commemorative coin issue.
In 1924, Vigeland designed more than 200 individual sculptural projects for Frogner Park, a public space located in the municipality of the same name. Known as the "Vigeland Facility", the project included an entrance, a bridge, a fountain, a circular staircase, a mosaic labyrinth and a stone forest composed of carved figures. A central monolith, carved in a single column of massive granite, reaches 17 meters high and consists of 121 figures surrounded by 36 main groups; all dealing with different periods of the life cycle: birth, childhood, adolescence, maturity, old age and death.
Vigeland lived and worked in his studio in Nobels Gate until his death in 1943. His studio became the Vigeland Museum, which was opened in 1947.
Gustav Vigeland. Special edition 20-krone circulation coin (2019)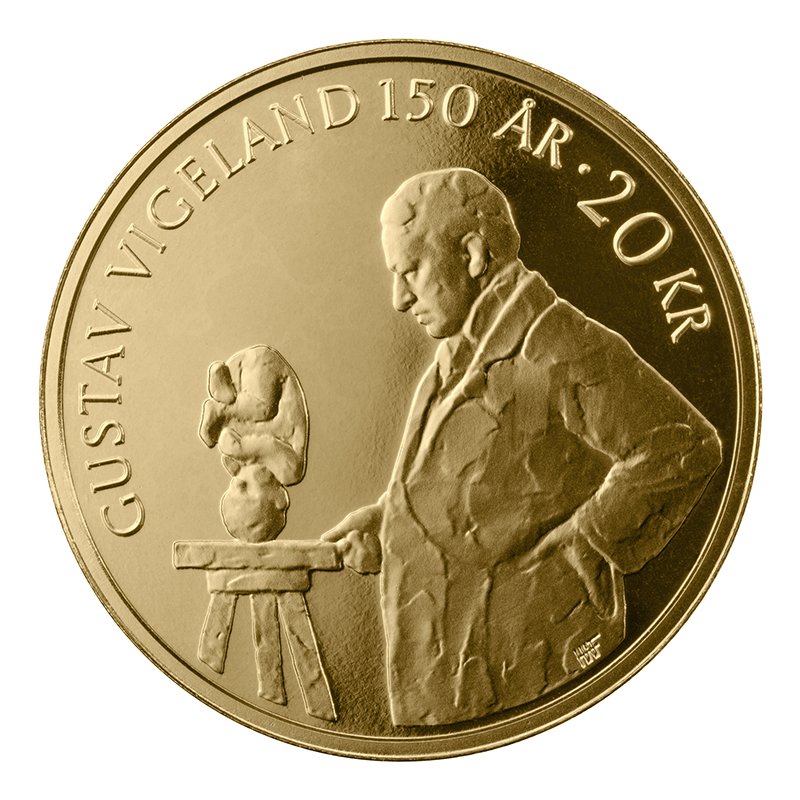 Reverse:
The coin's motif depicts Gustav Vigeland by his stand while contemplating the sculpture "The Foetus". Inscribed on the coin is the text: "GUSTAV VIGELAND 150 ÅR" (Gustav Vigeland 150 years) and the coin's denomination (20 KR). The signature of the artist (HAF) is located below right on the coin's surface.
The coin's reverse was designed by the artist Håkon Anton Fagerås.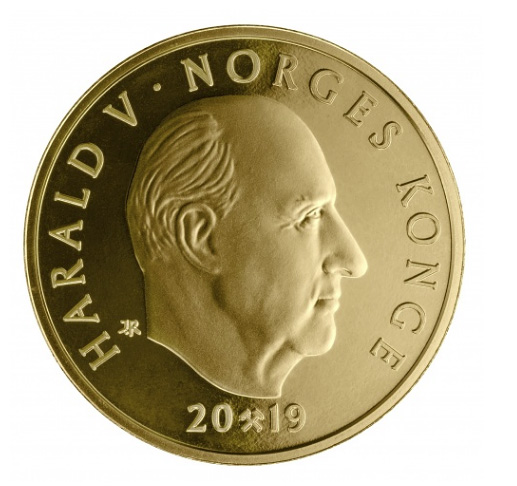 Obverse:
The obverse features a portrait of HM King Harald V facing right. Around the portrait: HARALD V NORGES KONGE. At the lower left edge of the portrait, the artist's signature: IAR. Below the portrait: the year 2019 with the Mint of Norway's mintmark, the crossed-pick-and-hammer.
The coin's obverse was designed by Ingrid Austlid Rise, designer at the Mint of Norway.
Design and technical specifications:
---
Design and technical specifications:
Diameter: 27.5 mm
Thickness: 2.2 mm
Weight: 9.9 g
Alloy: 81 % Cu, 10 % Zn, 9 % Ni
Edge: Plain
---
Standard-design 20-krone coins will not be issued in 2019.
Sources: Norges Bank, NUMISMAG©