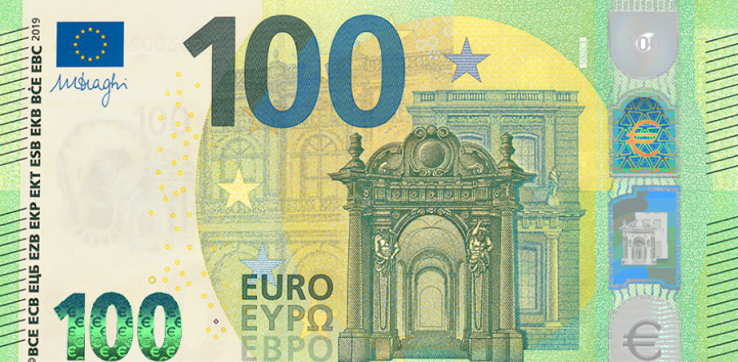 Two new innovative safety features on new €100 and €200 ECB Banknotes
The ECB (European Central Bank) will issue two new banknotes on May 28th 2019. These two banknotes are the two last Europa series banknotes, initiated in 2013 with the €5 banknote.
The €100 and €200 banknotes each contain two new innovative security features. The satellite hologram at the top of the silver foil strip shows small € symbols moving around the value number. The € symbols are easier to recognize in direct light.
The emerald number has also been modified. If the banknote is tilted, the bright number at the bottom left continues to create the effect that a light bar rises and falls and its colour changes from emerald green to deep blue. The new banknotes now also have the € symbol in their number.
Like all the banknotes in the Europe series, the new 100 and 200 euro banknotes contain the portrait hologram and the watermark of the portrait in the image of Europe.
For better handling, both notes are the same height as the 50 euro notes.
In addition to the visible elements, new, improved and machine-readable security features have been integrated into the banknotes.
Here is a video that show how much durable are the new banknotes.
Die Euro-Banknoten – Made to last

Aus Versehen mitgewaschen? 🚿 Was mit einer Euro-Banknote 💶 passiert, wenn sie in die Waschmaschine gelangt, zeigt dieses Video. Die 100- und 200-Euro-Scheine sind der letzte Teil der äußerst widerstandsfähigen und langlebigen Europa-Serie. Ab dem 28. Mai sind die neuen Banknoten im Umlauf. Mehr unter www.bundesbank.de/content/759776.

Gepostet von Deutsche Bundesbank am Montag, 20. Mai 2019
Sources: Deutsche Bundesbank and NUMISMAG.