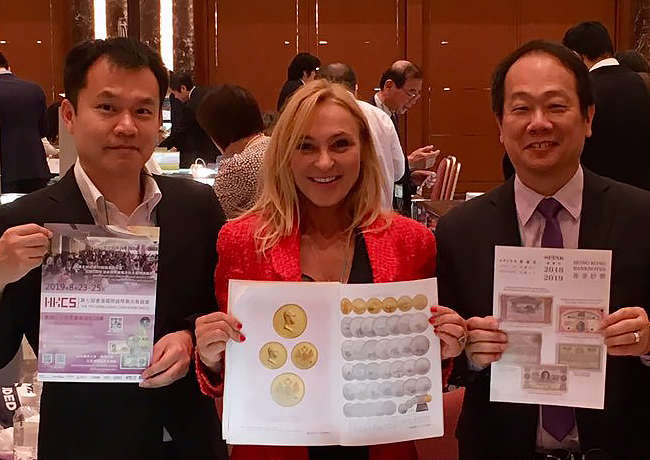 French "SPINK and SON" vice-president Muriel EYMERY at ANA directorate?
Reading Muriel EYMERY's CV, we are impressed by the international career she has had in the field of Numismatics. It began at the Monnaie de Paris in 2003 and continued in 2007 with the PCGS grading company, which is in charge of its international development in Europe and then in Asia.
Since 2016, Muriel EYMERY has been working at SPINK and SON Ltd as Executive Vice President in charge of "Coins and Medals" departments. She is Global Head of Spink for Coins and Decorations/Medals, where she manages auctions, customer deposits for her sales, supervises specialists and advises customers worldwide.
SPINK & SON Ltd was founded in London in 1666. This company has since become one of the world's leading collectors' auction houses and one of the most international with offices in London, New York, and Hong Kong. It specializes in the auction and private sale of stamps, coins, banknotes, medals, bonds, stocks, autographs, books and fine wines.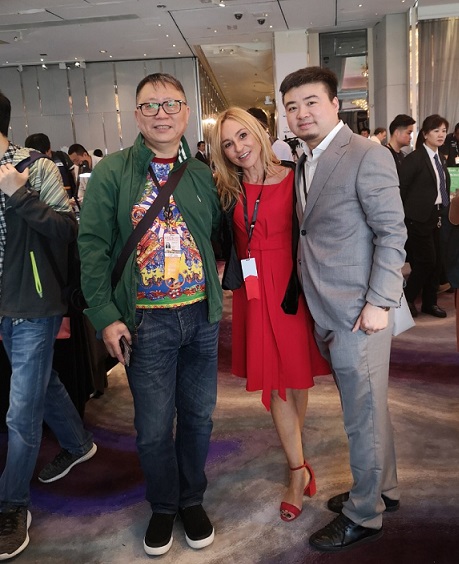 Muriel Eymery during 2019 Hong Kong coinshow in march 2019
Muriel EYMERY is a candidate for governor of the American Numismatic Association (ANA) for 2019-2020. This association is the most powerful in the world with about 40,000 members. She would like to make it evolve and integrate as well as possible the globalized context in which we live since the emergence of the Internet. She is also a member of the British Numismatic Trade Association, of the prestigious Royal Numismatic Society and of the ANS.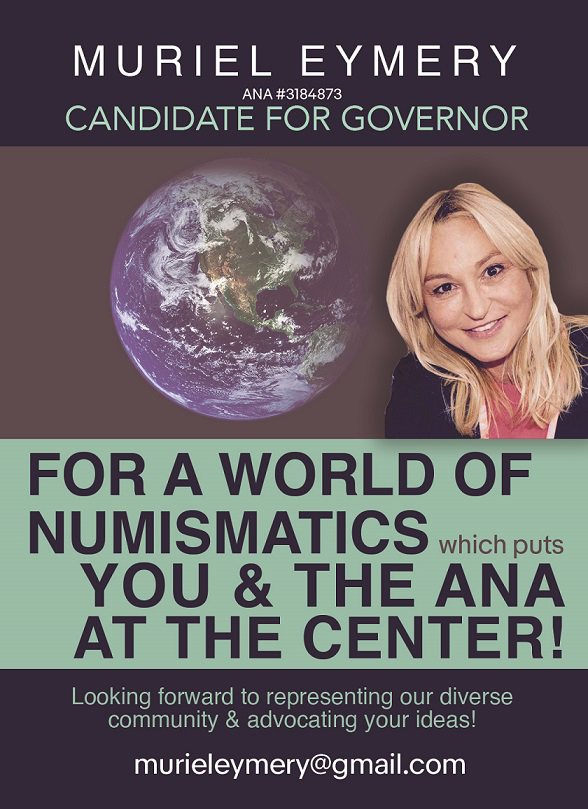 At Numismag, we love numismatics industry players who evolve outside the box and this new project by Muriel EYMERY was an opportunity for Numismag to exclusively interview her.
---
NUMISMAG: What is your initial university education?
Muriel EYMERY: I studied at the University of Paris Dauphine where I obtained a Master's degree in Finance and continued my studies with a MBA in Finance at Baruch College and a Master's degree in International Public Policy at SAIS, John Hopkins University, Washington DC and BALTIMORE, MARILAND.
---
NUMISMAG: Why did you choose to focus on the numismatic sector after your studies?
Muriel EYMERY: In the 2000s, around 2003, the CEO of the french Mint, Dove ZERAH at the time, wanted to recruit a sales manager to develop the business in the USA, since at that time it was the most dynamic and important numismatic market in the world. He also wanted to revitalize the Medal Service. I had the perfect profile for this job.
---
NUMISMAG: What were your functions at the Monnaie de Paris?
Muriel EYMERY: I was Director for the North America zone and was also in charge of the corporate and institutional account for the medals.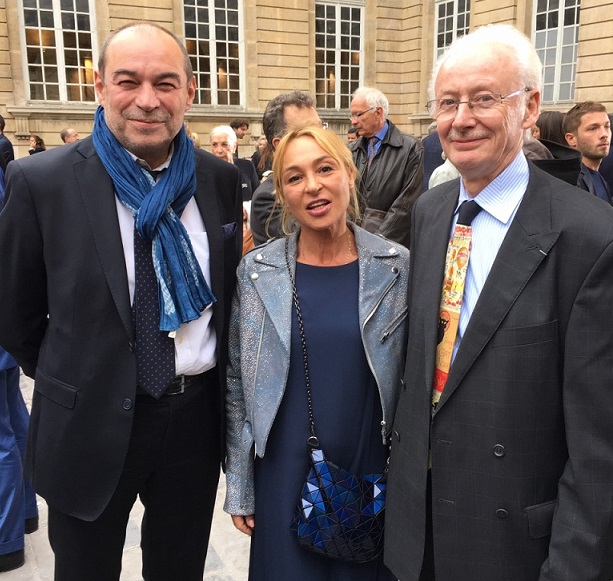 Muriel EYMERY with past engraving workshop manager
of Monnaie de Paris (french mint), H. Larivière
---
NUMISMAG: You were then hired by PCGS, a company in the numismatic sector whose activity consists of grading coins. What were your missions for this company?
Muriel EYMERY: At that time, PCGS had no international trade capacity. However, for me, "grading" is of interest to any collector in the world. We work in a market that is often opaque. Who as a professional or even as a collector has not had endless discussions with a buyer or seller about the numismatic condition of a coin, medal or even a note? There is very often a lack of transparency in this market.
In addition, the assessment scales between countries were not harmonised. Not to mention the proliferation of forgeries in all areas of collection. In short, grading is a solution to many of these problems that we have all encountered in our lives as numismatists.
It is also true that the "grading" by a trusted third party called into question the arbitration role of professional retailers. They were therefore not very supportive.
PCGS therefore logically entrusted me with the international development of its activities and we first opened a European office in Paris. She then entrusted me with the opening and management of the Hong Kong and Shanghai offices.
---
NUMISMAG: You were more specialized in the Asian market. For what reason?
Muriel EYMERY: This is the current emerging market and the most promising in terms of development prospects over the next twenty years. China alone has more than 30 million collectors….
---
NUMISMAG: You now work for SPINK. Why did you choose this auctioneer company, based in London, in particular?
Muriel EYMERY: SPINK wanted to put its numismatic department back in order, especially for the Asian and North American markets. We have also entered into a partnership for its sales in Japan with TAISEI, which is also the exclusive reseller of the Paris Mint in that country. This has allowed it to penetrate one of the most closed Asian markets.
It should be noted that the hard work done by TAISEI as a reseller of the Paris Mint has had a leverage effect on our auctions in Japan. Indeed, this effort created among Japanese collectors a taste for French and English coins issued between 1800 and 2002. Many Japanese collectors appreciate the coins issued under the regimes of Napoleon I, Napoleon III or Queen Victoria.
But SPINK is also concerned to boost the numismatic sector, beyond its own direct commercial interests. It is one of the sponsors of the British Museum and finances some of its exhibitions.
It publishes numerous books and thus provides support to researchers. (e.g. book on Islamic coins, book on British coins, the famous "British coins").
SPINK also houses NGC in its London office on the second floor of the building. It is the second European office of NGC, which also wanted to open an office in Great Britain, in addition to its German office, in preparation for the BREXIT.
From time to time, we also make our meeting rooms available to English collectors' associations for their general meetings, such as the Royal Numismatic Society.
Finally, SPINK has an important training program. We regularly train paid interns who then pursue careers with us or other companies in the numismatic sector.
---
NUMISMAG: Olivier STOCKER (CEO of SPINK) has entrusted you with the transversal management of the "Currencies and Medals" department at SPINK for all the company's offices throughout the world. How do you see the growth prospects of SPINK, a European company (headquartered in London), in the numismatic market?
Muriel EYMERY: Yes, the Market is a promising place for the auctions we organise. In Asia, the average age of collectors and professionals is very young. The middle classes that have emerged in this country are increasingly turning to numismatics as Hobby but also as an alternative investment to real estate and financial investments.
In general, there is a "uberisation" of the numismatic sector. Each professional can sell in a shop, on the Internet or organize his own auctions if he has the logistical capacity to do so. It is also an opportunity because it is now easier for a young person to start as a professional.
The time for dealers who preferred "between themselves" and a solvent and hermetic micro-market allowing them to make them live from their activity is now over (with a few rare exceptions, notably in France…). The Internet has changed everything!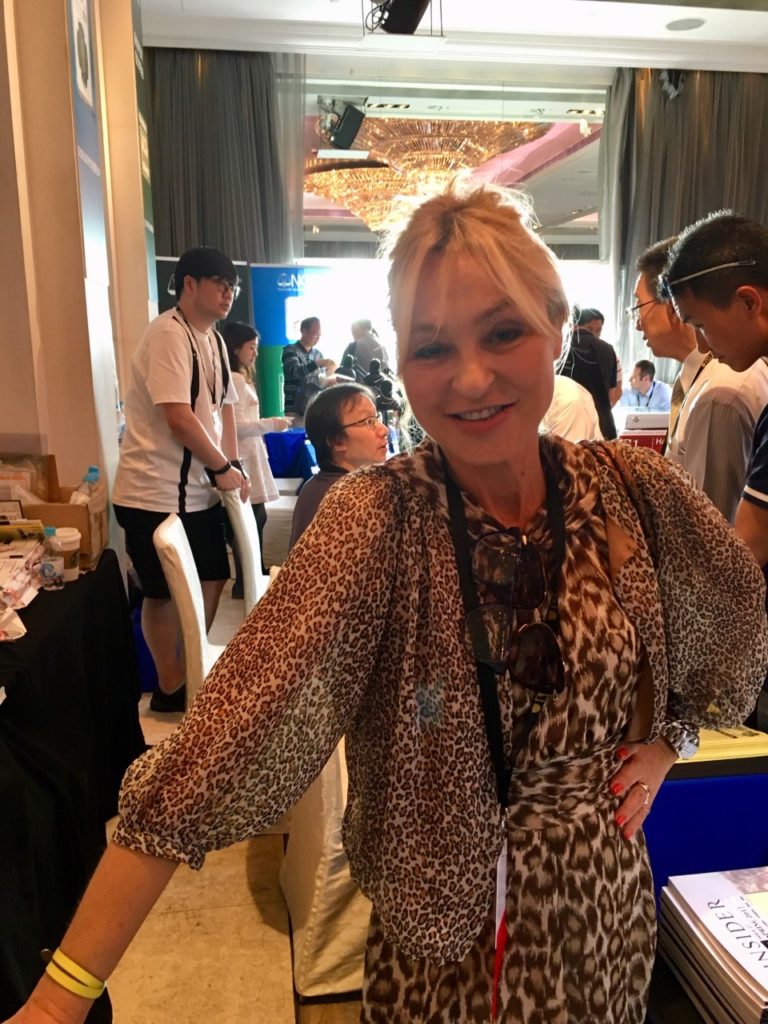 Muriel EYMERY at HONG KONG coinshow in 2019
---
NUMISMAG: You are running for election to the Executive Board (Governorate) of AMERICAN NUMISMATIC ASSOCIATION (ANA). What are your plans for this association, which is one of the most influential collectors' associations in the world (40,000 members)?
Muriel EYMERY: It is indeed the largest association in the world, in terms of the number of members. The American federal government has given him a mandate to educate the entire population about numismatics. However, most of its current activity remains focused on US currencies.
In my opinion, this duty of education must be understood more broadly in other types of currencies, in other continents. There is a favourable environment for this development among the collector population in the United States. Many collectors have more or less distant foreign origins. Many collect, in addition to American coins, coins issued by their country of origin.
The ANA is destined to evolve in a globalised world. It should develop partnerships with other representative associations around the world and thus promote global numismatics.
It could encourage other non-profit organizations to develop summer seminars to train collectors or to improve their knowledge, as it does in the USA.
If elected, I intend to focus on recruiting members from around the world to ensure that the ANA is open to the rest of the world. Any collector in the world can already register for the ANA and receive its publication "The Numismatist" free of charge, participate in its exhibitions or access online educational resources and get an access to a lot of other informations. But many still don't know it….
ANA, the numismatic association the most powerfull in the world (clic here)
---
NUMISMAG: Are you a coin collector?
Muriel EYMERY: Over time and with the passing of my professional discoveries, I have indeed developed a taste for the collection of medals and coins.
---
NUMISMAG: What is your preferred field of study in numismatics?
Muriel EYMERY: I am mainly interested in 19th century French coins and medals but also in some older French royal currencies. I like coins and medals that are hammered strikes, by their "craft" side.
Muriel Eymery a candidate for governor of American Numismatic Association. Video presentation. #Veronafil numismatic fair, #Verona, #Italy. #ANA #numismatics #coins #banknotes #medals

Gepostet von Zlatko Viščević am Samstag, 25. Mai 2019
 NUMISMAG thanks Muriel EYMERY for the time she devoted to this interview.
---
To contact Muriel Eymery via email.
You may also follow Muriel Eymery on Twitter, LinkedIn and Facebook.
---
 Sources: SPINK and SON, Muriel EYMERY – Executive Vice Président «Coins and Medals » SPINK. and NUMISMAG©.