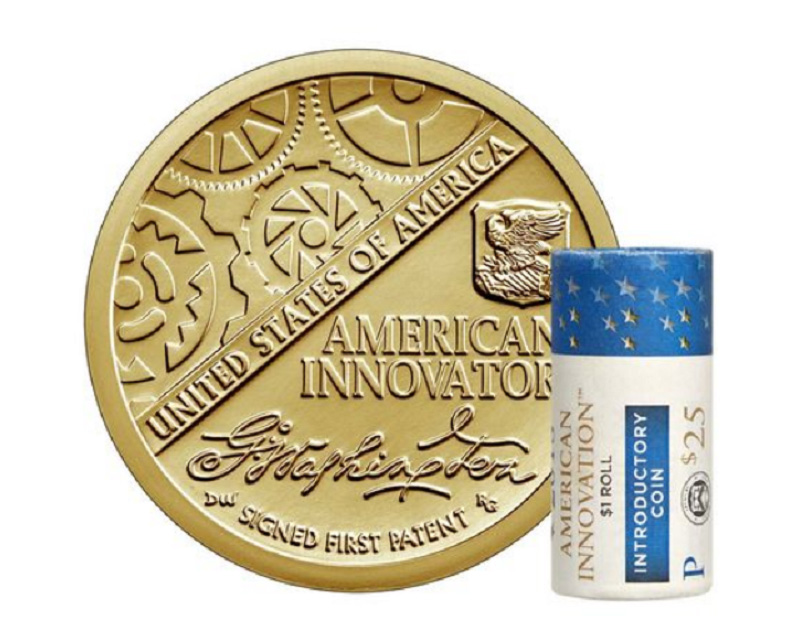 Innovation coins series – US MINT
For memory, the United States Mint American Innovation™ $1 Coin Program is a multi-year series to honorinnovation and innovators with $1 coins from each State, District of Columbia, Puerto Rico, Guam, American Samoa, U.S. Virgin Islands, and Northern Mariana Islands. It will count 4 different coins per year, during a 14 years period. This numismatic issue will be struck in proof condition and in UNC condition ( coins sold in bags and rolls).
Choice of topics and designs for these coins are submitted to CCAC notice.
The Citizens Coinage Advisory Committee (CCAC) was established in 2003 by Congress under Public Law 108-15 to advise the Secretary of the Treasury on the themes and designs of all U.S. coins and medals.
The CCAC serves as an informed, experienced and impartial resource to the Secretary of the Treasury and represents the interests of American citizens and collectors.
Here are the designs selected by CCAC for 2019 Innovation coins program.
---
2019 
---
One dollar coin DELAWARE – Annie Jump Cannon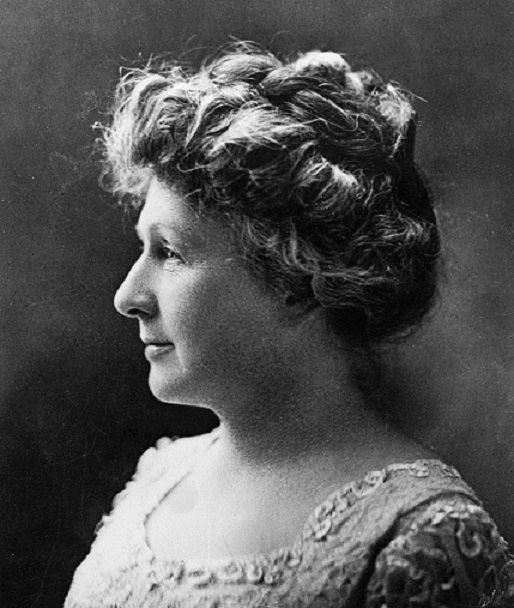 Annie Jump Cannon
Annie Jump Cannon (December 11, 1863 – April 13, 1941) was an American astronomer whose cataloging work was instrumental in the development of contemporary stellar classification. With Edward C. Pickering, she is credited with the creation of the Harvard Classification Scheme, which was the first serious attempt to organize and classify stars based on their temperatures and spectral types. She was nearly deaf throughout her career. She was a suffragist and a member of the National Women's Party.
She developed a an "arbitrary" division of stars into the spectral classes O, B, A, F, G, K, M, and so on. It was as "theory-laden" as Maury's ordering, but greatly simplified. Her "eye" for stellar spectra was phenomenal, and her Draper catalogs (which ultimately listed nearly 400,000 stars) were valued as the work of a single observer.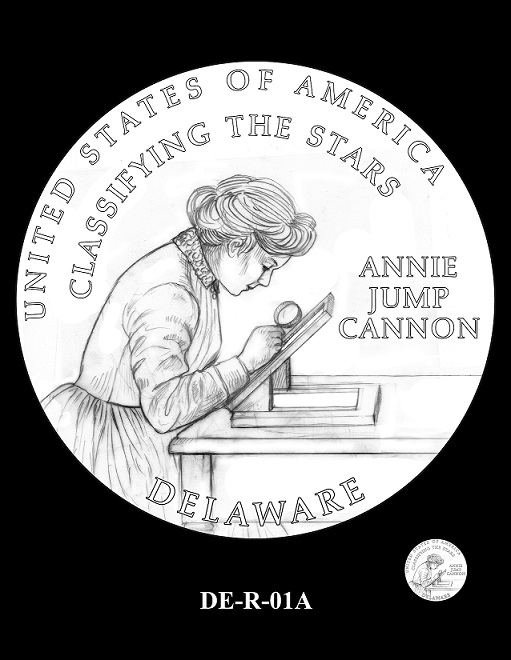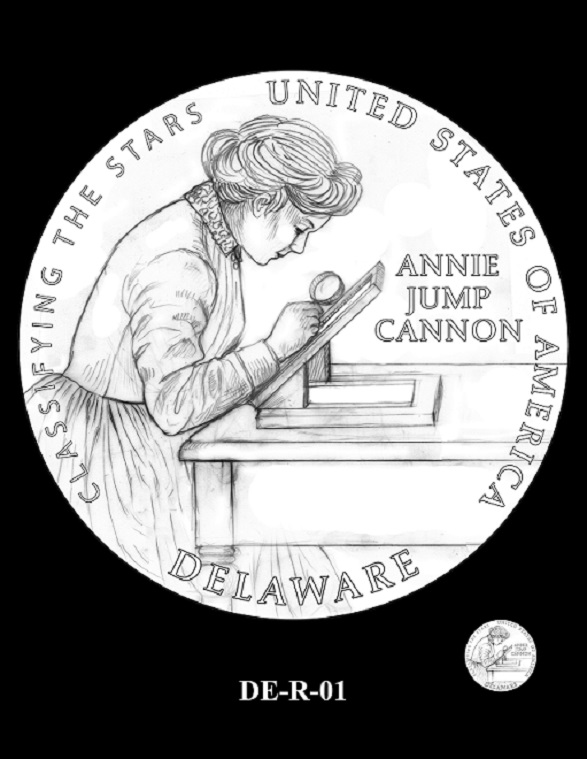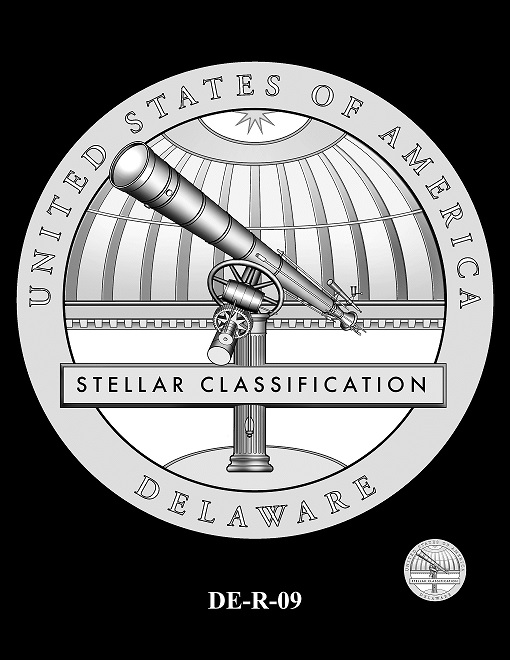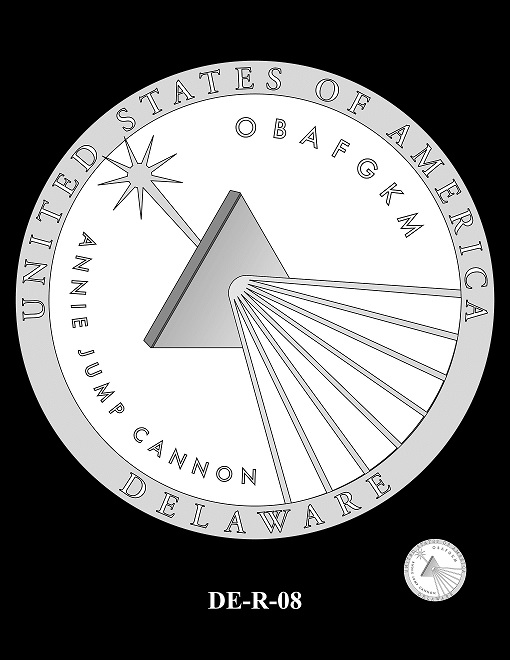 The two coins above refer to Annie Jump Cannon's classification scheme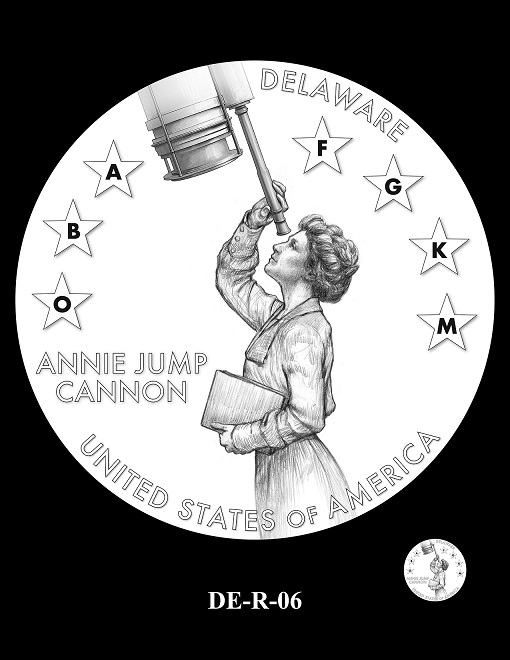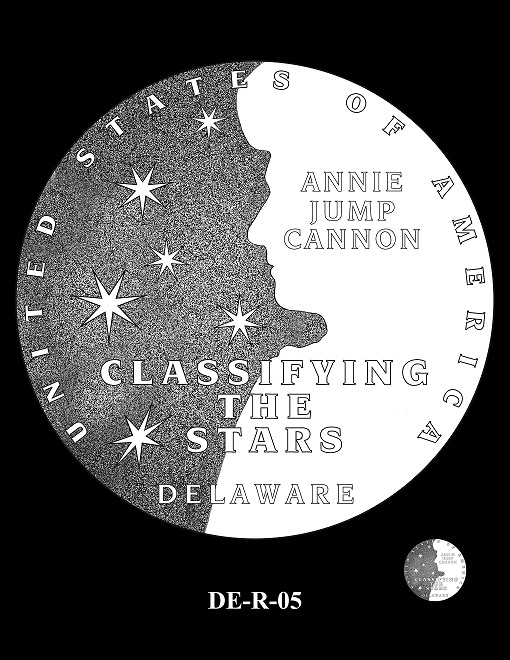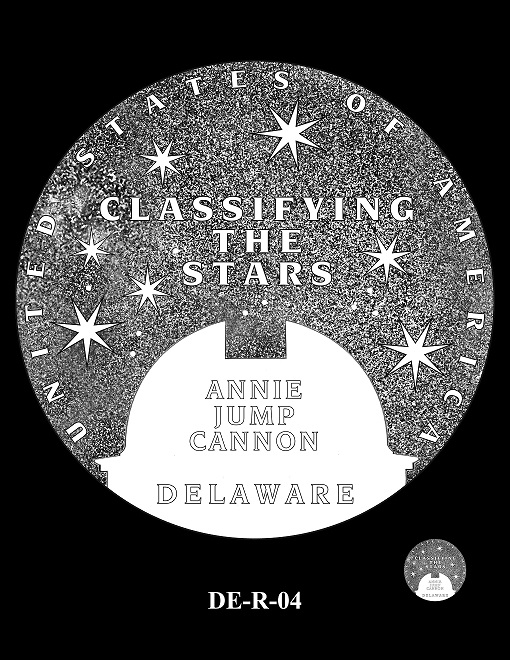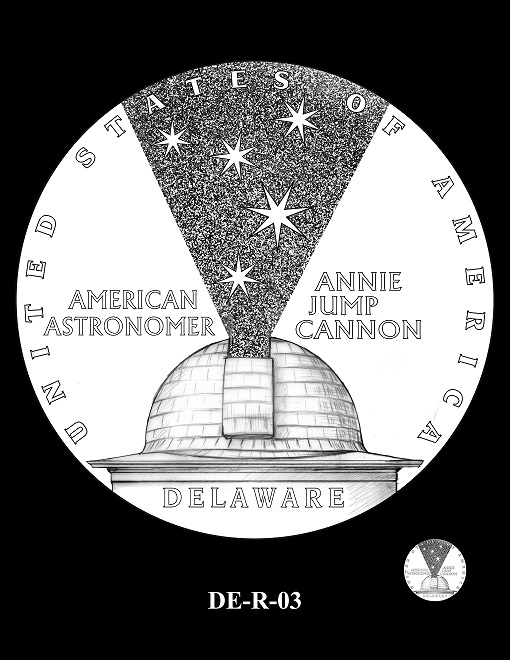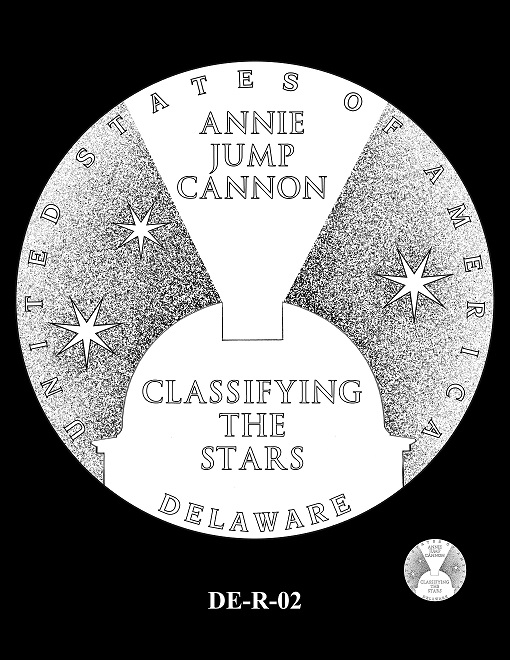 One dollar coin DELAWARE – Nylon discovery
Nylon is a generic designation for a family of synthetic polymers, based on aliphatic or semi-aromatic polyamides. Nylon was the first commercially successful synthetic thermoplastic polymer. DuPont began its research project in 1927. The first example of nylon (nylon 6,6) was produced using diamines on February 28, 1935, by Wallace Hume Carothers at DuPont's research facility at the DuPont Experimental Station, located on the banks of the Brandywine Creek in Wilmington, Delaware.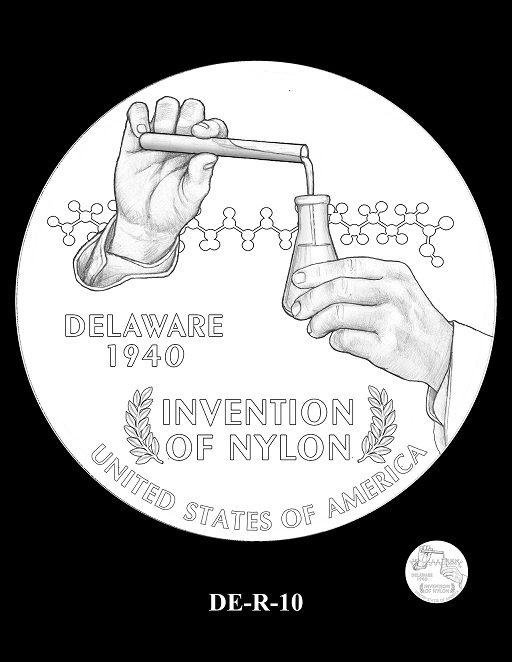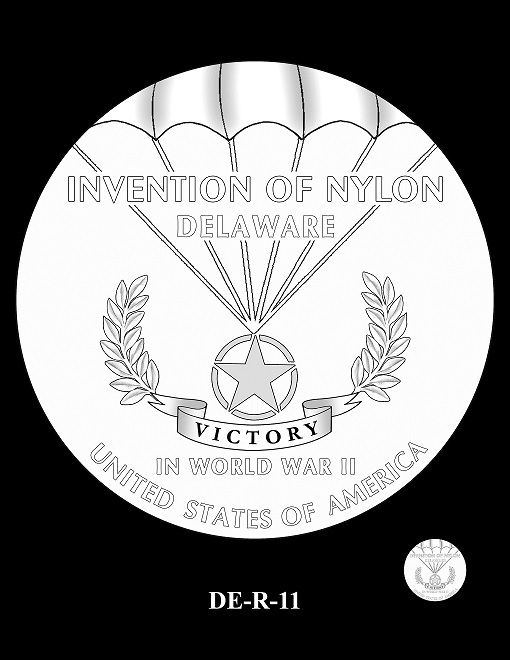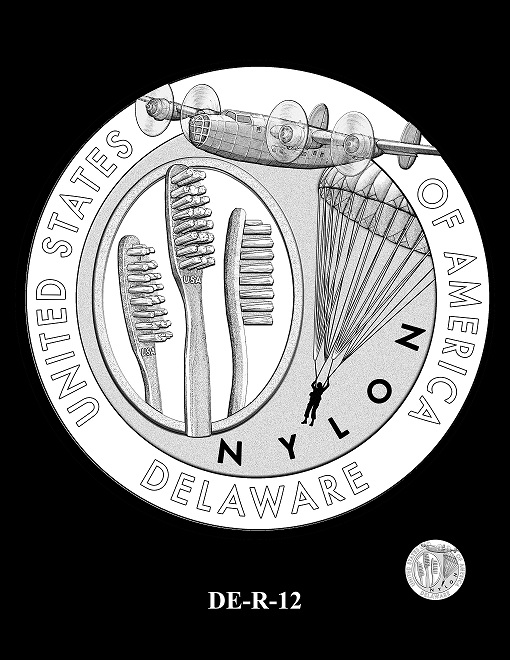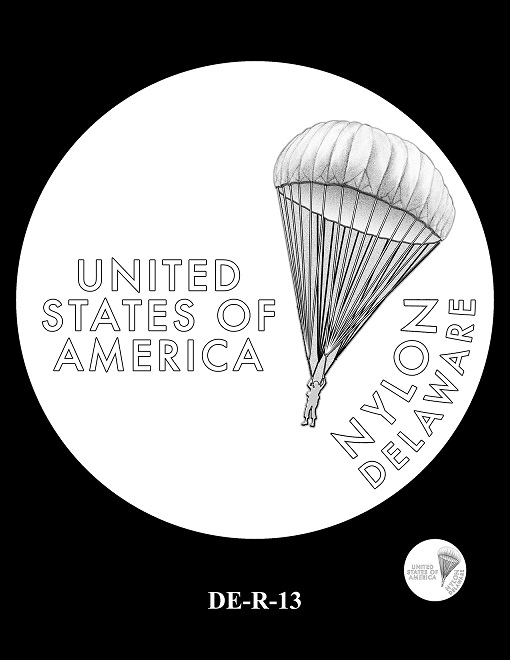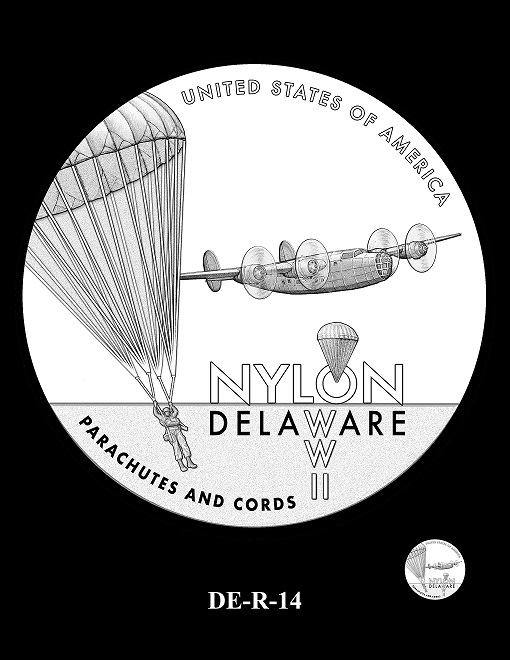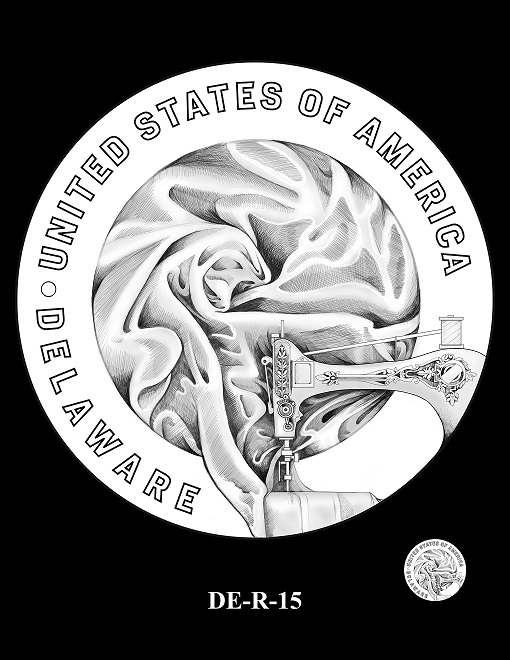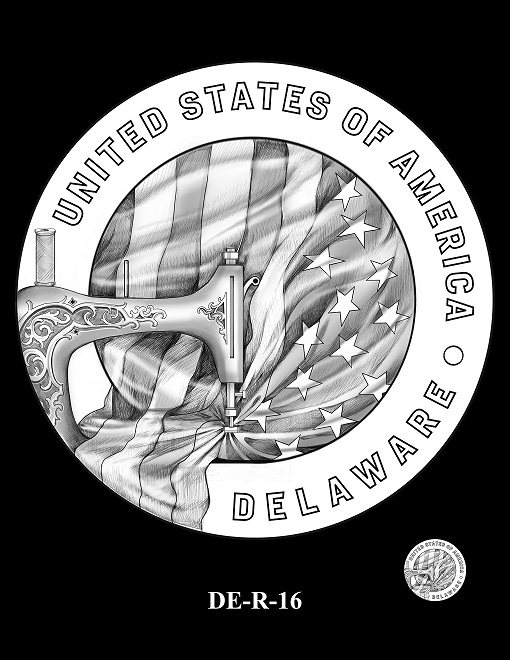 Final choice for DELAWARE coin

Extract from CCAC report concerning DELAWARE topic choice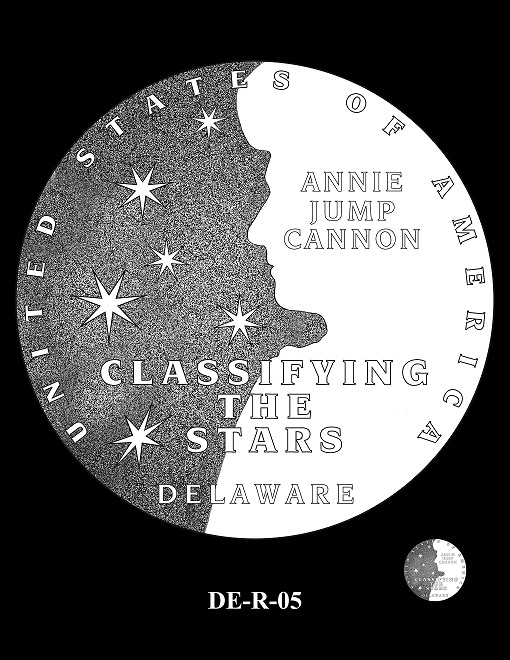 CCAC choice for DELAWARE: DE-R-05 project
One dollar coin GEORGIA – Trustee's graden
From 1733 to 1748 Trustees' Garden was used by the colonists as an experimental garden where peaches, rice, cotton, grapes, flax, hemp, indigo, olives, and mulberry trees, which were essential to silk culture, were grown. Silk was an early endeavor, and the town's largest structure was the filature where the cocoons were unwound into silk thread. A gown for Britain's queen Caroline was made from Savannah silk.
In 1757 Royal Governor John Reynolds was granted title and laid out small residential lots that did not include the squares. In 1794 a tavern for seamen was opened and become known as "The Pirates House." The high bluff on the northeastern corner overlooking the river was a succession of fortifications until designated Fort Wayne in 1812. Today the brick and stone fortifications can be seen arising from General Macintosh Boulevard.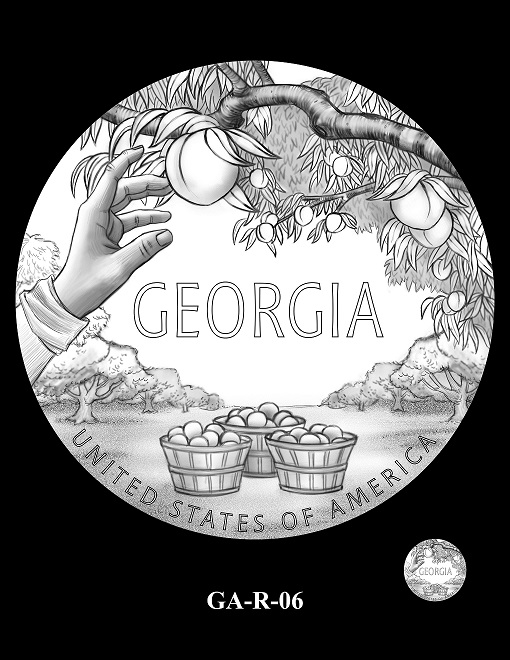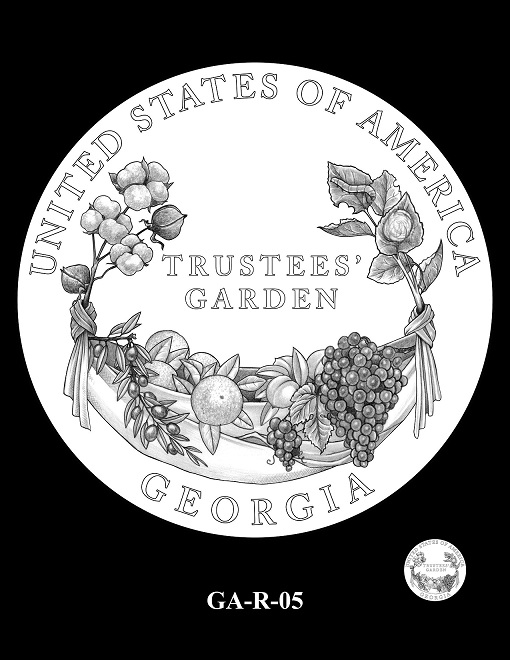 In about 1830 an iron foundry, later known as Kehoe Iron Works, opened at Broughton and Randolph Streets. In 1849 Savannah Gas Company was built as a coal gas generation plant that was in continuous operation until natural gas was introduced in the mid-twentieth century.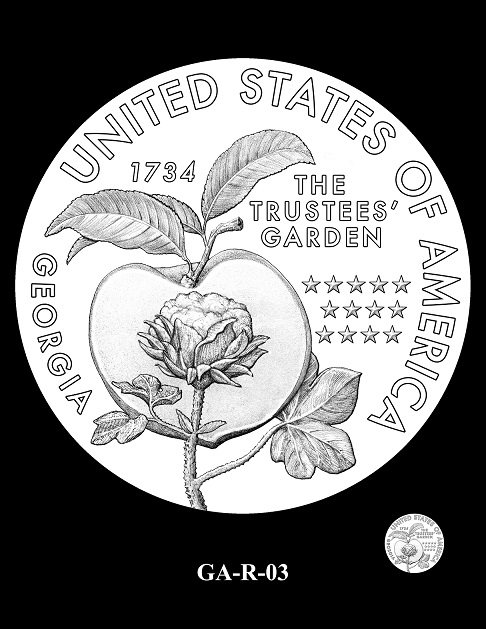 In 1945 H. Hansell Hillyer and his associates acquired Savannah Gas Company. Coal gas production ceased and shortly thereafter Mr. Hillyers' wife, Mary McClaren Hillyer, began to restore the area with a project known as the Trustees' Garden Village, which was successful as a commercial and apartment rental area. In 1966 the Atlanta Gas Light Company merged with the Savannah Gas Company. In 1998 the 10 acre Trustees' Garden site was sold to developer Alan Beal, who in turn sold it to Robinson Callen. In 2004 Charles H. Morris acquired 6.3 acres from Robinson Callen.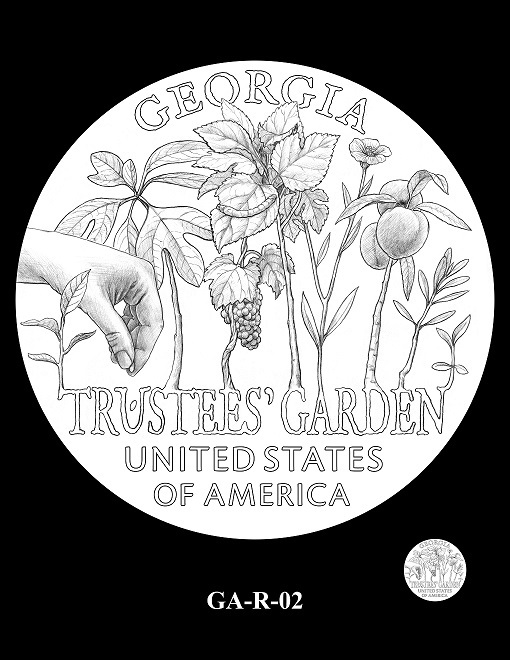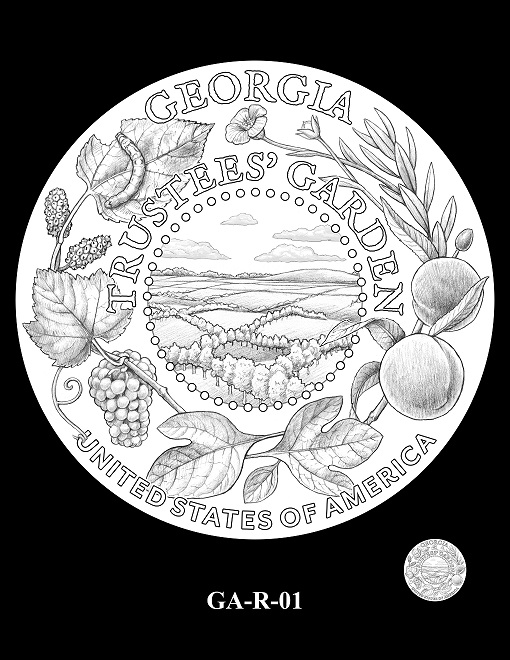 Now under the stewardship of Charles H. Morris, The Venues at Trustees Garden has undergone a years-long, extensive and award winning restoration on the Charles H. Morris Center (the former Hillyer building), the Kehoe Iron Works building and the Metal Building.
Final choice for GEORGIA coin

Extract from CCAC report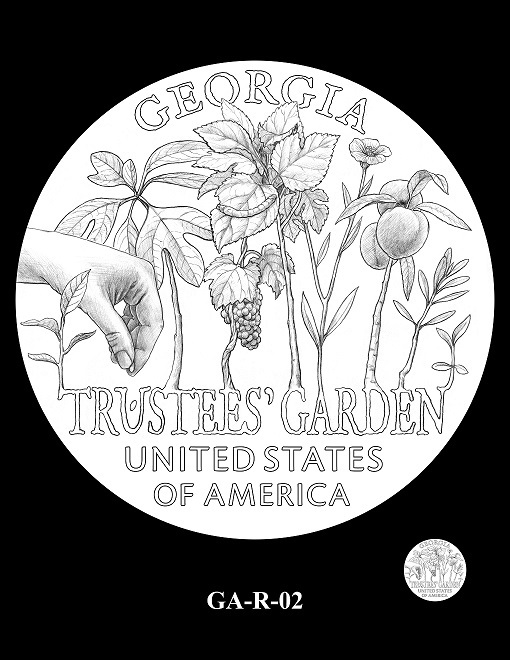 The CCAC select design for GEORGIA
One dollar coin New Jersey – Motion Picture
There is a long history of television and film in New Jersey, which is considered the birthplace of the movie picture industry.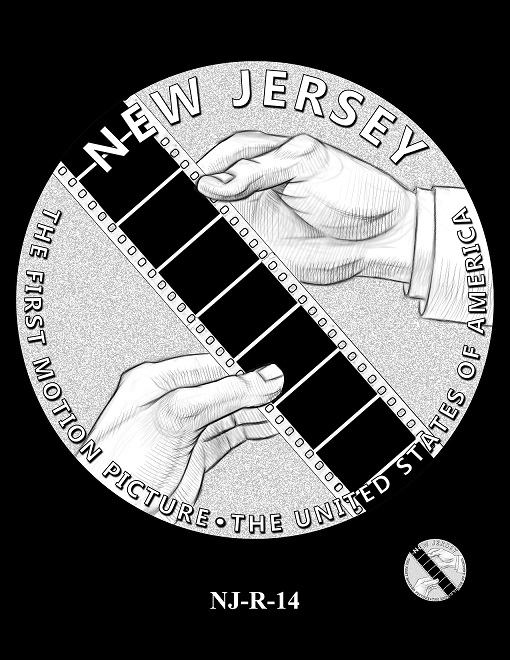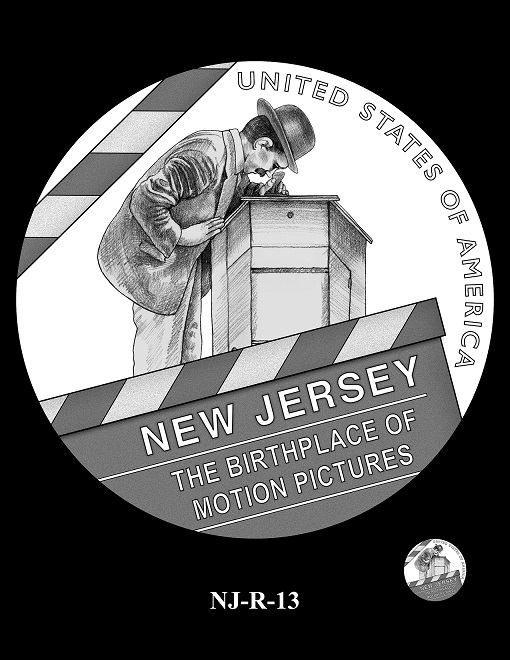 The roots of the industry started in Newark with Hannibal Goodwin's patent of nitrocellulose film in 1887. Motion picture technology was invented by Thomas Edison, with early work done at his West Orange laboratory. Edison's Black Maria, where the first motion picture to be copyrighted in the United States, Fred Ott's Sneeze, was shot. America's first motion picture industry started in 1907 in Fort Lee and the first studio was constructed there in 1909. Fred Wesley Wentworth was commissioned in 1914 by Jacob Fabian to build the Regent in Paterson, the first facility built exclusively for the exhibition of moving pictures. The nation's first drive-in theater opened at Airport Circle in 1933.
One dollar coin New Jersey – Electric Light
On December 31, 1879, Thomas Edison made the first public demonstration of electric light. With many observers on hand, Edison lit up the streets and buildings around his laboratory in Menlo Park, New Jersey. Although widely credited with inventing the light bulb, Edison improved upon existing designs to create the first practical electric lighting system.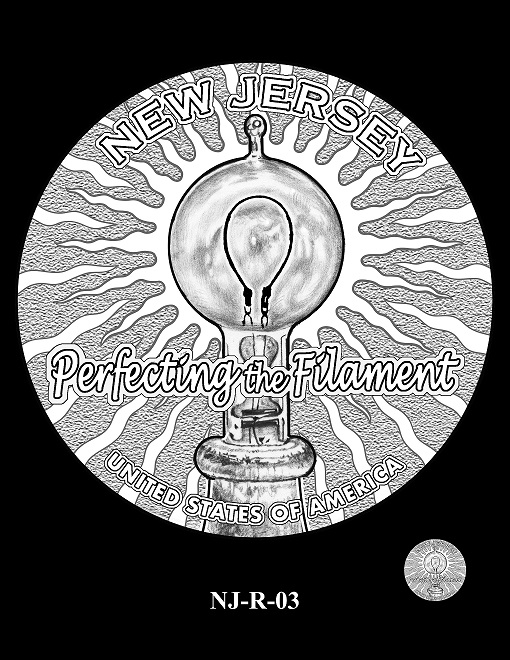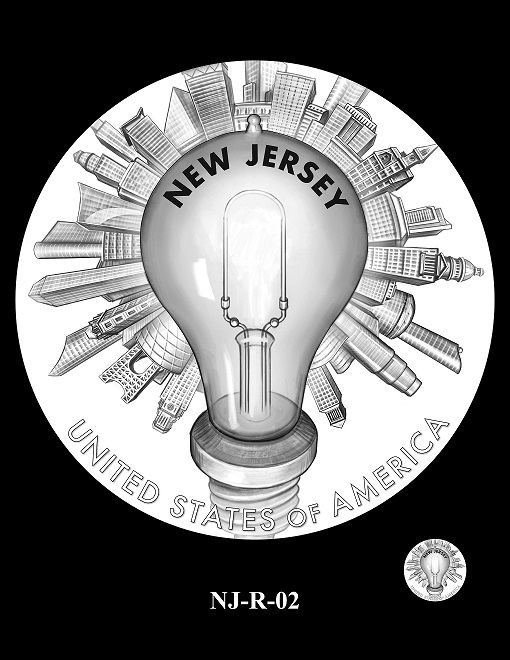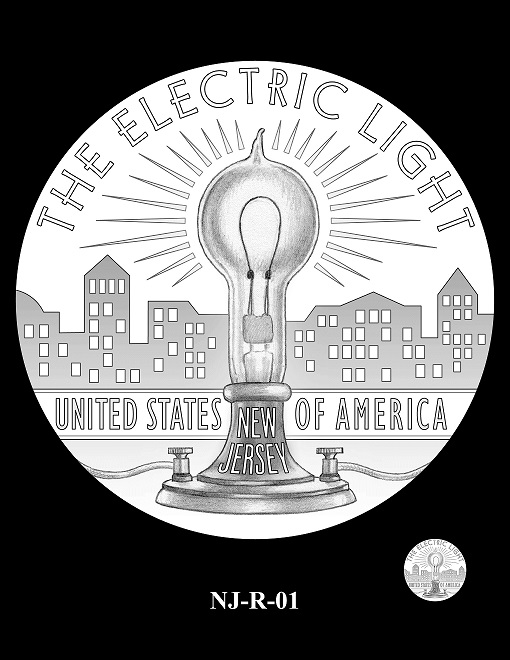 Final choice for NEW JERSEY coin

Extract from CCAC report concerning NEW JERSEY topic choice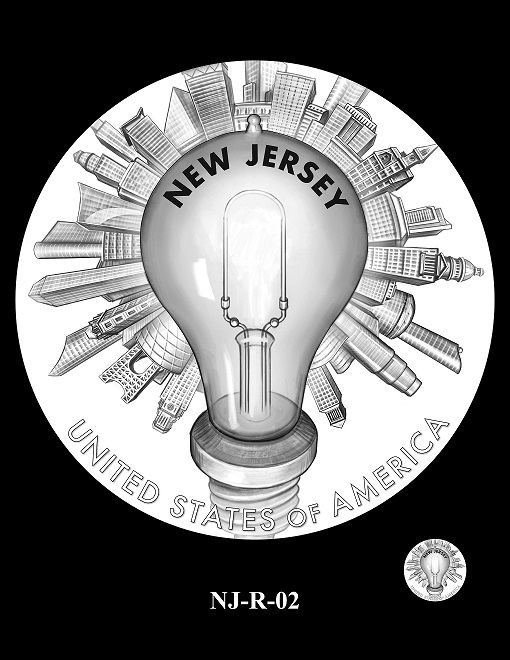 CCAC selected design for NEW JERSEY
One dollar coin Pennsylvania – Turnpike
The Pennsylvania Turnpike is a highway operated by the Pennsylvania Turnpike Commission (PTC) in the U.S. state of Pennsylvania. It runs for 360 miles (580 km) across the state. The turnpike begins at the Ohio state line in Lawrence County, where the road continues west into Ohio as the Ohio Turnpike. It ends at the New Jersey border at the Delaware River–Turnpike Toll Bridge over the Delaware River in Bucks County, where the road continues east as the Pearl Harbor Memorial Extension of the New Jersey Turnpike.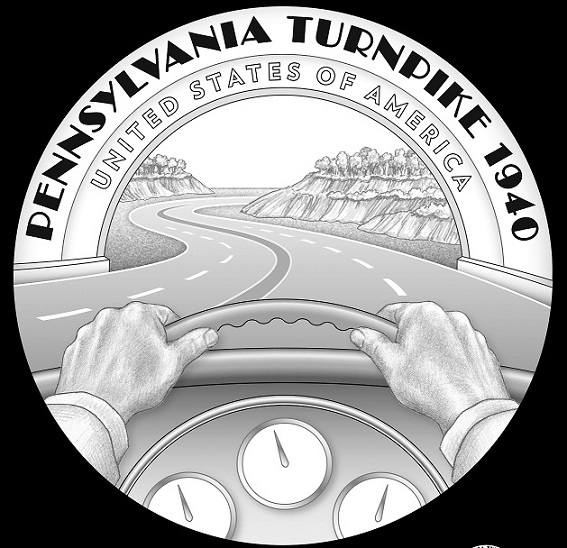 One dollar coin Pennsylvania – Polio Vaccine
Sixty years ago, on April 12, 1955, in Ann Arbor, Michigan, the results of the largest clinical trial in history were announced. Thomas Francis Jr., MD, revealed successful vaccination test.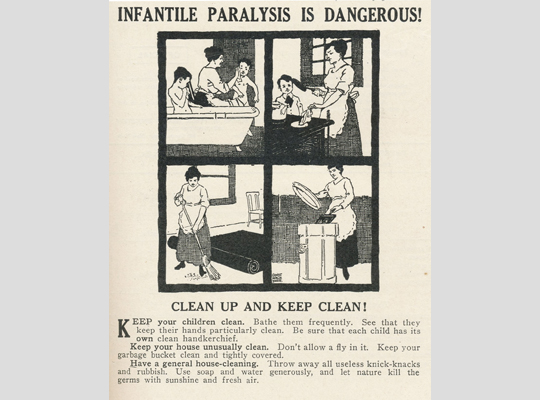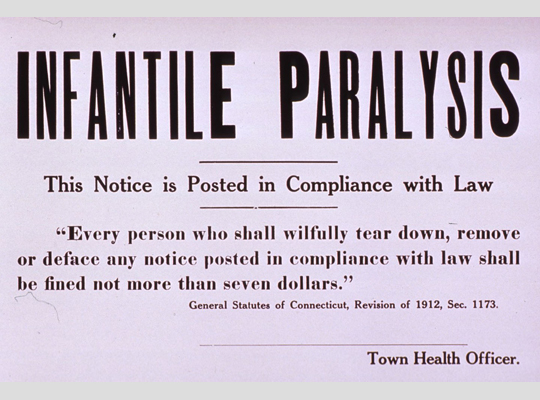 The trial had begun in April 1954. Injections, observations, and data collection continued through the spring, and then the information was handed over to Francis's team for analysis.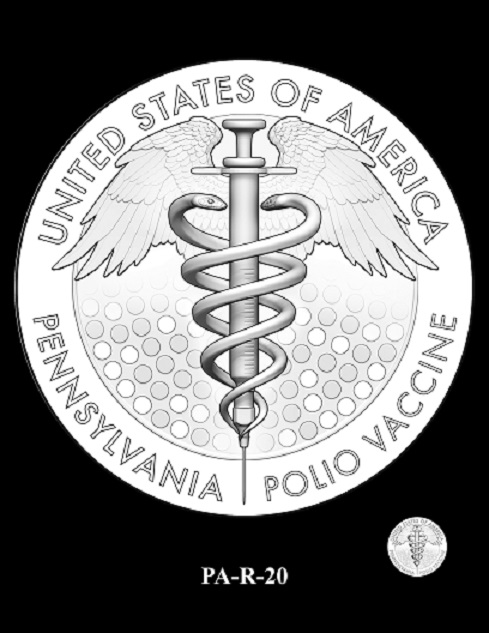 Television announcers and newspaper trumpeted the results. And the hope and celebration wasn't just limited to the immediate problem of polio; the announcement seemed to signal the inevitability of future advancements. As the University of Michigan press release said, "There can be no doubt that humanity can pull itself up from its own bootstraps and protect its children from the insidious invasion of ultramicroscopic disease."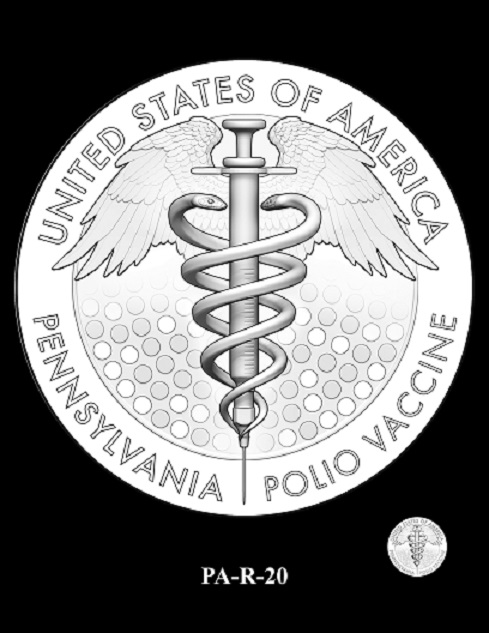 CCAC Final choice forPennsylvania coin

Extract from CCAC report concerning PENNSYLVANIA topic choice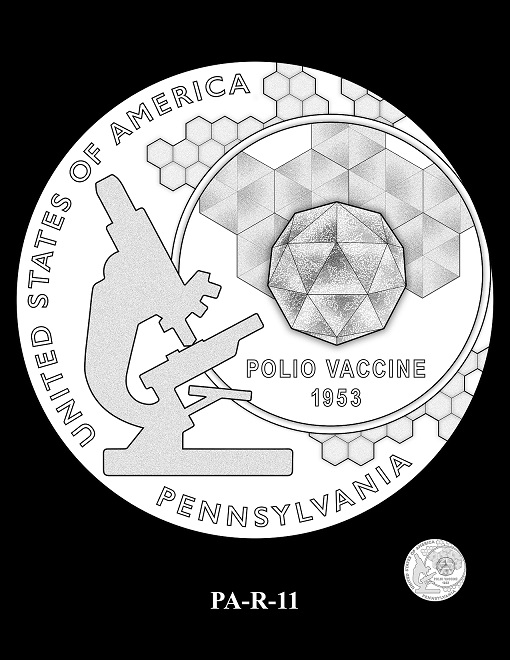 Final design selected by CCAC for PENNSYLVANIA
Sources: WIKIPEDIA, US CCC, US MINT, History of Vaccine.org and NUMISMAG.