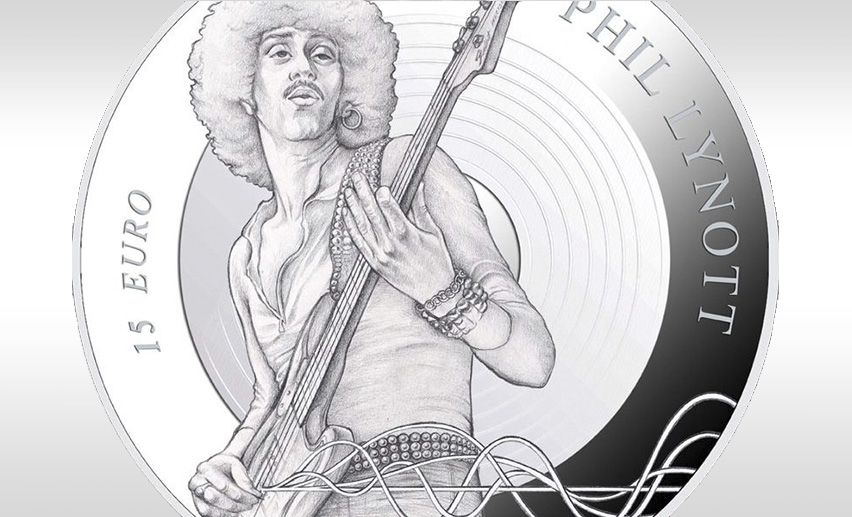 2019 €15 silver coin Phil Lynott
On behalf of the Minister for Finance, the Central Bank will issue a €15 silver proof coin to mark the 70th anniversary of the year of birth of Irish music legend Phil Lynott. Lynott was born in the West Midlands of England but grew up in Dublin. After fronting several bands, Lynott formed Thin Lizzy in 1969. The band first found success with "Whiskey in the Jar", followed by several hits in the mid-1970s with songs such as "The Boys Are Back in Town", "Jailbreak", "The Rocker" and "Waiting for an Alibi".
Lynott also enjoyed success as a solo artist with two albums producing the hits "Dear Miss Lonelyhearts", "King's Call" and "Old Town", the music video for the latter famously showing Phil walking through the streets of his hometown Dublin. Phil Lynott sadly died in 1986 at the age of 36 but his music and legacy continues to endure and inspire music lovers worldwide.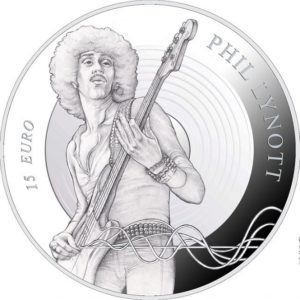 This limited issue collector coin has been struck in 925/1000 sterling silver to proof quality and is limited to 3,000 pieces.
The diameter of the coin in 38.61mm and it weights 28.28g.
Sources: Central Bank of Ireland and NUMISMAG.