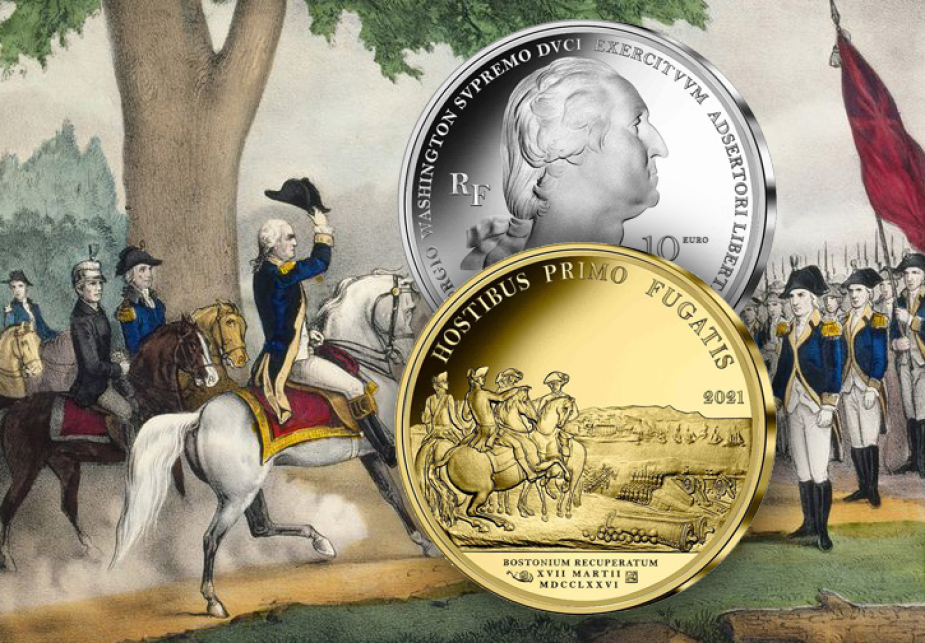 2021 Silver €10, €25 and gold €50 coins – "WASHINGTON's Boston siege"
The french mint (Monnaie de Paris) commemorates the Independence of the United States through a collection of coins. In 2021, the Boston siege battle, won by George Washington, is celebrated. It was the first great victory of the insurgents against Great Britain.
€10 coin "Washington at Boston siege – 2021"
Histoiry and Mankind series
On the obverse, stand a bust of George Washington facing right, which is inspired by an old medal, struck by Monnaie de Paris (french mint). Under the bust is engraved the artist's name, "Duvivier Paris F".
At the bottom of the coin is inscribed "COMITA AMERICANA", meaning "American Congress". All around the coin, the inscription "GEORGIO WASHINGTON SVMPREMO DVCI EXERCITVVM ADSERTORI LIBERTATIS" is engraved, which means "The american congress to George Washington, General-in-Chief of the Armies, defender of Liberty".
On the reverse, Washington, on Dorchester Heights, is shown leading his army toward the city of Boston. On the right side of the coin is a fort, cannons and cannonballs lying on the ground. Washington points to the British ships fleeing the city.
At the top of the coin is engraved the inscription "HOSTIBUS PRIMO FUGATIS" which means "For the first time the enemies are put to flight". At the bottom, you can read the inscription "BOSTONIUM RECUPERATUM / XVII MARTI / MDCCLXXVI" which means "Boston recaptured on March 17th, 1776".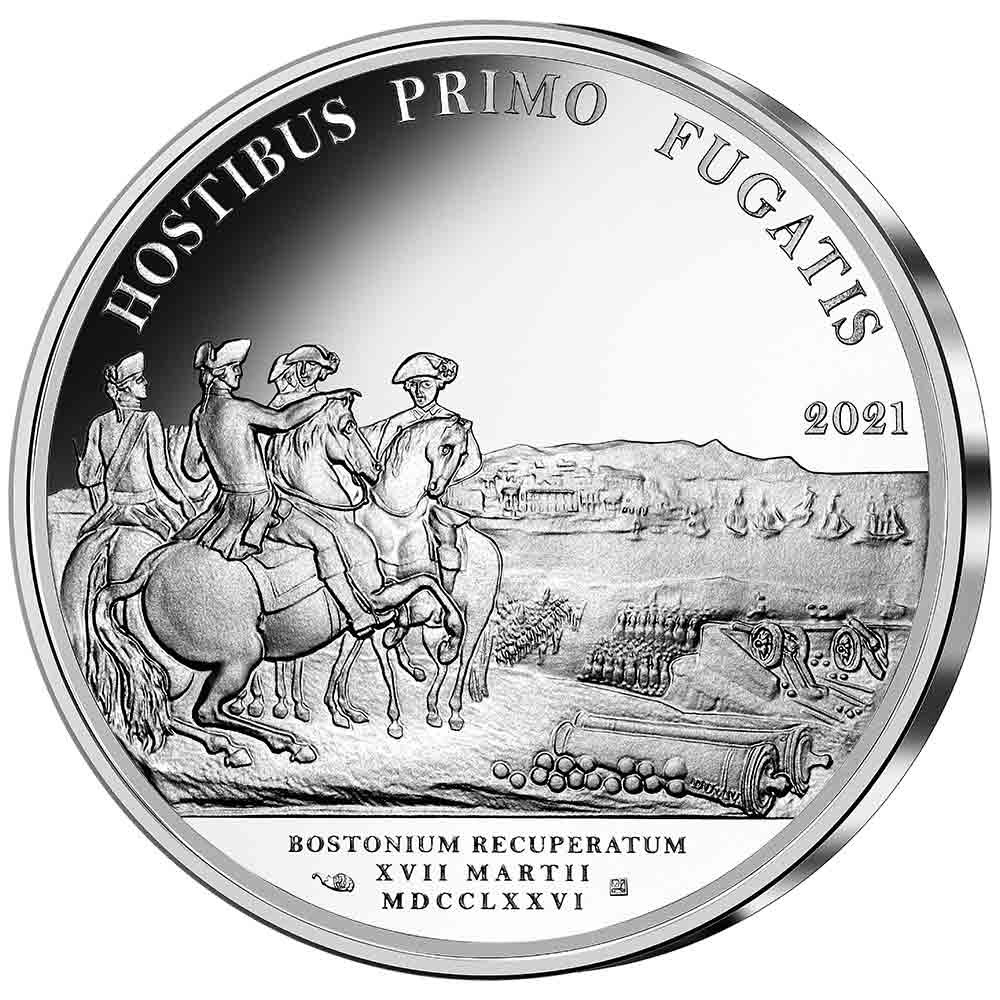 ---
Material: Silver
Fineness: 999 ‰
Quality : Proof
Mintage : 1 500 coins
Mass: 62,2 g
Diameter: 41 mm
Retail Price: €65 (about USD 77)
Due to delays in delivery by the Monnaie de Paris, this coin will not be available until May 18, 2021
---
.
Silver proof €25 2021 High-relief
Georges Washington's siege of BOSTON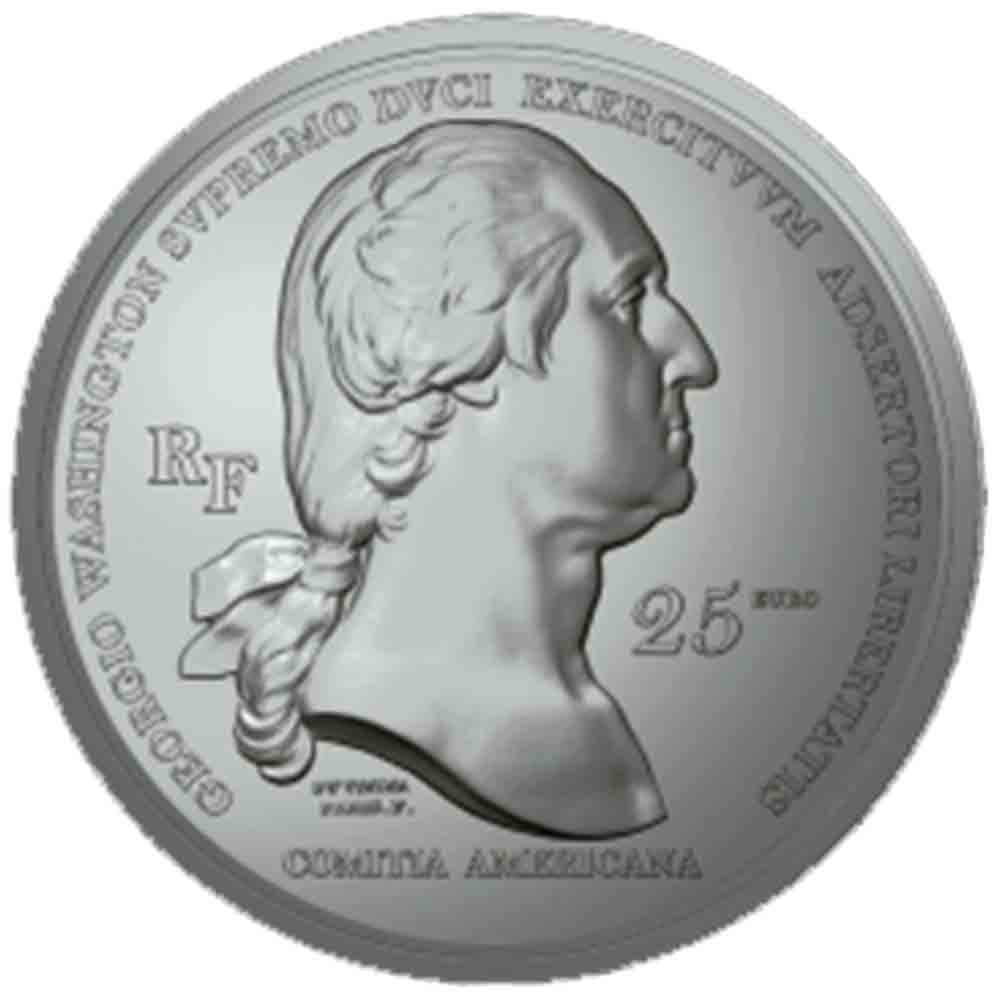 ---
Material: Silver
Fineness: 900 ‰
Quality: Proof
Mintage: 2 500 coins
Weighht: 22,2 g
Diameter: 37 mm
Retail price: €205 (about USD 244)
Due to delays in delivery by the Monnaie de Paris, this coin will not be available until May 18, 2021
---
2021 Gold €50 proof coin  
Georges Washington's siege of BOSTON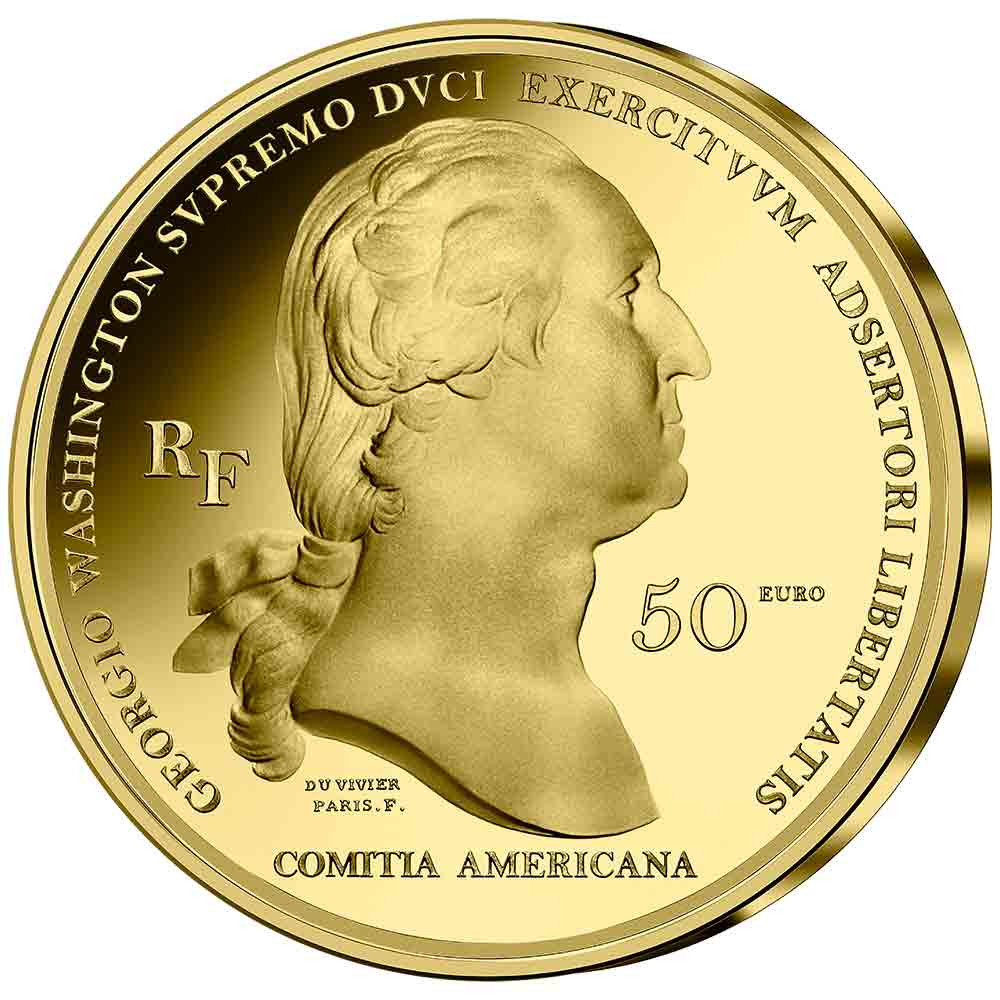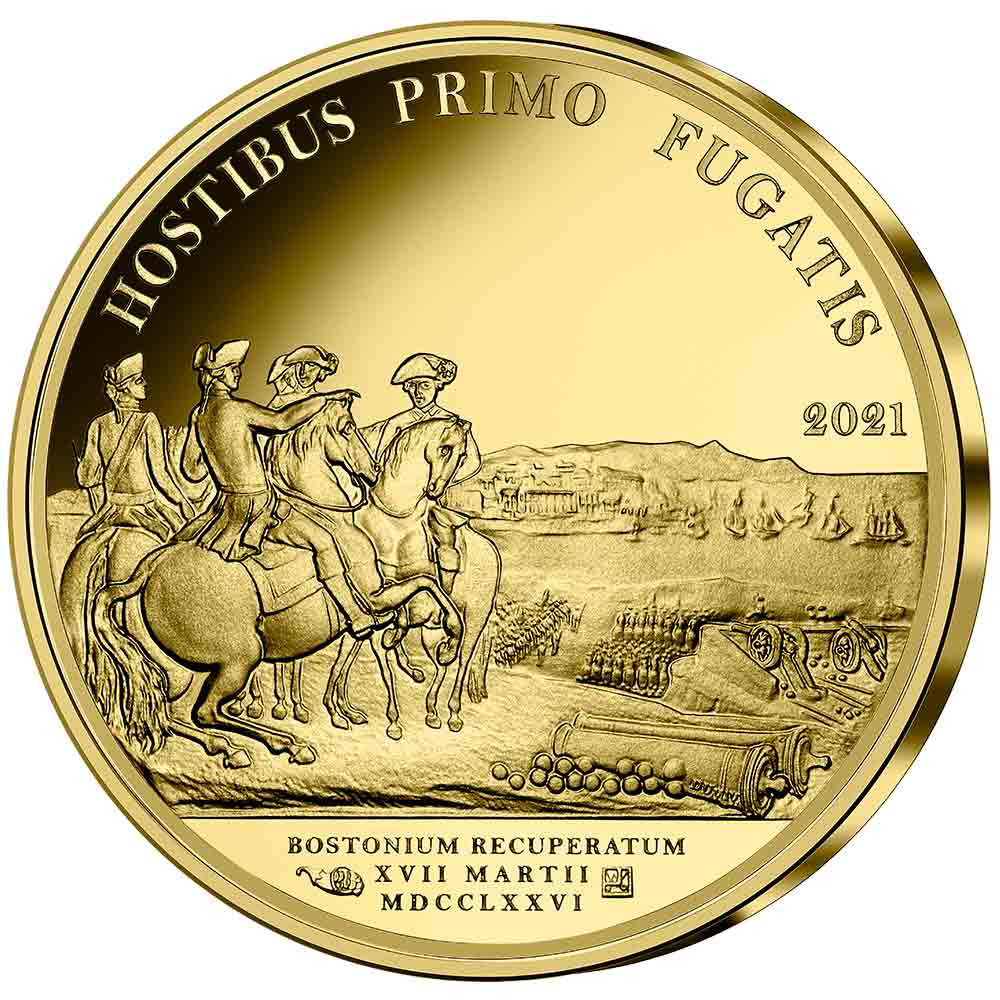 ---
Material: Gold
Fineness: 999 ‰
Quality: Proof
Mintage: 500 coins
Mass: 7,78 g
Retail price: €690 (about USD 821)
Due to delays in delivery by the Monnaie de Paris, this coin will not be available until May 18, 2021
---
Sources : Monnaie de Paris and NUMISMAG©