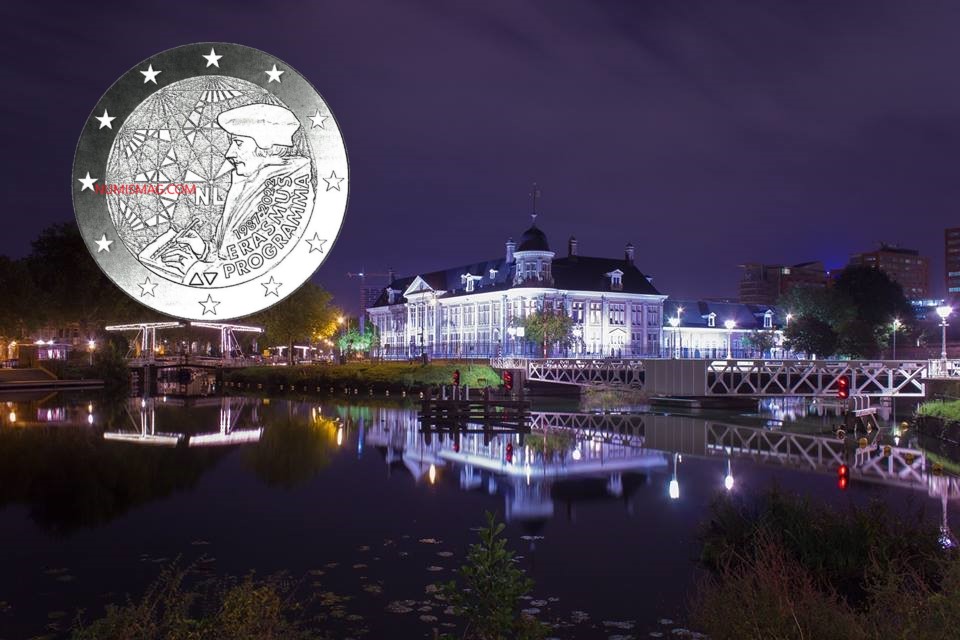 2022 dutch €2 commemorative coin ERASMUS is announced!
The Mint of the NETHERLANDS has unveiled the visual of the ERASMUS coin that will be issued in 2022. This coin is part of a series common to all countries that have adopted the euro. The Dutch €2 ERASMUS coin has been announced late because this country strictly respects the prescriptions of the European Commission. For the past 5 years, the European Commission has invited countries that issue €2 commemorative coins to limit the volume of their €2 commemorative €2 coins as long as they have large stocks of new "non commemorative" (i.e. regular) €2 coins for circulation.
The Netherlands scrupulously respects these recommendations. This is the reason why the Netherlands have not minted any €2 commemorative coins in recent years. But ERASMUS is an emblematic figure in the history of the Netherlands. It would have been incomprehensible under these circumstances that the Netherlands did not mint their own ERASMUS €2 coin. Especially since in 2011, the first national commemorative coin of the Netherlands (except the common european issues) was already dedicated to ERASMUS. So the Dutch government had no choice but to issue a coin on the occasion of the 25th anniversary of the university exchange program of the same name.
For the Dutch version of this coin, the country code "NL" will be engraved in the heart of the coin. As the mint that will strike the coin has not yet been chosen, two blank cartridges appear on the coin at 6 o' clock. The first one will be replaced by the mintmark of the national mint that will be chosen to strike this coin and the second one will be reserved for the engraver in chief mark of the concerned mint.
Even if one can have a doubt, the possibility that the dutch coin would be struck by another Mint than the KNM (Mint of the Netherlands) is thus considered by the Dutch government. It would be surprising if another national mint was chosen to mint a coin dedicated to an emblematic figure of the Dutch philosophical literature, worldwide known!
Finally, in the lower right quarter of the coin, three inscriptions will be engraved:
The dates "1987-2022", which are the anniversary dates of the ERASMUS program.
The name ERSAMUS
"Programma" for program
The signature of the engraver in chief of the Monnaie de Paris, as creator of the common design,  will appear under the pen of ERASMUS, with the two initials "J.J." for Joaquin JIMENEZ.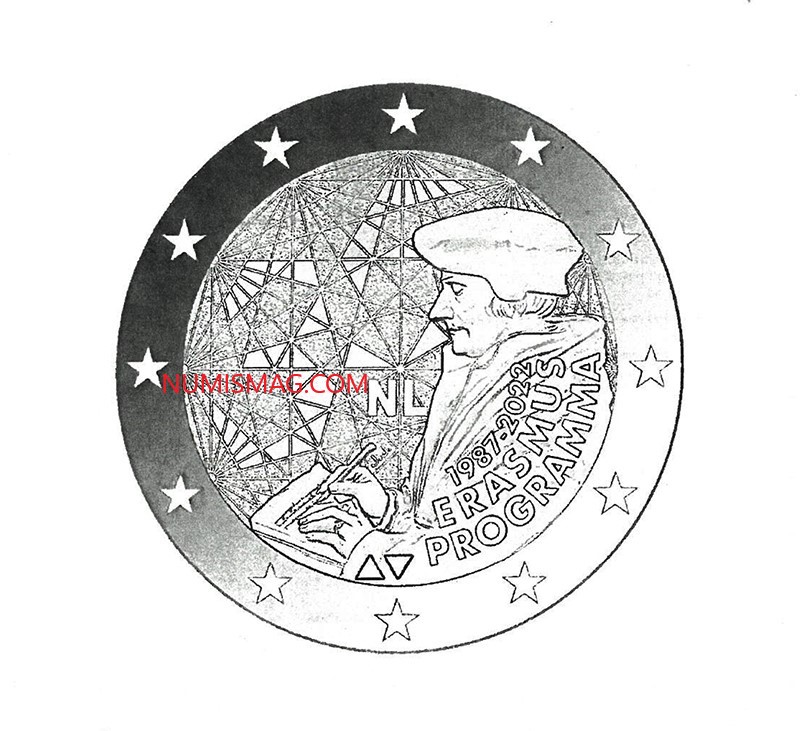 The announced mintages are as follows:
coins for circulation: 500,000 coins
UNC coins for collectors: 50 000 coins
BU and/or proof quality coins: 20,000 coins
Sources: European Union and NUMISMAG