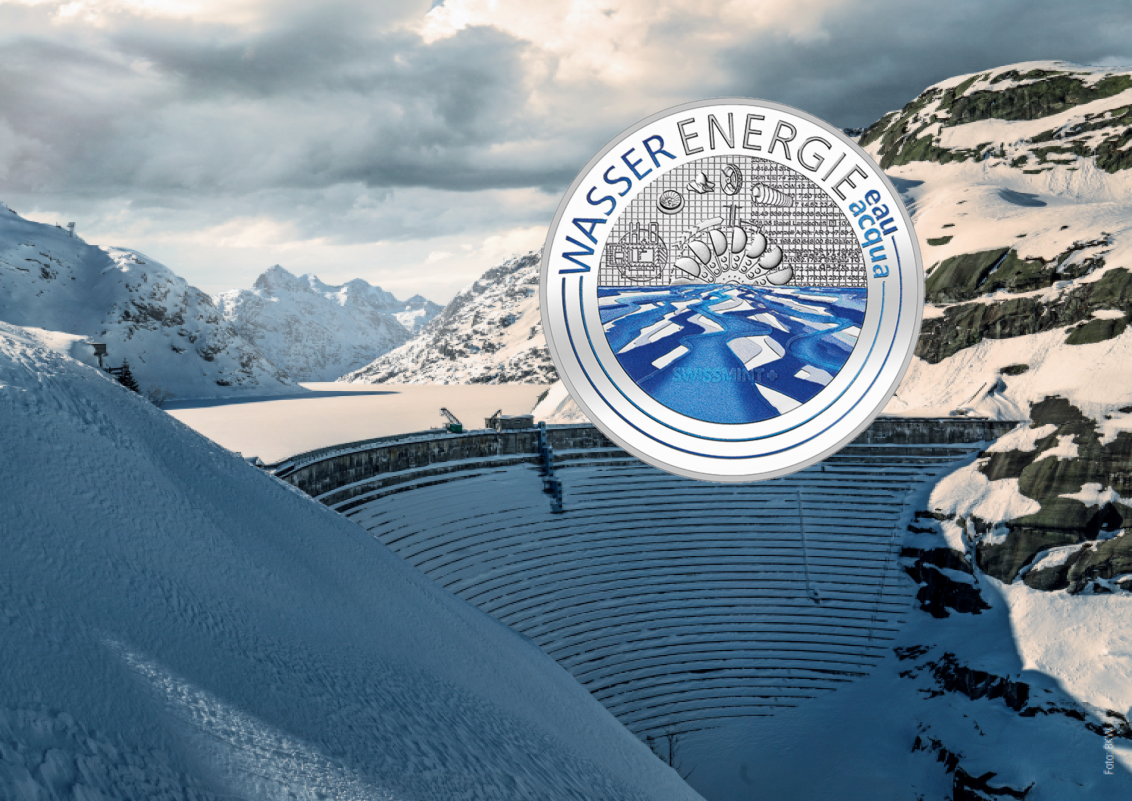 2021 silver colorfull and fluo coin "Hydropower" from SWISSMINT
On 9 September 2021, Swissmint is issuing the new "Hydropower" silver coin, the first in the three-part "Energy of the future" series. This commemorative coin marks the first time in Swissmint's history that it has issued a coloured coin with additional fluorescent elements which glow in the dark. The new coin for collectors rounds off this year's coin programme.
Energy is a precious commodity and an indispensable part of our everyday lives. A sustainable energy supply plays an important role in this. The basis for these alternative forms of energy is provided by natural resources, such as water, wind and sun.
Hydropower is one of the oldest energy sources in the world and was already used more than 5,000 years ago. It offers an efficient, climate- and environmentally friendly form of electricity generation. In Switzerland, the hydropower plant network consists of run-of-river power plants (usually consisting of a barrage formed of a weir in a flowing body of water, e.g. river power plants), storage power plants (hydropower plants with natural or artificial water storage reservoirs) and pumped storage power plants (consisting of two water basins located at different heights, e.g. Grimsel). A total of 677 plants are in operation throughout the country, producing an average of around 36,741 gigawatt hours of electricity per year and thereby supplying 56% of Switzerland's power needs.
Swissmint is honouring the promotion of renewable energies and the sustainable use of resources with its "Hydropower" 20-franc silver coin. This fine coin is not only captivating with its colourful details, it also reveals another secret in the dark: the fluorescent elements printed on the coin begin to glow, which is another highlight in the history of Swiss coins.
This is the first time that this special feature has been used on a coin issued by the Federal Mint Swissmint. This silver coin is available only in proof quality in a presentation case with a numbered certificate of authenticity, and is the first in the three-part "Energy of the future" series. It will be followed by "Solar energy" in 2022 and "Wind power" in 2023. At the top edge of the obverse face, the words "WASSER" (water) and "ENERGIE" (power/energy) are written in capitals, followed by the French and Italian designations "eau" and "acqua"; just below that, turbine components and data on water consumption in Switzerland are depicted. The lower half of the image shows an abstract colour image of water and water flows. The design was created by Swissmint engraver Benjamin Löbbert.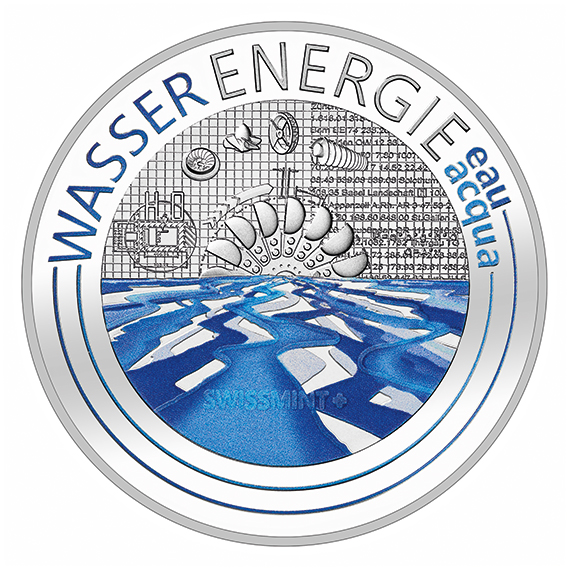 Avers colorisé de la 20 francs suisse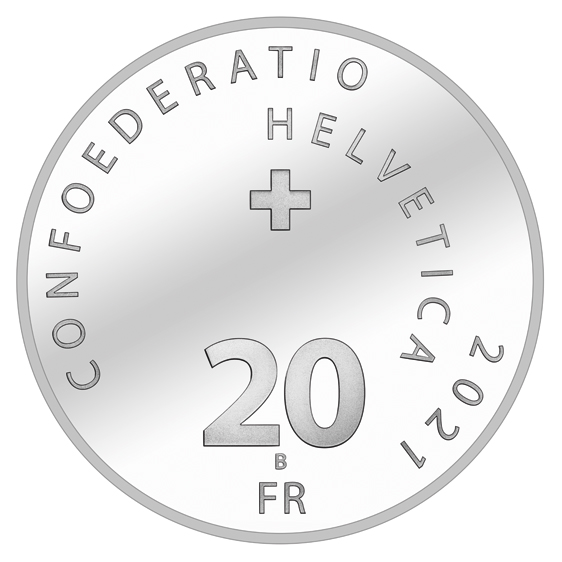 Revers de la 20 francs suisse 2021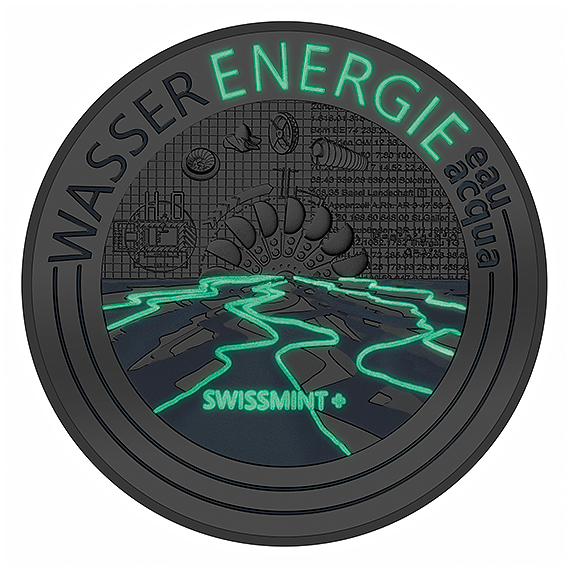 Effet fluorescent sur la nouvelle pièce en argent suisse
Elle sera suivie, en 2022, par une monnaie commémorative sur le thème de l'«énergie solaire» et, en 2023, par une autre sur celui de l'«énergie éolienne». Les mots «WASSER» et «ENERGIE», suivis
des termes «eau» et «acqua», apparaissent en grandes lettres sur le bord supérieur de l'avers, tandis que des pièces de turbines et des données sur l'utilisation de l'eau en Suisse sont représentées plus bas. La moitié inférieure de l'avers représente une abstraction colorée de l'eau et de son cheminement. On doit la conception de la monnaie commémorative au graveur Benjamin Löbbert, de Swissmint.
---
Caractéristiques de la pièce
---
Valeur nominale légale: 20 francs suisses
Date d'émission: 9 septembre 2021
Artiste: Benjamin Löbbert, Berne
Alliage: argent 0,835
Poids: 20g
Diamètre: 33 mm
Flan bruni: 10'000 pièces
Sources: SWISS MINT et NUMISMAG.