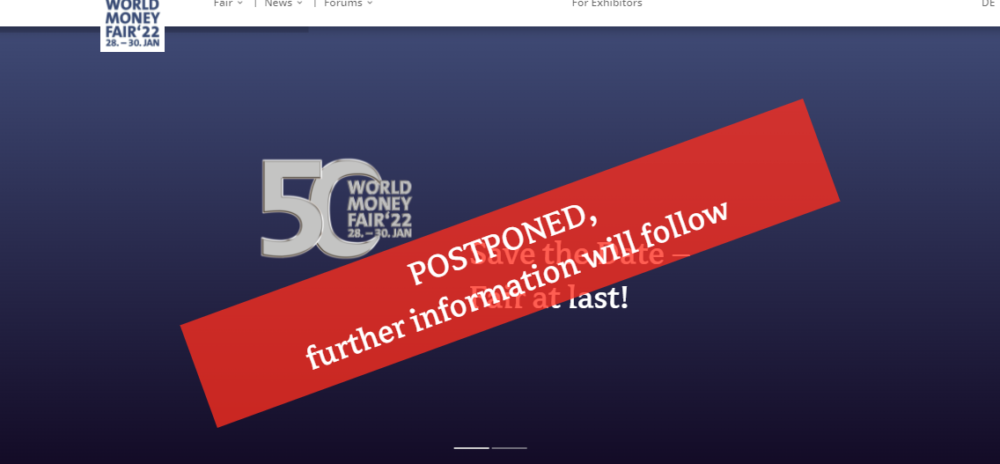 2022 BERLIN WORLD MONEY FAIR POSTPONED
Dear Sir/Madam,
None of us thought that we would be confronted a second time with the decision of whether or not to organize the World Money Fair as planned. But our customers have shown us the way in the last few days. We have been given many reasons for the many cancellations of booths, boxes and merchant tables, and the natural consequence is the same in all cases: no exhibitors, no fair.
There are simply too many cancellations for the event to have any meaning. It is therefore with great regret that we hereby inform you that we will not be holding the World Money Fair 2022 in Berlin as planned at the end of January. A new date has not yet been set.
Instead, we will again hold the #DigitalFair World Money Fair in February.
This format made a very positive impression the first time around, as collectors have really embraced the digital fair. And since it is a completely new medium, we also welcomed many new visitors – especially international ones – who otherwise would not have been present in Berlin.
Registered exhibitors will receive an official cancellation of their booking in a few days. Next week we will then send you the concrete offers for the World Money Fair #DigitalFair.
It would have been a great pleasure to meet you all again in Berlin.
Unfortunately, we still have to be patient. But the time will come. I wish you a merry Christmas and a happy New Year!
Sincerely yours,
Barbara Balz
Sources: World Money Fair Berlin GmbH and NUMISMAG.