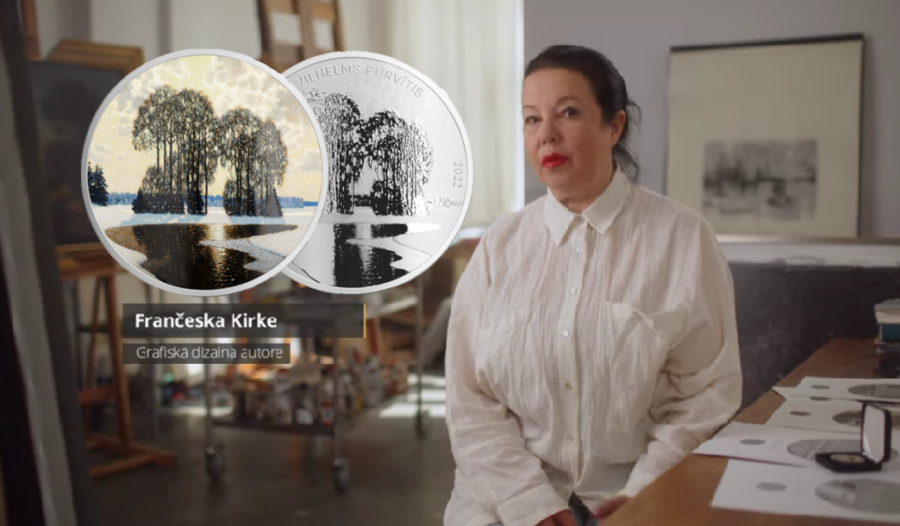 2022 Silver €5 Latvia- Vilhelms Purvītis
On Wednesday, May 25, the Bank of Latvia issues a silver collector coin dedicated to Vilhelms Purvītis. This collector coin is issued at an exceptional time. 2022 is the year in which Latvia celebrates the artist' s 150th birthday, with various events. To mark the occasion, the National Art Museum of Latvia is also launching an exhibition entitled PURVĪTIS on May 28th 2022.
The designer of the coin "Vilhelms Purvītis" is Frančeska Kirke.
The coin created by the artist interprets elements from the painting "Winter" by Vilhelms Purvītis such as the majestic lacy birch trees, the glistening lake water and the overcast winter sky. She transferred these elements to the surface of the silver piece using glaze, texture and mirror surface, of varying intensity.
As of 12:00 noon on May 25, the new coin will be available for sale online via www.e-monetas.lv,le.
The price of the coin is 65€ and the purchase limit for each buyer is 2 coins.
The issue is limited to 4 000 coins.
It was minted by the mint of Lithuania.

Who is Vilhelms Purvītis?
He is the founder and modernizer of Latvian landscape painting. Vilhelms Purvītis (1872-1945) is one of the key figures of Latvian visual art in the first half of the 20th century. At the turn of the century, this painter painted spring landscapes. He was noticed in St. Petersburg, Paris and other European art centers.
He is also one of the architects of cultural policy in Latvia, as the first rector of the Latvian Academy of Arts and head of the Master Class of landscape painting. He was also director of the prestigious Riga City Art Museum (now the Latvian National Art Museum), creator of the national art collection and organizer of international exhibitions.
Coin description
Obverse
Reproduction of the painting "Winter" by Vilhelms Purvītis, in color print.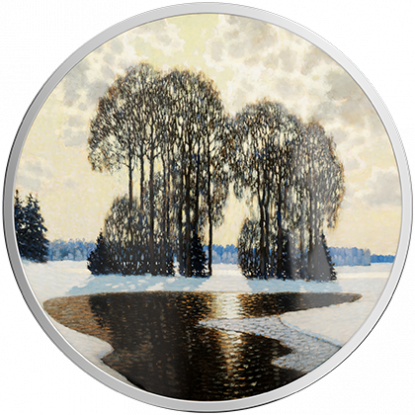 Reverse
The plaster model of the painting "Winter" by Vilhelms Purvītis with several types of surfaces, worked in different ways (more or less intensified glaze effect).
The inscriptions "5 EURO" and "VILHELMS PURVĪTIS" are in semi circles on the left along the upper edge of the obverse.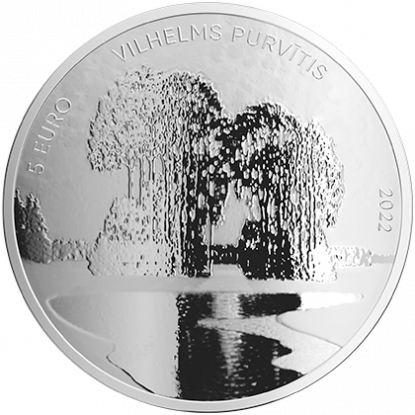 Edge
The edge of the coin bears the inscriptions "LATVIJAS BANKA" and "LATVIJAS REPUBLIKA", separated by rhombic dots.
Coin specifications
Face value: €5
Weight: 31,47 g
Diameter: 38,61 mm
Metal: silver  925/1000
Quality: proof – color printing on the obverse
Maximum mintage: 4,000 coins
Minted in 2022 by the Lithuanian Mint
Engraver: Frančeska Kirke
Sources: Latvia Bank and NUMISMAG.