2022 3 rubles coin from Bank of Russia dedicated to the Tiger
On August 16th 2022, the Bank of Russia issued a commemorative silver coin dedicated to the International Tiger Forum. It will be held on September 5th, 2022 on Russky Island and will bring together representatives of countries where the tiger is part of the native fauna. The Russian Far East is currently home to the largest population of Amur tigers. That is why Russia is interested in maintaining international cooperation on the conservation of the tiger species.
---
Coin specifications
---
The coin is made of silver (fine metal weight 31,1 g and fineness of 925/1000) and has a face value of 3 rubles. It has a rectangular shape, 51.0 mm long and 32.0 mm wide, with rounded corners.
The obverse and reverse of the coin have a raised edge around the circumference.
The obverse of the coin features a raised image of the national coat of arms of the Russian Federation and the inscriptions "РОССИЙСКАЯ ФЕДЕРАЦИЯ" (RUSSIAN FEDERATION) and "БАНК РОССИИ" (BANK OF RUSSIA), the coin denomination "3 РУБЛЯ" (3 rubles), the year of issue "2022", the chemical symbol of the metal according to Mendeleyev's periodic table of elements, the fineness, the trademark of the St. Petersburg Mint, and the fine metal content.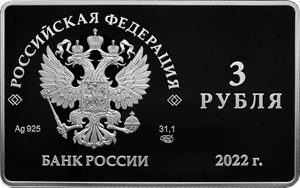 The reverse of the coin features the logo of the 2nd International Tiger Forum.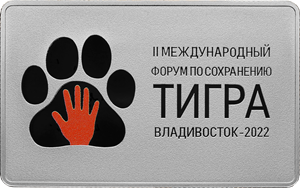 The edge of the coin is wavy.
The coin is minted in Proof quality.
The mintage is 3,000 coins.
The new coin is legal tender in the Russian Federation.
Sources: Bank of Russia press service and NUMISMAG.