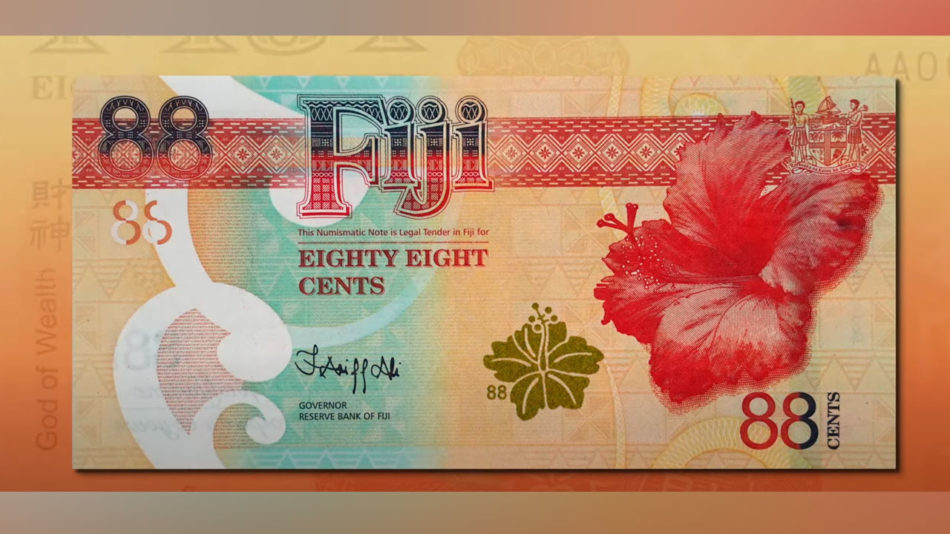 2022 FIJI commemorative banknote of 88 cents
On June 12th 2022, the Central Bank of the Fiji Islands was authorised to issue a commemorative 88 cents collector's note (non-circulating). The banknote is dedicated to the god of fortune and the money tree, two traditional images in Chinese Taoist culture. Both are signs of good luck and economic prosperity.
---
Banknote specifications
---
Colours: Brown and yellow
Dimensions: 156mm x 76mm
Material: cotton
Condition: uncirculated (UNC)
The obverse of the banknote features a hibiscus, the FDJI coat of arms, the signature of the Governor of the Central Bank and the face value. The obverse of the banknote is also decorated with fluorescent motifs. It is complemented by intaglio printing and optically variable ink (OVI). The design on the obverse of the banknote also features fluorescent ink. The design is embossed on the hibiscus flower. There is also a watermark in the shape of a hibiscus with the face value of the banknote.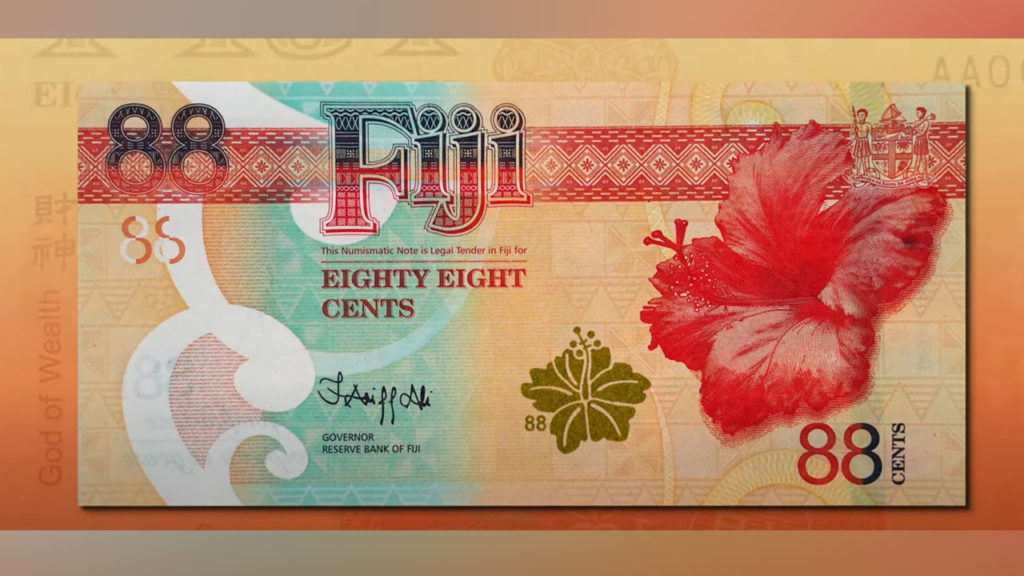 The design on the reverse side of the banknote mainly depicts the god of wealth and a money tree, which are mentioned in Chinese customs. The design on the back of the banknote mainly features various coins, the serial numbering and the logo of the Reserve Bank of Fiji.
There is also an iridescent sheen, in the form of a strip of various shiny gold coins, running the full width of the banknote.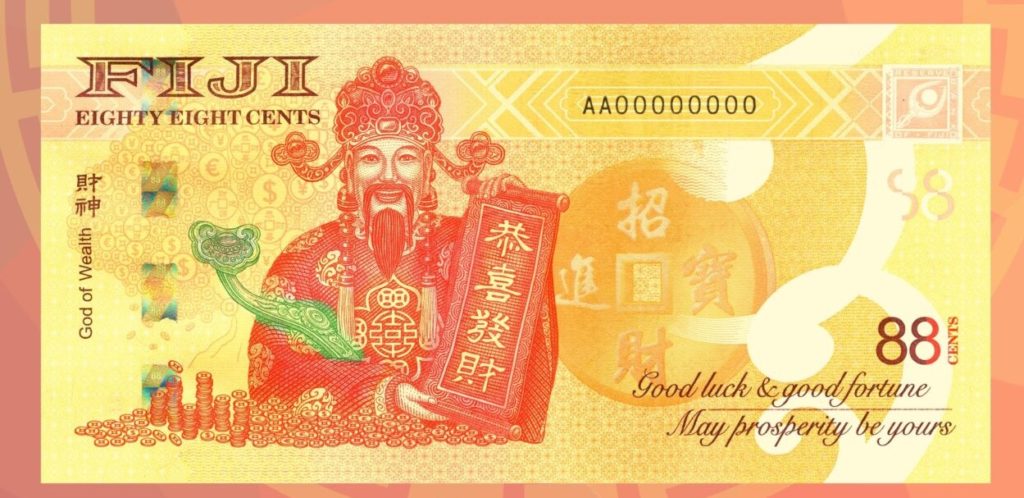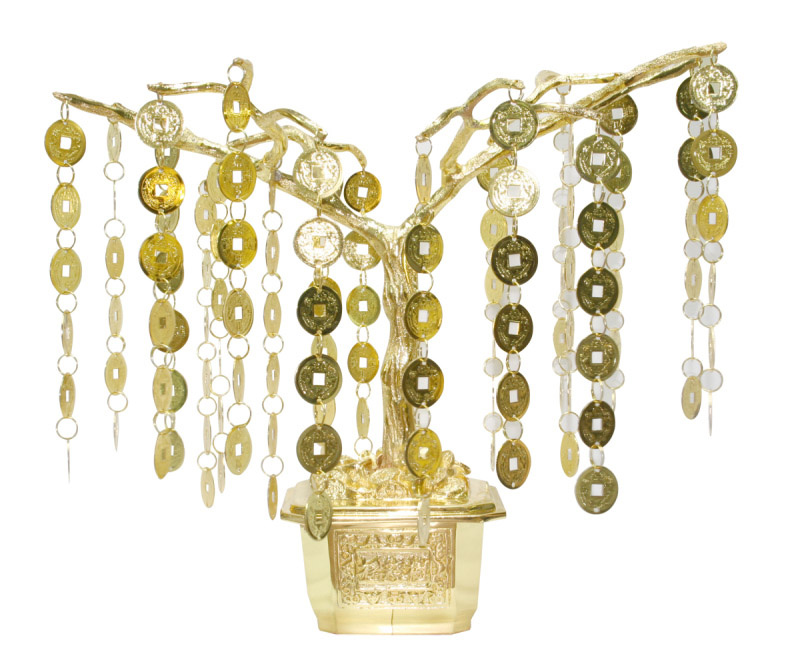 Chinese coin tree
---
Clarification from the Fiji monetary authorities
---
In light of recent misinformation and speculation on social media, the Reserve Bank of Fiji (RBF) has clarified that NO NEW $0.88 numismatic notes will be released.
As is standard practice for central banks, the RBF produces limited quantities of numismatic currency in partnership with reputable dealers in the numismatic collecting and enthusiast community. The newly announced $0.88 note is one of hundreds of out-of-circulation numismatic coins (collector notes, not legal tender) that the RBF has produced since 1974.
This is similar to the practice of stamp production, which allows enthusiasts to buy notes and coins for their collections. In this case, the $0.88 face value numismatic note was created for targeted sale to the Chinese and wider Asian market. Chinese collectors are very fond of banknotes with the number 8 on them, as it is the symbol of wealth and luck in the Taoist religion. For example, the "8" is given absolute preference when choosing a number plate or a house. The same is true for the growing number of Chinese banknote collectors.
Numismatic notes and coins issued by the RBF in the past, with themes such as Christmas, landmarks, celebrities such as musicians, and wildlife such as Fijian birds, have been an important source of revenue for the RBF.
In the last three years alone, the RBF has generated over Fiji$8 million in revenue from the sale of banknotes and numismatic coins.
Sources: Reserve Bank of FIDJI (Banque Centrales des Iles FIDJI) and NUMISMAG