2023 german €2 commemorative coin dedicated to Charlemagne
Munze Deutschland (German Mint) has unveiled the design of the 2023 €2 commemorative coin dedicated to the 1275th anniversary of Charlemagne. The design features the monogram of Emperor Charlemagne and the octagonal plan of the cathedral of Aachen, the capital of Charlemagne's empire. The inner part of the coin shows the lettering "KARL DER GROSSE" (Charlemagne) in the upper area and the year of issue "2023" in the lower area, the years "748 – 814", the country code "D" for the issuing country Germany.
A total of 20 million coins will be minted and the coin is expected to be issued on 30 March 2023.
€2 Charlemagne – GERMANY 2023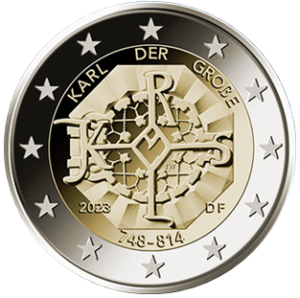 Sources : German Federal Ministry of Finance -NUMISMAG©