2023 €2 commemorative coin Ukrainian Sunflower from Latvia
Latvia has unveiled the design of the €2 commemorative coin dedicated to the Ukrainian sunflower in support of Ukraine. The sunflower is one of the national symbols of Ukraine, which is one of the largest producers and exporters of sunflower oil in the world, and since the beginning of the war in Ukraine, the sunflower has become a global symbol of peace.
The piece was designed by Latvian artist Krišs Salmanis. The central motif is a stylised image of a sunflower. The legend 'SLAVA UKRAINA ¡¡' (Glory to Ukraine) appears in the upper part, while the name of the issuing country 'LATVIJA' (LATVIA).
Originally planned to be issued in 2022, it will not be issued until 2023. The planned mintage is 415,000
coins.
2 euro Ukrainian sunflower – Latvia 2023
Glory to Ukraine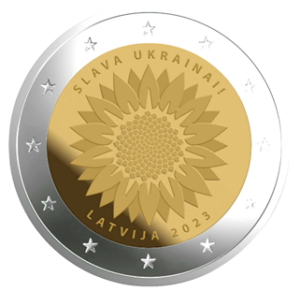 Sources: UE – NUMISMAG©