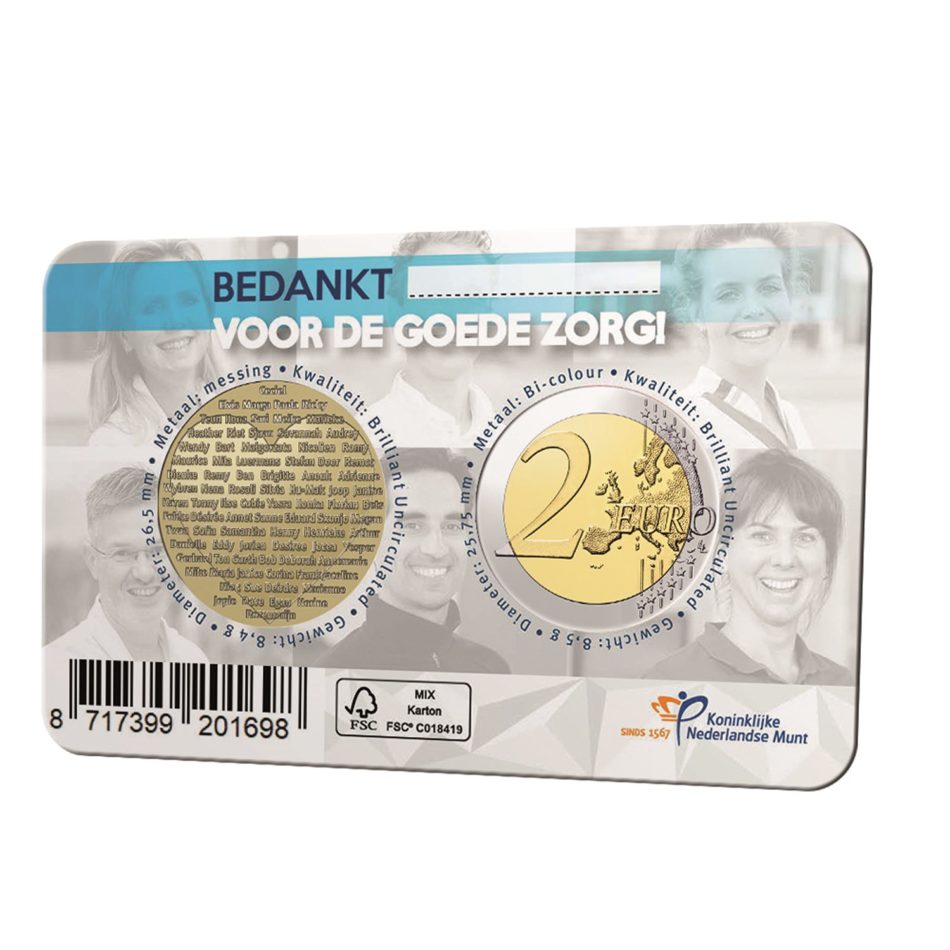 2022 €2 Coincard dedicated to dutch caregivers
As a sign of appreciation for all health care workers in the Netherlands, the Royal Dutch Mint is issuing a special coincard issue, including a 2022 UNC (non commemorative) Dutch 2 euro coin. This collector was created on the initiative of Maastricht UMC+. According to the Dutch Ministry of Finance, 7000 coincards were sold.
---
The design
---
The coincard contains an exclusive medal and a Dutch 2 euro circulation coin in UNC quality.
The obverse of the coincard contains the names of the health care workers, which are processed all over the front. In the middle is the Mint for Health Care on the right and a 2 euro coin with the profile of King Willem-Alexander on the left.
The reverse of the coincard contains images of the six health care workers who participated in the campaign. In addition, at the top is the text "Thank you for the care".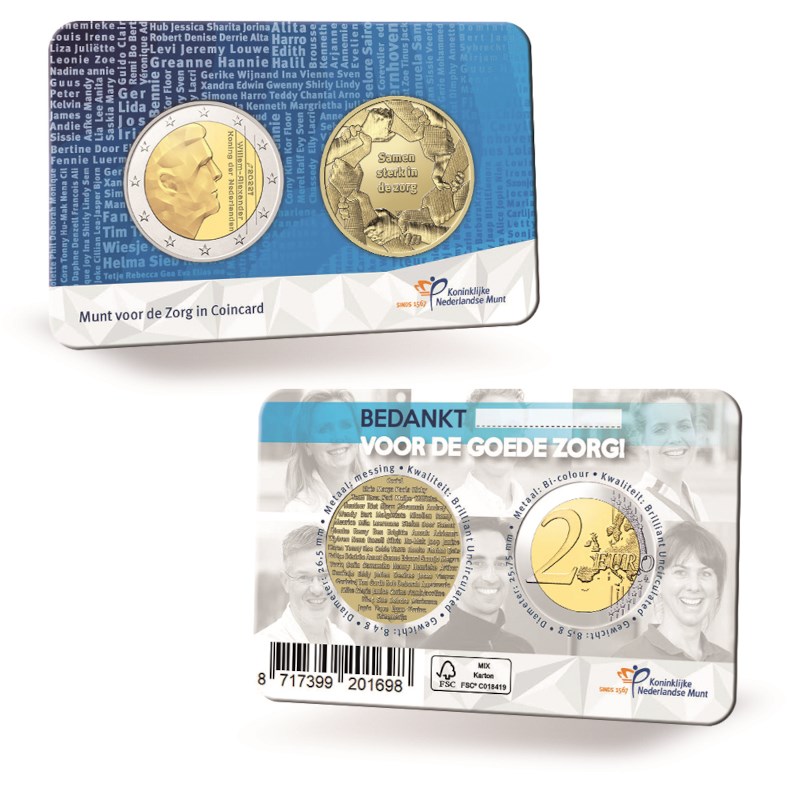 On the medal for carers, ten hands are depicted holding each other on the wrist, forming a circle. This image evokes a sense of unity. In the middle is the text: "Strong together in health care". Slightly downwards, the mint mark and the mint master's mark are engraved. A heart is engraved on the reverse of the coin with more than 80 names of caregivers.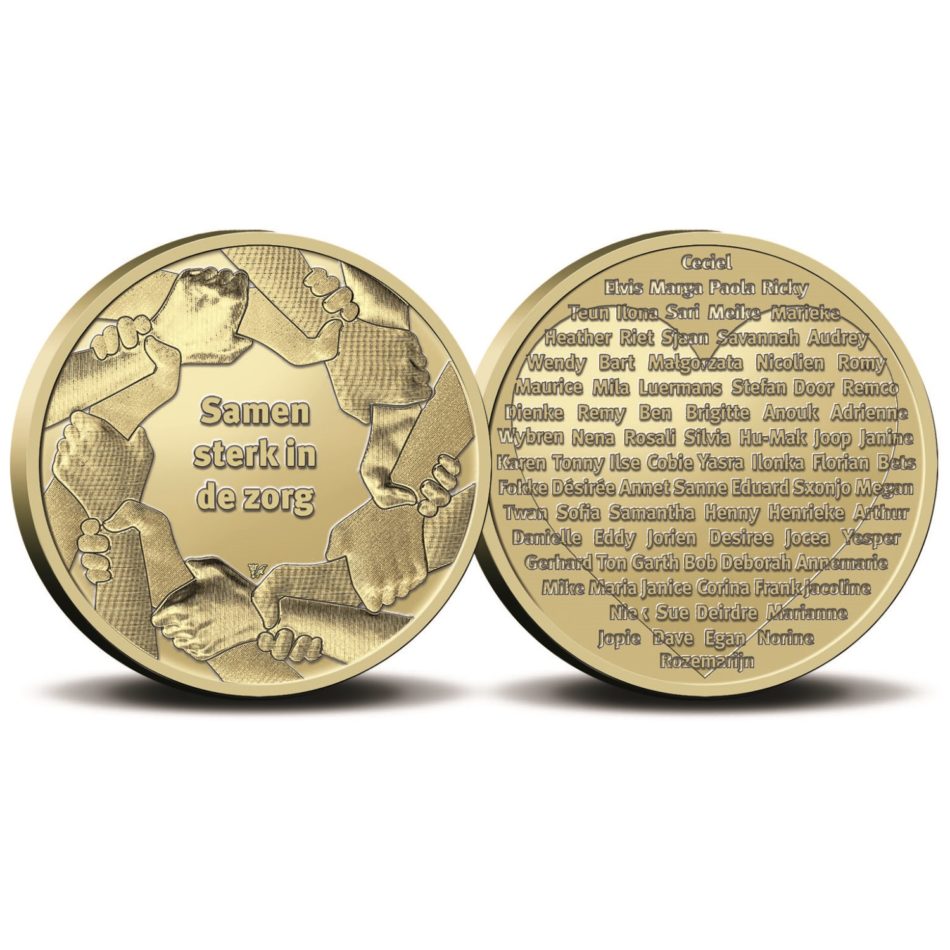 In the presence of Minister Ernst Kuipers and a number of ambassadors from the care sector, the largest Dutch coin ever made was presented today to Maurice Veugelers, an intensive care nurse at Maastricht UMC+. The care coin has a diameter of 70 centimetres and pays tribute to all care workers. The coin was produced by the Royal Dutch Mint.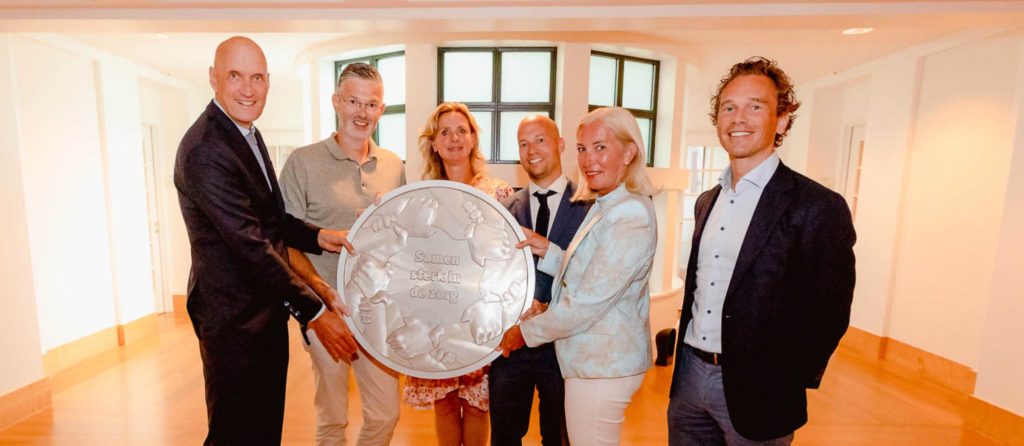 No less than 79 hours were spent on the production of this aluminium tribute piece. It is the largest ever made in the Netherlands.
Sources: Dutch Mint and NUMISMAG