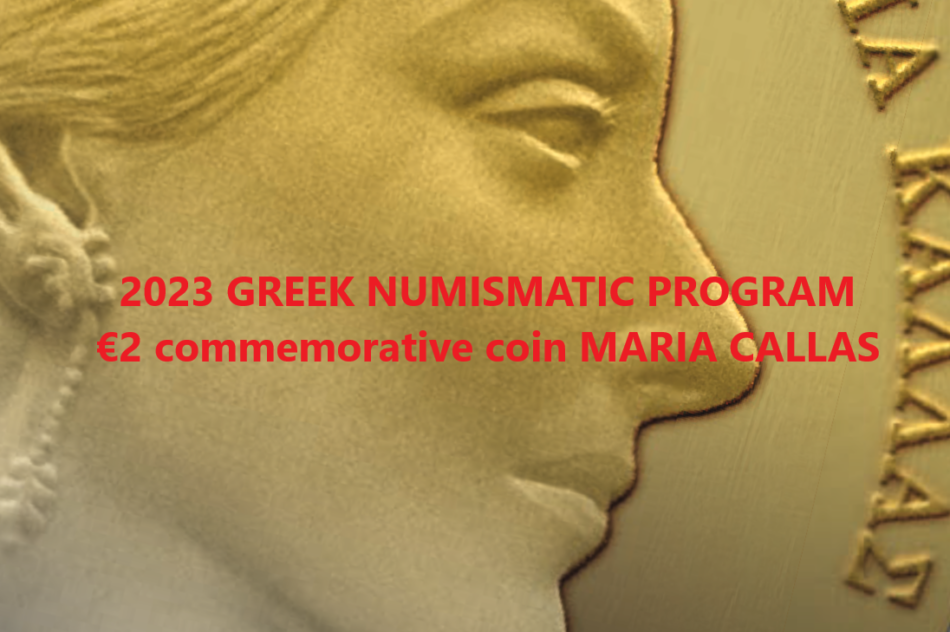 2023 GREEK NUMISMATIC PROGRAM
Last update 02/05/2023 – With the Berlin World Money Fair on the horizon, the Greek Mint has unveiled the outline of its 2023 numismatic program and the first visuals of the 2023 Greek coins.
Maria CALLAS, a famous Greek opera singer, will be featured on a commemorative €2 coin. 741 000 coins in rolls, 6,000 BU coincards and 3,000 proof coins will be issued.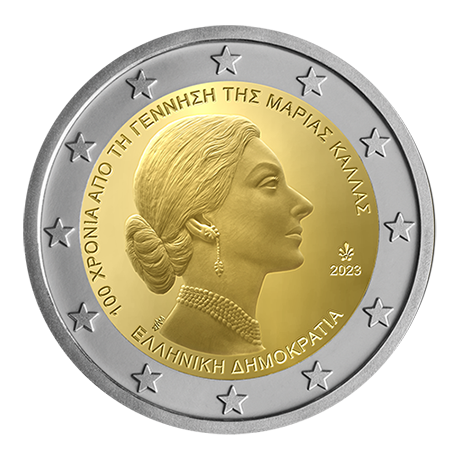 A commemorative €200 gold coin for collectors dedicated to the artist will also be issued in a total of 750 coins. It will be sold at a retail price of €800 and will be hard to get for collectors…These two coins commemorate the centenary of the artist's birth.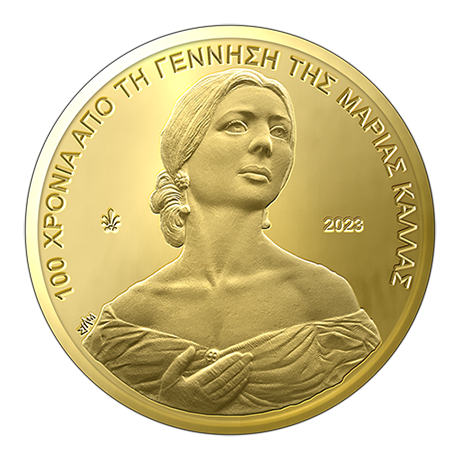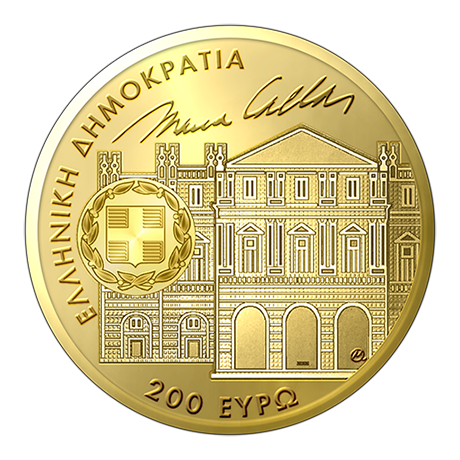 Above the denomination there is a microtext
("917 ΙΕΤΑ") indicating the gold purity of the coinand the issuer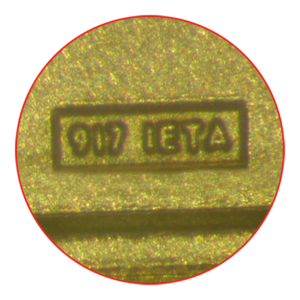 Denomination: €200
Diameter: 22.10 mm
Weight: 7.98 gr
Edge: milled
Material: gold (Au) 917‰, silver (Ag) 53%
Packaging: wooden box with certificate of authenticity
Maximum issue: 750 pieces
Minting quality: proof
Coin designed by: G. Stamatopoulos – M. Antonatou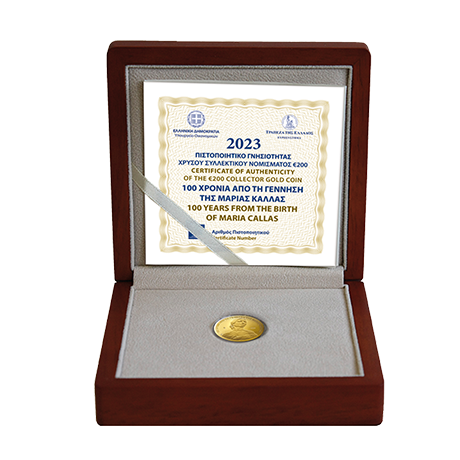 The other 2€ commemorative coin will be dedicated to the Greek mathematician Constantine Carathéodory. 745 000 coins in rolls for circulation, 3,000 BU coincards and 1,500 coins in proof condition will be issued.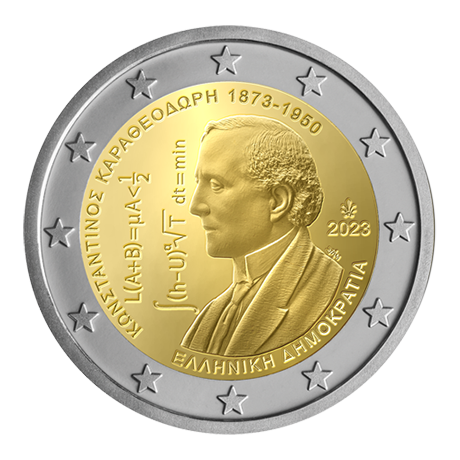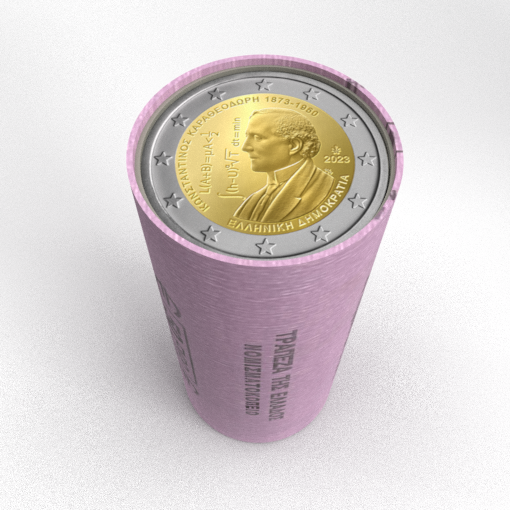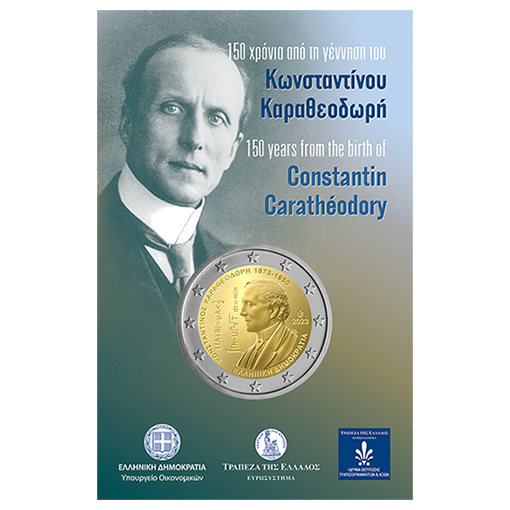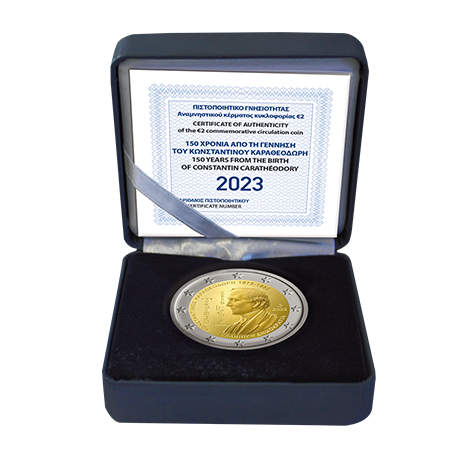 The other announced themes are the following:
The Battle of KARPENISI, during the Greek Revolution – 5€ silver (mintage: 5 000 coins)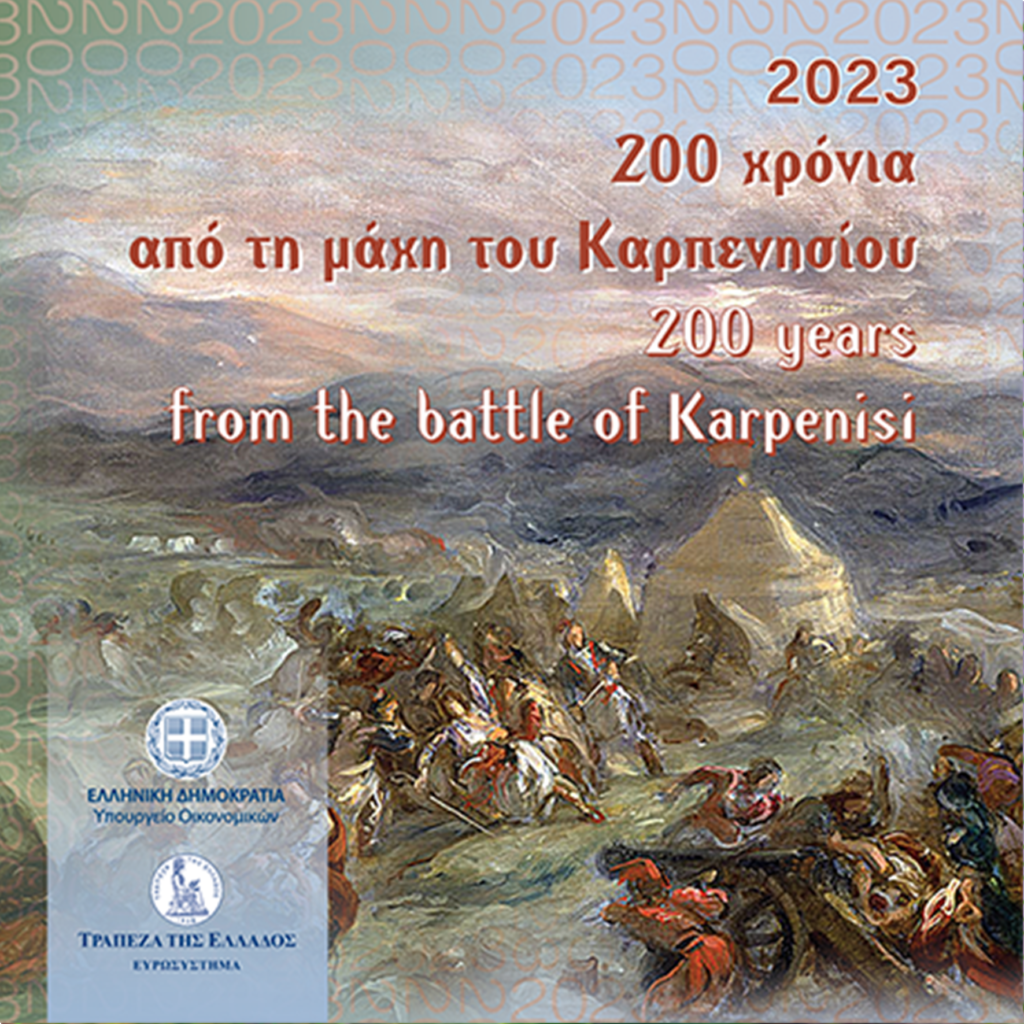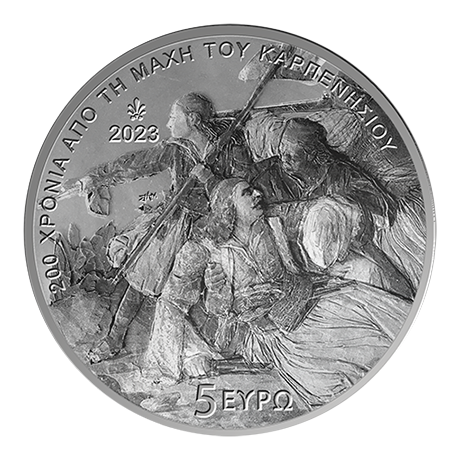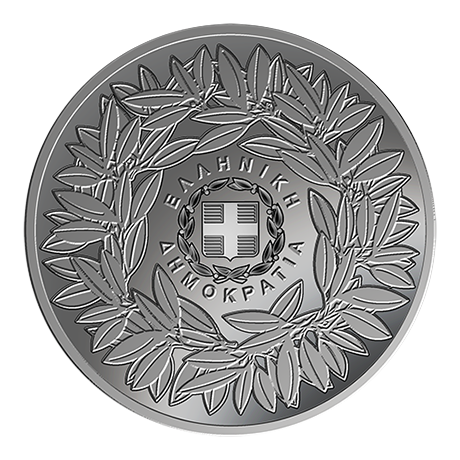 Denomination: €5
Diameter: 31 mm
Weight: 17 gr
Edge: plain
Material: silver (Ag) 33.3%
Packaging: blister pack
Maximum issue: 5,000 pieces
Minting quality: proof like
Coin designed by: G. Stamatopoulos
Athens and the Polytechnic University – 6€ silver (mintage: 2 000 coins)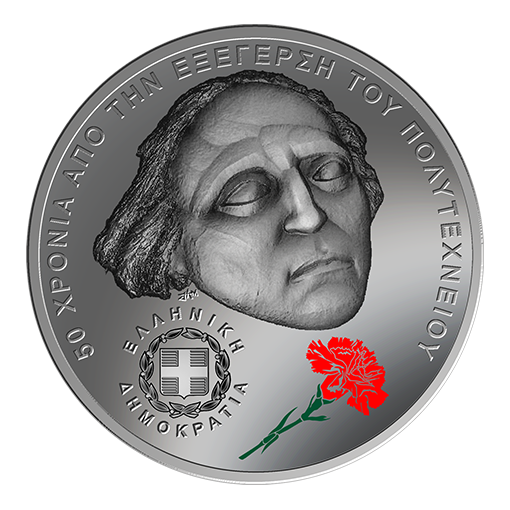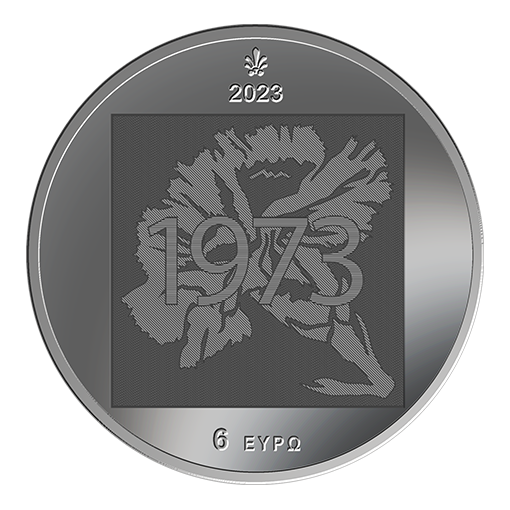 Denomination: €6
Diameter: 28.5 mm
Weight: 10 gr
Edge: plain
Material: silver (Ag) 92,5%
Packaging: coin box with certificate of authenticity
Maximum issue: 2,000 pieces
Minting quality: proof
Coin designed by: G. Stamatopoulos – M. Antonatou
Karl NORMANN, former general of Napoleon's Grand Army then foreign volunteer in the service of the Greek revolutionaries in 1822 – 10€ silver (issue: 2 000 coins)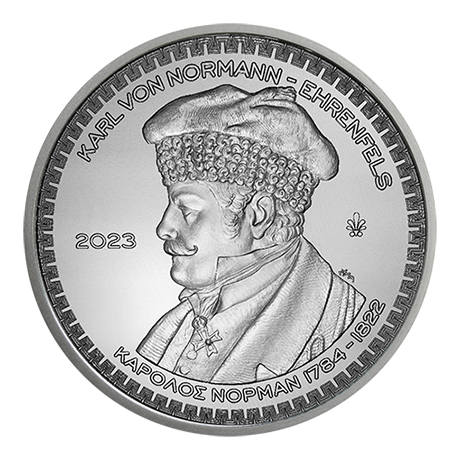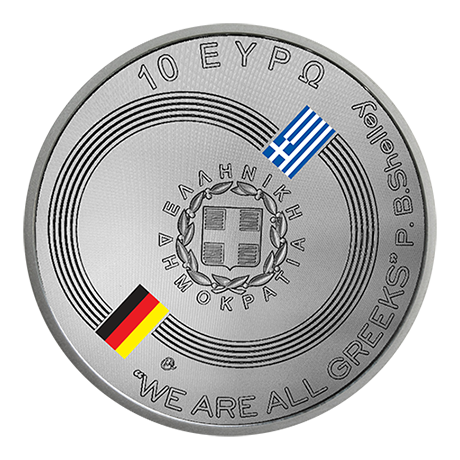 Denomination: €10
Diameter: 40 mm
Weight: 34.10 gr
Edge: plain
Material: silver (Ag) 92.5%
Packaging: coin box with certificate of authenticity
Maximum issue: 2,000 pieces
Minting quality: proof
Coin designed by: G. Stamatopoulos, M. Antonatou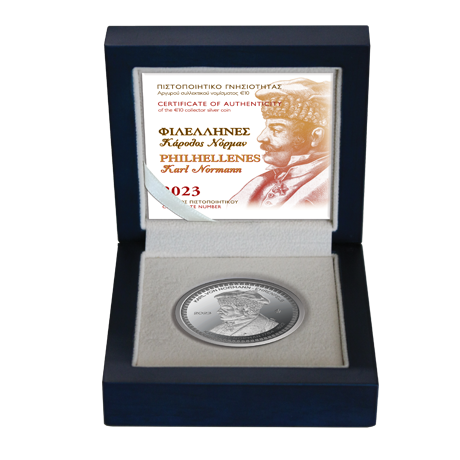 The defender of human rights Antonis Samarakis – 20 years of his disappearance – 6€ silver (issue: 1 000 coins)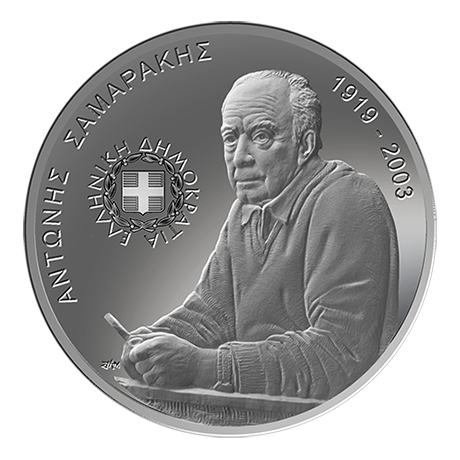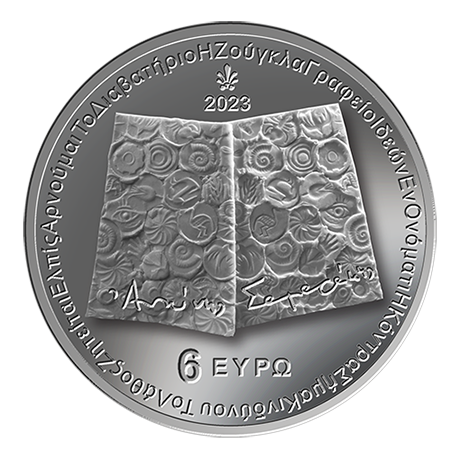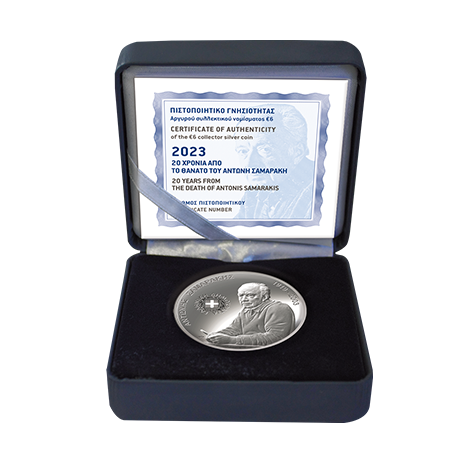 Denomination: €6
Diameter: 28.5 mm
Weight: 10 gr
Edge: plain
Material: silver (Ag) 92,5%
Packaging: coin box with certificate of authenticity
Maximum issue: 2,000 pieces
Minting quality: proof
Coin designed by: G. Stamatopoulos
Euclid's theorem – 10€ silver (circulation: 1 500 coins)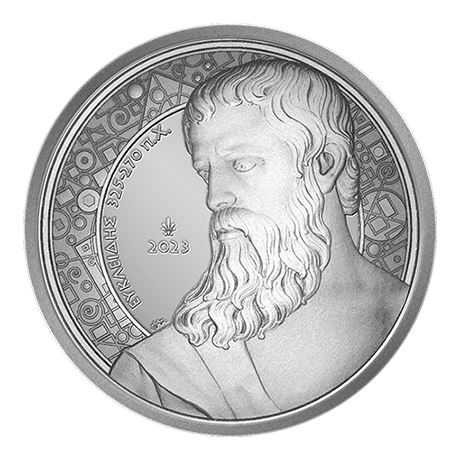 Denomination: €10
Diameter: 40 mm
Weight: 34.10 gr
Edge: plain
Material: silver (Ag) 92.5%
Packaging: coin box with certificate of authenticity
Maximum issue: 1,500 pieces
Minting quality: proof
Coin designed by: G. Stamatopoulos
the automaton of the waitress of Philo – 10€ silver (edition: 2 000 coins)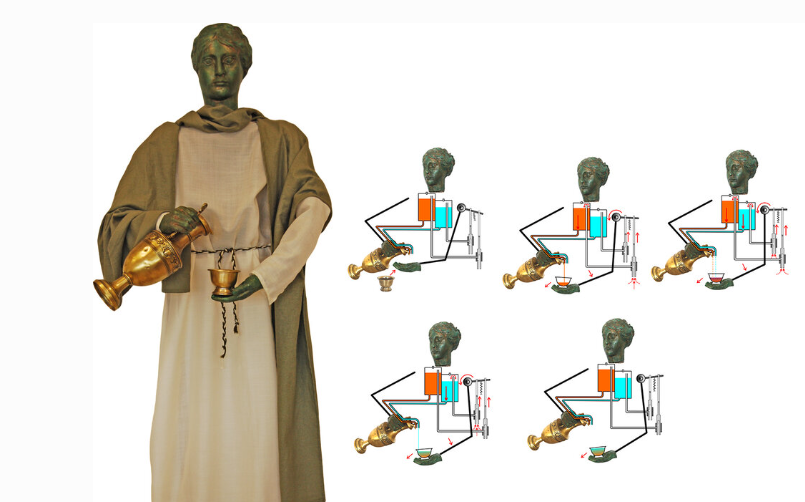 Philo Automaton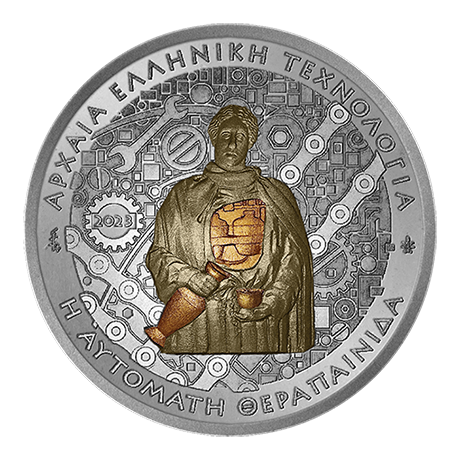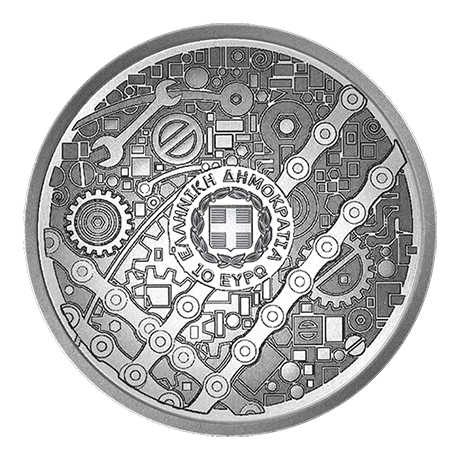 Denomination: €10
Diameter: 40 mm
Weight: 34.10 gr
Edge: plain
Material: silver (Ag) 92.5%
Packaging: coin box with certificate of authenticity
Maximum issue: 2,000 pieces
Minting quality: proof
Coin designed by: G. Stamatopoulos
Antiquity with coins dedicated to the goddess Artemis (100€ gold, mintage: 1,200 coins), to the sacred island of Delos (50€ gold, mintage: 1,500 coins) and to the historical city of Eleusis (6€ silver, mintage: 2,000 coins)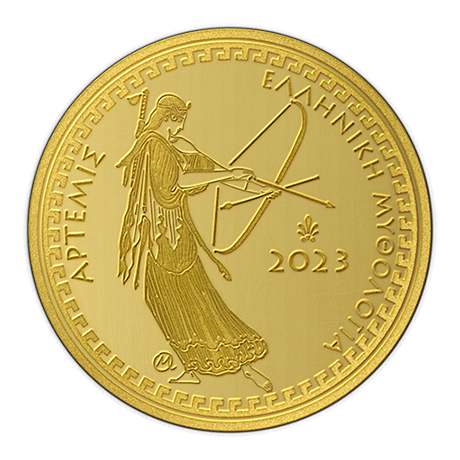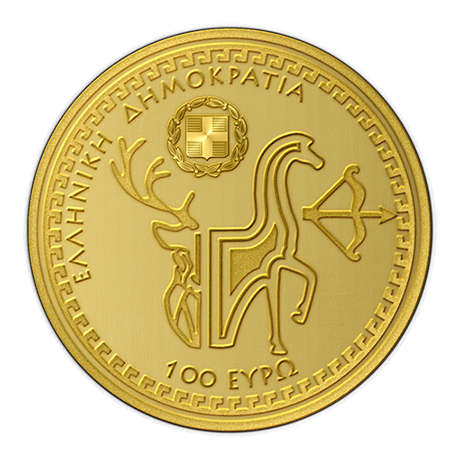 Denomination: €100
Diameter: 17.50 mm
Weight: 3.89 gr
Edge: plain
Material: gold (Au) 99.99%
Packaging: wooden box with certificate of authenticity
Maximum issue: 1,200 pieces
Minting quality: proof
Coin designed by: M. Antonatou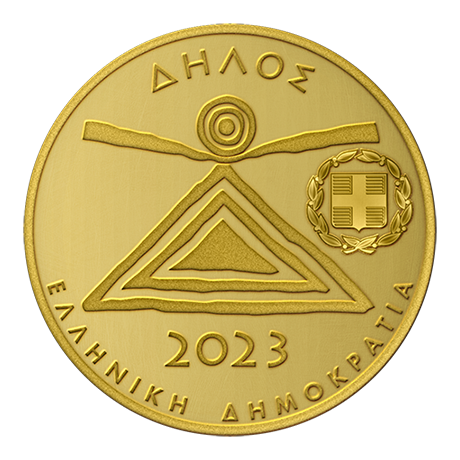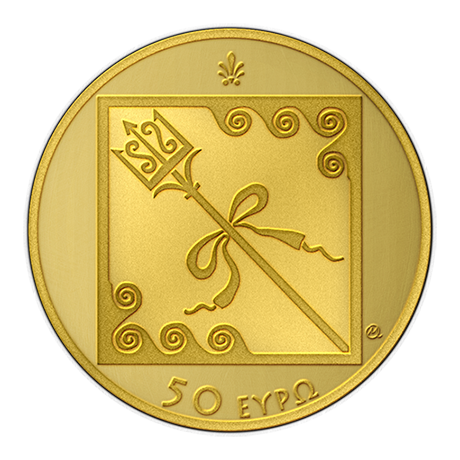 Denomination: €50
Diameter: 14 mm
Weight: 1 gr
Edge: plain
Material: gold (Au) 99.99%
Packaging: wooden box with certificate of authenticity
Maximum issue: 1,500 pieces
Minting quality: proof
Coin designed by: M. Antonatou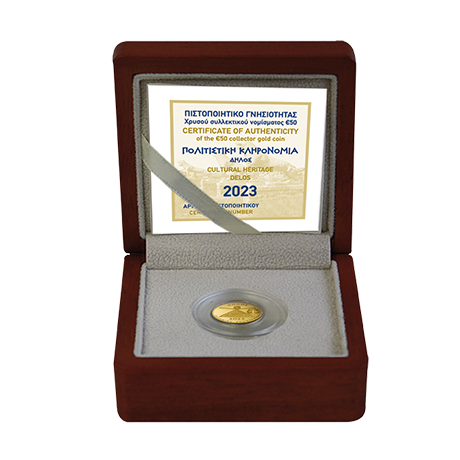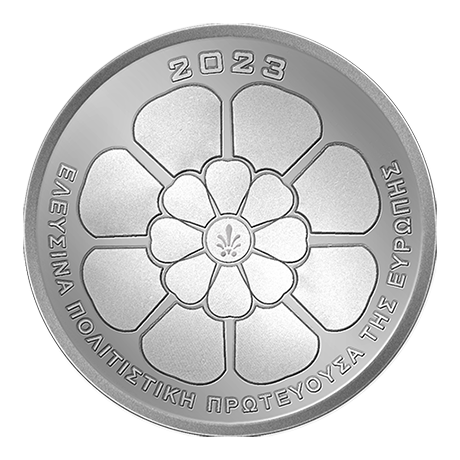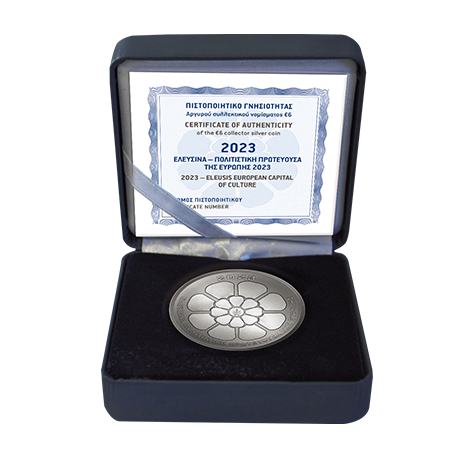 Denomination: €6
Diameter: 28.5 mm
Weight: 10 gr
Edge: plain
Material: silver (Ag) 92,5%
Packaging: coin box with certificate of authenticity
Maximum issue: 2,000 pieces
Minting quality: proof
Coin designed by: M. Antonatou
The Greek endemic plant: Fritillaria Davisii – 5€ silver (mintage: 5 000 pieces)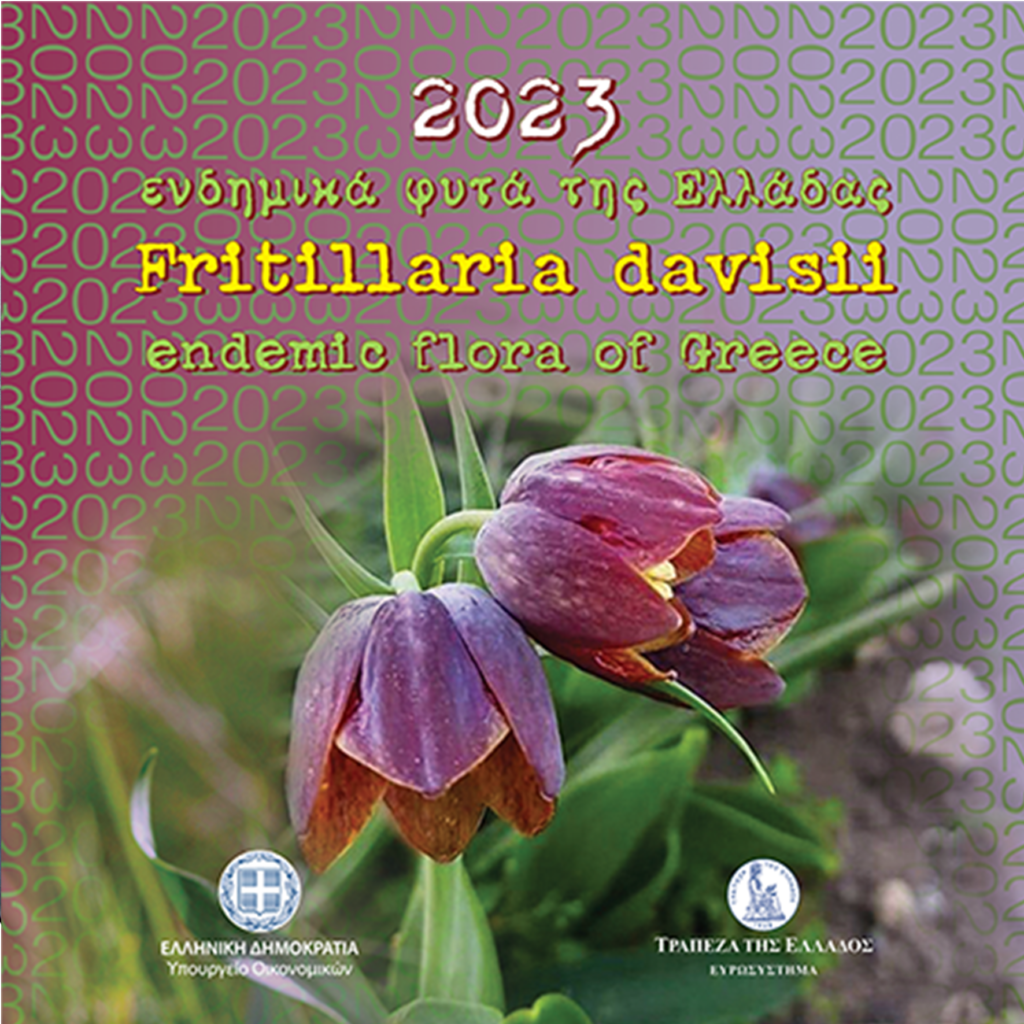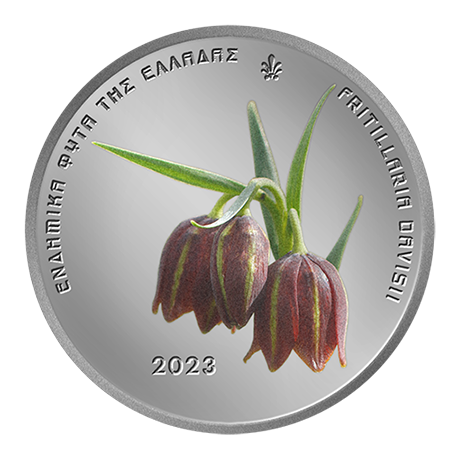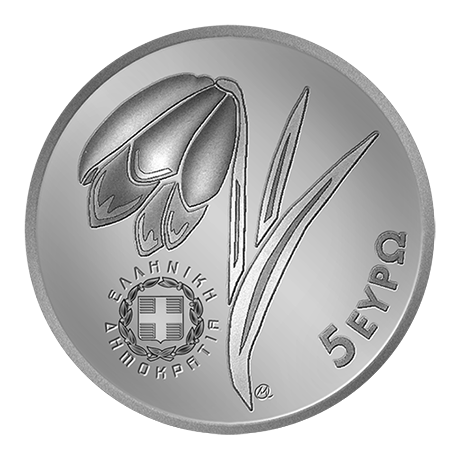 Denomination: €5
Diameter: 31 mm
Weight: 17 gr
Edge: plain
Material: silver (Ag) 33.3%
Packaging: blister pack
Maximum issue: 5,000 pieces
Minting quality: proof like
Coin designed by: M. Antonatou
BU tourism set: NAFPLIO (circulation: 7,500 sets)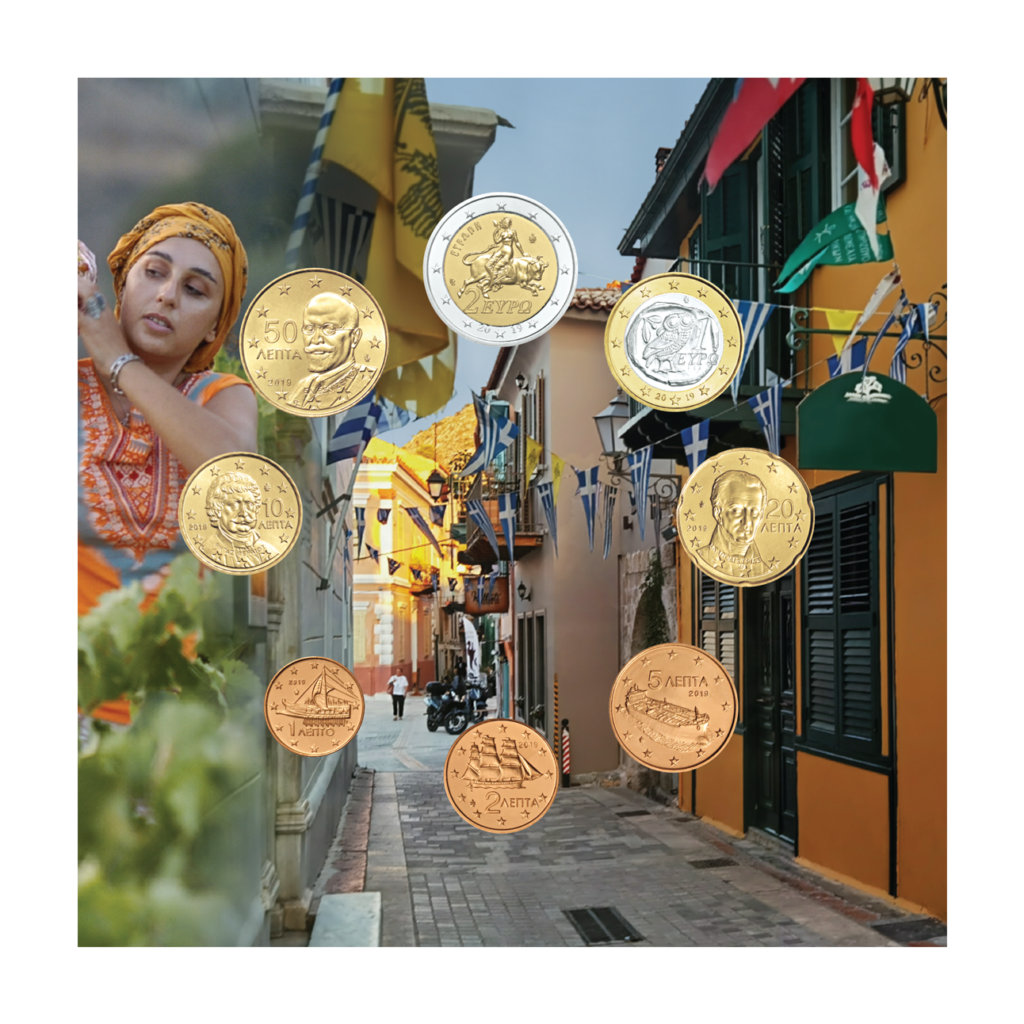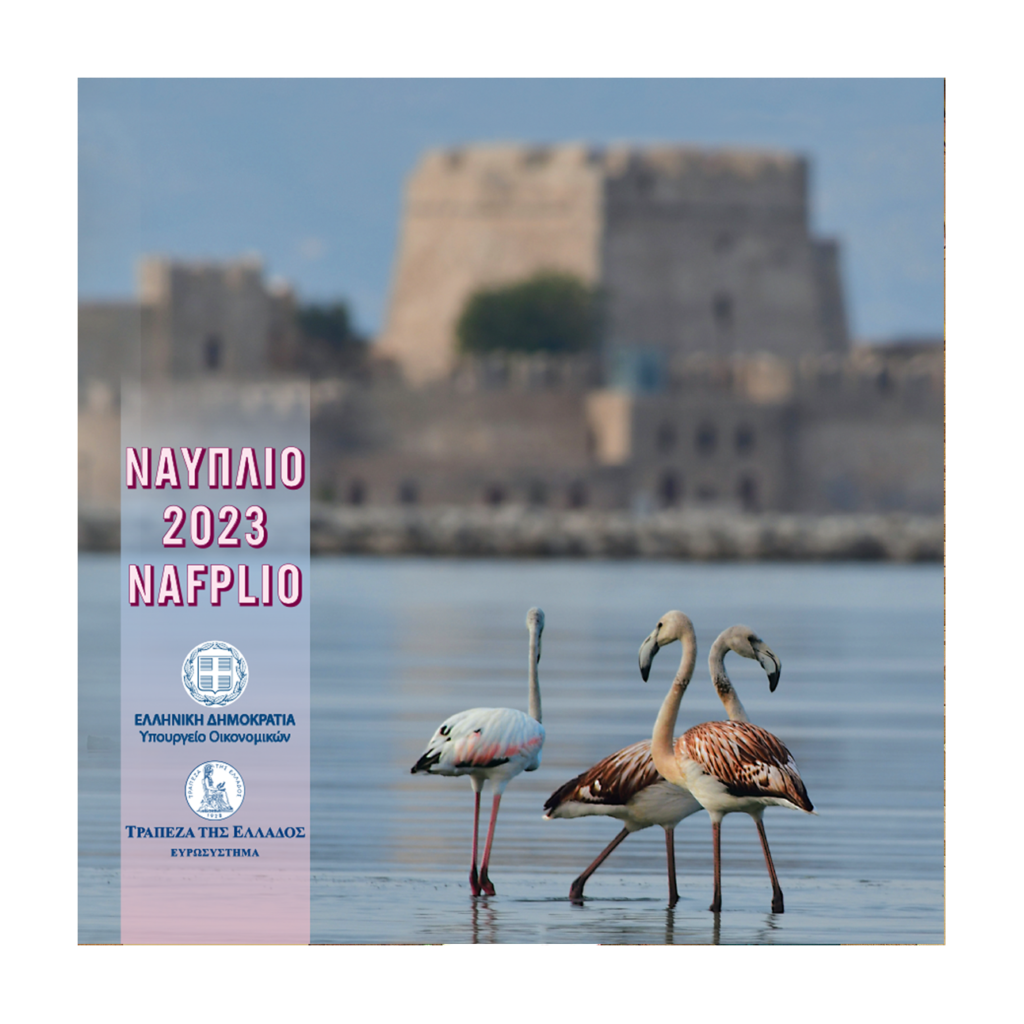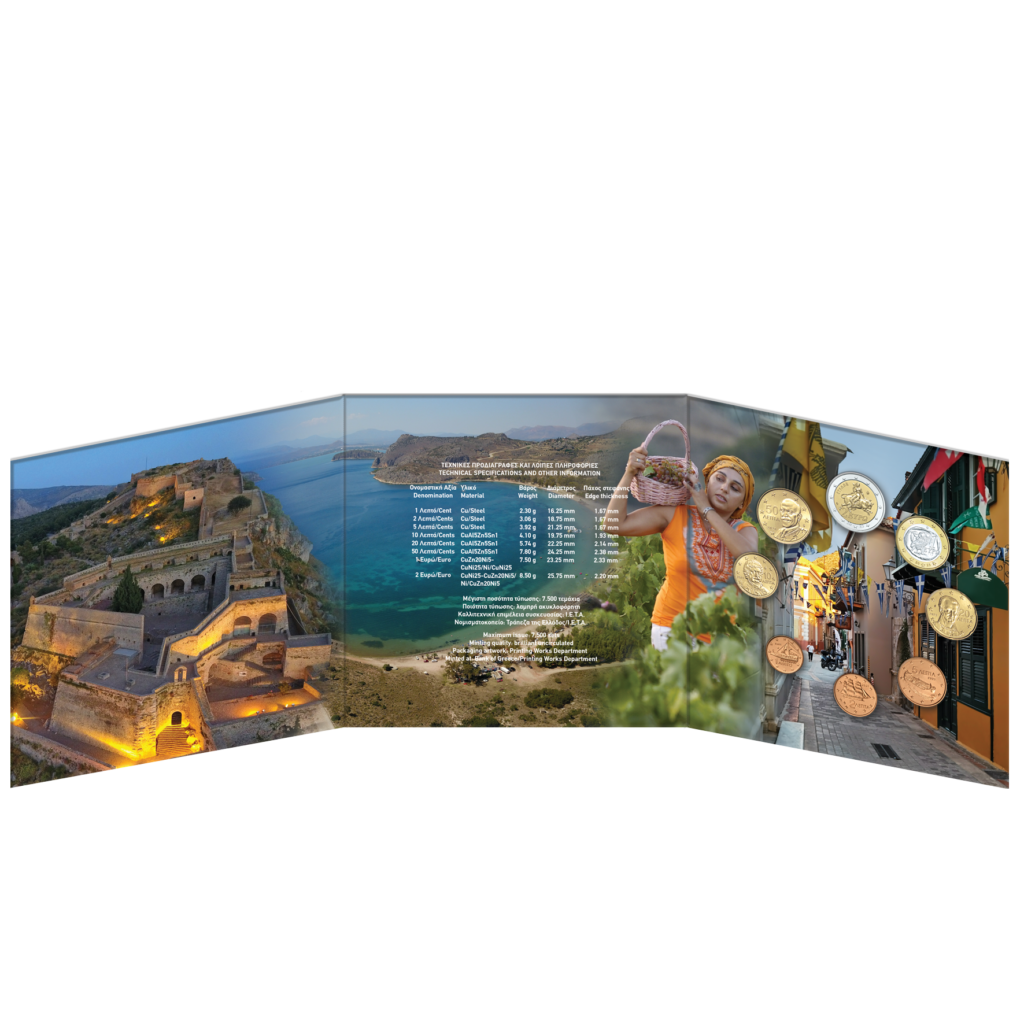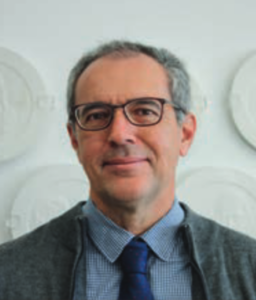 Markos Kontaxopoulos, Greek Mint CEO
Sources: Greek Mint and NUMISMAG