5 dollars maple leaf – photo-luminescent – Royal Canadian Mint
The Royal Canadian Mint issues a new fine silver coin is made up of a bright red maple leaf, a widely recognized symbol of the Canadian national flag. The smaller leaves shine in the natural light; but photo-luminescent (glow-in-the-dark) technology adds a second viewing experience in the dark, where a ring of green-glowing maple leaves surround the red leaf that is at the heart of this proud celebration of Canada.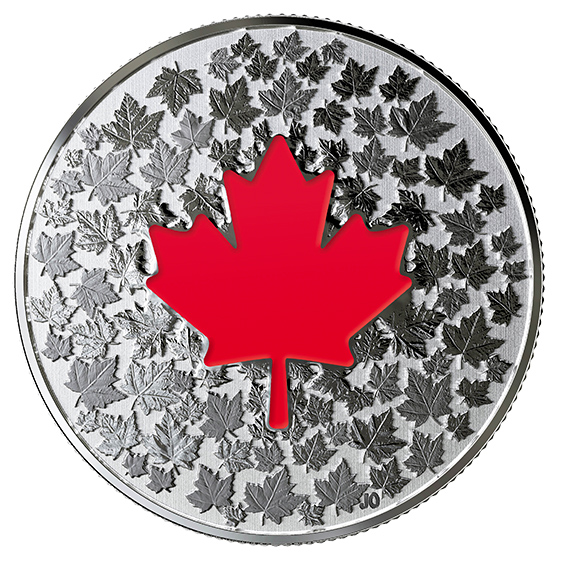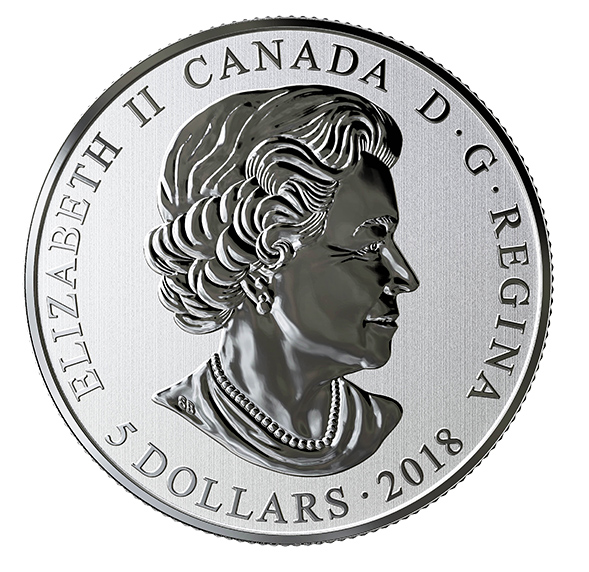 A PROUD CELEBRATION!!
Cette pièce célèbre le Canada avec un symbole qui représente ses habitants et ses réalisations!
A TOUCH OF COLOUR!
Beautiful colour adds a patriotic hue to the most prominent maple leaf, while your coin's specimen finish boosts the brilliant shine of the smaller, finely engraved leaves!
WITH GLOWING HEARTS!
Photo-luminescent (glow-in-the-dark) technology provides a second viewing experience in the dark: a backlit effect highlights the red maple leaf, which is surrounded by several green-glowing leaves!
EVEN YOUR PACKAGING GLOWS IN THE DARK!
Your coin is affixed to a colourful folder that beautifully complements your coin's design!
Caractéristiques particulières
---
Your coin is crafted from 99.99% pure silver and is GST/HST exempt
---
Designed by Canadian artist José Osio
---
The obverse features the effigy of Her Majesty Queen Elizabeth II by Susanna Blunt
---
Weight (g): 7,96
Diameter: (mm) 27
Edge : serrated
Certificate : not serialized
Face value: 5 dollars
Mintage : While supplies last!
Prix : $29,95
---
Other articles
---
The last coin issues of the Royal Canadian Mint – April 2018
---
Sources : Royal Canadian Mint – NUMISMAG©