AN EXCEPTIONAL COIN – THE ALLIANCE OF METAL AND HIGH JEWELRY – The Monnaie de Paris with Boucheron
Each year, the Quai de Conti institution brings together this exceptional know-how and one of the 70 French luxury houses to design a singular collection which combines their respective talents. Among the great names which collaborated with Monnaie de Paris we can find Cartier, Baccarat, Sèvres-Cité de la Céramique, Van Cleef & Arpels and Guy Savoy. This year, Monnaie de Paris and Boucheron are imagining, in an accomplished dialogue between high jewelry and metal coining, a one-kilogram pure gold coin, set with diamonds, which majestically celebrates the alliance of their two heritages.
OO
THE FRENCH EXCELLENCE, AN EXCEPTIONAL SERIES

THE ALLIANCE OF METAL AND HIGH JEWELRY
To give birth to the coins and convey at best the jeweler's universe, Joaquin Jimenez, the Director of Engraving Creation at Monnaie de Paris, immersed himself in Boucheron's history, codes and creations. First, there was drawing work, in collaboration with Claire Choisne, Boucheron's Director of Creations, and her artistic teams. Among the iconic motifs, we find some of the jeweler's favorite symbols. On the one-kilogram gold coin, we recognize place Vendôme, where Boucheron settled as a pioneer, and which since became the heart of jeweler's craft; the Vendôme Column, which takes center stage and is featured on the Maison's logo; ivy, Boucheron's constant source of inspiration since he started; and finally Parisian cobblestones, represented by the iconic motif of the Parisian crosswalk.
The one-kilogram gold coin required the realization of a die. Hand-adjusted at length by the master-engraver, it gave rise to the first volume sketch. Revealing the precision and know-how of this arts trade, the modern and audacious setting made it possible to imagine a subtle game of light which was going to be set up thanks to the ingenious assembly and seaming of the diamonds. This coin with its meticulous edges responds to the same hand-crafted principles as high jewelry: the time and importance of manual gesture prevail and guarantee the excellence of the final rendering. Besides the one-kilogram gold coin, other items includi.
OO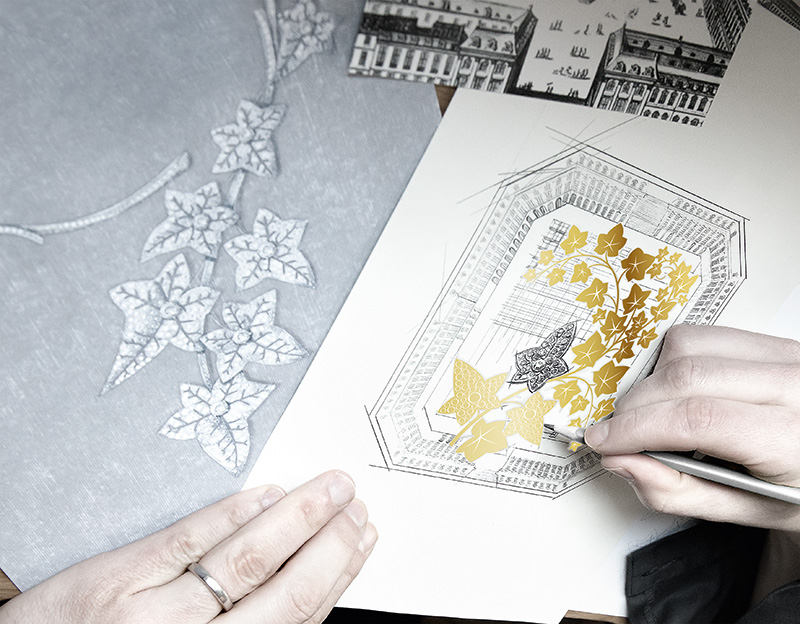 OO
OO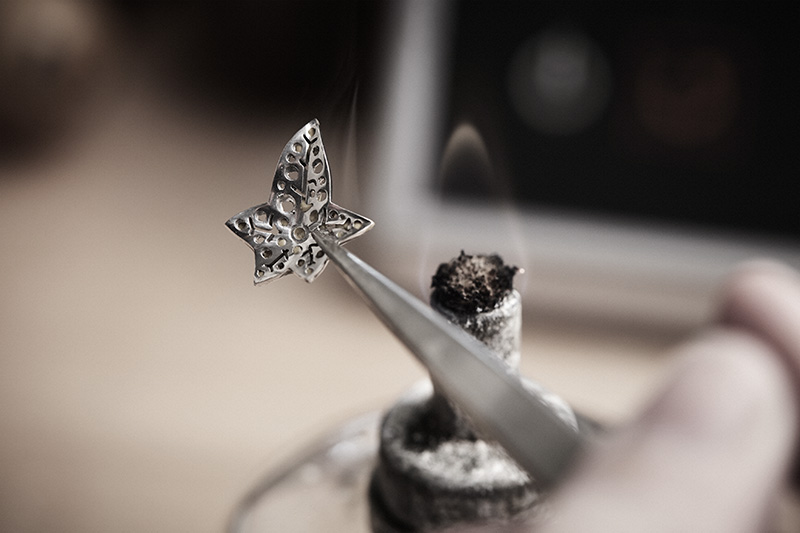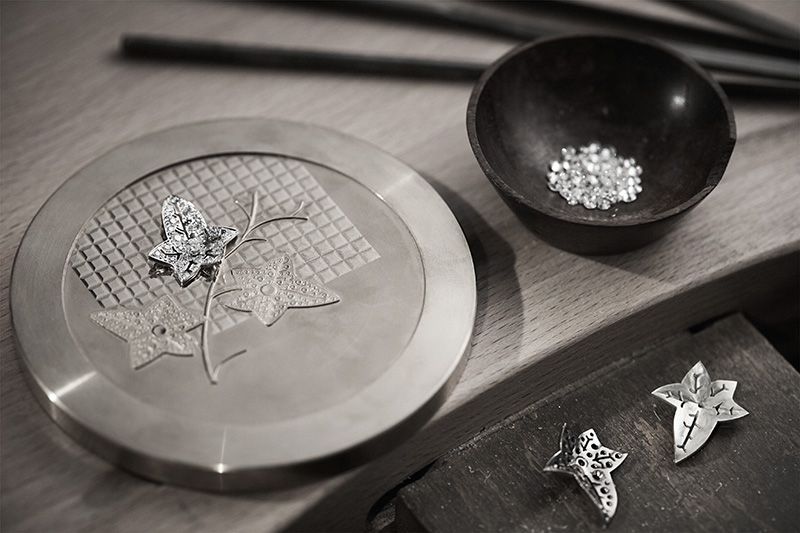 OO
AN EXCEPTIONAL COIN
This one-kilogram gold coin, whose octagonal shape evokes the shape of an emerald-cut stone, in tribute to Place Vendôme, will only have 11 copies minted. Entirely hand-engraved, it meticulously multiplies the details with a plunging view of Place Vendôme and its gorgeous private mansions, designed by architect Mansart, as its motif on the coin's reverse. This perfect geometry of the buildings delimiting the rim of the coin is combined with the finesse of the vegetable. On the squared square with its crosswalk paving, the ivy is blossoming, blazing, making way for a leave paved with 31 white diamonds, as if nature was taking back its rights on the city. On the obverse, we find the Vendôme Column, also poetically submerged by ivy, and behind it Maison Boucheron's iconic building is lying ahead. A true piece of art with its magnificent ornamentation, this exceptional coin is presented in a sumptuous emerald-cut case which combines lacquer, smooth leather, metal and glass, paying tribute to the Maison's elegance. This precious set, enabling the exposure of the coin while protecting it, hides a drawer in which a pair of gloves, a magnifying glass, a brochure and an authenticity certificate were slipped.
OO
This exceptional piece is offered with all the accessories needed to delicately observe its tiniest details.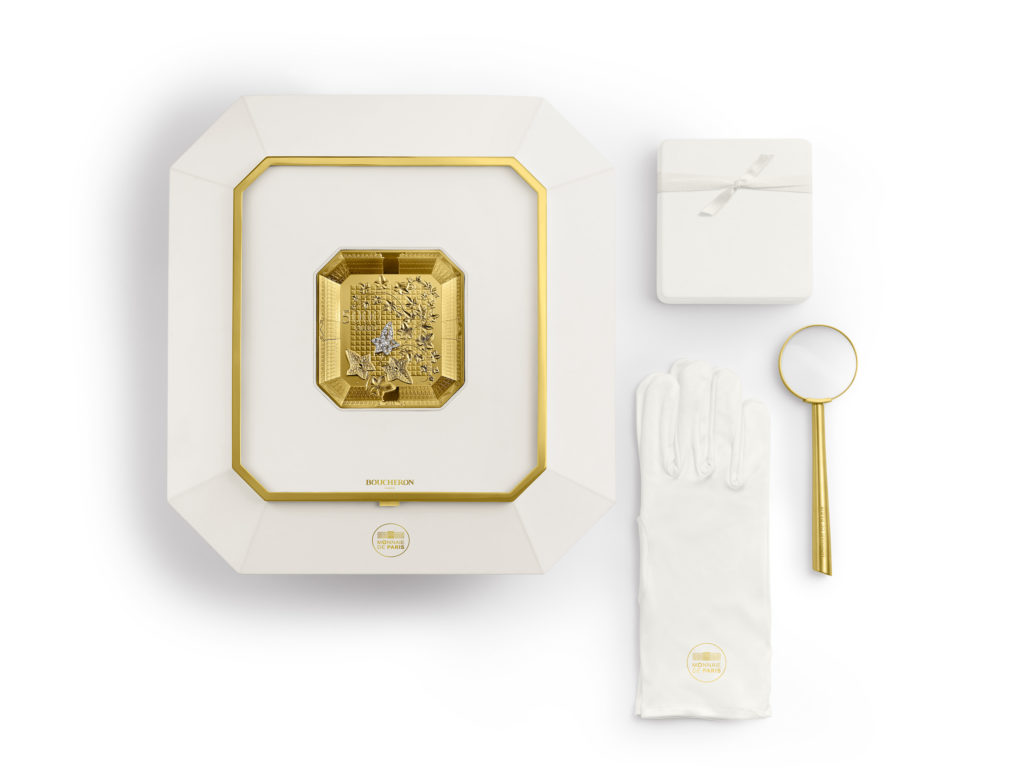 The made-to-measure case imagined for this collector's coin is both a protective and display box.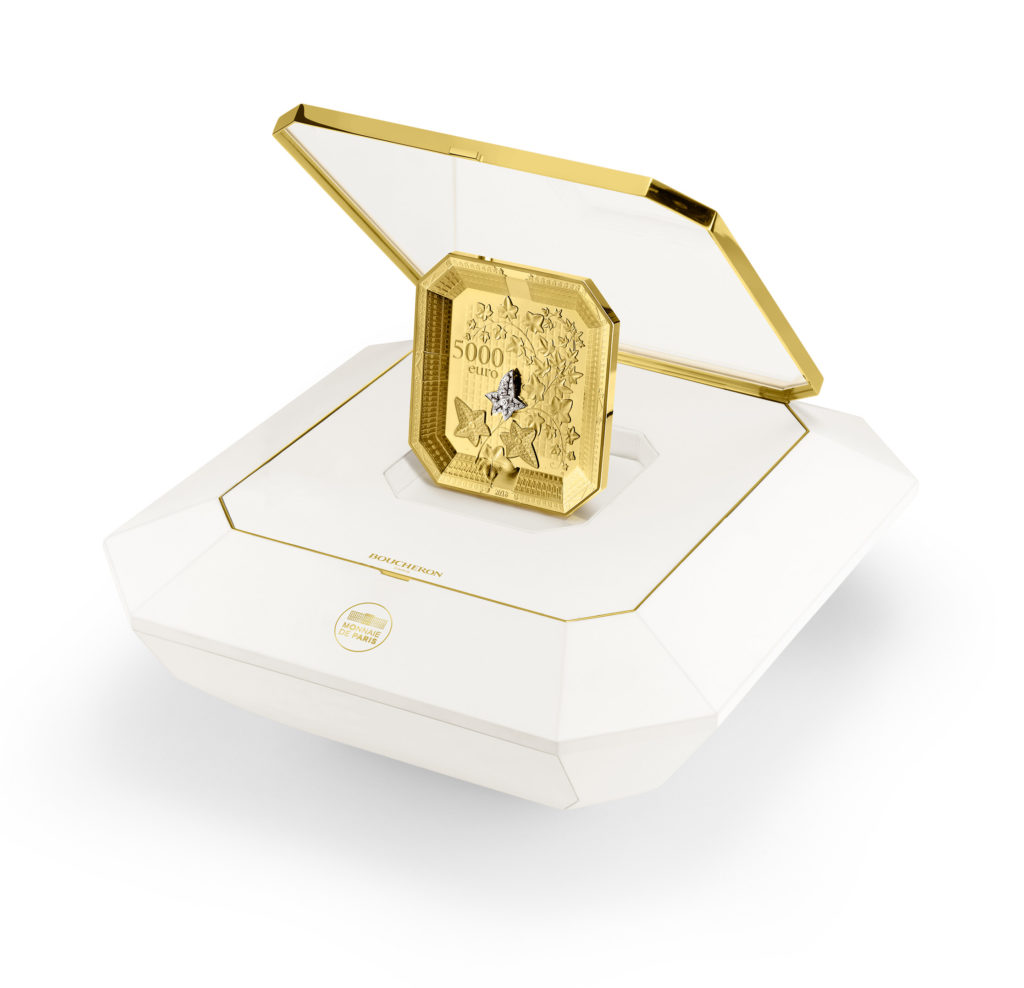 ---
€ 5000 GOLD – One kilo pure gold Proof
89 x 95 mm / 1000 g – Mintage 11
---
OO
THE EXCEPTIONAL COLLECTION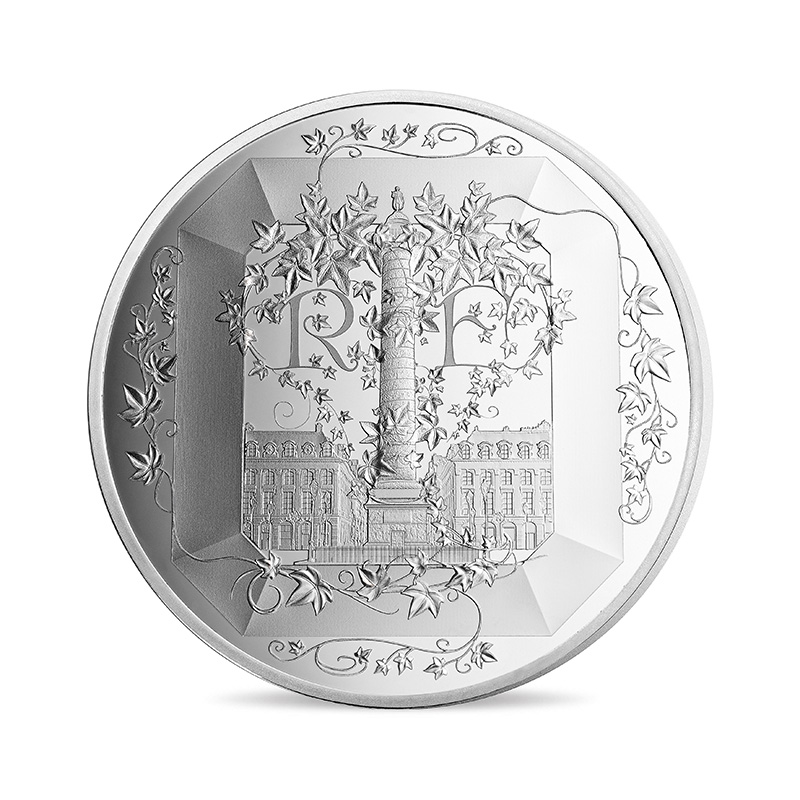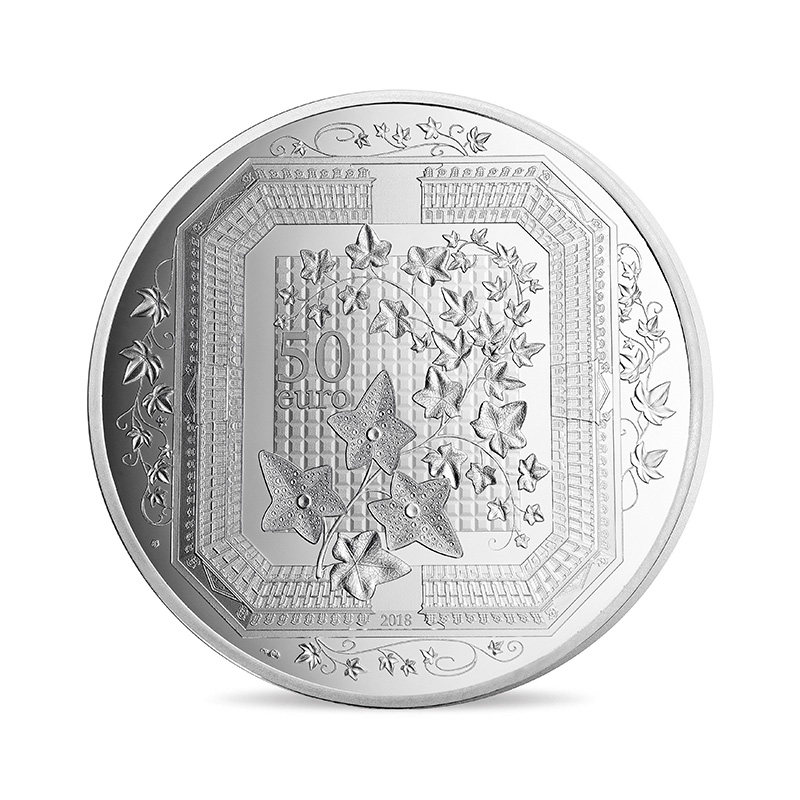 ---
€ 50 SILVER – 5 oz Silver Proof – Silver 950
Į 50 mm / 163,8 g – Mintage 500
---
oo
---
€ 10 SILVER Proof – Silver 900
48 x 42 mm / 22,2 g – Mintage 5.000
---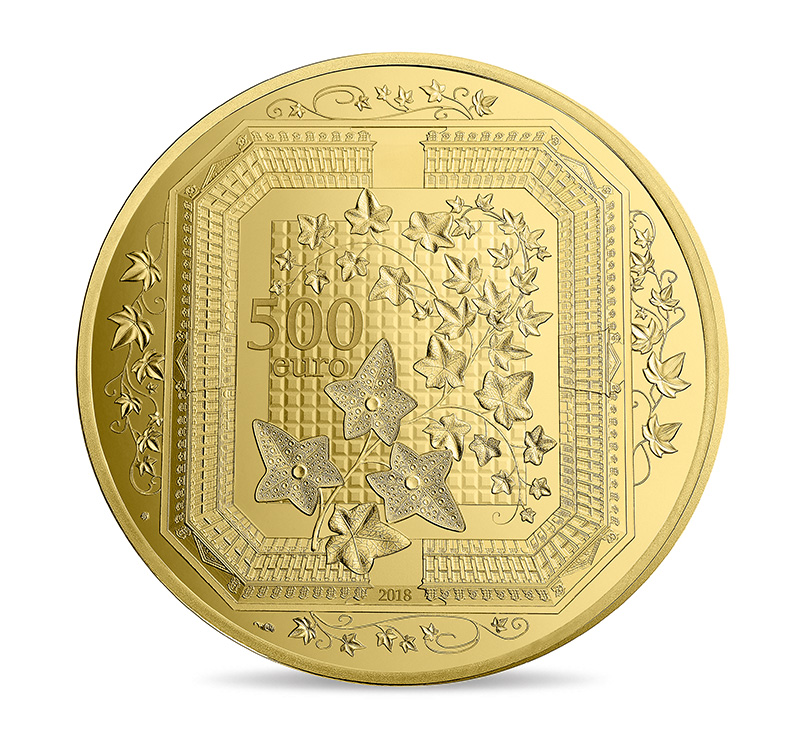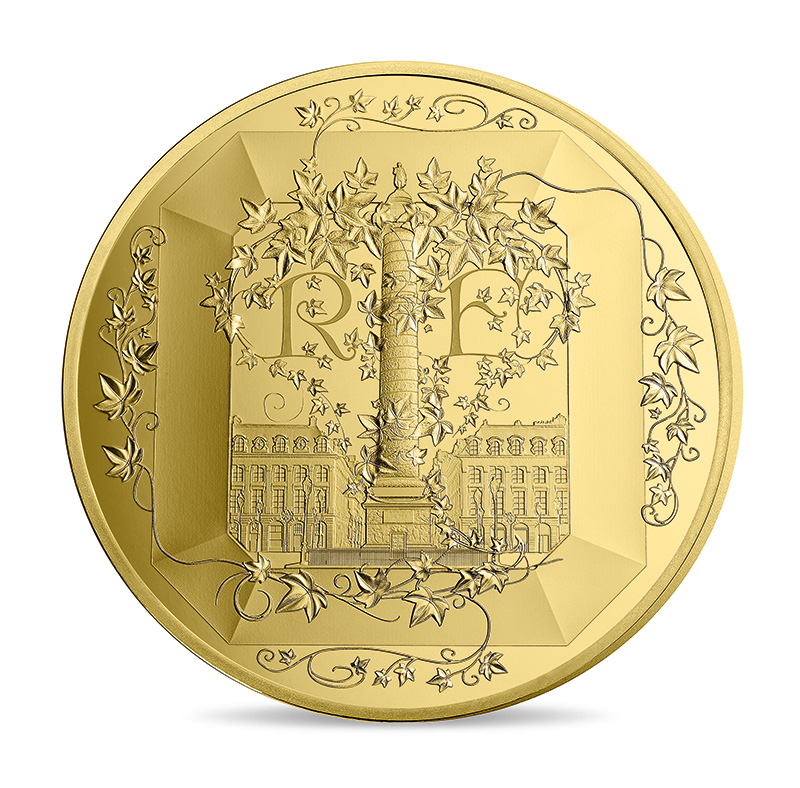 ---
€ 50 GOLD – 1/4 oz Proof – Au 999
Į 22 mm / 7,78 g – Mintage 1.000
---
oo
---
€ 500 GOLD – 5 oz Proof – Au 999
Į 50 mm / 155,5 g – Mintage 99
---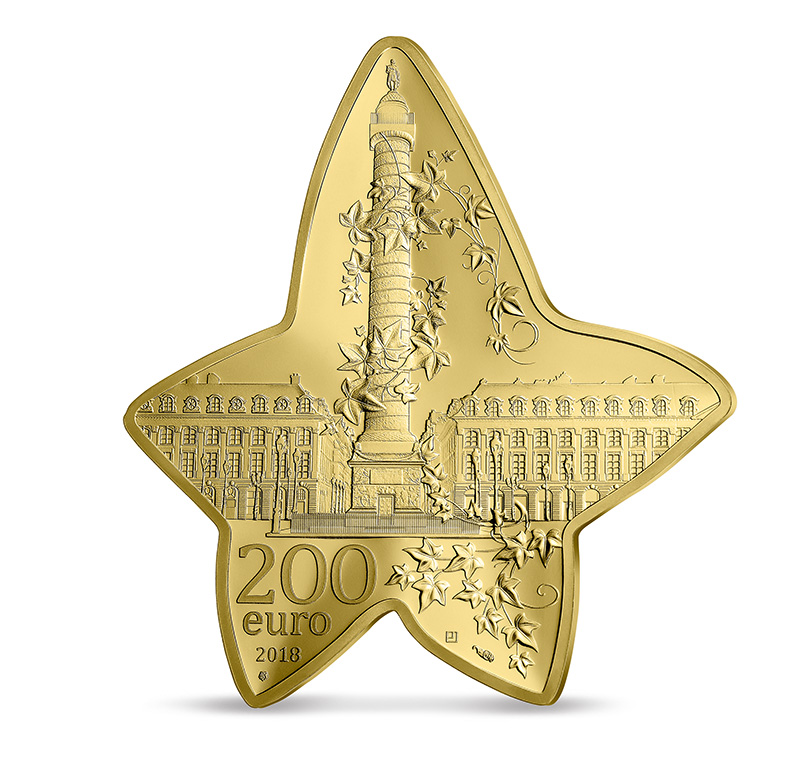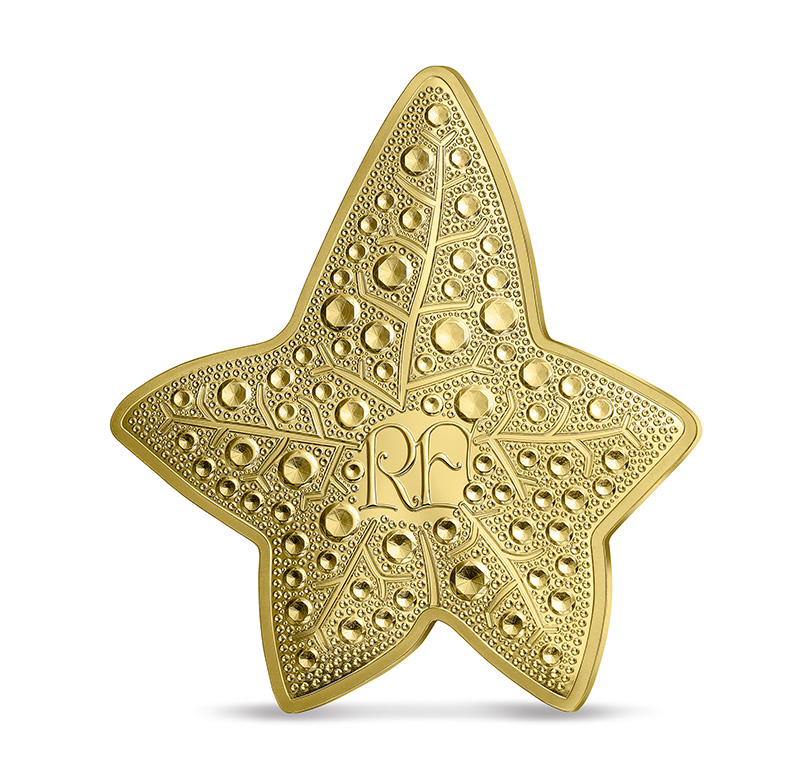 ---
€ 200 GOLD – 1 oz Proof – Au 999
48 x 42 mm / 31,104 g – Mintage 500
---
OOO
MAISON BOUCHERON
Boucheron, first jeweler to have settled Place Vendôme, was founded in 1858 by Frédéric Boucheron. This internationally renowned Maison, rewarded several times for its visionnary spirit, jeweler of royalty and artists, was built up through four generations of direct descendants. With its emblematic pieces, it crossed the centuries, imposing its signature through a free, audacious and timeless style, inventing throughout the years tomorrow's classics. Free jeweler, Boucheron embodies French excellence. Recognized as the most contemporary jeweler, the Maison which celebrates its 160th anniversary this year, combines the exceptional quality of its stones, from the most precious to the most unexpected, and a technical mastery which makes it possible to reinvent itself permanently. Exalting the most noble materials, inventing its own techniques, Boucheron has turned its passion for creation and innovation into its raison d'être.
OO
Sources : Monnaie de Paris – Photos : Jean-Marc Martin – Francois Jorez – NUMISMAG©