Young professional of the month: Interview of ELLIE BOOT-SPINK AND SON
We told several times of necessity of a generation renewal in collectors population. But don't forget this will be also possible only if young professionals join the coin industry to dynamise and adapt numismatics to a new young audience.
NUMISMAG is glad to introduce you Ellie BOOT, a young coin specialist and auctioneer of SPINK and SON LONDON that responds to this definition of 2.0 coin industry actor.
---
NUMISMAG: Ellie, what is your initial school or university training?
ELLIE BOOT: Having been interested in history from a young age, I decided to study an undergraduate degree in history at the University of Southampton in Southern England. It was here that even though specializing in twentieth century refugee movements, I developed the research skills that have proved invaluable to a career in numismatics, especially when identifying and finding provenances for ancient coins. Additionally, I studied for a year in Adelaide, South Australia delving into the country's unique aboriginal history and backpacking across the country.
Ellie BOOT, young coin specialist and auctioneer at SPINK and SON LONDON
NUMISMAG: How did you come to numismatics?
ELLIE BOOT: I was introduced to the field of numismatics at a young age having visited and worked at an antiques stall at the Portobello Road Antiques market in Notting Hill, London which has been in my family for three generations. Coins where among the items we sold which ignited my interest in numismatics and equally allowed me to meet people from all walks of life in a similarly face paced, diverse and unique working environment.
NUMISMAG: How did you get hired by SPINK AND SON?
ELLIE BOOT: I came to get hired by Spink and Son through a chance encounter with one of my now colleagues who visited my family home to view a coin collection owned by my late grandfather. After hearing extraordinary stories from this individual's working life I became excited by the prospect of working at an auction house and was subsequently inspired to apply for an internship in Spink's coin department- the rest is now history!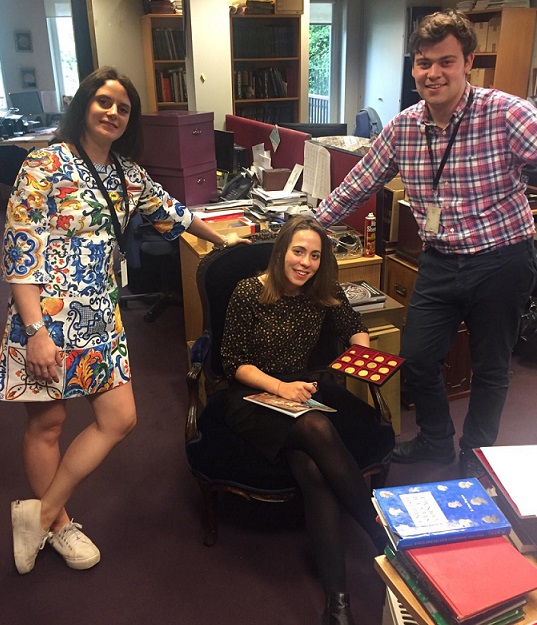 Ellie and her colleagues at the office
NUMISMAG: What are you in charge with in this auctioneer company?
ELLIE BOOT: I have a wide range of responsibilities at Spink from providing valuations for coins brought to our showroom to cataloguing single owner collections and even taking to the rostrum to auction off lots. I also enjoy representing Spink at international numismatic fairs, promoting upcoming auctions and meeting with clients and collectors. Over the past year I have begun to specialize in Roman republican and imperial coins taking the lead in cataloguing the Michael Kelly collection and the Dr Eric Miller collection part III of ancient coins.
SPINK LONDON head office
NUMISMAG: You are in charge of an auction "Coins and Commemorative Medals: Summer e-Auction", starting June the 12th. How much time did it take you to settle down such an auction?
ELLIE BOOT: The cataloguing for this sale took about three weeks, although the whole process starts several weeks prior when consigning coins and explaining to vendors that often the e-auction platform is the best way to sale their particular collections. Once I finish cataloguing, I am then engrossed for another two weeks ordering lots, organizing photography, collaborating with our marketing department and personally emailing clients to bring their attention to coins that meet their collecting interests.
NUMISMAG: What kind of buyers do you have in this kind of auction? UK or international buyers (chinese collectors?)? Coin dealers, banks, museums or private collectors?
ELLIE BOOT: Our auctions attract a huge range of buyers from overseas investors to passionate collectors who have spent decades building up their collecting areas. Having a large world section in each auction, also means that alongside our loyal British and ancient coin collectors, Spink attracts buyers from every country, in particular China, India and America.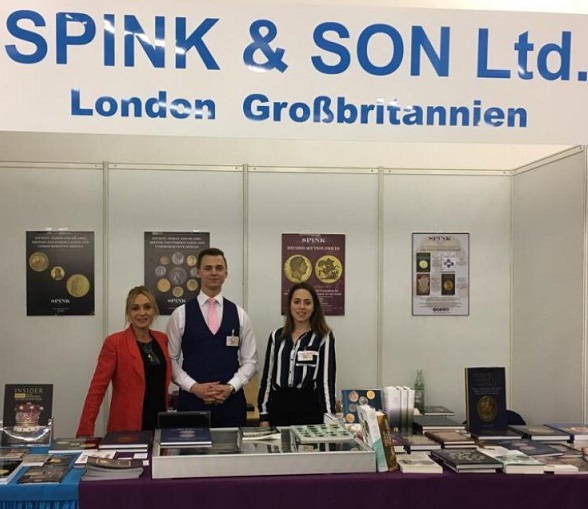 Ellie BOOT at Numismata coinshow in MUNICH
NUMISMAG: What's the average budget of a bidder in this kind of auction?
ELLIE BOOT: An average budget doesn't exist for an auction, it depends entirely on the property we have which is part of the excitement as if a particular lot catches the attention of several bidders prices can be unprecedented. Nevertheless, our auctions often include a wide range of lot estimates from tens of thousands to lots under £100, therefore our auctions are accessible for most budgets.
What are the different steps in organizing an auction at SPINK AND SON?
ELLIE BOOT: Organising one of Spink's major printed catalogue auctions takes similar steps to those detailed in the preparation of an e-Auction, although on a much larger scale and involving several more specialist. The main difference is my involvement in catalogue design and distribution as well as the physical process of auctioneering.
NUMISMAG: What is or are the highlight(s) of this auction?
ELLIE BOOT: Upcoming auction highlights include our Coinex sales on the 24th and 25th September which will feature a single owner's collection of over 200 highly desirable milled crowns and half-crowns and a standalone Indian and Islamic section. In coincidence with this sale, I am also excited to announce the Waterbird collection of choice rarities that includes an Edward VIII Proof penny which is only the third example made available to commerce.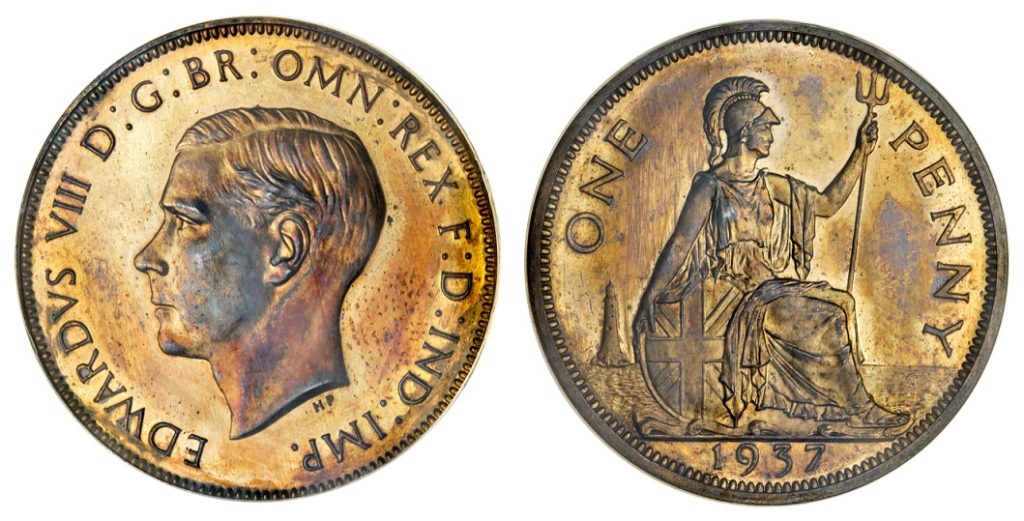 Very rare 1937 Edward VIII Proof penny
NUMISMAG:  Are you yourself a coin/medal/banknote collector?
ELLIE BOOT: Having been spoiled by the immense quality and rarity of coins I handle daily at Spink, I have decided not to develop a coin collection myself as it would pale in significance to the collections I experience. However, I do enjoy collecting all the catalogues I have played a part in producing and they are soon requiring their own bookshelf in my home.
Ellie BOOT and Greg EDMUND presenting Dr Erik MILLER collection
Sources: SPINK and SON, Ellie BOOT and NUMISMAG.