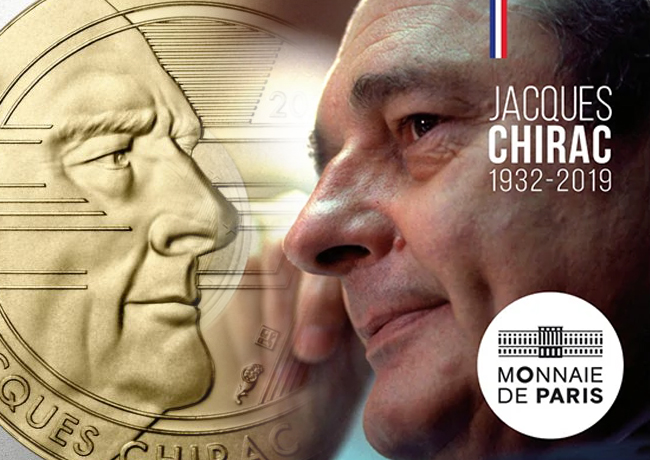 2022 french €2 dedicated to head of State Jacques CHIRAC and euro changeover
The Monnaie de Paris (french mint) put online the first visual of the next €2 commemorative coin 2022 dedicated to Jacques CHIRAC and the twenty years of the changeover to the euro.
It will be available very soon in two versions for collectors, BU and PROOF, at the Monnaie de Paris (for the PROOF version, not before 02/15/2022 according to the Monnaie de Paris services).
The design features a solemn profile of President Jacques Chirac looking toward the future. He is surrounded by several symbols representing his action: a symbol of the euro, sign of his involvement in the introduction of the Euro and his European spirit and a French flag represented in heraldic colors, itself embellished with the RF, highlighting his presidency of the Republic. His dates and his name are inserted in the Euro logo. The mintmark as well as the yearmark come to be inserted in the drawing.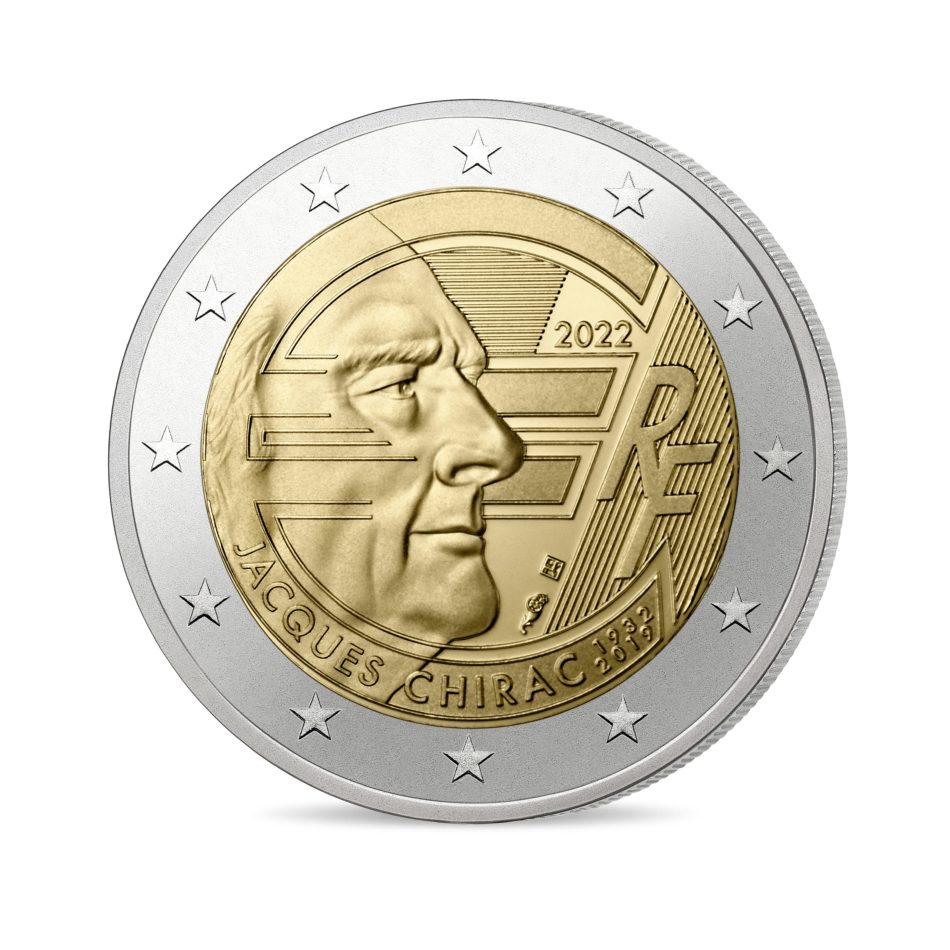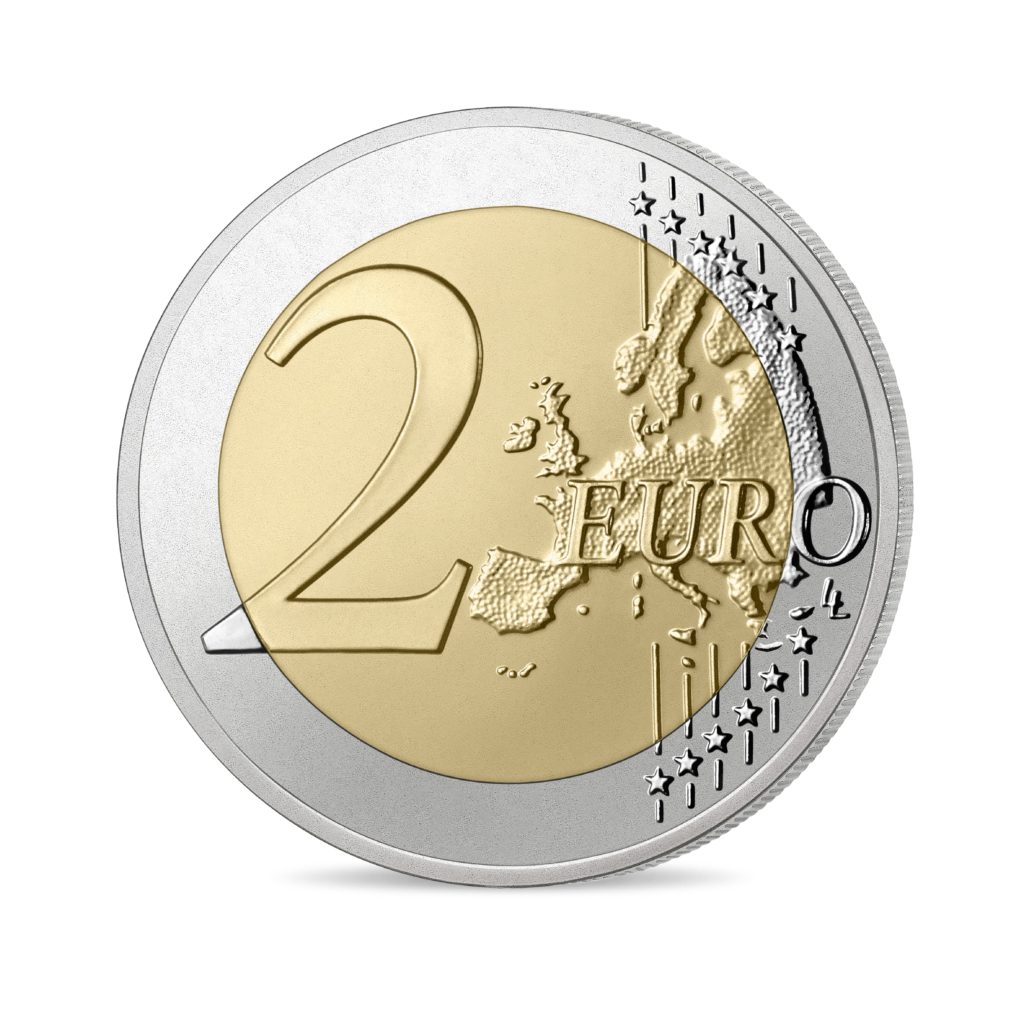 Mintages: 
BU: 10 000 coincards
PROOF: 10 000 coffrets
Circulation: 9 000 000 coins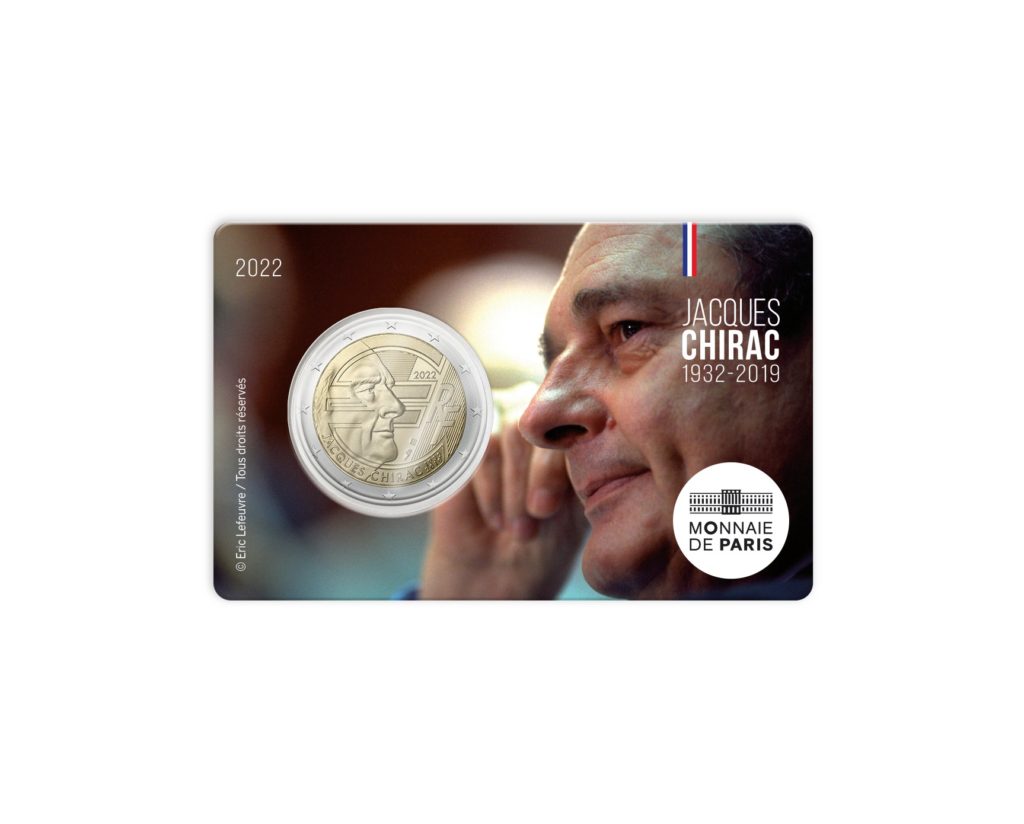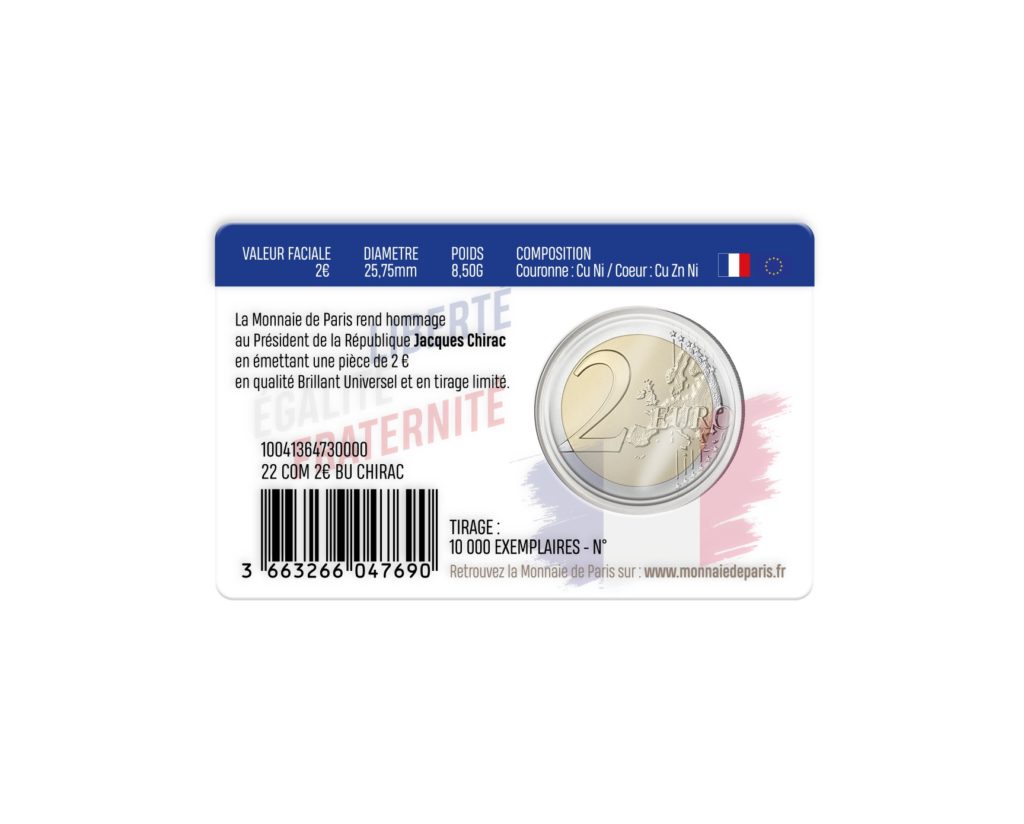 €2 BU Coincard  2022 – Jacque CHIRAC and euro changeover
---
Jacques CHIRAC life
---
Born on November 29, 1932 in the 5th arrondissement of Paris to parents from Correze, Jacques Chirac had one of the most exceptional political careers.
He entered Sciences Po Paris in 1951, then the École Nationale d'Administration (ENA) in 1954. In 1956, he was called up for his military service, which interrupted his studies. Jacques Chirac then volunteered to go to Algeria where he was wounded and promoted to lieutenant at the end of 1957. Initially supporting French Algeria, Jacques Chirac rallied to Gaullism in 1958. He then resumed his studies at the ENA where he graduated in 1959.
His career began at the Cour des Comptes where he remained for several years. It is then in December 1962
that Jacques Chirac made his debut in politics by joining the cabinet of Prime Minister Georges Pompidou.
A Corrézien at heart, he set out to conquer his native region and was elected town councillor in
1965, then won the legislative elections in 1967.
The same year, Jacques Chirac joined the government of Georges Pompidou. He was first Secretary of State for Employment and then Secretary of State for the Economy and Finance. Once Georges Pompidou was elected President of the Republic, he appointed Jacques Chirac Minister of Agriculture in 1971. In 1974, Jacques Chirac supported Valéry Giscard D'Estaing who, once elected President, appointed him Prime Minister.
Jacques Chirac entered the National Assembly and was elected Deputy in November 1976.
At the same time, he founded the Rassemblement pour la République (RPR) party. Subsequently, Jacques Chirac became the first Mayor of Paris elected by universal suffrage in 1977.
In 1981, he announced his candidacy for the presidential election but lost to François Mitterrand. In 1986, Jacques Chirac was appointed Prime Minister of President Mitterrand. This was the first cohabitation in the history of the Fifth Republic.
In 1995, Jacques Chirac ran again for the presidential election and was elected. He then appointed Alain Juppé as Prime Minister but decided to dissolve the National Assembly in 1997 following massive opposition to the pension reform in the public sector. This was the second cohabitation of the Fifth Republic as Lionel Jospin became Prime Minister.
In 2002, Jacques Chirac was widely re-elected against Jean-Marie Le Pen. In 2007, Jacques Chirac decided not to run again and devoted himself to his foundation created in 2008.
In his private life, Jacques Chirac married Bernadette Chodron de Courcel in 1956, whom he met on the benches of Sciences Po. From this union two daughters were born: Laurence in 1958 and Claude in 1962. He died on September 26, 2019 at the age of 86.
Sources: Monnaie de Paris (french mint) and NUMISMAG.