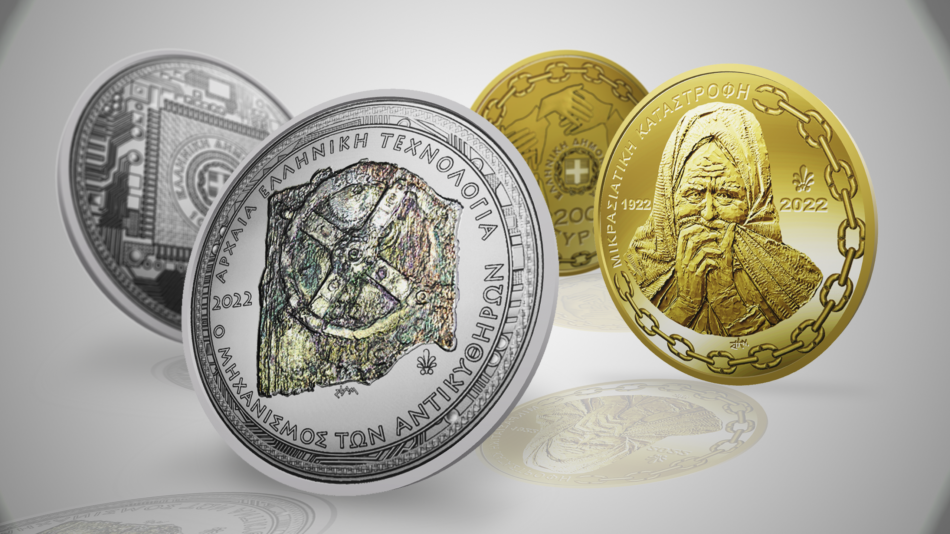 2022 greek numismatic program
The flagship of the Greek 2021 monetary program was the special commemorative coin series for the 200th anniversary of the Greek revolution, implemented by the IETA (Greek Mint, Department of Bank of Greece) on behalf of the "Greece 2021" Committee.
However, as the Greek revolution lasted almost a decade, in the coming years we will have many opportunities to commemorate important anniversaries of the Greek national revival.
The Greek 2022 monetary program includes three subjects related to the Greek revolution:
a silver coin for the 200th anniversary of the Chios massacre, which was immortalized in the painting of the same name by Eugene Delacroix
a commemorative €2 circulation coin on the theme of the 200th anniversary of the first Greek Constitution, adopted in January 1822 at the first National Assembly of the rebel Greeks
a silver coin dedicated to Lord Byron, the most characteristic figure of Philhellenism, with which we start our new series on the Philhellenics, who made a huge contribution to the struggle for independence.
Two other important monetary issues of the Greek monetary program 2022 are the following:
the enigmatic Antikythera Mechanism, which inaugurates the new series on ancient Greek technology
the 100 years since the catastrophe of Asia Minor, which led to the uprooting of Hellenism from Asia Minor.
The 2022 money program will also continue older popular series, with the following themes:
Ares, (Gods of Olympus series),
Xenophon, (Greek Historians series),
Chios (Greek tourism series),
Ancient Theater of Epidaurus, (Cultural Heritage series),
Paeonia Parnassica, endemic wildflower of Parnassus and Helicon (series endemic plants of Greece), and
2022 – International Year of Artisanal Fisheries and Aquaculture, as part of the tradition of commemorating international years proclaimed by the UN
Finally, we must not forget the commemorative coin of 2 euros dedicated to the 35th anniversary of the student exchange program "Erasmus", an anniversary celebrated throughout the euro zone.
Sources: Banque de Grèce and NUMISMAG