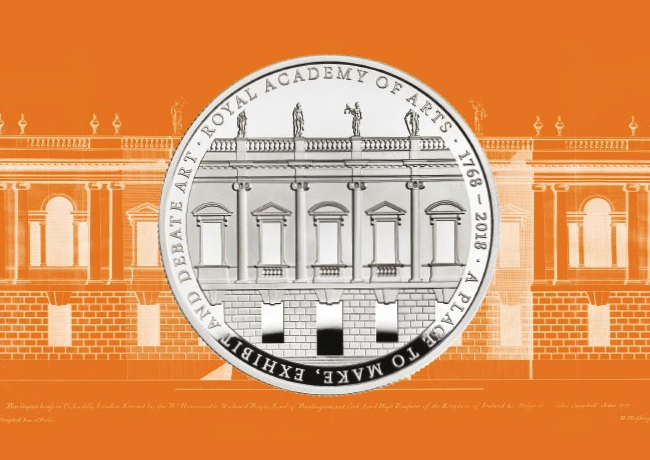 Commemorative 5 pounds proof silver coin marking 250th anniversary of Royal Academy
The Royal Mint is to mark the 250th anniversary of the Royal Academy of Arts with the launch of a limited mintage commemorative £5 silver proof coin featuring an architectural detail of Burlington House. The coin design, which depicts an historical view of the building, has been created from an original engraving by Sir David Chipperfield RA, the architect who is transforming the RA by linking Burlington House and Burlington Gardens which will open in May this year.
In describing his anniversary coin design, developed with graphic designer John Morgan, Sir David Chipperfield said that it was based on "… an architectural detail of the main facade of Burlington House taken from an engraving in the third volume of Vitruvius Britannicus, the influential architectural treatise by Colen Campbell.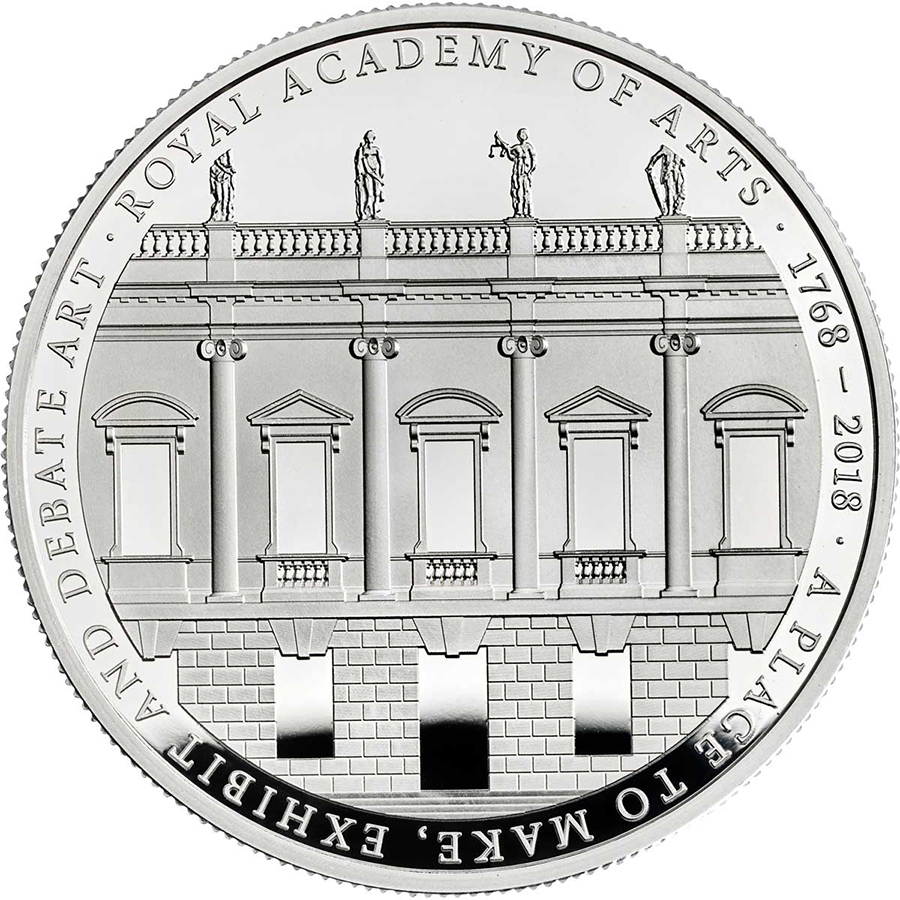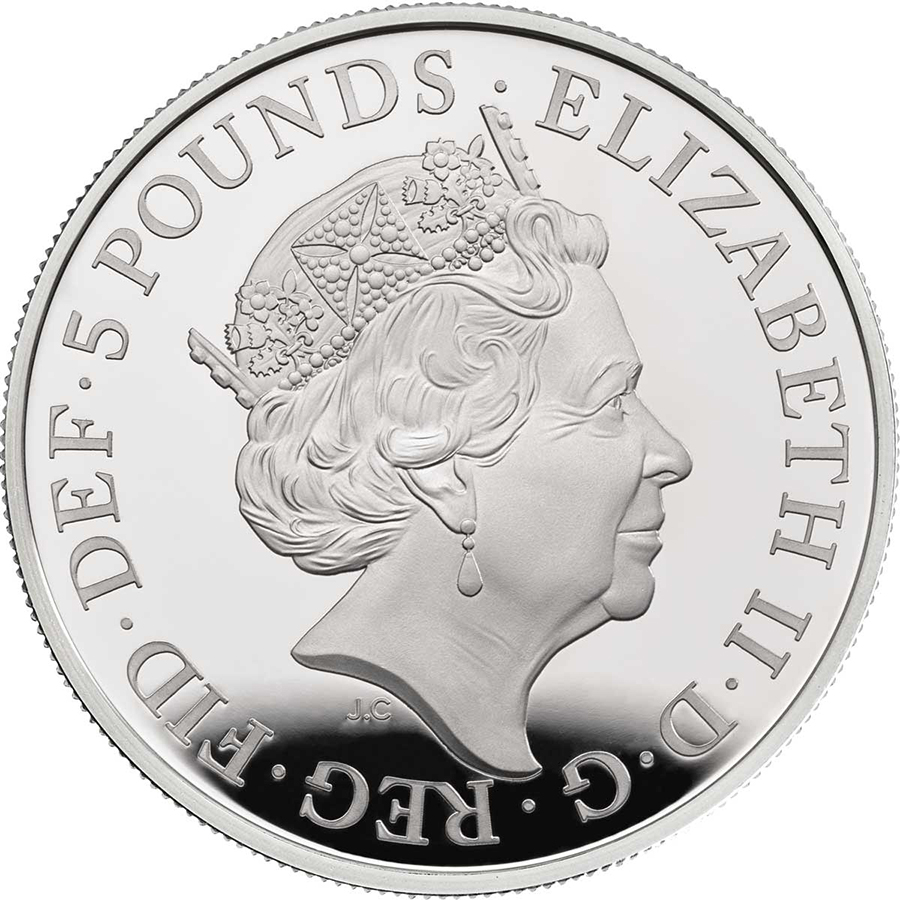 The Royal Mint marks the Royal Academy of Arts 250th anniversary with a £5 coin Date: 14 February 2018
"The four categories of the RA are directly captured or referenced: architects, sculptors, painters and engravers, printmakers and draughtsmen. The text encircles and frames the scene."
Dr Kevin Clancy, Director of the Royal Mint Museum said: "The striking of the Royal Academy 250th Anniversary coin will highlight more than the RA250 celebrations – it will also shine a light on a number of important historical, cultural and symbolic links that have been maintained between The Royal Mint and the Royal Academy of Arts since it first opened in 1768."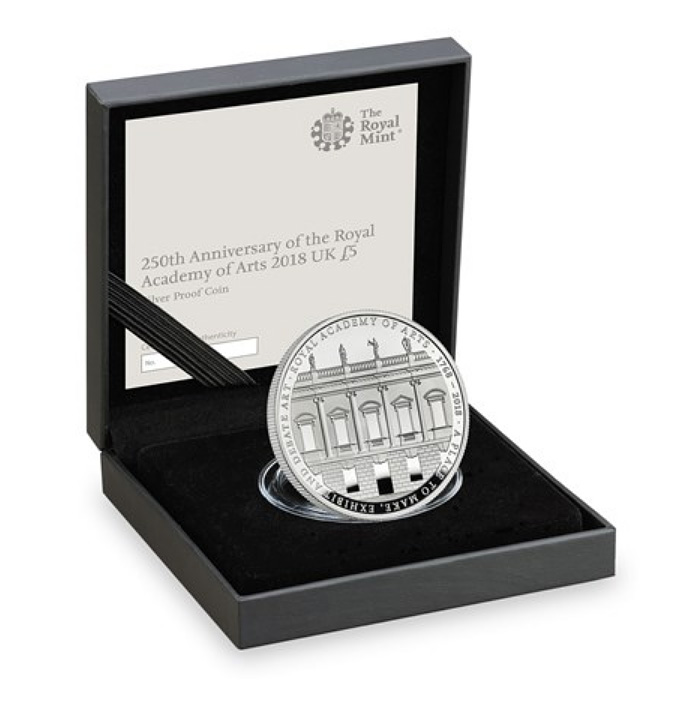 Royal Academicians who have links to The Royal Mint include two Royal Mint Chief Engravers: Richard Yeo, a founding member of the Royal Academy of Arts who produced designs for the coinage of George III, became Chief Engraver of The Royal Mint in 1775, whilst William Wyon RA, who produced portraits of George IV, William IV and Queen Victoria became Chief Engraver in 1828.
Other Academicians who have worked with the Royal Mint include Arnold Machin who produced a portrait of The Queen, the first to appear on decimal coins, the 1972 Silver Wedding Anniversary Crown and the 1977 Silver Jubilee Crown, and later, David Mach and Christopher Le Brun, current President of the RA, produced designs for twenty-first century Britannia coins and the ever popular Kew Gardens 50p.
Tom Phillips, James Butler and Sir Anthony Caro are other significant Royal Academicians who have designed coins and medals for The Royal Mint.
SPECIFICATION
DENOMINATION
£5 UKP
COMPOSITION
0.925 silver
WEIGHT
28.28 grams
DIAMETER
38.61 mm
FINISH
Proof
MODIFICATIONS
None
MINTAGE
2,750
Please visit their website: royalmint.com
Sources: Royal Mint and NUMISMAG©.