Playing with money – 2019 Board games exhibition at British Museum
This British Museum's exhibition looks at how modern board games, educational toys, gambling and role-playing games reflect, inform and shape our understanding of economics and money.
NUMISMAG took thos opportunity to interview Robert BRACEY, British Museum curator of coins and medals department and exhibition's organizer.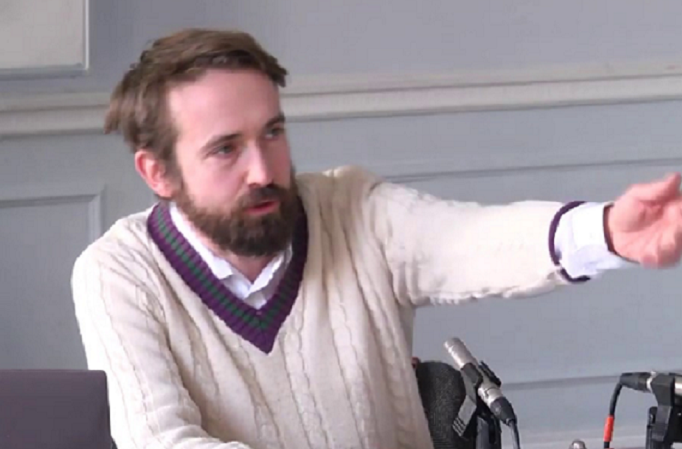 Robert BRACEY, British Museum Curator – Coins and Medals department
---
 Robert BRACEY, British Museum curator
and exhibition's organizer
---
NUMISMAG: Robert, what is your professional background?
Robert BRACEY: I am a historian and my research tends to focus on the early centuries AD in North India and Central Asia, a period of profound social and artistic change. I am also particularly interested in questions of methodology and historiography.
 NUMISMAG: How did you get the idea of an exhibition on board games?
Credit for the idea should be given to my colleague Tom Hockenhull, modern money curator at the British Museum. I had told Tom how modern board games were created by a feminist campaigner, Elizabeth Magie, at the beginning of the twentieth century and it was from that initial anecdote that he created the idea for an exhibition focusing on how people play with money. I should also say that Amelia Dowler, the current curator of Greek coins, played a central role in developing the exhibition itself.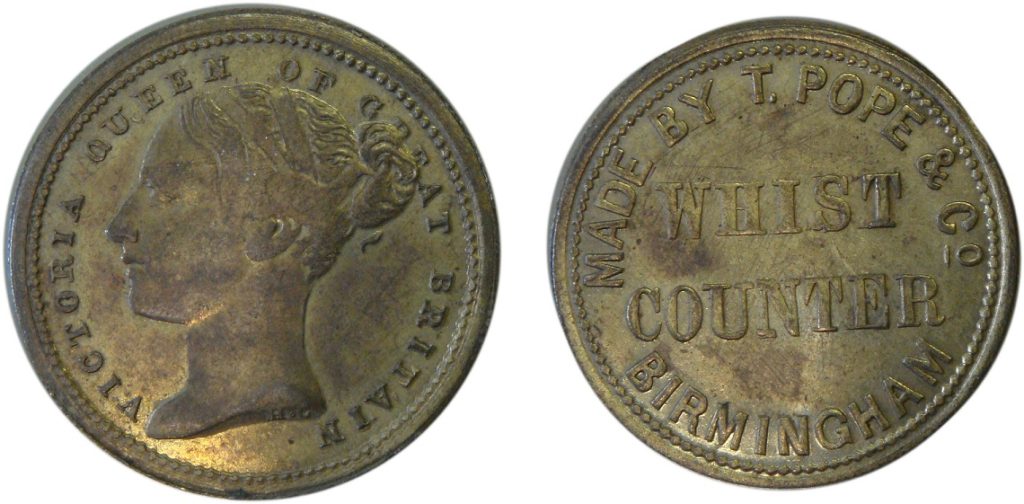 A nineteenth century whist token extolling the virtues of middle class play
NUMISMAG: How would you define board games?
Robert BRACEY:  When the philosopher Wittgenstein wanted an example of something that was impossible to define he used board games, so I would be reluctant to try. The games which feature in the exhibition are a specific type of game which I would call 'modern' board games, they are also sometimes called 'family' games. These differ from traditional games in that they feature a mixture of luck, strategy, and skill, are usually intended to be played by more than two people, and are suitable for adults and children. As games like these are so common today, hundreds of new games appear each year, it is often surprising to people that they did not exist before the beginning of the twentieth century, and that their origins are bound up with economic changes in the United States.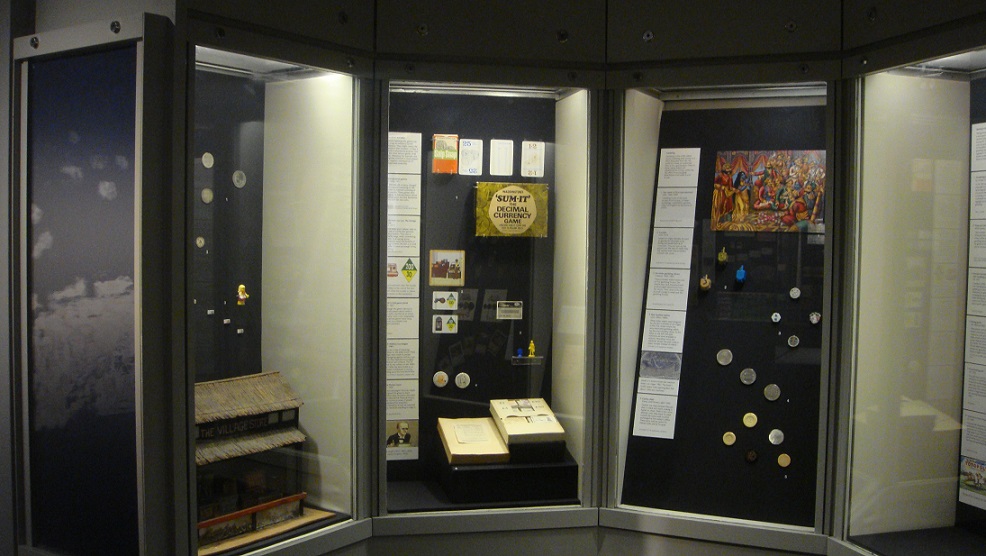 Displays in the exhibition about toy money, educational games, and gambling
NUMISMAG:Is there a link between numismatics and board games?
Robert BRACEY:  The exhibition illustrates a range of very deep connections between play in general and numismatics. It has allowed the department of Coins & Medals to display its extensive para-numismatic collection, which includes badges, toy coins, American scrip from the depression, gambling tokens, lottery tickets, race course passes, credit cards, and of course board game money. Because para-numismatic objects respond to money they reveal people's attitudes, fears, and assumptions about money.
NUMISMAG:What are the different themes of this exhibition?
Robert BRACEY:  The exhibition focuses on four different aspects of play and how they represent money; gambling, toys, board games, and role-playing/video games.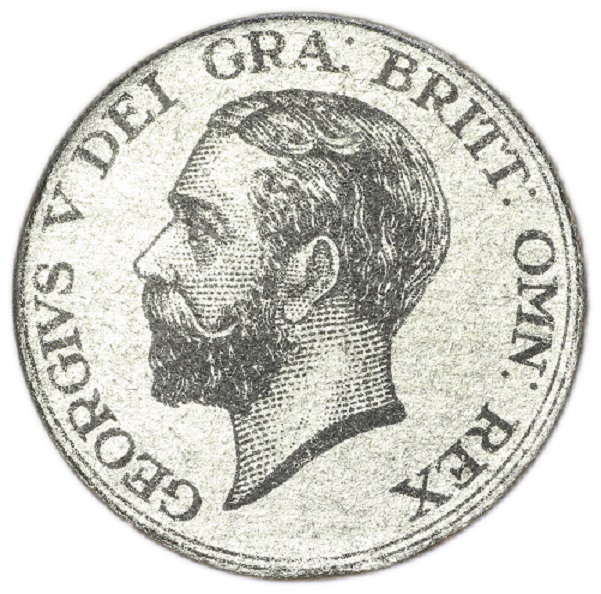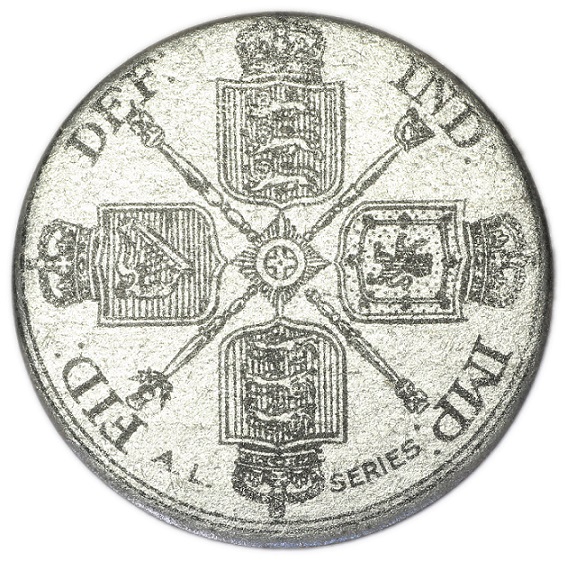 Early twentieth century toy money used to teach mathematics
NUMISMAG: What types of objects are on display? Are they all from the British Museum collections?
Robert BRACEY:  A wide range of objects are on display. A large part of the display is made up of objects that have been in the British Museum collection a long time but have not featured in exhibitions in the past. These include slot machine tokens, whist counters, badges, and toy money. Also featured is a variety of money from board games which was acquired as part of the research for the exhibition. This includes over 700 pieces of game money from games from the 1930s to today, a selection of which are in the exhibition and illustrated in the book.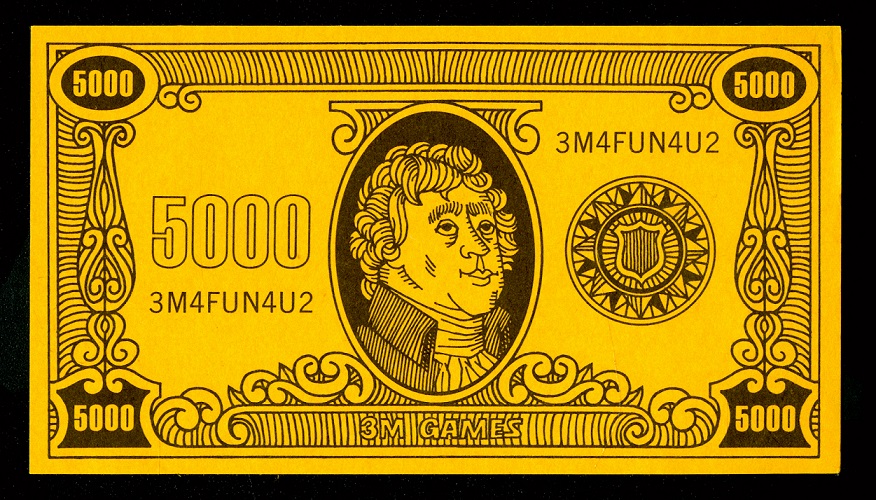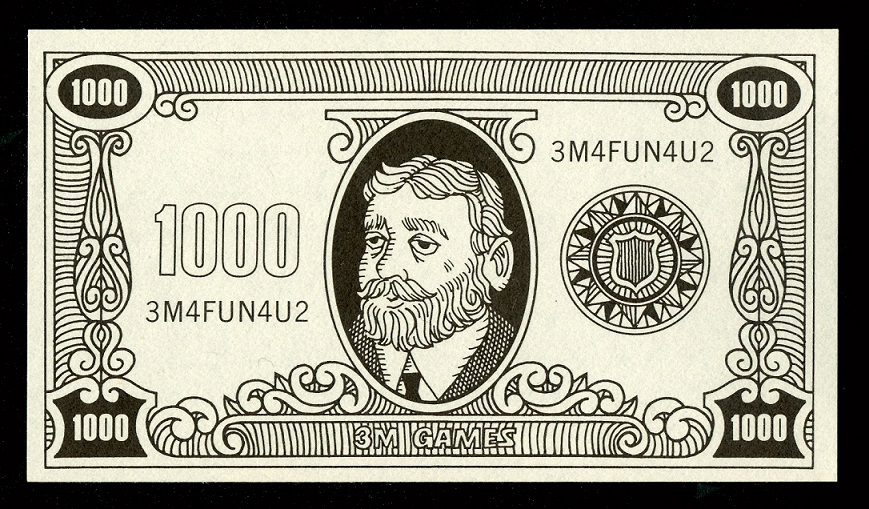 Banknotes from Sid Sackson's famous game Acquire
Many of the games are part of the department's archive of financial games. A number of very generous loans from private donors and institutions have made the exhibition possible – including a toy shop from Pollock's Toy Museum, early fantasy money from the Fitzwilliam in Cambridge, and a seal impression from the British Library.
NUMISMAG: What is the most popular board game exposed in the exhibition?
Robert BRACEY:  Probably the most popular game in the exhibition is the 2003 winner of the Spiel de Jahre (Game of the Year), Alhambra. In Alhambra players compete to build the best palace and must pay their workers in their native currency, represented by cards with four different designs. In the exhibition the four different types of cards are displayed alongside the Sasanian and North African coins, the alchemical medal, and the French seal, which inspired their designs. Most of these are from the British Museum but the seal impression was generously loaned by the British Library.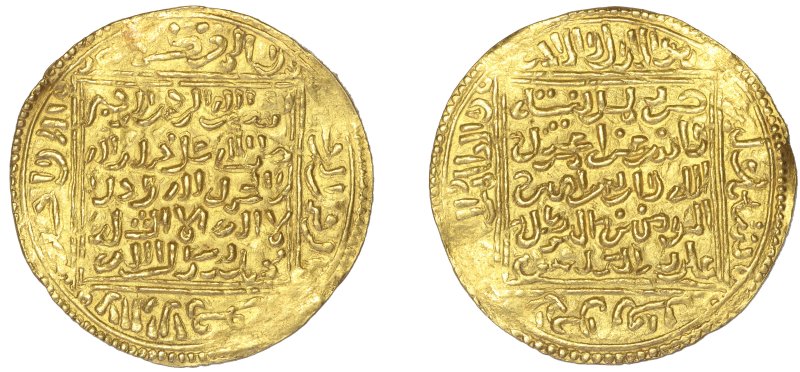 A card from the game Alhambra and the Marinid double dinar it is based on.
NUMISMAG: Which one do you think is the most interesting? For what reason(s)?
Robert BRACEY:  Many of the exhibits are interesting because of who made them (a psychic, a social campaigner, a Marxist professor, and a Nobel prize winner all feature) or who played them, but I was particularly intrigued while designing the exhibition by the game Totopoly. Published in 1938 it is one of the oldest games featured in the exhibition and probably the most complex games of its period. It was made when legislation of gambling was a controversial political issue in the United Kingdom and the game reflects that. Instead of simply betting on the outcome of races players must train horses, run stables, vets, forage merchants, and act as auctioneers and tote (the government sanctioned book maker at race courses). The game encourages players to see horse racing as a complex sport and not just an opportunity for gambling – in keeping with the social views of its designers.
NUMISMAG: SPINK AND SON has published a book that you have written about this exhibition. How did this collaboration come about?
Robert BRACEY: Spink have published books relating to numismatic exhibitions at the British Museum, for example Dario Calamino's Defacing the Past: Damnation and Desecration in Imperial Rome in 2016. They approached me about writing a book to accompany this exhibition because they felt that board games were a numismatic subject which had not been given due attention and were keen to see a book on the subject.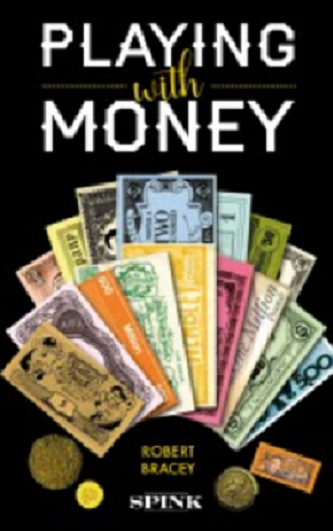 SPINK's exhibition catalog
NUMISMAG: Can you give us some points covered in your book that are not covered in the exhibition?
Robert BRACEY: The book focuses on board games much more than the exhibition, as there are already a lot of good books on gambling, such as Gerda Reith's Age of Chance, and de Sola Rogers catalogue Toy Coins. By focusing on board games it is able to delve into much more detail on the history of modern board games, from their origin in 1903 with Elizabeth Magie to their reinvention in Germany in the 1980s and 1990s, and to explore the different ways in which the games reflect or comment on money. So in the book you will learn how the US government changed laws to protect a board game, how 1829 is the only game with anything positive to say about the stock market, and why Sid Sackson and his game Acquire were so important we felt it necessary to include those particular paper notes in the exhibition. The book also explores how Dungeons & Dragons and popular ideas about the gold standard inform (or misinform) people about medieval money, and some of the more complex ways games reflect society. All of which are very difficult to incorporate in the limited space of an exhibition.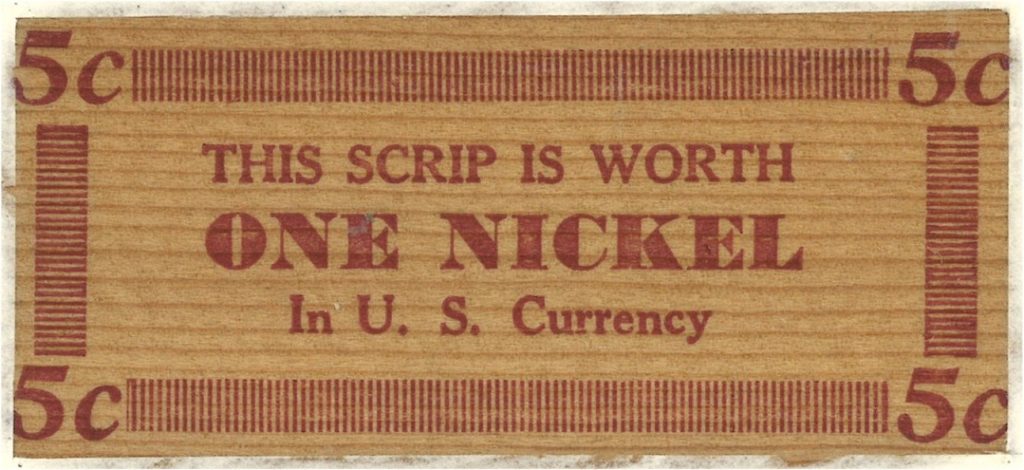 American scrip issued during the depression in the 1930s
 NUMISMAG: What will be the next numismatic-related exhibition to be organized by the British Museum?
Robert BRACEY:  Following on from Playing with Money the next exhibition in Gallery 69a will be Currency in Crisis which focuses on the British Museum's collection of German notgeld.
---
Exhibition details
---
Playing with money – 

currency and games
British Museum
Room 69a
18 April 2019 – 29 September 2019
Free admission
Sources: British Museum and NUMISMAG.