Belgian 2013 €2 – Tour of Flanders (not issued)
This commemorative €2 coin, which was not finally issued by Belgium, was intended to celebrate the centenary of the Tour of Flanders in 2013. The inner part of the coin depicts a cyclist on a map of Belgium detailed in provinces, with the provinces of East and West Flanders highlighted.
The inscription "De Ronde van Vlaanderen" surrounds the cyclist from above. The years 1913 and 2013
are indicated to his left.
The Commissioner of Mints and the Brussels mint marks, a helmeted head of the Archangel Michael, are shown below. The nationality indication "BE" is under the representation of the cyclist. The outer ring of the coin represents the twelve stars of the European flag.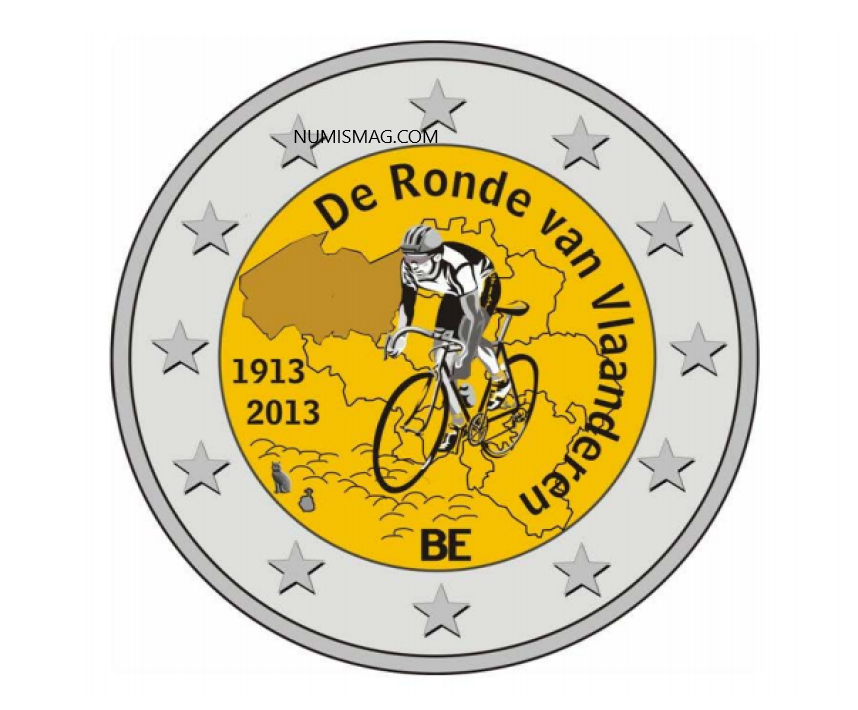 Initial planned mintage: 2 million coins.
Planned issue date: March-April 2013.
But for some reason, this coin was not minted. The Belgian 2013 €2 finally celebrated the 100 years of the Royal Meteorological Institute and a silver €100 highlighted the Tour of Flanders.
Sources: Monnaie Royale de Belgique (MRB) and NUMISMAG.