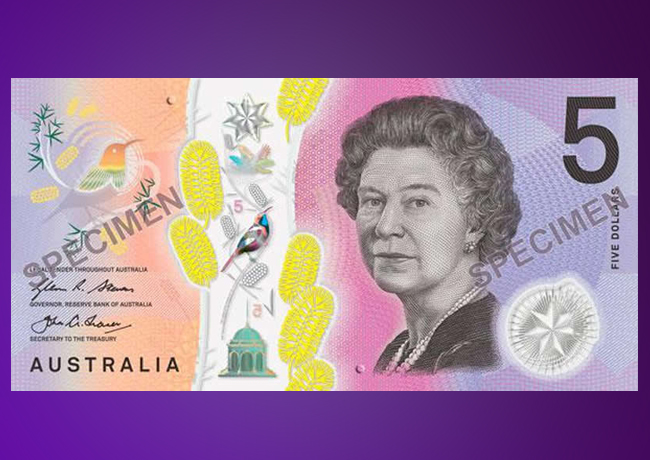 Australia will not use the effigy of King Charles III on the future $5 banknote
The portrait of Elizabeth II will be replaced by a design honouring aboriginal culture on the new five-dollar bills. There will be no effigy of Charles III. This is the decision of the Australian government. "To think that an unelected king should be on our currency instead of First Nations chiefs and elders and prominent Australians is no longer justifiable," says Craig Foster, President of the Australian Republican Movement. The five-dollar bill is the only one currently featuring the image of a British monarch in Australia.
---
A numismatic tradition dating back to 1923
---
British monarchs have appeared on Australian banknotes since 1923. Until 1953, the year of Elizabeth II's coronation, they were present on all denominations. The Queen's face adorned the one-pound bill and then the new one-dollar bill from 1966. This first dollar bill also featured images of Aboriginal rock paintings and carvings and designs based on a bark painting by indigenous artist David Malangi Daymirringu. Since 1992, Australia has issued a polymer $5 bill with the Queen's portrait.
The Reserve Bank of Australia (RBA) has indicated that indigenous people will be consulted on a new design that "honours the culture and history of early Australians". The Reserve Bank of Australia is already warning that "the new banknote will take a number of years to design and print". The bills bearing the image of the late Queen already in circulation will continue to be legal tender.
The Australian Minister of Economy indicated that there was a balance between the future banknotes representing figures of the first peoples of Australia and the Australian coins to come on which will appear the portrait of King Charles III of England.
In addition, a senator of aboriginal origin, Lidia THORPE, is campaigning for the future $5 banknote to feature a famous actor who died recently, Uncle Jack Charles.
Senator Lidia THORPE and actor Uncle Jack Charles
Sources : RBA, Lidia THORPE and NUMISMAG©